BlueVine Business Checking Account 2023 Review
Our review of the BlueVine Business Checking account looks at the account fees and features that can help small business owners manage their business finances.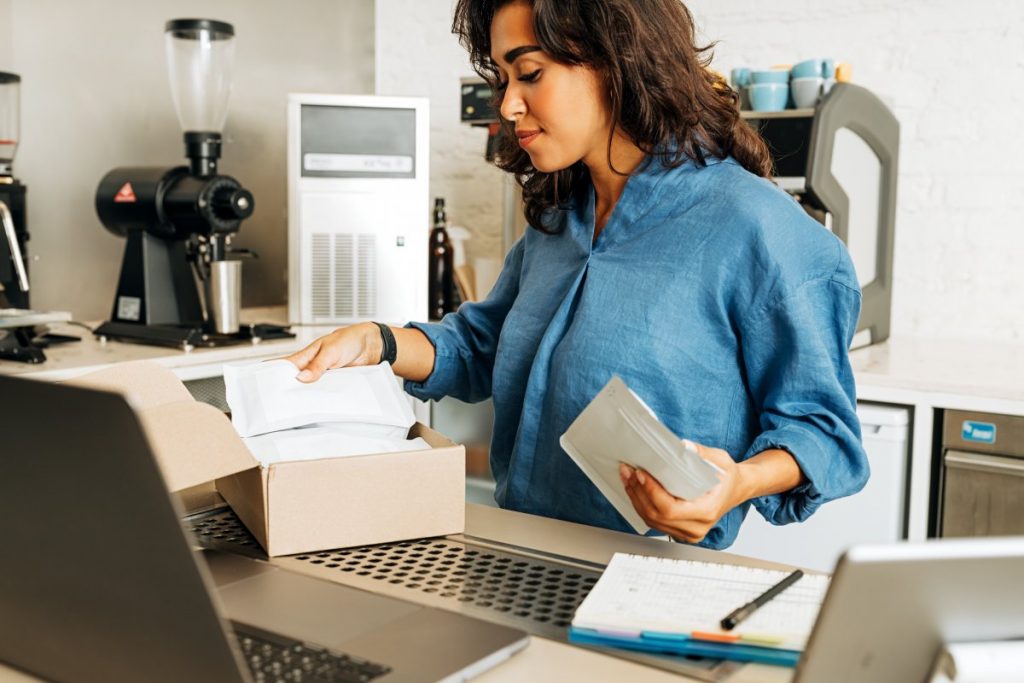 When your small business is starting to take off, a dedicated business checking account is a necessity, especially for bookkeeping purposes.
For a straightforward, no-fuss option, the BlueVine Business Checking account is one worth considering.
This online business checking account is best for small- to medium-sized businesses with simpler banking needs and a low-cost account to keep their business finances separate from personal finances.
To sweeten the deal:
Your account balance (up to $100,000) earns a market-leading interest rate.
Our review of the BlueVine Business Checking account looks at the fees and features of the account to help you determine whether it is right for you and your business.
Bluevine Business Checking Account Pros & Cons
Compare Business Checking Options
See the other great options available for your business checking needs.
Unlimited Transactions
With the BlueVine Business Checking account, you can perform unlimited transactions with no minimum balance requirement.
Typical business checking accounts -- from a local financial institution, for example -- will waive the transaction fees for a certain number of transactions per month before charging a small per-item fee.
For example, there may be no fee for up to 300 transactions per month before a fee of $0.20 per item applies.
For businesses that conduct a large number of transactions per month, the ability to make unlimited transactions may result in major savings in transaction fees.
Earn a Market-Leading Interest Rate
With this account, your balance up to $100,000 will earn one of the most competitive interest rates available.
The portion of the balance in excess of $100,000 will not earn interest.
Still, this is an added benefit that can help the bottom line of your business.
Little to No Fees
Not only will you be avoiding transaction fees completely, other types of account fees will be very rare as well.
Firstly, the account has no monthly fee at all.
Also, the BlueVine Business Checking account doesn't charge ACH payment fees or insufficient funds (NSF) fees.
You'll get a free debit card that offers free ATM withdrawals at any MoneyPass ATM location. ATM transactions at out-of-network ATMs, the fee is $2.50. (The ATM operator may impose an additional surcharge on this transaction.)
Other Account Fees - Bluevine Business Checking
| Type | Fee |
| --- | --- |
| In network ATM fees | None for ATMs in the MoneyPass network |
| Out of network ATM fees | $2.50 per transaction |
| Cash deposit fees at Green Dot retail locations | $4.95 per deposit |
| Outgoing wire transfers | $15.00 each |
| Credit card bill pay | 2.9% |
FDIC-Insured
Without a familiar brand or physical bank branches, many consumers fear that online banks and other financial companies are not safe for their deposits.
Because BlueVine Business Bank holds its deposits under Bancorp Bank, which is an FDIC-insured institution, your account balance is still insured up to $250,000 against the failure or closure of the financial institution.
Remember:
This account will be classified as a corporation, partnership or unincorporated association -- this coverage limit will not interfere with the coverage of any personal funds you may already have in companies affiliated with Bancorp Bank.
Other Features of the Bluevine Business Checking Account
As an online business checking account provider, Bluevine offers several features.
No overdraft fees or minimum balance
In addition to no monthly transaction fees, Bluevine doesn't charge overdraft fees. You aren't required to hold a minimum balance, either.
Digital banking services
The Bluevine Business Checking Account comes with bill pay. Bluevine's bill pay allows you to pay from your account or a credit card with a fee. You also get mobile banking with a mobile check deposit feature.
Sub-accounts
Bluevine gives business customers the ability to manage their business finances on a more granular level. They allow you to add up to five sub-accounts with unique account numbers. Unfortunately, your debit card can only be used with your main account.
Bluevine offers three levels of account access. This allows you to give authorized users and accountants access to different parts of your bank account and can help save you and your team time.
Check-writing
If you use checks, the account comes with two free checkbooks per year as long as you have a balance in your account.
How to Open a Bluevine Business Checking Account
You can open a Bluevine Business Checking Account from the comfort of your home or cell phone. To get started, you must be a supported business entity type. These include:
Corporation
General partnership
Limited liability company
Limited liability partnership
Limited partnership
Sole proprietor
Depending on your entity type, you may be asked to provide additional documentation. In general, be prepared with the following information:
Your name
Email address
Mobile phone number
Social Security number
Legal business name
Business address
Annual revenue
Industry
Tax identification number
Percent of the business you own
The above information for any 25% or higher owners of the business
How to Pick the Best Business Checking Account for Your Business 
Finding the right business checking account may feel overwhelming. Thankfully, the process can be simplified into two basic steps.
First, you must determine your business's needs in a checking account. Then, compare that list of needs to the accounts you're considering.
To help the process, you want to prepare some information in advance. These three items can help you estimate some of the most common business checking account fees.
Estimated monthly cash deposits
Estimated number of monthly transactions
Average balance you plan to keep in the account
Fees aren't the only factor businesses should consider. To help you think about your priorities, here are some of the common aspects of a business checking account you may want to emphasize in your search.
Monthly maintenance charges
Business checking accounts typically charge monthly maintenance fees. These fees often start around $10 per month and can be much higher, depending on the account.
Minimum balance requirements
Some banks have minimum balance requirements as a way to waive a monthly maintenance fee. Understand how the balance is calculated and the necessary amount to avoid the fee.
Free monthly transactions and excess transaction fees
Most business checking accounts limit the number of free monthly transactions that come with your account. Find out how transactions are defined and the fee for each transaction above the monthly limit.
Free monthly cash deposits and excess cash deposit fees
Most banks give a cash deposit allowance each month. Cash deposited beyond that amount results in a fee per $100 or $1,000 deposited.
Wire transfer fees
If you plan to make wire transfers, understand what type of transfers you make and how many you plan to make each month. Then, compare that against the account's fee schedule to understand the costs you'll pay.
Locations and operating hours of branches
If you need to visit a branch to handle cash transactions or other banking needs, branch locations and hours can be essential. Look for a bank with branches close to your home or business. Ideally, the bank will have convenient hours when you have time to visit.
Fees and locations of ATMs
ATM fees and locations can be important if you don't need to visit a bank branch often. Look for convenient locations with an ATM network that minimizes fees.
Convenience features
Conveniences can help you spend less time and money banking. Mobile banking, including bill pay and mobile check deposit, can minimize branch visits.
Card payment processing options
If your business needs to accept card payments, you may want a bank that offers card payment processing. These programs can often deposit funds directly in your bank account quickly, but may charge a significant fee to do so.
Software integration and fees
You likely want your bank to integrate with your accounting software and your business's other technology providers. Sometimes, banks charge fees to turn on this integration, but doing so could save you time.
Bank's other account, loan, and service options
Other bank products may be more important than a business checking account. This could include loans, other account types, or services a bank offers. In these cases, you may prefer to pick a bank based on these other needs. 
You may choose to open a checking account at the same bank to simplify your finances even if it isn't the best checking account.
Why May You Want to Choose Bluevine Over a Local Bank
The Bluevine Business Checking Account is an online account rather than one offered by a local bank. Many business owners may wonder why they should consider Bluevine when the checking account has no branches you can visit.
Bluevine pays interest on balances up to and including $100,000 as long as you meet one of two relatively easy-to-meet requirements. They also allow account owners to add several sub-accounts to help you manage your business finances in a more detailed way.
The account charges a much smaller set of fees for services than many banks charge. At the same time, the bank doesn't charge several common fees, such as monthly maintenance or excess transaction fees.
The major downside to these advantages is you can't deposit cash at a branch. Instead, you must deposit cash at Green Dot retail locations and pay a $4.95 fee per deposit.
As long as your business doesn't require a significant amount of cash, cash deposits, or in-branch help, the Bluevine account could be a great fit and help you minimize fees.
Final Verdict
The Bluevine Business Checking Account may be a good fit for technology-savvy business owners that don't have significant cash needs. 
Businesses that primarily make and receive digital payments are an ideal fit. You don't have to pay monthly maintenance or excess transaction fees. You can even earn interest on the balance you keep in your account.
Businesses that need occasional cash deposits can do so with the Green Dot retail network by paying a $4.95 fee. That said, businesses that deal with cash regularly will likely need a bank account with branch locations in your area.