The Best Checking Accounts in Illinois of 2023
Find out which checking accounts are the best for consumers who live in the state of Illinois, after have analyzed fees, locations, and features.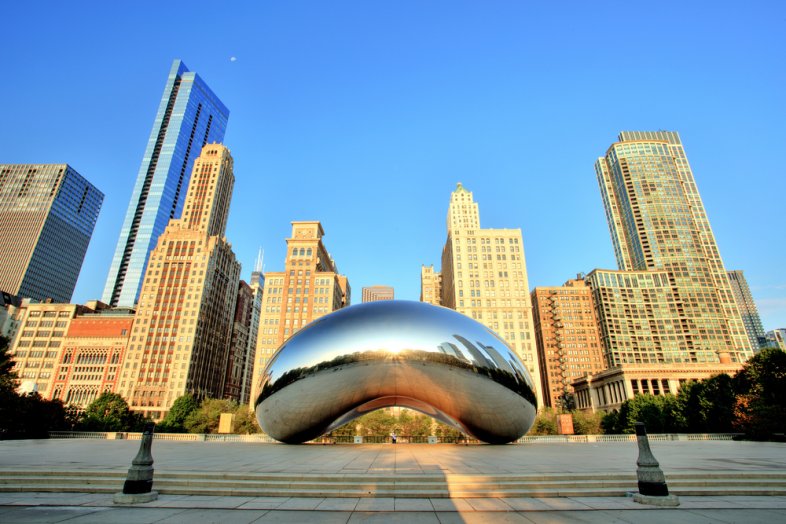 Illinois is the sixth most populous state in the U.S. and it's an economic hub.
That's why you (as an Illinois resident) will have a wide selection of banks when you're on the search for a new checking account.
And:
As your financial hub, the right checking account makes a difference, especially in cost, convenience, and features that enable you to handle and manage your finances easily.
Learn about the best checking accounts offered in Illinois based on fees, branch/ATM access, and other key features that should matter to you.
The Best Checking Accounts in Illinois
BMO Harris Bank
BMO Harris Bank is headquartered in Chicago, Illinois, and operates branches in multiple states across the Midwest.
One of the best checking account options offered by BMO Harris is the Smart Advantage Checking account.
There is a $25 minimum deposit requirement, making it easy to open the account. Once the account is open, there is no minimum balance to maintain. The only monthly fee to worry about is a paper statement fee of $2, which can be avoided by signing up for electronic statements.
As far as features go, the BMO Harris Smart Advantage Checking account offers unlimited fee-free transactions at more than 40,000 ATMs across the country, free online banking, and bill pay services. Account holders also get a discount on their BMO Harris mortgage or HELOC.
Fifth Third Bank
Fifth Third Bank offers a variety of checking account options to its customers.
One of the most popular options is the Free Checking Account.
This account is just what its name implies. The account charges no monthly fees, there is no minimum deposit requirement and no minimum balance requirement.
You can open the account and keep it open without having to worry about avoiding a monthly fee.
Huntington Bank
One of the best checking account options by Huntington Bank is the Asterisk-Free Checking Account. This account aims to be cheap and easy to use, with no asterisks and no fine print to worry about.
There is no minimum opening deposit, no minimum balance requirement, and no monthly maintenance fee to keep the account open. The account also offers a few perks.
If you overdraft your account, the 24-Hour Grace feature gives you time to make a deposit to avoid an overdraft fee. The All Day Deposit feature means that you can make deposits at Huntington Bank ATMs any time before midnight, and have them post the next day. That means no rushing to beat an early deposit cut-off time.
How we chose
MyBankTracker applied a methodology when choosing our best checking accounts in Illinois. Our top accounts were picked based on a thorough analysis of the top 50 banks by deposit market share in Illinois when using FDIC June 2023 data--covering major cities such as Chicago, Aurora, Naperville, Joliet, Rockford, and Springfield.
We focused our selections on checking accounts with low monthly maintenance fees, the least demanding requirements to waive these fees, the bank's ATM network, and other features included to make a person's banking life more convenient.
Online Checking Accounts Are Available Nationwide
If you've considered both national and local banks and haven't found any checking account that interests you, don't forget that you have a third option.
Online checking accounts have a number of benefits that make them worth considering.
Low fees, great features
One of the most important benefits of a online checking accounts is that they tend to be feature-rich, without costing a lot of money.
Running a traditional bank costs a lot of money. On top of the costs of actually providing banking services, they have to cover other costs such as rent for branch locations, utilities, security, and staff for branches.
Now:
Online banks are far cheaper to run because they don't have to deal with paying for branches. Instead, they can centralize their operations, saving a lot of money.
These savings show in their account offerings. Most online checking accounts are fee-free and they rarely have a minimum deposit requirement higher than $10 or $25.
Many have no minimum deposit at all. Even better, many online checking accounts pay interest. These features make them a great choice of account for most people.
FDIC insurance
Some people worry about the safety of working with an online bank. Online fraud is a concern for many people and it can be hard to trust a bank that you can't actually visit and see.
Thankfully:
Online banks are just as safe as brick and mortar banks. The Federal Deposit Insurance Corporation covers all banks, online and brick and mortar, equally.
The FDIC insures balances up to $250,000 per account type, per depositor.
If you deposit money at a bank and the bank later closes, the FDIC will return your money to you, up to the $250,000 limit.
The Best Checking Accounts at Local Illinois Banks
You can get a good deal on your checking account by working with a local Illinois bank.
One downside of working with a national bank:
They tend to offer the same checking account to people across the country. They don't have a way to tailor their service or account features to local needs.
Local and regional banks may adapt to local needs. That means that by working with a local bank, you can often find a checking account that better suits your needs.
Advantages and Disadvantages of Local Banks
Before you decide to open a checking account with a local Illinois bank, you should carefully consider the pros and cons of working with a local bank.
Advantages and Disadvantages of Savings Accounts from Local Banks
Benefits
Drawbacks

Lower fees than national banks (but not always)
Personal service for account management

Smaller branch and ATM networks
Interest rates are not the highest available
Locals bank certainly excel at providing personalized service and catering to local needs, but they do have some drawbacks.
One such drawback is that working with a local bank can be a hassle if you ever move or decide to travel the country.
While away from home, you'll need to rely on other banks' ATMs, which can result in significant fees.
National banks offer the convenience of always having an ATM or branch nearby, regardless of where you are.
What Kind of Account is Right for You?
If you can't decide whether you should open a checking account with a local Illinois bank or an online bank, ask yourself these questions.
Do you visit your local branch regularly?
If you like visiting your bank and are the type of person to stop by on a regular basis, you might not like working with an online bank.
If you tend to do most of your banking at ATMs, then an online bank probably won't be a problem for you.
Do you have trouble communicating electronically?
One downside of online banks is that the best ways to communicate with customer service are over the phone and through online chats.
You don't have the option of driving to a branch and speaking to someone face to face.
On the off chance that you run into trouble with your account, you'll have to call someone to get help with it.
If you struggle with phone calls or commonly have complicated financial situations that require the personal assistance of someone at your bank, an online bank might not be well equipped to assist you.
How well do you handle new technology?
Online banks aim to make their systems user-friendly, but there is always a learning curve.
The last thing that you want is to make a mistake with your money because you have trouble with your online bank's app.
If you're a digital native, an online bank should be no issue. If you struggle with technology, working with a brick and mortar bank might be a better choice.
Most Important Features of a Checking Account
When you're comparing checking accounts, always take the time to consider these features.
Fees
Nobody wants to pay a fee to give a bank the right to hold onto their money.
If anything, the bank should be paying you for the privilege of holding your money.
Every dollar you pay in fees is a dollar less that you can use for yourself, so always look for fee-free accounts.
ATM/branch access
The number one thing you want in a checking account is for your money to be accessible.
Make sure that the bank that you choose has ATMs or a branch near the places you visit frequently.
Interest Rates
Many checking accounts don't pay interest but many, including most online checking accounts, do.
If you can find a checking account that will pay interest, that's like getting some free money every month.
Mobile Banking
Almost every bank offers a mobile banking app, but their quality can vary widely.
Make sure that your bank's app is easy to use and offers essential features like bill pay and mobile deposit.