Charles Schwab Bank High Yield Investor Checking Account 2023 Review
Learn about the features and fees of the Schwab Bank High Yield Investor Checking Account and compare it to other online interest checking accounts.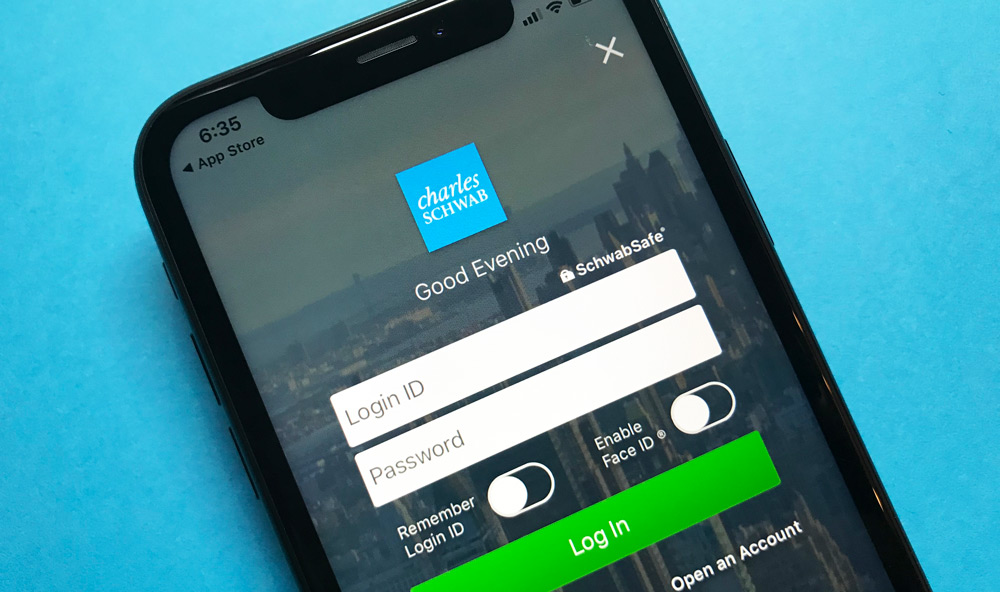 Charles Schwab Bank iPhone App
Charles Schwab Bank is a banking division of one of the largest brokerage firms in the United States.
It offers a full range of banking services, including deposit accounts, lending, and investing.
One of the accounts that Schwab offers is the Schwab Bank High Yield Investor Checking Account.
If you are looking to open a checking account, this review will tell you everything you need to know about the Schwab Bank High Yield Investor Checking Account.
No ATM Fees and No Foreign Transaction Fees
One of the best aspects of the Schwab Bank High Yield Investor Checking Account is that you'll never pay a fee to access your cash.
Many banks will charge a fee for using an ATM that isn't in the bank's network. At a minimum, you'll pay a fee charged by the ATM's owner.
Schwab understands that the point of a checking account is to give you easy access to your cash. To make it as easy as possible to get to your money, Schwab will refund all ATM fees that you incur, without limit.
You can use any ATM in the United States and Schwab will cover any fee you pay. Schwab will even refund fees for international ATM withdrawals.
Schwab Bank High Yield Investor Checking Account Pros & Cons
If you prefer to pay with your card rather than cash, Schwab makes that easy too.
Many credit and debit cards charge a fee when you use them to make a purchase in a foreign currency. There's no fee for international transactions on your Schwab debit card.
These features alone can make the account worth opening if you regularly travel thanks to how much money you can save on ATM fees.
Linked Schwab One Brokerage Account Required
The Schwab Bank High Yield Investor Checking Account lives up to its name by giving anyone who opens the account the chance to become an investor.
When you open the account, Schwab will automatically open a linked Schwab One brokerage account (required to waive the monthly maintenance fee).
You won't have to pay any fees for the account's opening or maintenance.
You can transfer money from your checking account to the brokerage account, or vice versa, for free.
Once the funds are in the brokerage account, you can use them to purchase stocks, bonds, mutual funds, and other financial products.
As a bonus, you'll also get access to financial experts and powerful tools that can help you make the most of your investments.
Free Bill Pay Services That You Can Use Anywhere
In the old days, people would sit down once or twice a month to pay the bills.
They'd look at their paper statements, write out a check, and mail it to the company that they owed money to.
This could be a time-consuming process, especially if you had a lot of bills to pay.
Schwab Bank makes it easy to pay the bills by offering a free bill pay service. All you have to do is tell Schwab who you make payments to, and how much you pay each month.
Before each month's due date, Schwab will transfer the payment to the recipient electronically.
If the recipient isn't equipped to accept electronic payments, Schwab will mail a check for you.
You don't have to worry about mailing payments yourself.
You can access the bill pay service through Schwab's website or on your phone. No matter where you are you can pay your bills with ease.
Unlimited ATM Access
As mentioned previously, the Schwab Bank High Yield Investor Checking Account offers great ATM access.
Schwab does not operate an ATM network, instead, Schwab offers reimbursement of all ATM fees.
You can use any ATM anywhere on the planet for free. Even if the owner of the ATM charges a significant fee, Schwab will return the money to your account at the end of the statement period.
If you use cash regularly, this benefit will ensure you never pay for the privilege of using your own money.
Interest Rates Cannot Keep Up With Online Banks
With the words "high yield" in the account name, this checking account does pay an interest rate that is much higher than what you'd expect from an interest checking account from a big bank.
However, it doesn't quite match up to the checking rates that are offered by online banks.
Other interest checking accounts provide significantly better rates, especially if you can keep a large deposit balance in the account.
No Monthly Fee or Minimum Balance Requirement
The Schwab Bank High Yield Investor Checking Account does not charge a monthly maintenance fee of any kind.
There are no requirements to waive the fee, you just won't pay a fee, no matter what your account's balance is.
There's also no minimum deposit required to open the account.
That makes it a great account for people who are just starting out and want to open their first bank account.
Not Many Other Fees Involved
Schwab Bank does not charge many fees on its accounts. You'll get services like electronic fund transfers, stop payments, and overdraft transfers free of charge.
Some of the few services that will cause you to pay a fee are:
Schwab Bank High Yield Investor Checking Account Fees
| Type | Fee amount |
| --- | --- |
| Monthly Maintenance Fee | $0 |
| Paper statement | $0 |
| Out-of-Network ATM Fee | $0 |
| Overdraft Fee | $25 |
| Returned Item | $25 |
| Stop Payment | $0 |
| Deposited Item Returned or Cashed Check Returned | $5 |
| Incoming Domestic Wire Transfer | $0 |
| Incoming International Wire Transfer | $0 |
| Debit card replacement (rush) | $15 |
With so few fees to worry about, you can use the money in your account for the things you want.
Convenience
The Schwab Bank High Yield Investor Checking Account is incredibly convenient.
The unlimited ATM fee reimbursement alone makes it easy to use since you'll never be far from a place to withdraw money.
This fee reimbursement is doubly valuable for travelers since international ATM withdrawals are often quite expensive.
Travelers can also benefit from fee-free foreign currency transactions on their debit card.
Even if you don't like to use physical currency, you won't have to worry about fees when shopping in another country.
To add to that convenience, you can order checks for free, just in case you need them to make large payments.
If you'd rather have Schwab handle your bills, you can do that too.
Schwab's online bill pay service is easy to use and you can manage your payments from the smartphone app or the bank's website.
On top of offering a way to manage your bill payments, the Schwab Bank app lets you manage the whole account while on the go.
You can check your balance, view previous transactions, or set up one-time or recurring transfers, all from the palm of your hand.
All of these features combine to make the Schwab Bank High Yield Investor Checking Account one of the most convenient checking accounts on the market.
How Does It Compare?
The checking account is the most common type of bank account in the United States.
That means that there is no shortage of competition for your business if you're looking to open a checking account.
Because your checking account is likely to be the center of your financial life, you should take the time to carefully compare the accounts available to you.
When you're comparing checking accounts, make sure you don't just look at local branches of national banks. You should also consider online banks.
Online banks have a cost advantage over banks that have to pay to operate physical locations.
The savings let them pay more interest to their customers and charge less in fees.
If you're looking to earn the best return on your checking account's balance, an online bank is probably the way to go.
Besides the ability to access your cash and any fees you'll have to pay, you should consider these factors when opening a checking account:
Minimum deposit
Monthly fee
Fee waiver requirements
Interest rates
ATM access
The Final Verdict
The Schwab Bank High Yield Investor Checking account is a great checking account for the majority of consumers.
It's easy to use, gives you access to an institution that offers a range of financial services, and is incredibly convenient.
Its biggest downside is that the interest rate it offers does not measure up to the interest offered by some online checking accounts.
Still, its rate is much better than other national banks' rates, so unless interest is your main concern there are few reasons to choose another account.