How to Fly to Ireland for Free Using Miles and Points
Learn how you can fly to Ireland for free using miles and points through credit card rewards programs and airline frequent flyer programs.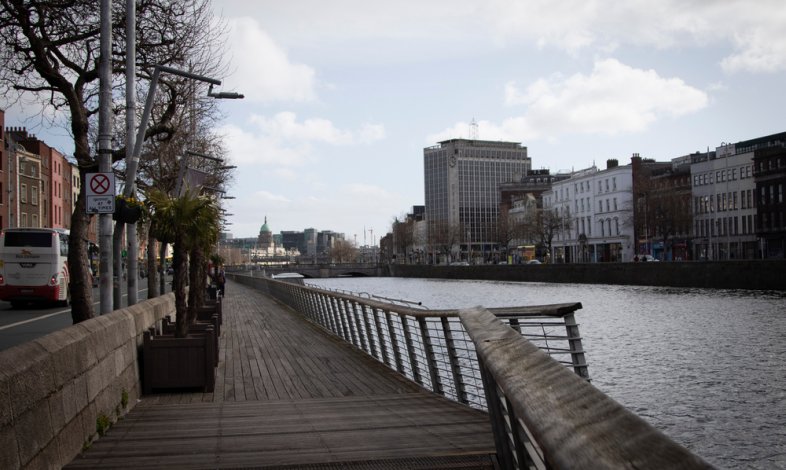 Ireland, the Emerald Isle, is one of the most frequent tourist destinations for many Americans, Canadians and Europeans.
The capital city of Dublin is well-known for its many tourist attractions, including the River Liffey, Temple Bar, the Guinness brewery and St. Patrick's Cathedral. The beautiful Irish countryside is another great tourist attraction and there are also many Irish dancing festivals and shows year-round.
Because of Ireland's geographic position, it can also be a great starting position for a longer European vacation.
Most direct flights from the U.S. to Ireland will be to the Irish capital of Dublin, though there are direct flights available to Shannon Airport on the west coast of Ireland.
You can spend some time in Dublin Ireland to get yourself acclimated to the shift in time, and then hop on a short flight to explore London, Paris or the rest of Europe.
We'll look at some of the various options to use miles and points to fly to Dublin and Ireland for free.
American Airlines AAdvantage
To start off, let's explore flying to Dublin using American Airlines AAdvantage miles.
American Airlines flies from Philadelphia, Charlotte, Chicago–O'Hare and Dallas/Fort Worth to Dublin. American also flies from Philadelphia to Shannon.
American also has a very large route map within the US, and is a member of the oneworld alliance with partners such as Iberia, British Airways or Finnair.
Aer Lingus, the national carrier of Ireland, is also scheduled to join the oneworld alliance in 2020, which will make using AAdvantage miles to fly to Ireland even easier.
American has several different levels of award availability - its low-level award availability is called "sAAver availability".
If sAAver availability is available for your dates and routes, a one way flight from the US to Ireland in economy will cost 30,000 American AAdvantage miles during peak times. Premium Economy costs 40,000 miles one way and Business Class is 57,500 miles one way.
Between January 10 and March 14 and from November 1 to December 14 are "off-peak" dates with American Airlines.
During those dates, you can fly in economy class for only 22,500 AAdvantage miles, a savings of 25%.
Delta SkyMiles
Another option to fly to Dublin and Ireland using miles and points is through Delta SkyMiles. Delta flies from Atlanta, New York / JFK and Boston to Dublin and from New York / JFK to Shannon. Delta is also in the SkyTeam alliance with airlines like Air France / KLM and Czech Airlines. 
Delta no longer has an award chart with specific costs for each region or route. The SkyMiles price of any flight varies on the route, dates and timing of the flights. With Delta, more so than with any other airline, it pays to have as much flexibility as possible. It could cost you anywhere from 30,000 to 60,000 or more Delta SkyMiles for a one-way ticket to Dublin, plus taxes and fees.
Delta is a 1:1 transfer partner of American Express Membership Rewards - so if you need more SkyMiles, you can transfer over your American Express points to top off your Delta balance.
United MileagePlus
Now let's explore using United MileagePlus miles to fly to Dublin. United flies from Newark, San Francisco, Chicago–O'Hare and Washington–Dulles to Dublin and from Newark to Shannon. United is a member of the Star Alliance airline network, along with European airlines like Lufthansa, Swiss Airlines and Brussels Airlines. 
It costs 30,000 United MileagePlus miles for a one-way economy ticket from the US to anywhere in Europe, including Dublin or other points in Ireland. A one way business class ticket costs you 60,000 MileagePlus miles one way flying on United or 70,000 MileagePlus miles flying on a partner airline. All mileage costs don't include taxes and fees, and you can get a round trip flight for twice the cost.
United is a 1:1 partner with Chase Ultimate Rewards points, so if you need more United MileagePlus miles that can be a great way to top off your MileagePlus balance.
Other Ways to Fly to Ireland Using Miles and Points
There are a couple of other mileage programs that can help you fly to Dublin or Ireland for free using miles and points:
Alaska Airlines
Alaska Airlines does not fly directly to Europe itself, but is a partner of several different airlines including American Airlines, Aer Lingus, IcelandAir and British Airways.
Of course to fly to Dublin, the most relevant partner is Aer Lingus, since they are the national carrier of Ireland.
You can use your Alaska miles to fly to Dublin on Aer Lingus or any of Alaska's partners.
One way award tickets to Ireland on Aer Lingus cost 30,000 miles in economy or 60,000 miles in business class.
Virgin Atlantic
Virgin Atlantic partners with Delta Airlines and you can use your Virgin Atlantic Flying Club miles to book flights operated by Delta.
Virgin Atlantic is a transfer partner of  Marriott Bonvoy, American Express Membership Rewards, Chase Ultimate Rewards, Citi ThankYou points.
Flying Blue
Another option would be to use Flying Blue miles. Flying Blue is the frequent flyer program of Air France / KLM.
Flying Blue offers monthly promo awards, where you can book award flights for 25% or 50% off regular price. Economy tickets can cost as low as 12,000 Flying Blue miles one way.
Using Flying Blue miles would generally mean you'd need to connect in one of Air France / KLM's hubs in Paris or Amsterdam. Flying Blue is a transfer partner of American Express Membership Rewards, Chase Ultimate Rewards, Citi ThankYou points, Capital One Venture miles and Marriott Bonvoy.
Using Cash or Fixed-Value Points
While using airline miles like we've talked about so far can be an attractive way to fly business class to Dublin, if you plan on flying in economy class, you'll want to look at cash fares.
Cash fares from the US to Europe can generally be found for around $400 for a round trip flight. 
If you live in a larger city (especially on the East Coast of the U.S.) it will make finding cheaper fares easier. But it is not impossible to find these cheap fares even during popular times of the year or from smaller airports.
Here's an example of a round trip flight on Aer Lingus from New York to Dublin for $478.
Even cheaper fares were available with connections. And remember, just because you've found a great cash fare doesn't mean that you actually have to PAY with cash. Some miles and points work as "fixed value" points, which are always worth the same amount, no matter how you spend them.
You could use the Chase Ultimate Rewards travel portal to book the flight with your Ultimate Rewards, at a value of 1.5 cents per Ultimate Reward point. In this case, if you wanted to book that Aer Lingus flight to Dublin, it would cost you 31,867 Ultimate Rewards (47800 / 1.5).
Compare that to using your Chase Ultimate Rewards to transfer to someone like United Airlines. If you did that, it would instead cost 60,000 Ultimate Rewards for a round trip ticket from the US to Dublin - nearly twice as many miles!
Other types of fixed value miles and points would be points earned by cards like the Citi Premier or Capital One Venture cards.
One slightly different way that you can use miles and points to book a cash ticket like this involves the American Express Business Platinum card.
You can always use your American Express Membership Rewards points to book flights, with a value of 1 cent per point. One of the special perks of the Business Platinum card is that for economy flights on your chosen airline you receive a 35% rebate of your points. 
Continuing with the example, you would pay 47,800 Membership Rewards points for the Aer Lingus flight to Dublin. If you had the Business Platinum card with Aer Lingus as your chosen airline, you would get a rebate of 16,730 Membership Rewards points back. This would mean your total cost would be 31,070 Membership Rewards points.
It will generally be cheaper to book economy class tickets from the US to Europe in this manner than booking award tickets using airline miles.
Best Travel Rewards Credit Cards to Consider
If you're looking to collect airline miles and points, a great way is through the signup bonuses offered by credit cards. Here are a few cards that can give you airline miles:
Citi American Airlines Platinum
Chase United MileagePlus Club card
American Express Gold Delta SkyMiles card
Other cards that give bank-issued points, which you can use as fixed value points on a cash ticket or transfer them to airline partners. Here are a few cards that give bank-issued points:
Chase Sapphire Preferred
American Express Business Platinum Card
Capital One Venture 
Citi ThankYou Premier
Hopefully these tips will help you as you look to plan your next trip to Ireland for free with miles and points!