Don't Pay for FICO Credit Scores: They Come Free With These Credit Cards
More credit cards are getting free FICO credit scores, which help determine your creditworthiness to lenders. See all the cards that offer them for free.
In years past, there were tricky TV commercials for "free credit scores" that were actually introductory offers for pricey subscription plans.
Now, it seems like those commercials are disappearing -- I can't remember the last time I saw one.
I think the decrease in airtime is due to one new trend: more credit card companies are giving out free credit scores, particularly FICO scores (the most popular credit score used by lenders).
Recognizing the importance of FICO scores to consumers, these companies are enhancing their credit cards with free credit scores.
To you and me, it's a great card perk -- you normally have to pay about $20 for each time that you want to check your FICO credit score (or about $150 for an annual subscription).
To card issuers, it encourages their customers to use credit responsibly -- that is, primarily making payments on time so that the lenders have fewer defaults.
See which credit cards provide FICO scores for free and how you can use it to improve your credit.
Find a credit card with free FICO scores
Today, a growing list of credit cards come with free monthly FICO credit scores, which you can typically check through your online account or on monthly statements.
Discover and Barclaycard were among the first major credit issuers to partner with FICO to provide free FICO credit scores in late 2013.
Initially, only a few credit cards were eligible for the free credit scores but they've expanded the program to more cards.
American Express has started to experiment the free perk with some customers while Citi started offering free FICO scores in early 2015.
Bank of America and Chase were next to start to offer free FICO scores as well. By now, nearly all major credit card companies offer free FICO scores.
The addition of more credit card issuers is a good sign that we'll see more consumers get access to free FICO scores.
To be clear: this is not your credit report, which means you won't see the account details of your loans and other credit lines. Pair your free credit score with the information on your credit reports to get a 360-degree view of your credit profile. Don't forget that you get three free credit reports (one from each of the three major credit bureaus: Equifax, Experian and TransUnion) per year through AnnualCreditReport.com. I suggest that you spread out the credit reports so that you pull one every four months.
Below, you find a comprehensive list of U.S. credit cards that currently offer free FICO scores to cardmembers:
U.S. Credit Cards with Free FICO Scores
| Card company | Cards with free FICO scores (Last updated: 11/25/20) |
| --- | --- |
| American Express | All consumer credit and charge cards |
| Bank of America | All consumer credit cards to receive free FICO scores |
| Barclaycard | All consumer credit cards to receive free FICO scores |
| Chase | All consumer credit cards to receive free FICO scores |
| Citi | All Citi-branded credit cards (not co-branded credit cards) |
| Commerce Bank | All Commerce Bank consumer credit cards |
| Discover | All consumer credit cards to receive free FICO scores |
What is a FICO score?
FICO credit scores are offered through the Fair Isaac Corporation, which applies a top-secret formula to your credit report information to produce your credit score.
The score ranges from 300 to 850 (a higher score means you're more creditworthy) and is based on the following five factors: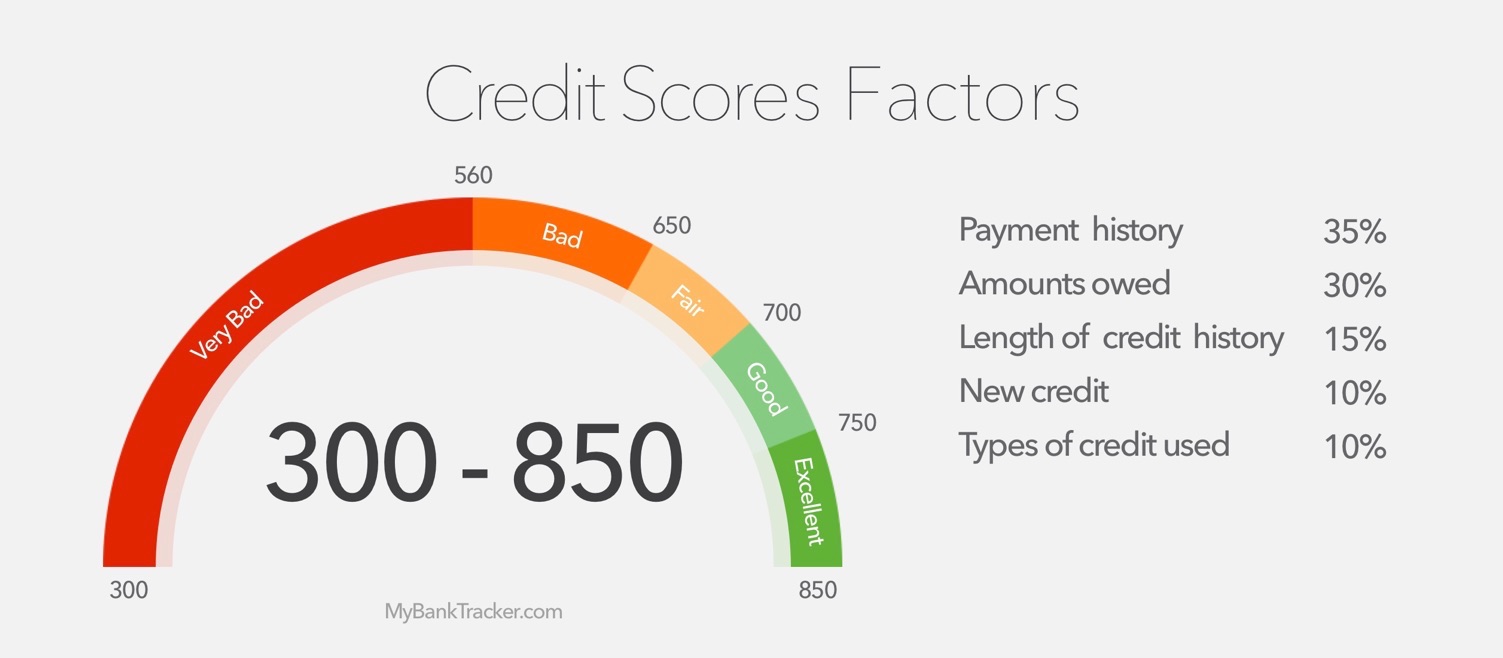 Payment history (35%)
Amounts owed (30%)
Length of credit history (15%)
New credit (10%)
Types of credit used (10%)
You should be interested in knowing your FICO credit score because it determines whether or not you'll be approved for credit cards and loans.
It also plays a role in what interest rates you get -- a higher credit score is more likely to qualify for a lower interest rate. Make your best effort to obtain a good credit score because you could save plenty of money in the long run.
For instance, on a 30-year mortgage for $300,000, the difference between the interest paid at a 4% interest rate and a 5% interest rate is more than $64,000.
Again, FICO credit scores are typically not free. It makes sense to pay for your FICO score when you're checking your credit to see how likely you are to qualify for a loan.
Otherwise, I wouldn't suggest paying for it unless you really wanted to know it. That's why it's such a great thing to see credit cards offer FICO scores for free.
What to do with free credit scores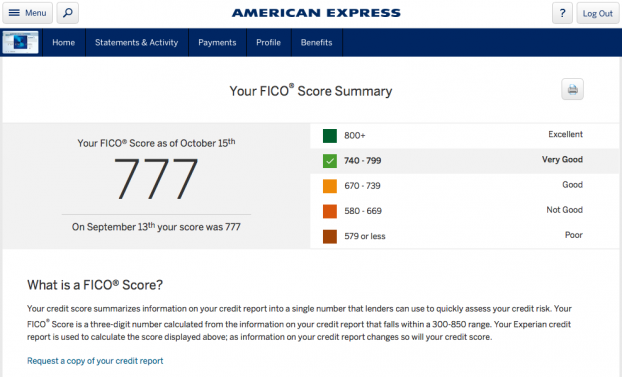 Great. You've got access to free FICO scores. Now what? Empower yourself by always being aware of your creditworthiness. When you get your free FICO score, you also see a couple of reasons that are hurting your credit score and how you can improve it.
If you are not going to apply for a loan or a line of credit soon, this is just a great way to monitor your credit.
If you are about to apply for a loan or new credit line, you should review your FICO score more closely and take the steps required to improve it as much as you can.
Luckily for you, since you've got a credit card that provides free FICO credit scores, you're not paying anything to track your credit. Your card is saving you $20 per score, or $150 per year for a credit score subscription.
Now, I'm not advocating that you open a credit card for the sole purpose of getting free monthly FICO credit scores.
However, if you're thinking about opening a credit card anyway, why not apply for one that happens to offer them? You'll simply get a better credit card while you're at it.
In fact, some of these cards have appeared on my lists of most recommended credit cards.
One example of an excellent card that offers free FICO credit scores is the Barclaycard Arrival Plus World Elite MasterCard -- it's the best all-around travel credit card in my opinion. Another example is Discover it, a top-notch cash back credit card.