How to Buy Car Insurance for the First Time
Learn about the entire process of buying car insurance for the first time and ensure that you get a policy with the right amount of coverage.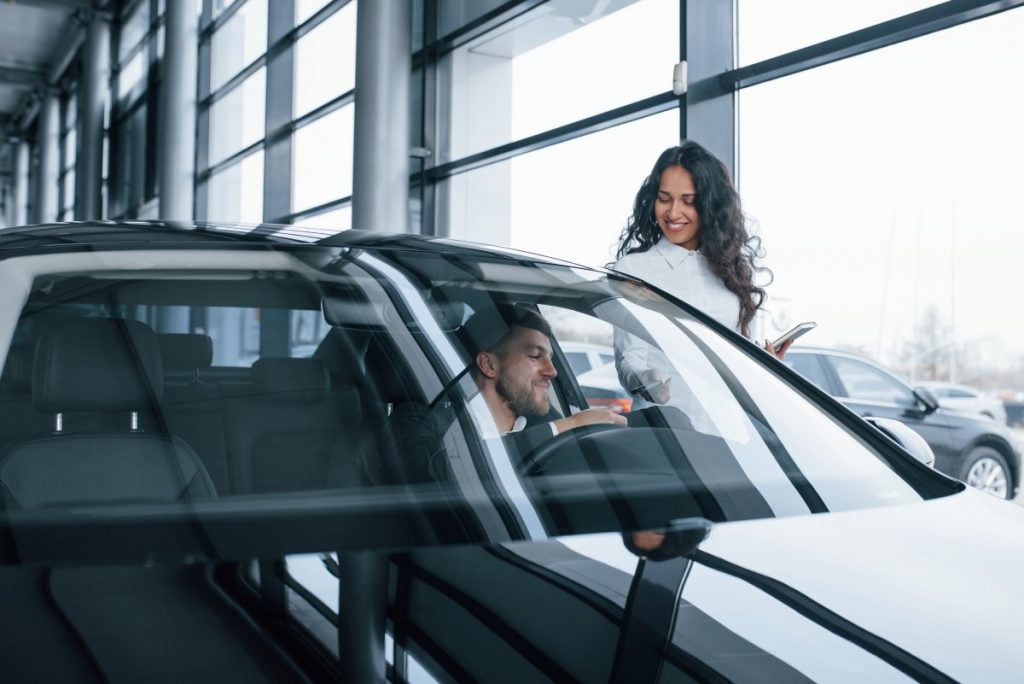 It's exciting to get your license or to buy a car for the very first time.
But there's some business that needs to be taken care of first, which is buying car insurance.
You should investigate the options before getting your license or buying a vehicle, so you'll know exactly what protections you'll have and what premium you'll pay.
How to buy car insurance for the first time is a good bit more complicated than it is for experienced drivers.
And, the reality is:
Car insurance for new drivers is more expensive than it is for those who have driven for several years.
You'll need to know the many nuances of car insurance, especially as they apply to new drivers.
Before You Shop for a Policy
Let's start with this:
Unless a vehicle is given to you, you should obtain car insurance before you buy one.
There are several reasons for doing this:
All states (except New Hampshire) require licensed drivers who operate a vehicle to have car insurance.
If you don't have car insurance, and you're pulled over by a police officer, you'll be issued a citation with a very steep fine. It's also likely you'll be prohibited from driving the vehicle, even if it's just to bring it home.
If you're involved in an accident that's your fault, you'll need to pay damages out of your own resources.
Knowing your premium in advance is likely to have an impact on the type of vehicle you purchase. If the premium will squeeze your budget, you may choose a less expensive vehicle.
An auto loan lender or lessor will require you to have adequate car insurance as a condition of the loan or lease.
How to Shop for Car Insurance for the First Time
With the above information in mind, the buying process looks something like this:
1. Check the minimum car insurance requirements in your state.
Except for New Hampshire, every state has mandatory minimum coverage levels.
We'll go into these deeper later in the article, but you can usually get the minimum requirements in your state from an insurance carrier.
2. Get car insurance quotes from multiple providers. 
Car insurance for first-time drivers is expensive.
By getting quotes from multiple providers, you'll have a better opportunity to get a policy with the lowest premium.
3. Evaluate which policy offers the best combination of coverage and premium.
Premium is always an important factor, especially for new drivers.
But make sure you'll also have adequate coverage.
For example, if you have substantial assets, you'll need more than the minimum amount of liability coverage required in your state.
4. Sign your policy documents and pay the initial premium.
Once you decide on a company, you'll need to get copies of policy documents, which you can usually print from the insurance company website.
Review the documents to be sure everything is as you understood it to be during the buying process.
If it is, send in your initial premium. Your policy may not be effective until that payment is received by the insurance company.
5. Print your policy documents and your car insurance ID cards.
Whenever you drive a car, whether it's yours or someone else's, you'll need to have proof of insurance.
Insurance companies provide car insurance ID cards, which will fit neatly in your wallet, though you may be able to store a copy on your mobile device instead.
What You Need to Prepare
To purchase car insurance, and to get an accurate quote on coverage and premium, you'll need to provide specific information, and sometimes documentation.
Expect to provide the following:
Your full name
Date of birth
Home address
Driver's license information
Marital status
Your occupation
Anticipated annual mileage you expect to drive
Whether or not you've completed any driver's education courses
You'll also need to provide complete information on the vehicle you'll be driving.
That will include:
the vehicle year
make and model
the mileage (if it's a used car), and
the vehicle identification number (VIN)
The vehicle identification number, or VIN, is usually displayed on the dashboard of the car, or on the inside of the driver side door.
However, you should usually be able to obtain the VIN number from either the person or the dealership you're buying the vehicle from.
Types of Coverage to Consider
The most basic coverage you'll need is liability. As the name implies, it's purpose is to pay a claim to another party if you are at-fault in an accident.
But there may be other coverages that are either required by law, or highly desirable.
Check with your state department of motor vehicles to find out exactly what the minimum required coverage is where you live.
Each state sets its own minimum coverage limits, and there may be additional requirements as well.
Liability coverage requirements are usually shown as a series of three numbers -- that will look something like 25/50/25.
Each number represents a specific requirement, in thousands.
The first number represents liability for bodily injury or death to one party in an accident that's determined to be your fault. The "25" means the minimum requirement is $25,000 for this portion of the liability.
The second number represents the liability for bodily injury or death to two or more parties in an accident that's determined to be your fault. The "50" means the minimum requirement is $50,000 for this portion of the liability.
The third number is what the insurance company will pay for property damage you cause. The "15" means the minimum requirement is $15,000.
Though the temptation is typically to go for no more than the minimum required coverage – especially for new drivers – that isn't always the best strategy.
As a general rule, your liability limits should roughly approximate your net worth.
If that's $50,000, you might want to choose a policy with liability limits of 50/100/50. But if you're a new driver, and have few assets, you can opt for minimum coverage.
Optional Coverages for New Drivers
There's a long list of additional coverage types, some of which may be required in your state, while others are completely optional.
Common examples are as follows:
Uninsured/under-insured motorist
This is an option that will pay your expenses if you're involved in an accident that's the fault of another party, who either has minimum coverage or no insurance at all.
In some states, it's required, but it's highly desirable, even if it isn't.
Personal injury protection (PIP)
Some states require this coverage if they operate under no-fault car insurance laws.
That's where drivers recover from their own insurance companies, regardless of which party is at fault. PIP will cover medical bills and lost wages.
(Be aware that no-fault states typically limit your ability to sue to recover damages.)
Collision
If you're involved in an at-fault accident, this option will cover the cost of either repairing or replacing your vehicle.
Though it's not a state requirement, it will be required if you have a loan or a lease on your vehicle.
Comprehensive
This will cover the repair or replacement of your vehicle if it's either stolen or partially or completely destroyed while parked.
It's another coverage that will be required if you have a loan or a lease.
Guaranteed auto protection (GAP)
This is a provision that will often be required on leases and loans.
Since new vehicles depreciate quickly after purchase, and insurance only covers the replacement value if your car is totaled, the amount paid may not cover the full balance remaining on the loan or lease on your vehicle. GAP is designed to cover the shortfall.
Others
There are dozens more coverage options, which will vary based on the insurance company, you'll take your policy through.
Examples include rental reimbursement, roadside assistance, and towing. All are good to have, but you'll have to weigh the cost versus the benefit you expect to get.
Tips When Shopping for an Auto Policy
We've already provided the basic information for purchasing car insurance, as well as the different policy requirements and options.
Beyond that, your main concern is going to be the premium you'll pay for the policy.
Since car insurance for new drivers is notoriously high, your main concern will be finding ways to keep the premium to an absolute minimum.
Along that line, we recommend the following tips:
If there are other drivers in your household, go on their policy. It'll be much less expensive than getting an individual policy.
Maintain a reasonable level of coverage. If you have little in the way of assets, go for the state-mandated minimum. That can save you several hundred dollars per year.
If you're buying a used car, exclude collision and comprehensive. Doing so can save you hundreds of dollars per year in premiums. (You may still want these provisions if the vehicle is worth several thousand dollars or more.)
Choose the highest deductible you can afford. Car insurance premiums are largely affected by your deductible. While $500 is common, it may be less expensive if you choose $1,000, or even $1,500. Increasing your deductible can save hundreds of dollars more.
Take a driver safety course. Most insurance companies will give you a discount on your policy if you've successfully completed such a course. Be sure the course is approved by the insurance company you plan to work with.
Take advantage of every discount offered. This can include bundling your auto insurance with other policies, getting discounts for vehicle safety equipment, low mileage driving, and other factors.
It should go without saying that, as a new driver, you'll need to drive safely. Car insurance premiums are high enough for new drivers.
But, they can increase dramatically on a single at-fault accident or moving violation.
The impact will be greater because you don't have a proven driving history.
Bottom Line
If your family has a car insurance policy in place, your first choice should be to be included on that policy.
You'll get the benefit of your family's driving experience and discounts, which will be a lot less expensive than taking your own policy.
But if you do have to take your own policy, follow the steps above.
It will be expensive no matter what you do, but your emphasis should be on keeping that expense as low as possible.