Motorcycle Insurance: A Guide to Buying the Right Policy for Proper Coverage
Learn what to look for when you're researching motorcycle insurance, including the proper coverage needed to protect against injury and liability claims.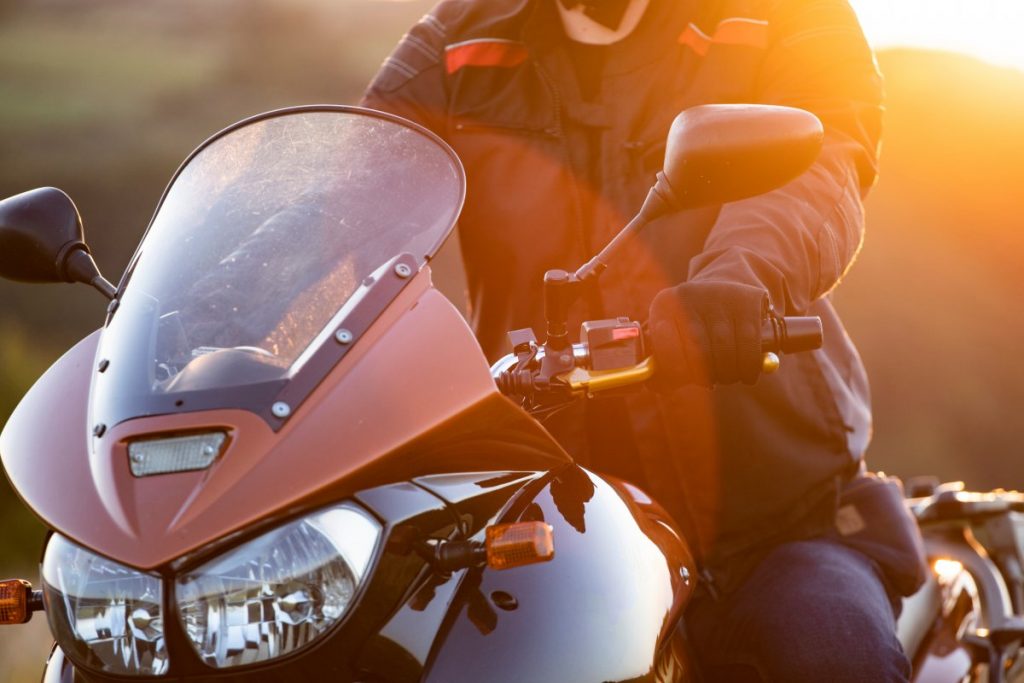 Motorcycle insurance is much like standard auto insurance, but you will need a dedicated policy if you own a bike.
And there are certain significant differences between the two types of coverage you need to be aware of.
For example, the risk of injury is much greater with a motorcycle than it is with a car. Even though a motorcycle may be less expensive than a car, the insurance premiums can be surprisingly close in dollar amount.
Here's what you need to know if you're buying motorcycle insurance.
The Differences Between Motorcycle Insurance and Car Insurance
Car insurance and motorcycle insurance are identical in most regards.
That's because in either case, there's potential liability.
That liability may not vary much between a car and a motorcycle in an at-fault accident. However, the risk of dying in a motorcycle accident is many times higher than it is in a car accident.
For that reason, the cost of the liability portion of a motorcycle insurance policy may be higher than it is for an auto insurance policy.
The higher cost of the liability portion of a policy may be offset by the lower cost of collision and comprehensive coverage. That, once again, is because the value of a motorcycle is typically much lower than a car.
It might be necessary for a motorcycle rider to take out a personal injury policy. This may be necessary because motorcycles, by their very nature, provide less protection to the operator than a car can. That means the likelihood of bodily harm is much greater – in fact, it's practically automatic.
Motorcycle insurance is a specific policy, so you won't be able to simply have your motorcycle usage covered under a basic car insurance policy.
That can be an advantage premium-wise, however, because motorcycles are used less than cars.
Cars are used year-round, while motorcycles are used only seasonally in much of the country. This is another factor that can lower the cost of motorcycle insurance.
State Laws and Requirements Regarding Motorcycle Insurance
Of the 50 states, 47 of them have specific laws requiring motorcycle operators to maintain insurance.
The exceptions are:
Florida
Montana
Washington
However, even if you're not required to have coverage by law, it'll certainly be needed.
If you're involved in an at-fault accident, absent adequate motorcycle insurance coverage, the victim could pursue you for your personal financial resources as compensation.
You should also consider the possibility of driving your bike from a state where coverage is not required and being involved in an accident in a state where it is.
Suffice it to say:
It's best to have motorcycle insurance even if it's not required by your state.
What Basic Motorcycle Insurance Covers
The most basic motorcycle insurance is liability coverage. Similar to car insurance, state requirements are usually presented as a three number sequence, like 25/50/25.
The first number is the maximum the insurance company will pay if one person is injured or killed in an at-fault accident.
The second is the maximum that will be paid if two or more people are injured or killed in the same accident.
The third is the maximum amount that will be paid for property damage for a single accident.
The website Motorcycle Legal Foundation has a full listing of the minimum liability requirements in the 47 states where they exist, as of 2020.
For example, in California, the requirement is 15/30/5, in Illinois it's 25/50/20, in New York it's 25/50/10 and in Texas, it's 60/25/30. But if you're looking to purchase motorcycle insurance, check with your state department of motor vehicles, or with your insurance carrier to determine the legal minimums in your state.
TIP: Though maintaining only the minimum liability insurance required by your state may result in the lowest possible premium, it's not always the best course of action from a financial standpoint.
If you're a young driver with little or no financial assets, carrying minimum coverage might make sense. But if you've got substantial assets, which could be pursued in an accident that's your fault, you'll need to maintain sufficient coverage to protect those assets.
Guest passenger coverage
You should also be aware that "guest passenger" coverage is an open question.
That's because motorcycles are not specifically designed to carry passengers, so requirements and coverage are optional unless required by state law.
Even if it's not required in your state, the insurance company should offer it as optional coverage. Similar to liability insurance, it will cover a passenger on your bike in an at-fault accident.
Adding the option to your policy is absolutely essential if you plan to carry a passenger even occasionally.
Other Motorcycle Coverage Options
Much like regular auto insurance policies, you can also add collision and comprehensive coverage to your plan.
In fact:
If your motorcycle is financed, it's virtually certain the lender will require you to carry both collision and comprehensive. Their basic purpose is to protect the value of your vehicle, which is collateral for the loan.
Collision insurance covers damage to your motorcycle, regardless of who is at fault in the accident. It will usually offer a deductible that will lower the cost of the coverage. The lower the deductible, the higher the cost of the collision coverage will be.
Comprehensive covers damage to your motorcycle when it's not moving. It could be something like a tree falling on it, being struck by another vehicle while it's parked, or even stolen. Comprehensive coverage will also come with a deductible, but it may not be the same amount as your collision deductible.
Uninsured or underinsured motorists
Unfortunately, a large percentage of drivers don't carry car insurance, despite laws requiring it.
Others have coverage, but carry only the minimum.
That may not be sufficient to cover the cost of damages you suffer as a result of an accident caused by another party.
If either situation happens, uninsured/underinsured motorist coverage would compensate you up to the limits of your policy, after the policy of an underinsured motorist has been exhausted. (It would cover you entirely in the case of an uninsured motorist.)
Still another option is medical payments. That will cover the cost of medical expenses for injuries sustained regardless of who was at fault in the accident.
Motorcycle customizations
Finally, you may also need specific coverage for the customization of your bike.
That will be part of your collision and comprehensive coverage, up to a specific dollar amount. Much like cars, motorcycles can add different options and customizations during or after purchase that will increase the cost of repairing or replacing the motorcycle. Check with the insurance company to see what type of coverage they offer in this area.
When you're shopping for a motorcycle insurance policy, be sure to ask the insurance company about all optional coverages available.
While it's true, you'll want to keep your premium as low as possible, there may be certain options that are either necessary or desirable, based on your own personal circumstances.
Each company offers a somewhat different menu of policy options.
How Much Does Motorcycle Insurance Cost?
Average cost for motorcycle insurance is $1,173 for 2020. That's for a full coverage policy.
Naturally, premiums vary from state to state, just as they do with auto insurance policies. Weather plays a major role in the cost of motorcycle insurance.
In the northern states, where the riding season is shorter, premiums will be lower. But in Sunbelt states, where the riding season can be year-round, expectant higher premiums.
For example, the average annual premium in Maine is $828, while the average in Georgia is $2,660.
In addition, the amount of the premium will be affected by how much liability insurance you purchase, the amount of the deductible for collision and comprehensive coverage, as well as your driving history, available discounts, the insurance company you take a policy with, and other factors.
And just as is the case with car insurance, your age is a major determining factor. Generally, the younger you are, the higher your premium will be.
Common Motorcycle Insurance Discounts
The discounts available for motorcycle insurance are very similar to those for regular car insurance, and can include:
Safe driving history.
Wearing certain safety equipment, like a helmet or other protective equipment.
Bundling with other insurance policies, particularly homeowner's or renter's insurance.
Insuring multiple vehicles, especially multiple motorcycles with the same company.
Taking part in a motorcycle training course.
Participating in recognized motorcycle riding organizations, particularly those that stress safety procedures.
There may also be discounts available for good students, or even older drivers.
Discounts are unique to each insurance company, so be sure to ask any company you're making an application with to provide a full list of the options they offer.
Where to Buy Motorcycle Insurance
In most cases, you can purchase a motorcycle insurance policy with the same insurance providers that offer regular auto insurance policies.
But just as is the case with auto insurance, premiums and coverage options vary widely from one company to another.
If you're purchasing a motorcycle policy, you should shop between several carriers to get the best combination of coverage and low premium. But even after you have your motorcycle for a while, you should shop for a new policy every couple of years.
Some insurance companies, looking to gain a bigger market share in a particular state, may suddenly lower their premium rates for motorcycle owners.
Others, looking to decrease their exposure in your area, may increase the rates.
If you're with a company that suddenly increases its premiums, it's time to shop for another carrier – one that's looking to expand their business in your area.
Summary
The rules and basic advice for purchasing motorcycle insurance are pretty much the same as they are with auto insurance.
You'll need to first determine what the minimum liability requirements are in your state, then determine the amount of coverage you believe is most appropriate for your financial situation.
From there, add any options you think are beneficial based on your driving habits and needs.