16 Budgeting Tips To Save On Wedding
A frugal wedding doesn't mean a less memorable or cheap looking wedding. Learn 16 valuable budgeting lessons learned from frugal weddings.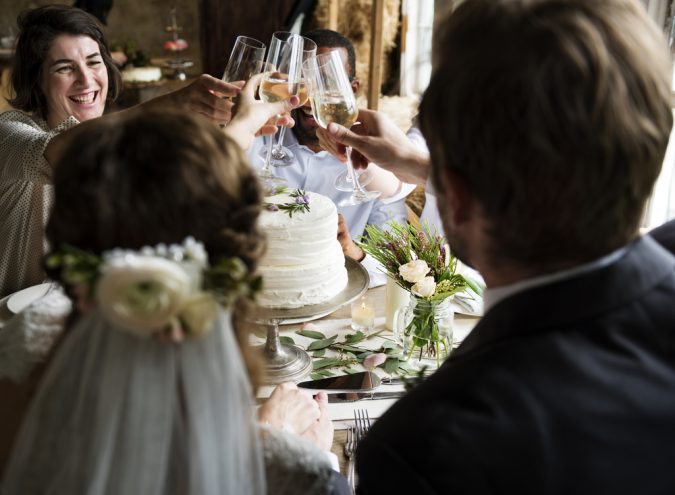 For frugal-minded couples, a wedding can be a real financial challenge. There's family to please and expectations to meet. During the planning process, you can expect your guest list to exponentially grow, your budget to inflate and have all sorts of unsolicited advice thrown your way.
But don't be peer pressured into a having a wedding that doesn't reflect the most important thing: the happy couple. A frugal wedding doesn't mean a less memorable or cheap looking wedding. Actually, a frugal wedding forces the budget to be spent wisely, focusing the money on the most important factors, while trimming excess and wasteful costs.
Let's say you and your significant other have $20,000 to spend on a wedding. Here's a breakdown of what you can expect to spend, excluding consulting costs which the website indicated can run between 10-15% of your total costs:
Your Wedding on a $20K Budget
| Expenses | Estimated Costs |
| --- | --- |
| Reception | $9,700 |
| Attire and Beauty | $1,980 |
| Ceremony | $520 |
| Food | $1,600 |
| Music | $1,600 |
| Photography and Videography | $2,400 |
| Stationary | $600 |
| Wedding Rings | $400 |
| Transportation and Lodging | $600 |
| Gifts | $600 |
Here are 16 valuable budgeting lessons learned from frugal weddings:
1. Can't narrow down that guest list? Ask yourself one pivotal question.
The question is not who should be invited. Ask yourself who would actually show up, no matter the date or time of day. This eliminates guests only looking to party and mooch off the free food and open bar.
A breathtaking $100 cave wedding, featured in Offbeat Bride,  was held close at sunrise.
The early wake up call kept the wedding small and intimate. Meaning, everyone that showed are the ones that should be there.
Bigger Isn't Always Better
Whether you have $20,000 or $200,000 to spend on your wedding, reception venue and catering services are two items that will cost you the most. No amount of cost comparing and budgeting will save you more money than simply reducing your guest list.
"Cutting your guest list is the easiest way to cut your budget," says Tracy Leaman, the Washington D.C.-based founder of wedding event planning company Events to a T. Couples don't have to cut any of the items they may want to make their day special, they just may need to cut dad's co-worker from the list in order to get it."
2. Spend the money where it counts
Many DIY sites will tell you that in order to cut costs, replace expensive services by recruiting your willing and capable friends. This may work some areas like decor and catering. However, consider skipping photography and videography as your next DIY solution.
Unless you know someone that is a professional (with professional equipment) that is willing to charge a friend's price or donate their services, use that money you just saved by reducing your guest list and hire a professional with a decent portfolio.
This couple, featured in Green Wedding Shoes, eloped to the woods. The biggest expense, other than the $1,200 Free People dress, were the photographs and videography. There were no guests. Just the bride, groom and the officiant. After you take a look at the moving video and breathtaking photographs, you'll agree that it was money well spent.
3. Utilize what you have, especially if you have a nice living space.
Why spend all that money on a house if you're not going to have guests over? Even if you are renting a small home or a nice apartment, your humble abode may work as your wedding venue.
This couple, featured in Intimate Weddings, had a $5,000 budget to work with. After trimming back their budget and eliminating the idea of a large wedding, they asked to use their officiant's Tribeca apartment for their wedding ceremony. The reception was held at a local restaurant.
4. Don't knock a city hall wedding
Before you cross a city hall wedding off your list, you may want to do some research. You truly may be missing out on a great deal of history and a spectacular ceremony backdrop.
San Francisco city hall is one of the most popular destinations to get married. And it's no wonder why. City hall is a great elopement or small wedding option that won't break the bank. The cost is just $99 for the marriage license and $75 for the civil ceremony. While the location is at the discretion of the officiant, ceremonies are usually held in the Rotunda.
For those not interested in a long ceremony but want the convenience of as venue easily accessible with great photo opportunities, a wedding at San Francisco City Hall is well within the budget.
5. Add a twist to tradition.
At times, sticking with tradition can be a simple solution to budgeting. Various cultures call for a family-oriented wedding in a familiar setting with homemade food and passed down heirlooms.
A traditional Russian wedding usually consists of a guests meeting at a family member's home, a meal accompanied by toasts, and a civil ceremony. This couple kept true to tradition, but added a few frugal twists to incorporate their goth style.
6. Who says a ring has to be worth 3 months salary, anyway?
The whole three month salary is not actually a rule. It was part of a marketing campaign from back in the day that stuck. So don't buy into that old myth.
Start a wedding off right with a frugal engagement ring. There are tons of options available on Etsy, and gemstone engagement rings are far more affordable than diamond engagement rings. But, your ring shopping has only just begun. What about the wedding bands?
After all the guests go home and the band packs up, all that's left of your wedding are your wedding rings. And frugal couples are opting to ditch a trip to the jewelery shop and make their own wedding bands. Why not spend some extra time hand making the one lasting symbol and daily reminder of your union?
Ways to Save on Wedding Travel
7. Prioritize
Set your budget with priorities in mind. Decide what your goals are for the trip, and how much you want to spend.
Then consider what you and your partner can't live without. For example, if you have $1,000 for the honeymoon, and pampering is high on your list, book a relaxing weekend at a spa resort.
Base how the budget will be spent from items on your wishlist.
Compare Savings Options
Be sure to check out more savings accounts worth considering:
8. Consider Unorthodox Options
If you're open-minded, try searching Airbnb, a community marketplace in which people list, discover, and book accommodations around the world, ranging from an apartment for a night, a villa for a week, or a castle for a month.
Prices range wildly, from all-out luxury to dirt cheap. Whatever your price point, Airbnb has lodgings in more than 192 countries and 33,000 cities.
Another unique option is to rent an airstream camper, a brand of luxury recreational vehicle, the latest trend in travel experiences.
9. Set Up A Honeymoon Registry
If you and your partner aren't in need of anything specific, consider setting up a honeymoon registry.
Your wedding guests will be able to pay for parts of your honeymoon, such as the air ticket and hotel accommodations, via free websites like Honeyfund.com
10. Re-book Your Hotel Before You Check In
While booking a hotel room in advance can get you a great deal, you could save more by checking back at the available rates closer to the date of your vacation. Sometimes, you can get a discount of up to 30% by re-booking. Simply cancel your original reservation and book the new, cheaper room.
Double check the hotel's policy on cancellation fees first, and remember, if you booked through a third-party site such as Expedia or Orbitz, you will most likely incur heavy fees for canceling.
The best way to do this is by making sure the hotel doesn't charge a fee for canceling before you re-book. A recent article by Forbes explained, "Be sure you're aware of the cancellation policy. Often times the lowest available rate at the time of your original booking is non-cancellable. In other cases, you may need to cancel a minimum of 24 or 72 hours in advance to avoid being charged for the first night.
Also note that this strategy doesn't always work. In popular places or at peak travel times, there may not be any rooms left at the last minute. That's why you should always make a primary reservation early in the planning process."
11. Mention It's Your Honeymoon
Ever seen that episode of "Friends"? You know, the one where Monica and Chandler are a minute behind that couple who keeps beating them at getting free stuff because it's their honeymoon? Don't be like that!
Mention it's your honeymoon ahead of time. When reserving your room be sure to let the hotel know it's your honeymoon, because it may get you a complimentary room upgrade or other perks. If you're paying a special honeymoon rate, you may have to bring a copy of your marriage certificate, so it's essential to tell them beforehand.
12. Stay Closer to Home
It's a general rule of thumb that the shorter the flight, the cheaper the airfare. West Coast residents tend to head south to places like Mexico, while East Coast residents favor the Caribbean.
Another option is to drive to a destination close to home and use the money saved to upgrade your accommodations.
13. Choose Cheaper Locales
Go to countries where the dollar is strong. In Costa Rica for example, $15 covers a basic budget-hotel room, and domestic airfare begins at around $50! A buck and change gets you a beer or snack.
Other countries with a weak local currency include India, Iceland, Mexico, Bali, Argentina, and Hungary.
14. Choose an Off-Season Location to Save
Choose an off-season location to save money. You'll also save on hassle since you'll be visiting during a time when it's low on tourists.
15. Purchase an Air Pass
Foreign airlines tend to sell tickets that allow you to city- or country-hop within a specific region during a set time frame for far cheaper than had you arranged each leg of the trip separately.
Countries in which this is common include Europe, Southeast Asia, South America, Australia, and the South Pacific.
16. Consider an All-Inclusive Hotel
The great thing about all-inclusive packages is that you pay one flat fee and get everything included. Most all-inclusive packages include room, meals, drink, activities, entertainment, taxes, tips, and airport transfers.
Be sure to read the fine print carefully, and speak to a travel agent or representative from the resort.
Whether your budget is big or small, your wedding is one of the most important days of your life and should reflect that. Careful budgeting and spending can help both you and spouse throw an elegant bash without breaking the bank.