This Year's Biggest Halloween Fright: The Killer Cost of Candy
High sugar and cocoa prices lead to frightening price spikes on candy and chocolate this Halloween.
Forget about fierce Halloween monsters and leering political masks -- a Donald Trump mug is a favorite this year -- the real fright of Halloween, say American confectioners, is the wicked spike in the cost of candy.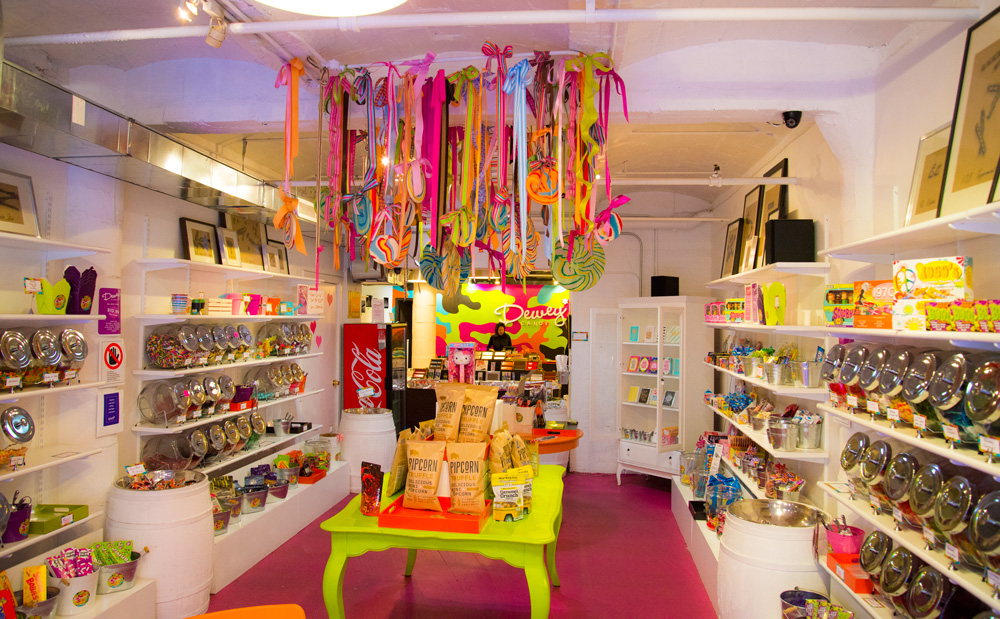 "Halloween is, for sure, one of the biggest seasons for candy alongside Easter," said Debra Lions, a store manager for Dewey's Candy shop, a Brooklyn, N.Y.-based candy shop that sells chocolate and candy from major and local candy companies.
The cost of sugar, nuts, dairy and imported cocoa have skyrocketed in recent years, and the sheer volume of candy sales at this time of year drives prices sharply higher.
"I think the cost of hard candy has pretty much stayed the same in the past year while chocolate has gotten really expensive -- ridiculously expensive," added Lions. "But, demand for chocolate is definitely higher than regular sugar candies."
In fact, the Bureau of Labor Statistics (BLS) projects that candy and gum prices will reach record levels.
Why candy prices aren't so sweet
Consider the marketplace: Hershey announced an 8% price increase on its products, citing the cost of its raw materials as the reason, and manufacturers like Mars have also attempted to cut costs by reducing the size of their candy bars and changing their packaging - hoping consumers won't notice. Snickers for example, got updated packaging in 2013 but the size of the candy bar shrunk from 58 grams to 48 grams. Thanks to tactics like these retailers get to realize large profits while you're left paying more for less.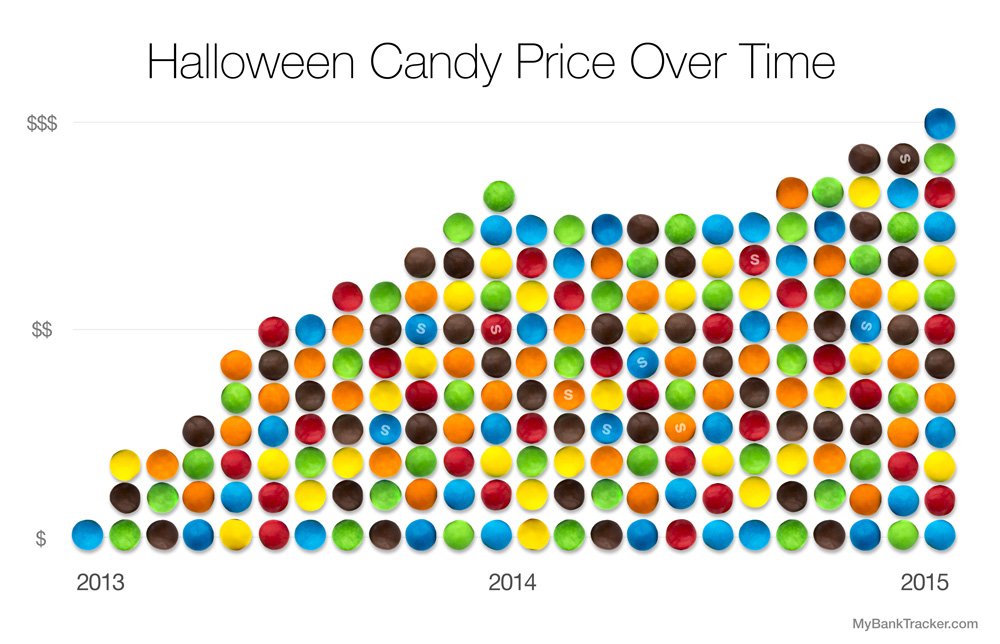 Don't let the high cost of candy gobble up your budget this Halloween. These simple tips will leave a sweet taste in your mouth without emptying your wallet.
Want to save money on candy? Join the club
Warehouse clubs like Sam's and Costco offer bulk quantities of candy at significantly discounted rates. Right now Sam's is offering 55 ounces (3.4 pounds) of assorted Hershey's miniatures for $12.48. If you were to buy the exact same bag at Amazon you'd pay $23.48. Buying in bulk is almost always cheaper, as long as you're actually going to use everything you buy. No one wants to run out of candy on Halloween, so this is one time that buying in bulk definitely makes sense.
Compare Savings Options
Be sure to check out more savings accounts worth considering:
The early bird pays more...A LOT more
Halloween-themed candy may have been on the store shelves since early September, but savvy shoppers know this secret: Buy your candy the day before, or even the day of the holiday. You'll find that stores like Walgreens, Meijer and Kroger have already begun to mark down their candy because they want to offload their excess. You'll save 10 to 30 percent if you wait to stock up. Plus, it keeps you from eating all that tempting candy in the weeks leading up the the holiday.
Eliminate the cocoa, realize the savings
The high price of coca is part of the reason candy prices have risen so dramatically in the last few years. If you want to maximize your savings, purchase candy that skips this ingredient entirely. Suckers, Jolly Ranchers, Twizzlers and caramels are all excellent Halloween treats and they usually cost less than their cocoa-based counterparts. Right now, Walmart is selling a 75-piece bag of Kit-Kat minis for $9.94 while a 2-pound tub (105 pieces) of individually-wrapped Twizzlers sells for $5.98.
Mini candy bars have super-sized prices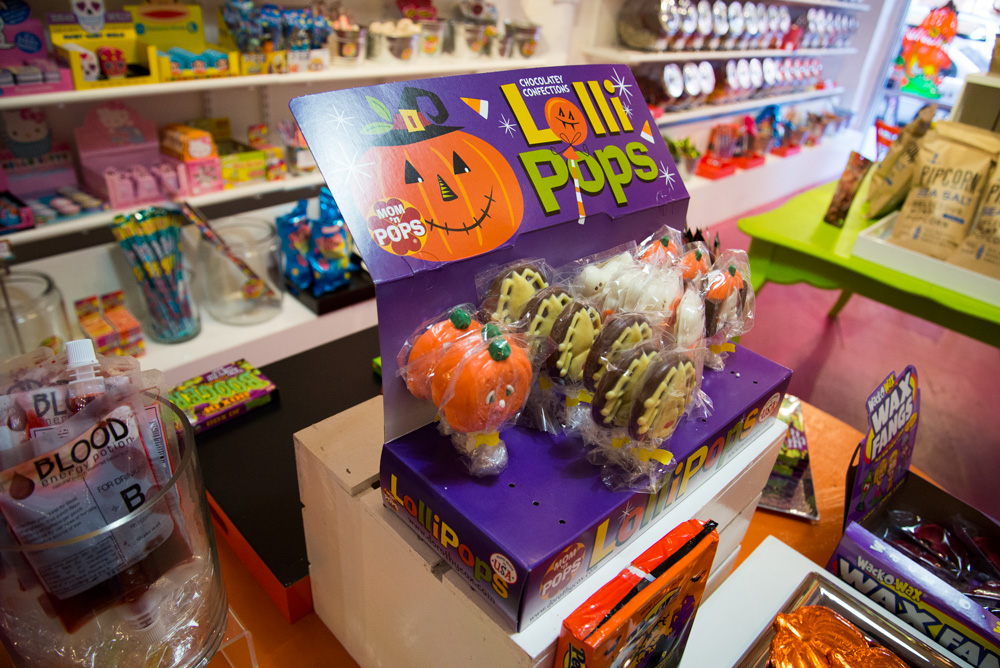 Handing out full-size candy bars at Halloween is a sure way to make your house the most popular stop on the block, but did you know that it might also save you some money? Instead of handing out 3 or 4 bite-sized pieces of candy to your trick-or-treaters give them one full-sized candy bar instead. You'll end up giving out less candy while trick-or-treaters get to brag about their super score.
Wanna see the math in action? Sam's has a 36-count package of full size Hershey bars on sale for $20.49 right now. In order to give the same 36 trick-or-treaters 4 mini-bars each, you'd have to buy two 105-count mini bags priced at $19.98, setting you back nearly $40.
Mix things up for maximum savings
Discount store chains like Family Dollar and Dollar General typically sell Palmer's brand candy for around $1 per bag. Stock up on the cheaper candy first and then mix it up with some higher priced candy right before you hand it out. Chances are, the trick or treaters won't notice the difference, but your wallet will.
Buy next year's Halloween candy this year
It's a little-known fact but plain Hershey bars have a very long shelf life. It's one reason they've historically been included in military MRE's. Hershey's own website says their candy bars will taste best when used within a year but if you store them away from water, heat and light they last at least two years with no drop-off in flavor. Additives like peanut butter or nuts will make the candy go bad faster, so only stock plain chocolate. If you shop after Halloween, you can take advantage of your grocery store's markdowns as save as much as 50 percent on next year's treats.
Candy prices may be the most frightening thing about Halloween this year, but now that you have these shopping strategies you'll be well-prepared to experience some very sweet savings.