5 Best Ways You Can Invest $500 Wisely
Have a little extra money laying around? Learn the smart ways to spend and invest. Here's what to do with $500.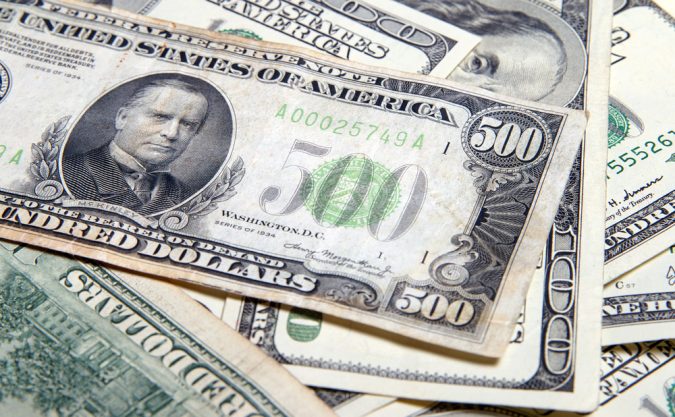 Smart spending is about making your purchases work for you. Sure, you could drop $500 on improving your work wardrobe in hopes of landing a raise or use it to have some fun and buy the latest iPhone which you could argue would help you manage your life, but there are better ways to spend.
Obviously, if you have a lot of high-interest credit card debt, using $500 to pay some of that down is a good idea, but if your debt is in check, here are some other smart strategies on what to do with $500.
1. Invest in a CD
An excellent way to invest in your future is to invest in a certificate of deposit, otherwise known as a CD. Compare the best rates, and put that $500 to work for you and your future. Using the money you have now to save for the future is always a smart strategy.
2. Invest in a money-saving hobby
Any hobby that allows you to make and use goods or services you normally pay for is probably going to have some up-front equipment costs. If you have $500 to spend, investing in materials you'll need to get started on a hobby that can save you money can be a smart money move, especially if you are willing to take some time to learn, do some research, and are the kind of person who enjoys the process of making something.
Love watching "Project Runway?" Less than $500 can buy you a good sewing machine, a variety of patterns, the notions you will need to get started, some lessons, and possibly even a serger, a machine that trims, cuts and finishes edges in one step.
Start with simple projects and work your way up, and it won't be long before you are saving money on clothes and accessories that you made yourself. You might even be able to make a little bit of extra cash by altering clothing for friends or even making custom outfits for them.
Are you obsessed with craft beer or good wine? Take that $500 and invest it into the starter kits, carboys, airlocks, books, yeast varieties, cheesecloth, bottles, and just about any of the other items you will need to get started in this satisfying hobby. You'll save money in what you spend on craft beers, and become especially popular with your friends. Bringing some homebrew along to the next party will ensure you get invited to every other party coming up!
Are you organic-obsessed when it comes to vegetables? Even a small, sunny patch of land or a sunny balcony can become a money-saving garden. If you're able to grow in the ground, you'll need a variety of digging and weeding tools, hoses and sprayers, a soil testing kit to find out whether it is acidic, neutral or alkaline, fencing if possible to keep critters out and a variety of other implements.
If you are doing a potted garden on a sunny balcony, roof or patio, you'll need to invest in the deepest pots you can find and high-quality quality soil to put in them. In either case, you will also need plants or seeds, but your $500 can go very far to get started saving money by growing your own food, and you'll have the comfort of knowing how that food was grown through every step and control over what chemicals -- if any -- you choose to use.
3. Deck the halls
Do you often feel like you haven't set enough money aside for holiday spending? If you have $500 to spend right now, putting that money into an interest-bearing holiday spending account so that you can spend it -- and more -- at a later date is a smart idea. Throw that money into the account now, and set aside a little each month to make that money grow by this time next year.
Online savings accounts typically have the best interest rates, so do your shopping for the best accounts first.
Compare Savings Options
Be sure to check out more savings accounts worth considering:
4. Shorten your mortgage
It is pretty well-known that an extra mortgage payment every year can reduce the length of your loan, and thereby how much you pay in interest over the length of the loan. If you have an itch to spend $500, an extra mortgage payment is a good way to invest in your future.
5. Invest in your home
Making an extra mortgage payment won't help you much if you plan on selling your home soon, so taking $500 to help put your home into tip-top shape can be a really smart investment. What needs fixing? If $500 can fix something that is broken, like a cracked window or loose or torn window screens, then do it. Are your lighting fixtures out of date, or a ceiling fans scant around the house? Replacing lighting fixtures can be an inexpensive upgrade if you do it yourself (it helps to have a friend, and check out lots of online how-to and safety videos first), and abundant ceiling fans can be a good selling point.
Other improvements $500 can bring to your home are new interior paint for any rooms that aren't quite looking fresh, repairing hinges on any doors that don't close properly, an updated faucet for a kitchen or bathroom sink that will improve the overall look of quality, or even a new built-in microwave.
Convenience features like programmable thermostats remote control ceiling fans, garbage disposals, closet convenience features, and other small touches can be purchased for much less than $500, so spending that money on as many finishing touches as possible could really impress a potential real estate buyer, and instill a higher sense of quality throughout the home. Potential buyers will remember some of those details and have an overall higher opinion of your home. So will your friends, and you'll enjoy all of those features before you move, too!