Acima Credit 2023 Review: Lease-to-Purchase Retail Financing
Our review of Acima Credit looks at the lease-to-purchase options available as retail financing at stores such appliances, furnitures, auto parts, and more.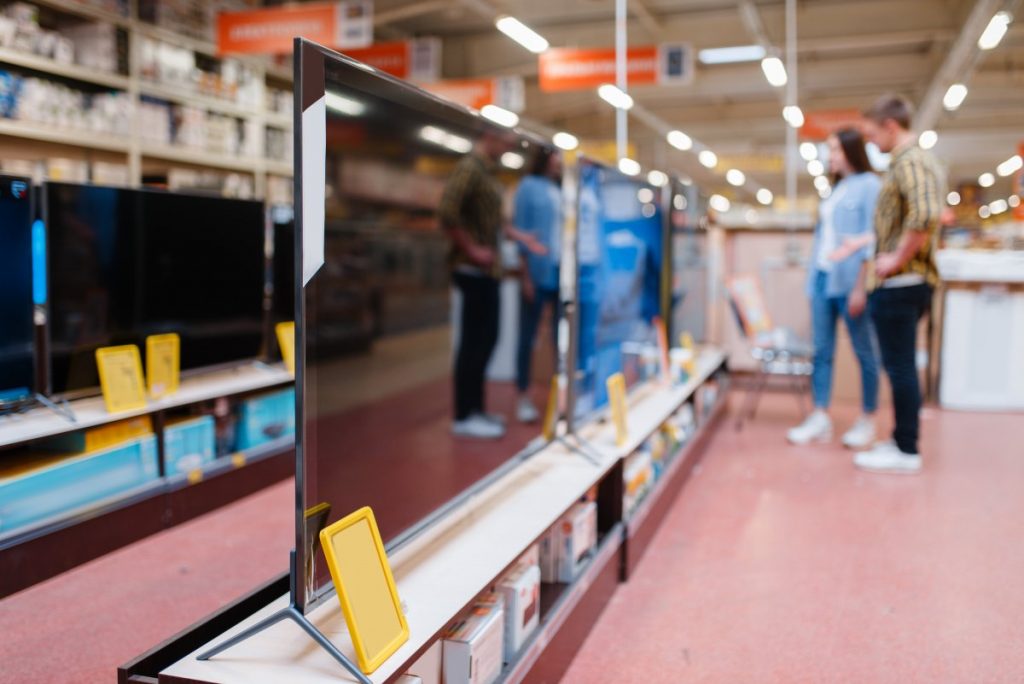 Acima is a financing solution if you're looking to buy appliances, mattresses, car tires, and other retail purchases.
This lease-purchase option (or rental purchase) is an alternative to using a credit card or getting a personal loan.
You can buy what you need, take it home, and then make lease renewal payments until you've paid off the item.
It's similar to an installment plan or "budget plan," which comes in handy when buying high-ticketed items. 
How Does Acima Credit Work?
Acima partners with multiple merchants to help you get the merchandise you need —  when you need it. 
The financing program is simple. 
Once you find what you're looking for, Acima will purchase the merchandise from the retailer and then rent it to you. It's not a type of layaway program, though. You'll take the item home after purchasing it with Acima credit. 
That said:
Technically, Acima still owns the merchandise.
So you'll make your lease payments directly to Acima. Once you've paid off the lease, you'll own the merchandise outright.
It's important to note, you can only use Acima with their participating merchants. 
The good news is that the company works with several different merchants.
Use Acima credit when buying tires, furniture, mattresses, appliances, home electronics, eyewear, and more.
Here's what you need to know about Acima financing.
1. What are the loan amounts?
Acima credit is great when you need to buy a big ticket item, but you don't have enough cash.
There are loan limits, though.
Your monthly income determines how much you're able to borrow.
In most cases, you can get approved for credit between $500 and $5,000.
2. What are the loan repayment terms?
Acima offers flexible repayment schedules to accommodate your specific situation. You can elect to make weekly, biweekly, or monthly lease renewal payments, based on your specific agreement. 
Just know:
Longer repayment terms are costlier.
The cheapest option is to pay off the lease within 90 days, in which case you'll pay the cash price of merchandise and a small processing fee. 
You can also choose a payment schedule that's longer than 90 days — say 12, 18, or 24 months. These are costly alternatives, as you'll end up paying considerably more interest for the merchandise. 
3. What are the credit requirements?
The good news about Acima is that you don't need a credit history or good credit to qualify. 
When applying for traditional financing, banks may reject your application if you don't have a prior credit history or if you have a low credit score. 
Acima, on the other hand, considers more than your credit.
The company conducts a soft credit pull before approving your application.
But, the decision isn't solely based on your credit score. It's also based on other data factors such as your income history.
4. Are there an application fee with Acima?
You will not pay an application fee when applying for Acima credit. But your total lease payments do include the Acima cash price for a particular merchandise, and the cost of the lease service. 
Depending on where you live, you're also required to pay sales tax on each rental payment. 
Always make your rental payments on time.
Late payments might result in additional fees.
5. What are the income requirements?
To be eligible for Acima credit, you must earn at least $1,000 of income per month. 
In addition, you must provide proof of at least three months of income history.
Keep in mind that it's okay to have multiple sources of income. You can include earnings from a full-time job, a part-time job, etc.
6. What are other requirements for getting credit?
You must meet other minimum requirements to qualify for credit, too.
Along with earning at least $1,000 a month and having three month's of income history, you must be at least 18 years or older to qualify for Acima. 
You'll need a Social Security number or an individual taxpayer identification number (ITIN). And you'll need a government-issued photo ID. This can include a driver's license, state-approved ID card, military ID, or passport.
Getting approved for Acima also requires an active checking account. You must have the account for at least 90 days prior to submitting an application. 
The checking account must be in good standing, too. This means no non-sufficient fund fees, excessive overdrafts, or negative balances.
Use your checking account to make lease payments via ACH transaction. You can also make monthly payments using a debit card or a credit card (although it's probably best to stick with ACH or debit to avoid extending the debt).
How to Apply for Acima Credit?
Applying for Acima credit is fast and simple. But the process is slightly different compared to applying for a credit card or a personal loan. 
Typically, you apply for financing first, and then use this financing to pay for merchandise.
With Acima, the first step is to find a participating merchant. Use the website's "Find a Store" search tool to locate participating merchants in your area. 
Enter your zip code and you'll see a list of retailers in your city and surrounding cities. Find and select a merchant, and then click "Apply for Acima credit." 
You can apply online or in-person at the retailer's store.
The application is also straightforward. You'll provide basic information, such as: 
first and last name
Social Security number or individual taxpayer identification number 
phone number
address
email
date of birth
government-approved ID number
bank account information
income information
Once you've provided the requested information, hit submit for an instant decision.
Things to Know When Applying for Acima Credit
If you're approved for Acima, you must use your credit with a participating merchant within 90 days or else it will expire. 
Not a line of credit
It's also important to note that Acima is not a line of credit that you use on an as-needed basis. 
So if you're looking to buy multiple items at different retailers using Acima, you'll have to re-apply for new credit each time.
Returns
Since this is a lease and you don't own the merchandise, you can also return the property at any time. Each retailer has its own return policy. They'll generally accept returns within 30 to 60 days of purchase. 
If you decide to return an item after 60 days, you'll return it directly to Acima without penalty. Call Acima's customer service department and the company will pick up the merchandise.
Build credit
Another perk of Acima is that it's useful for building a credit history.
The company will report your payments to Experian, which is one of the major credit reporting agencies. 
Timely payments add positive activity to your credit report. This can help you establish credit and build a better credit score.
Comparing Personal Loans from Other Lenders
If you need a personal loan or credit, it's wise to shop around and compare costs.
Financing merchandise can be expensive, and terms vary considerably from lender to lender. 
As a general rule of thumb, you should compare financing terms among two to three lenders before making a final decision.
Terms to compare include:
application fees 
loan origination fees
interest rates
credit score requirements
loan amounts
flexibility of loan terms
unsecured versus secured
Is Acima Credit Right for You?
Acima Credit is an attractive financing solution if you have bad credit or no credit. But, unless you're able to pay back the credit in 90 days, this lease-purchase option is expensive. 
Also, you're only able to use Acima with certain retailers. 
If you prefer the flexibility and convenience of using a credit account anywhere, you might have a better experience with a secured credit card. These credit cards are easier to get without prior credit history or bad credit.
Similarly, Acima might not be the best choice if you have good credit. You should consider other financing options. These include a credit card or a personal loan. In most cases, you'll receive a lower interest rate and pay less out-of-pocket.
But if you absolutely need tires, appliances, or other merchandise, and a personal loan or secured credit card isn't an option, Acima might work for you. 
Just make sure you make timely payments, so you can build a stronger credit history.
And if possible, pay off the loan as soon as possible — within 90 days — to reduce your out-of-pocket expense.