AmONE Personal Loans 2023 Review
Read MyBankTracker's editorial review of the AmONE platform for finding personal loans, including what it can do for you as well as some pros and cons.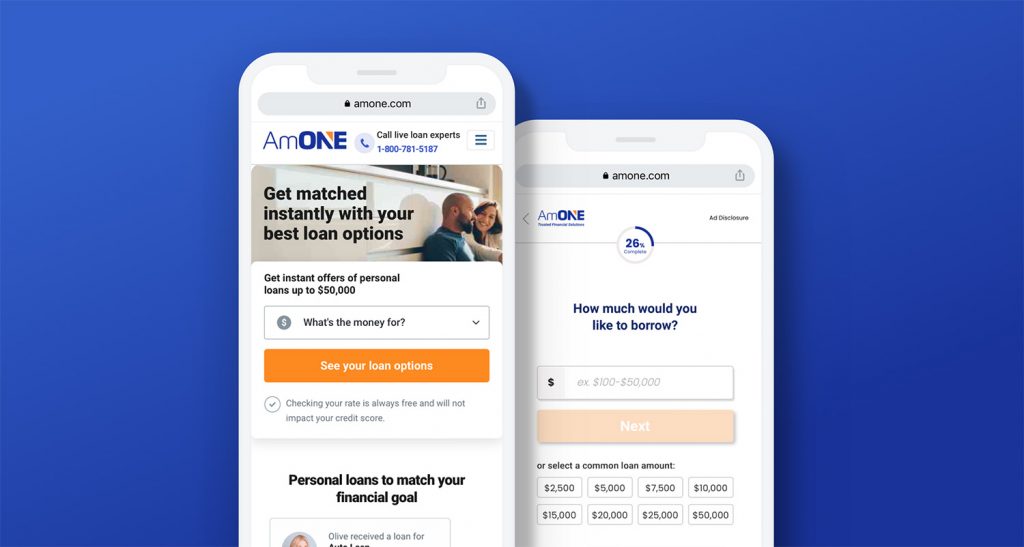 AmONE is a personal loan comparison portal that aims to make it easier for prospective borrowers to compare options from multiple banks and lenders (AmONE is not a lender).
Ultimately, you save time by getting matched with personal loans based on your profile in a single place–no need to visit and get rate quotes from each lender.
We reviewed the AmONE personal loans finder tool by going through the process of obtaining rate quotes from multiple lenders to evaluate how the experience would be for the typical consumer.
How Does AmONE Work?
AmONE's free loan comparison tool will match you with a list of unsecured personal loans that fit your needs.
You'll be presented with lenders that match your personal loan needs. From here, you can select a lender and submit an application directly through the lender's website. (Every lender will have their own documentation and verification requirements to process the loan application.)
The loans can be used for a wide variety of purposes, including debt consolidation, major purchases, home improvement projects, vacation expenses, and more.
Better yet, AmONE can offer loans to borrowers with all types of credit–ensuring options for applicants with credit scores ranging from excellent to poor credit.
Your individual results will vary, but here's what you can expect from these personal loans:
Borrowing amounts up to $50,000
Repayment terms of up to 72 months
Funds can be in your hands within 24 hours
Loan matching questionnaire
From the moment you get to AmONE's home page, you can go straight into the questionnaire that starts to build your borrower profile.
We used AmONE's loan matching tool, which asks various questions about your financial situation (e.g., income, housing status, etc.) and personal information.
The best part of the process:
We did not need to go through email verification or create an account in order to see our loan offers.
Debt relief programs
For prospective borrowers who do not qualify for any loans, AmONE may recommend credit counseling or debt relief programs.
Before enrolling in such programs, it is important to understand how they work. Such programs can help you significantly lower debt, but they could also negatively impact your credit scores.
How to Compare Personal Loan Offers on AmONE
Even after AmONE shows you a list of personal loans and you see multiple quotes from lenders, you'll need to pick one.
Be more confident in your decision by looking at these key factors that could affect your final choice:
Interest rates
Fees
Borrowing amount
Repayment terms
Speed of funds disbursement
Interest rates
The interest rate on loan is certainly the most important factor because interest charges will be the most expensive part of the loan.
Obviously, you'll want the lowest interest rate available to you.
You may be able to qualify for a lower interest rate with a higher credit score or by opting for a longer loan term.
Fees
Again, AmONE doesn't charge any fees for its services.
But, the personal loan itself can come with many types of fees depending on the lender.
Here are some of the most common personal loans fee to watch out for:
Application fee: This fee is an upfront fee when you submit your loan application, whether the loan is approved or not. It may also be called a documentation fee.
Origination fee: This fee is charged when your loan is approved and the funds have been disbursed to you.
Prepayment penalty: This penalty applies to any payments in excess of your standard monthly repayment amount. (Few lenders will charge this fee.)
Late payment fee: This fee applies when you miss a payment after your loan has been issued.
Borrowing amount
Each lender has its range of borrowing amounts for personal loans.
You'll want to go with the personal loan for the desired amount exactly. If you borrow more than what you need, you're paying interest on the excess–costing you money unnecessarily.
Repayment period
The repayment terms of a personal loan can vary greatly from lender to lender. Commonly, you can get personal loans for 12 to 60 months. Some lenders may provide loans with much longer terms.
The available repayment terms may differ based on the requested loan amount and your income. Essentially, the lender wants to know that you'll be able to afford the monthly payments.
Do note that longer-term loans will also result in more interest paid over the life of the loan. You might also qualify for a lower rate with a longer term.
Speed of funds disbursement
If you need the personal loan funds for a time-sensitive purpose, you'd be concerned about how long it takes for loan funds to be disbursed.
Depending on the lender, the funds can arrive in the same business day to a week.
Live Loan Experts Available
AmONE's customer service is highly acclaimed based on more than 1,000 reviews on Trustpilot. Many customers have praised the extremely knowledgeable, patient, and helpful live loan specialists.
Prospective borrowers who need assistance with their loan search can call toll-free at 1-800-781-5187.
In fact:
You can go through the entire loan matching process over the phone with a live loan expert.
FAQs
Is there a fee or cost to using AmONE's comparison tool?
No, AmONE does not charge any fee for its services.
However, once you apply and qualify for a loan, you're subject to any fees associated with that particular lender.
Is AmONE a legitimate company?
Yes, AmONE is a legitimate company that helps consumers who want to get matched with direct lenders for personal loans. Take a look at consumer reviews of the AmONE platform on Trustpilot.
Does AmONE check your credit?
AmONE will perform a soft credit pull and use that information to match you with lenders and loans that fit your needs. This type of credit check does not affect your credit score.
Will my credit score drop after using AmONE?
Using AmONE to generate personal loan offers from multiple lenders will not lead to a drop in your credit score.
However, your credit score will drop (at least temporarily) when you submit a loan application with one of AmONE's lending partners, regardless if you're ultimately approved or denied for a loan.
How can you contact AmONE customer service directly?
You can speak with AmONE's live loan experts by calling 1-800-781-5187.
Do note, however, that you should contact the loan servicer directly for any assistance once a loan has been issued.
Disclosure: AmONE and MyBankTracker are subsidiaries owned by the same parent company.
Key Disclosures Regarding Your Possible Loan Options
The lender options presented range from a minimum repayment term of 12 months to a maximum repayment term of 84 months.
The lender options presented range from a minimum annual percentage rate (APR) of 2.49% and a maximum annual percentage rate (APR) of 35.99%.
A representative example of the total cost of a loan for an excellent credit borrower with one of our lender options is seen below:
$20,000 loan for a 5-year term at 7.39% interest rate with a 3% origination fee. You would receive $19,400 ($20,000 less the $600 origination fee) and would make 60 monthly payments of approximately $399.71 which equates to an APR of 8.68%. The total cost of the loan would be $23,982.86.
AmONE is not a loan provider but only matches you with lending partners that may extend a loan to you. All loan approval decisions and terms are determined by the loan providers at the time of your application with them. There is no guarantee that you will be approved for a loan or that you will qualify for the rates displayed.
The offers and rates presented on the AmONE website are estimates based on the information you submit. Your actual rates depend on your credit history, income, loan terms, and other factors. Reasonable efforts are made to compile and maintain accurate information. However, all loan rates and terms, including APRs, are presented without warranty and are subject to change by the loan providers without notice.
Quinstreet - 950 Tower Lane, 6th Floor - Foster City, CA 94404