How Much to Save Up for a Disney Vacation
Find out how much you need to save up in order to pay for a Disney vacation, based on the flight, hotel accommodations, and dining options on your trip.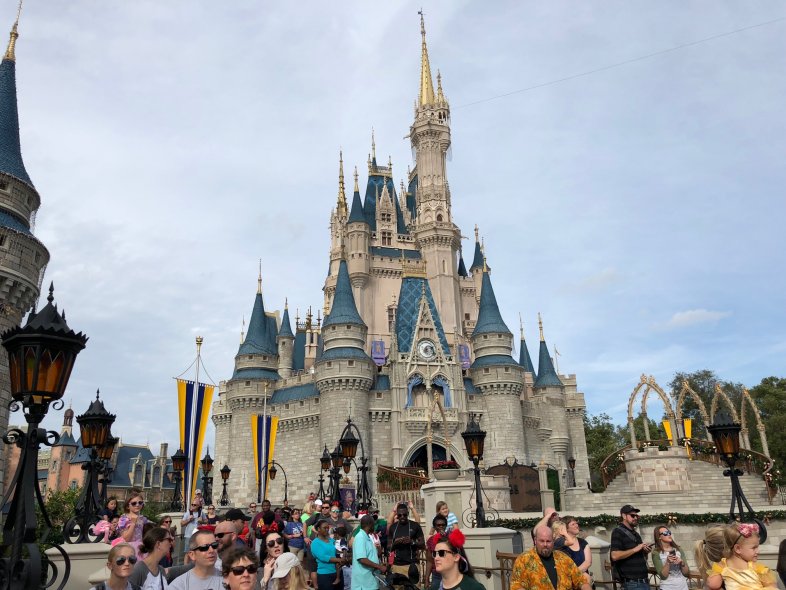 Heading to Disney might be your idea of a dream vacation but there's a lot of planning involved. 
One of the most important questions you likely have is how much to save for Disney. 
Working out a budget for your Disney World vacation can help you keep your trip as affordable as possible, without sacrificing any fun.
Figure out how much to save for Disney as you plan your Magic Kingdom stay.
How Much Should You Save for a Disney Vacation?
There's no one size fits all answer; it all depends on the kind of trip you're planning. 
Generally, the kinds of things that influence how much to save for Disney include:
Where you decide to stay
The number of hotel rooms you need
Whether you decide to go park hopping or stick with one theme park
Where you buy Disney World tickets
Whether you need a rental car
How you plan for meals (and if you get the Disney dining plan)
You also need to factor in getting to and from Disney if you don't live in within driving range.
That means:
Adding in the cost of airfare for everyone who's going on your Walt Disney World trip. 
To keep things simple, let's look at three scenarios.
Each one assumes a 5-day, 4-night stay for two adults and two children, aged 10 or older, with four days spent at Disney.
Low End
A Disney trip at the low-end assumes that you're:
Staying at a chain hotel outside the park. ($150/night)
Buying one day tickets instead of park hopping. ($109/ticket) 
Skipping the Disney dining plan and bringing allowed snacks into the park. ($25/day)
Eating regular meals outside the hotel. ($75/day)
Booking the cheapest flights possible to get to Disney. ($200/ticket)
Not spending money on souvenirs and gifts inside the park. ($0)
Booking the cheapest rental car to get around. ($20/day, plus $22/day for parking at Disney)
Total cost: $2,499
Mid Range
In the middle range, your Disney World trip might include:
Staying a moderately priced hotel inside the theme park. ($250/night)
Buying basic park hopper tickets, no extras. ($169/ticket)
Purchasing the standard Disney dining plan ($75.49 each)
Rate-shopping for mid-range flights. ($1700)
Setting all limited budget for souvenirs and gifts. ($300)
Booking a mid-range rental car. ($30/day)
Total cost: $4,127.96
High End
A high end Disney World Vacation assumes you're going all out. That means:
Buying park hopper tickets, with the extras, during peak season.($189/ticket)
Staying at a top-tier Disney hotel inside the Magic Kingdom. ($450/night)
Splurging on the deluxe dining plans for everyone in your group. ($116.25/person)
Flying first-class or business class. ($3,500)
Spending freely on souvenirs and gifts inside the park. ($600)
Total cost: $7,004.75
As you can see, you might need to save a little--or a lot--for a Disney trip. 
Compare Savings Options
Be sure to check out more savings accounts worth considering:
Tips for Cutting Disney Vacation Costs
1. Get the timing for your Disney trip right
A big factor that can influence what you'll need to save for Disney depends on when you plan to go. 
The fact is:
Traveling to Disney when it's not peak season means fewer crowds and potentially lower rates for hotel rooms. 
Generally, the best times to head to Disney for saving money (and less people) are:
January through March
September through October
Most weekends in November and December (excluding Thanksgiving and Christmas)
Just watch out for special events, like when a new ride or attraction is opening.
That can draw big crowds into the theme park and cause hotel room rates to skyrocket.
2. Pick your hotel carefully
Speaking of hotels, weigh the pros and cons of staying inside Disney versus an outside property. 
Staying the park might be convenient but consider what you'll pay for that convenience. 
On the flip side:
Consider how much you'll pay to get around if you have to use public transportation or hire a rental car because you're not staying in Disney. 
Add that cost to what you're paying for a hotel. Then, compare the total amount to what it would cost to stay at a Disney World property.
3. Bring your own snacks and beverages
Disney does allow guests to bring snacks and drinks into the park. There are a few rules to follow:
Let Security Cast Members know what you have when you enter the park
No food that requires heating
No glass containers (excluding baby food jars)
No wheeled coolers or coolers larger than 24" x 15" x 18"
No loose ice
No alcohol (wine can be brought into Disney Springs)
Other than that, you're free to bring snacks and bottled water or other beverages with you. 
This could save you a huge amount of money if you don't want to fork out money for the dining plan. 
Bonus tip for saving on meals: Check out local restaurant coupons.
Numerous restaurants in the Orlando area offer discounts and coupons for Disney guests. 
4. Avoid park hopper tickets
Park hopper tickets can add $60 to $80 to the cost of a ticket, depending on whether you get the add-ons. 
But is it worth it? 
If you're trying to save money on a Disney trip, consider how many days you plan to go, how many parks you want to see and how much time you have. 
The park hopper ticket allows you to visit multiple parks on the same day.
But if there are some attractions you're more interested in spending time at than others, it could be a waste of money.
5. Buy souvenirs ahead of time
When you're going to Disney World, remember that it's about making memories, not buying stuff. 
If buying t-shirts, hats or other souvenirs is a must, pick them up before you go.
Check Amazon, eBay, Etsy, the Disney Store--even the dollar store. You might be surprised at what you can find that's Disney-related at a discount. 
6. Check with a travel agent for Disney vacation deals
Working with a travel agent to book a Disney trip means paying their fee. But, they may be able to help you uncover savings that you wouldn't on your own. 
For instance, a travel agent may have access to vacation packages that are discounted 10%, 20%, 30% or more off regular prices. 
When working with a Disney travel agent, be crystal clear on what you do and don't want to be included in the trip.
If they try to upsell you (and they will) be ready to answer with a firm 'no'.
7. Use the right credit card to book
Finally, if you're using a credit card to plan your Disney vacation, make sure it's the right one.
Now:
You might be tempted to open a Disney credit card, for instance. 
But unless you go to do Disney often, you may not get much value from it. A general travel rewards card or a cash back card could be the better option. 
For example, you could get a travel card that lets you earn 3 points/miles per dollar on airfare and hotels, plus 2 miles/points per dollar on theme park tickets and dining. 
If you spend $2,000 on airfare and hotels, plus $1,000 on tickets and dining, you could earn 8,000 points or miles you could apply as a statement credit against what you spend, or toward your next Disney trip.
Just remember to check the annual fee and the interest rate if you plan to pay your Disney trip off over time. Paying high interest can eat away at anything you've saved. 
How Much to Save for Disney Is Different for Everyone
The amount you'll need to stash away for a Disney vacation comes down to what kind of trip you want to have. 
Keep in mind:
Spending more money doesn't necessarily mean more fun. Someone who books a lower budget Disney trip can still enjoy themselves as much as someone who breaks the bank. 
And speaking of banks, consider where you'll keep your Disney vacation savings. 
Tucking it away in a high-yield savings account is a great way to keep your money safe and watch it grow. Just watch out for banking fees, which could eat into your interest earned. Our list of Best Savings Account Rates is a good place to start, found here.
Consider going with an online bank for your Disney savings account. Online banks tend to offer the highest rates, with the fewest fees.
And, that adds up to more money you'll have to spend on your Walt Disney World getaway.