The Best Savings Accounts in Idaho for 2023
See the best savings accounts available from local banks in Idaho based on the account's fees and features that help consumers grow their savings.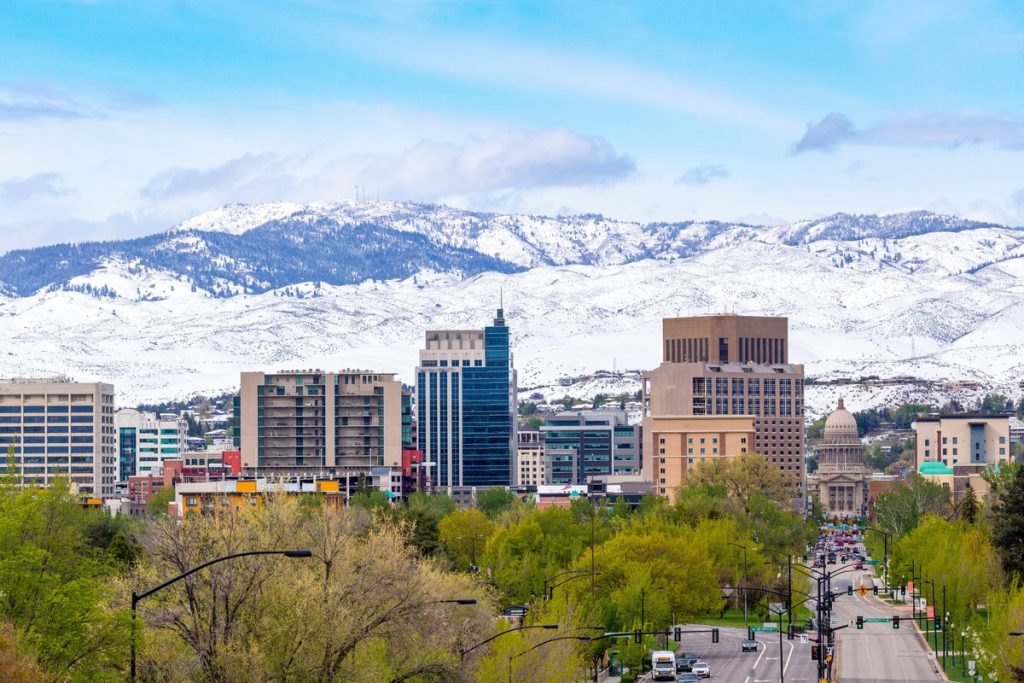 Savings accounts help you put away money for the future. In an ideal world, they pay decent interest rates to help protect your money from inflation. Sadly, that's not always the case.
Instead, most savings accounts today are a place to safely store money away from your checking account to prevent you from spending it. Some savings accounts charge fees while others are fee-free.
To help you find the best savings accounts in Idaho, we researched available options and came up with the following list.
Compare Savings Options
Be sure to check out more savings accounts worth considering:
The Best Savings Accounts in Idaho
First Federal Savings Bank of Twin Falls - Regular Savings
Our favorite savings account at First Federal Savings Bank of Twin Falls is their Regular Savings account. The account doesn't allow check writing but does give you an ATM card. You'll need $10 to open an account.
As long as you have a $5 minimum daily balance, you earn interest on the money in the account. You get access to online banking and don't have to pay monthly maintenance fees with this account.
The Bank of Commerce - E-Savings Account
The E-Savings Account is our top savings account pick at The Bank of Commerce. It has no minimum balance requirement and no per item fees. You can only receive statements online and interest is paid quarterly. The bank doesn't clearly disclose interest rates, so don't expect a high interest rate.
You don't have to maintain a minimum balance. The account offers online banking with Bill Pay and supports direct deposit and external electronic transfers. The bank also has a mobile app.
Farmers Bank - Savings
Farmers Bank's Savings account has a small minimum balance requirement of $50.
If you drop below this amount, you're charged a $2 service fee each month. Additionally, you are charged a $10 per withdrawal fee for any withdrawals in excess of six per month.
Washington Federal Bank - Savings Account
Washington Federal Bank goes by WaFd Bank for short. Their Savings Account requires you to have a minimum of $100 to earn interest.
This minimum drops to $10 if you're a minor. Balances under $100 result in a $3 per month fee. Minors get the account for free without worrying about this fee.
As an account holder, you get access to over 37,000 fee-free ATMs. You also get 24/7 online and mobile banking with mobile check deposit. The bank has 200 branches in eight states, as well.
Ireland Bank - IRELAND Savings Account
Ireland Bank's IRELAND Savings account requires a $100 minimum deposit. If you keep an average daily balance of $50 for the calendar quarter, the account's $3 quarterly service charge is waived. If you make over six withdrawals per quarter, you'll have to pay $1 for each additional withdrawal.
The account does earn interest, but it is paid and compounded quarterly. The interest rate the account pays could not be easily found on the bank's website. It likely is not very high as it is not prominently advertised.
How we picked these accounts
When looking for the top savings accounts in Idaho, we used the FDIC's data from June 2022 to find the top 50 banks in the state by deposit market share--available in major cities including Boise, Meridian, Nampa, Idaho Falls, and Caldwell. After finding these banks, we took a closer look at their savings accounts in regards to the following features:
Highest interest rates available
Lowest monthly service charges
Ways to waive monthly services charges, if they exist
Savings tools, if they exist
Big Banks vs. Online Banks
Local banks can help you keep your savings safe and accessible in your area. However, online banks and big banks provide some benefits worth considering. Here are the benefits and drawbacks of the savings accounts at these other banks.
Benefits of Big Banks
Large branch network
Big banks have several branches in the areas they serve. This makes depositing and withdrawing cash from your savings account much easier should you need to do so.
Digital banking
If you prefer to bank digitally, these banks should offer an app that allows you to transfer money to and from your checking and savings accounts, as needed.
In-person help
Big banks allow you to visit in person at a branch to get help or ask questions.
Drawbacks of Big Banks
Potential fees
Bigger banks may charge fees to have a savings account. This varies from bank to bank and account to account.
Poor interest rates
Savings accounts should offer decent interest rates, but big banks often keep savings account interest rates close to zero.
Hard-to-achieve fee waivers
If your savings account does have a fee, it may be able to be waived. It may require keeping a minimum balance in the savings account or having another type of account with the bank.
Positives of Online Banks
Better interest rates
Online banks usually offer much higher interest rates on savings accounts.
In fact, they're often several times the national average savings account interest rates. It may not be anything outstanding, but it's better than nothing.
Potential ATM access
These banks often have large ATM networks and may allow you to withdraw cash from your savings account directly. If they don't allow ATM withdrawals, you can quickly transfer money to your checking account and withdraw through an ATM.
FDIC insurance
As long as a bank is an FDIC member, it offers the same FDIC insurance as brick-and-mortar banks.
Superior fee schedules
These banks rarely charge fees to have a savings account.
Up-to-date technology options
Online banks innovate with savings account products to make savings easy for you. They may allow you to split savings accounts into sub-accounts based on savings goals. They also likely have easy-to-use mobile apps and online banking interfaces.
Negatives of Online Banks
Cash deposits
Online banks don't have branches you can deposit cash at. This may cause a problem if you often find yourself with cash. Other deposit options may exist but may be less convenient.
Internet a necessity
Without internet access, online bank accounts
are hard to manage. If you face an extended internet outage, this can cause problems. Natural disasters or areas without cell service could cause these issues.
No branch locations
Online banks don't have branches. Online banks won't work for you if you prefer to bank in person.
How to Choose a Savings Account
When it comes to choosing a savings account, figuring out what's best for you is relatively straightforward. Still, each person banks differently.
Here are some important factors you may want to rank based on your needs when looking for an account.
Interest rates
Most people use savings accounts to stash money away they don't want to spend while earning interest at the same time.
Since all savings accounts can effectively keep your money safe as long as they're FDIC insured, interest is the crucial factor you want to optimize.
As such, you want to look for the highest interest rate you can earn while accounting for the other more minor features you may wish to have in a savings account. For this reason, online banks are almost always the top choice for a savings account if you can deal with the inconvenience of not having branches.
Fees charged
Ideally, a savings account shouldn't charge any fees. Several do charge fees, though. Choosing a savings account with a fee may be acceptable if you love everything else the bank offers. You may be able to find a way to get the fee waived.
Still, paying fees for a savings account is counterproductive to the goal of saving.
Access to bank the way you want
When you need to access your savings, you need a convenient way to do so. Physical banks with savings accounts will allow you to withdraw your savings in cash at a branch. They may also allow withdrawals from an ATM, but not all savings accounts come with ATM cards.
Online banks can feel a little more difficult to access your funds. As long as you have a checking account with an online bank, you should be able to transfer money from savings to checking. Then, you can write a check or make an ACH or wire transfer. Alternatively, you may be able to withdraw cash from an ATM using the debit card that came with your checking account.
Online and mobile banking
Online and mobile banking should be an option to help you manage your account.
Ideally, you should be able to set up automatic transfers from checking to savings accounts.
If you receive paper checks, you likely want a mobile check deposit feature to be able to put the money quickly into your savings account, too.
Other savings tools
Banks may offer several savings tools depending on the bank. Some offer programs to allow you to round up to the nearest dollar on debit card purchases. Then, they deposit the change into your savings account.
Others may allow you to divide your savings account into sub-accounts for each goal you're saving for. If any of these features are important to you, make sure the bank you choose offers the feature before signing up.
Select Your Next Savings Account Today
After you've discovered your priorities for a savings account, consider the accounts on our list of the best savings accounts in Idaho. Then, compare your top choice to online and big bank savings accounts to find the option that may work best for you.
A higher interest rate in a savings account with a big balance can add up quickly. For this reason, finding and opening a new savings account quickly should be a priority if your current account doesn't meet your standards.