Which Military Education Programs Helps Maximize Future Careers
If you don't have the funds to get a higher education, find out about how military educational programs can help you earn a degree and job experience while getting paid.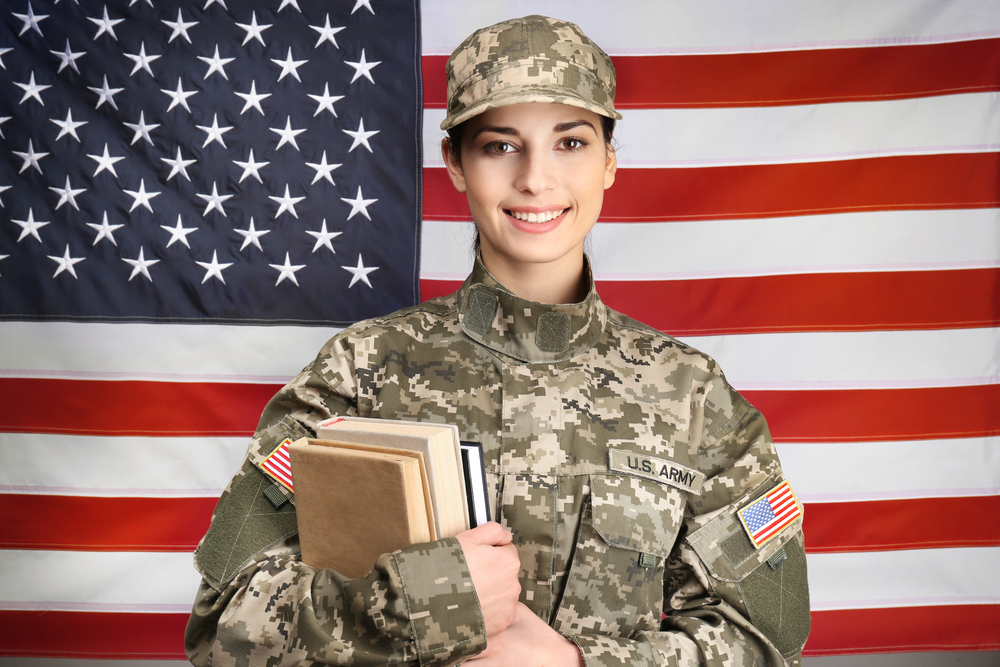 If you're only making minimum wage -- or making only what you need to support yourself -- how do you invest in your future?
Even if the answer is to invest in yourself by going to school, how do you afford the expense of education without indenturing your future to student loans?
If you think your future opportunities may be limited because you can't afford to go to college, then serving in the military may be a great option for you.
It's a proven path for your journey to a successful career and fulfilling future.
And you can do it, incidentally, while making a reasonable living and enjoying a few perks and amenities not often found in civilian life.
Do Your Homework
Joining the military is a life-changing move in more ways than one, so doing your homework when considering this transition is mandatory.
You cannot depend solely on the information you may get from your local military recruiter.
In order to choose a military occupation helpful to your plans for self-advancement in civilian life, do a lot of careful planning and research on the options available.
The object is to map a scenario in which you fulfill a significant support role in the military (many of these specialties don't involve combat operations), while performing the most technical specialties -- some of which even pay cash bonuses.
Compare Savings Options
Be sure to check out more savings accounts worth considering:
The desired paths
The greatest number of technical opportunities are probably in the Air Force, Navy and Coast Guard (with the latter being the least likely of the services to be involved in combat).
But the Army and Marines also need, recruit and train tech specialists in IT, communications, medicine, logistics plus other fields and skills that easily translate to the civilian world.
After initial training, your first duty station selection is made based jointly on your preferences and the "needs of the service" (in some cases, a specific first duty station can be named in the enlistment contract).
In basic training, advanced or technical school you fill out a form, known as a "dream sheet," to list your assignment preferences.
While the services will consider your preferences, the overriding deciding factor is where the military needs you the most.
Usually for first duty assignments, the "dream sheet" is best thought of as a  tie-breaker.
For example, the service has an equal need for you at base X and base Y. 
They look at your dream sheet and see you have base Y listed and you'll be assigned to base Y.
Class standings matter
For some jobs, your assignment can also be based on your class-standing in training school.
The person at the "top of the class," would have a better chance of receiving the plum assignment than the person at the "bottom of the class."
After the first duty assignment, future assignments are done a little differently.
In most cases, you'll have a little more say in future assignments.
However, first-term enlisted members assigned to a stateside location must serve 12 months there before being eligible to move to an overseas location, or must serve 24 months there before being allowed to move to another stateside location.
The Montgomery G.I. Bill
The major educational benefit program is the Montgomery G. I. Bill and it applies to all of the active duty services.
The decision to participate in the program is made by a recruit after a briefing in basic training and you get one shot at it.
If a recruit elects to participate, their pay is reduced by $100 per month for 12 months.
In return, recruits receive monthly education benefits based on their training time and years of enlistment.
Under the current law, Congress can increase these amounts each year to match inflation.
To use the bill while on active duty, you must serve at least two continuous years. 
When used after getting out of the military, the bill pays more.
On active duty, it only pays for the cost of tuition for courses taken.
Because of this, most uniformed service members use the military's active duty tuition assistance program.
If you are separated early, and lose your qualification for the Montgomery G. I. Bill, you do not get your money back. Under the law, the money taken out of your pay is not considered a "contribution," but rather a "reduction in pay."
Not for Everybody
Most of the information for this article came from a respected authority on military life.
Rod Powers is an Air Force veteran who retired a First Sergeant in 1999 after 22 years on active duty, and has been writing about careers in the service ever since.
Powers emphasizes the importance of remembering that the military's not for everybody.
Fully 40 percent of recruits who do enlist in the military, he says, will not complete their full term of service.
Many discharges will be for reasons beyond the recruit's control, such as medical problems.
But a significant number of the involuntary discharges imposed on recruits can be traced back to their discovery that the military wasn't what they thought it was going to be.
If you have a realistic view of military life, however, and have the discipline to adapt to its regimentation, the rewards can be great.
There is vocational training for your occupational specialty, assistance with higher education while still in service, more benefits for advanced education years after leaving the service, important financial subsidies for the future like VA home loans, and VA medical care for service-related health issues.
The Ultimate Benefit
Transitioning veterans into the general employment market has become an industry of its own.
The nation's largest recruiting firm specializing in placing former military professionals in the workforce is Orion International.
Virtually its entire leadership and key staff are veterans.
Orion places military job seekers everywhere, but the most frequent placements are (in alphabetical order):
aerospace and defense
construction
distribution/transportation
logistics and supply chain
manufacturing
oil and gas
pharmaceuticals/medical device
power generation
renewable energy
retail
Orion uses the Veteran Talent Index survey by Monster.com and Military.com for research.
In the survey's latest poll, employers named their top three motivators for hiring veterans.
Results show that 51 percent of employers say the veteran was best qualified for the job, 51 percent say the veteran's prior work experience was the main reason they landed the job, and 43 percent say they're motivated by a desire to show support for veterans.
Employers also said that veterans perform as well or better than non-veterans in terms of career advancement, job retention, and job turnover.