How to Choose the Right Savings Account as a College Student
Learn the different factors that you should consider when you're looking to open the best savings account as a college student, including fees, rates, and more.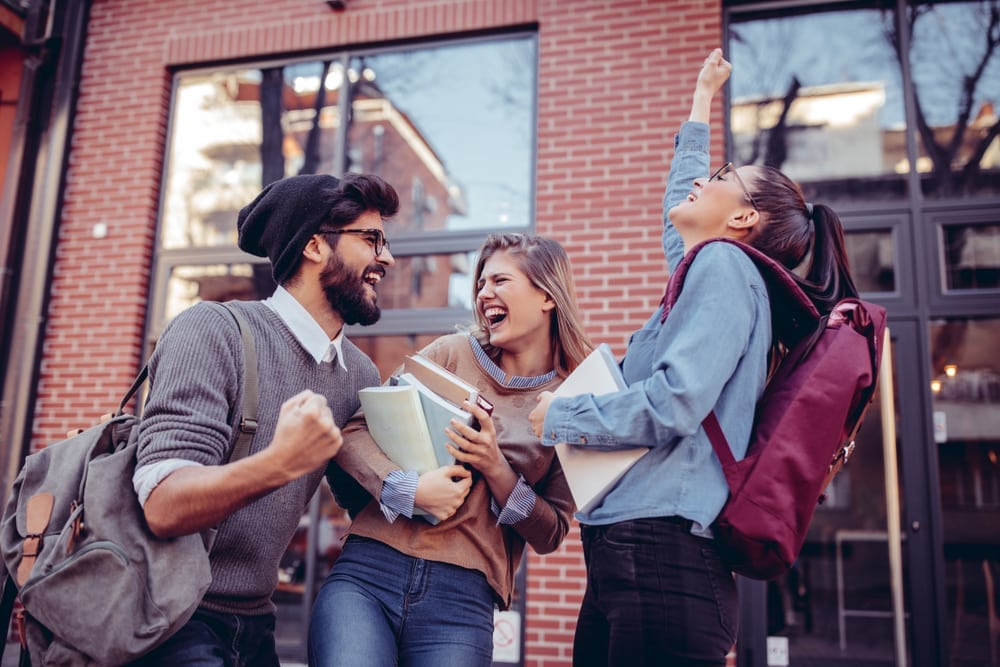 Savings accounts are an important part of anyone's financial life.
They give you a place to safely store money for the long term while helping your money grow with regular interest payments.
Most big banks offer savings accounts but don't have savings account targeted towards college students.
Many banks do offer checking accounts designed to meet the needs of college students.
Getting college students as customers is a good way to earn a customer of the long-term, so banks are eager to draw students. Relatively few students have the income or assets to justify opening a savings account.
That's why banks typically focus on just checking accounts when targeting students.
What Should College Students Look for in a Savings Account?
There are some things that everyone should look for in a savings account.
However, college students have some unique needs that make certain features more valuable.
Monthly fees and minimum balances
College students tend to have less money available to them than other consumers.
This is understandable given that college students are spending tens of thousands of dollars each year on tuition. Many also won't have a source of income.
Because college students don't have much cash to spare, fees and minimum balance requirements are their top priorities.
College students cannot afford to meet large opening deposit requirements or to leave too much money in their savings account.
They also can't afford to let their savings get eaten up by fees.
While people with more money may be able to justify paying a bank fee here or there, college students don't have that luxury.
Look for accounts that don't have minimum balance requirements and that don't charge monthly fees.
If you must choose an account with a monthly fee, make sure you can meet the fee waiver requirements without much trouble.
Excessive withdrawal fees
Savings accounts are intended to serve as long-term storage for your extra cash.
You're not supposed to be moving money in and out of the account on a regular basis. If you do make too many withdrawals in a statement, you'll be hit with excessive withdrawal fees.
Federal law mandates that banks limit customers to six withdrawals each statement, but banks can choose a lower number of desired.
This limit applies only to online or telephone transactions. In-person and ATM transactions do not count towards the limit.
Because college students have less money available, they're more likely to need to make regular withdrawals.
Look for a low excessive withdrawal fee, just in case you ever wind up making too many withdrawals.
Savings Excessive Withdrawal Fees Comparison
Interest Rates
Savings banks are meant to serve two purposes: keeping your money safe and helping your savings grow.
The interest rate of your savings account directly influences the speed at which your savings grow.
Higher interest rates mean you'll earn more interest and your savings grows faster. All else being equal, look for the account with the highest rate.
Online and mobile banking
College students are constantly on the go and are always busy thanks to having to juggle classes, projects, homework, and possibly a part-time job. Fitting time to visit the bank into their schedule can be difficult.
Choosing a bank with a good online or mobile banking experience can make managing the account easier.
ATM access
Savings accounts are meant to serve as long-term storage for cash, but sometimes you need money quickly.
In those situations, being able to make a withdrawal from an ATM can be a huge time saver.
If you expect to need to make withdrawals unexpectedly, look for an account that offers an ATM card.
Compare Savings Options
Be sure to check out more savings accounts worth considering:
Why Online Banks Are Better
You may have noticed that the three banks we recommended were all online banks.
While you can open a savings account at almost any brick-and-mortar bank, online banks are almost always a better option.
Here are the reasons why:
No monthly fees or minimum balances
Online banks are much cheaper to run than traditional banks.
They don't have to operate a network of branches or ATMs and they can centralize their operations. All of these cost-saving measures mean that they don't have to bring in as much money to stay afloat.
That lets online banks open accounts with lower balance without losing money. Most online banks will let you open an account with any amount of money at all.
Once the account is open, you won't be charged any maintenance fees. Most brick-and-mortar banks will have hoops that you need to jump through if you want to avoid fees.
Focus on saving
The old adage "out of sight, out of mind" rings true when it comes to online banks.
If you're not looking at your savings account balance every time you visit your bank, you won't be thinking about it as much.
That means you'll be less tempted to make a withdrawal and to spend your savings unnecessarily. It will make it easier to build up a balance.
Tech-savvy
One of the biggest hurdles to get over when using an online bank is getting accustomed to not having a local branch to visit. People are used to being able to go to a bank in-person to make deposits or withdrawals and to ask questions.
College students have grown up with technology and are more used to using it and dealing with the rapid changes as technology advances. That makes it easier for college students to use an online bank.
Higher interest rates
Savings accounts are designed to help your money grow. Online savings accounts offer much higher interest rates than brick and mortar banks do.
Often, online savings rates are ten to one hundred times higher.
Over the course of a few years, that can mean a balance that is thousands of dollars higher.
Our Top Recommendations
If you're a student and you are interested in opening a savings account, there are still a number of options available to you.
We recommend you look into one of the following banks.
Synchrony Bank High Yield Savings Account
The Synchrony Bank High Yield Savings Account offers customers a great interest rate in an easy to manage account.
There is no minimum balance or monthly service fee attached to the account. That means that you don't have to worry about jumping through hoops to meet fee waiver requirements.
You just have to put however much you can afford to in the savings account. You can add more as you are able and withdraw some when you need to. No matter what your account's balance is, you'll never be charged a monthly fee.
You can easily manage the account using Synchrony's website. You can view your balance and previous transactions, or make electronic transfer between your accounts. You can also visit any ATM in the US to make a withdrawal. You may be charged fees for ATM transactions.
Marcus by Goldman Sachs Online Savings Account
The Marcus Online Savings Account from Goldman Sachs pays a high rate of interest on nearly any balance.
There's no minimum deposit required to open a Marcus Online Savings Account. The only requirement is that you have $1 in the account to earn interest. If you have less than $1, you won't receive any interest.
On top of not charging monthly maintenance fees, the account does not charge any transaction fees. You can move money into and out of the account, or between your account at Marcus and another bank without paying any fees.
If you do most of your banking with a local bank, but want to get the great rate offered by Marcus, fee-free transfers can be valuable.
American Express® High Yield Savings
American Express might be best known for its credit cards, but it also runs an online bank. Its High Yield Savings Account charges no monthly fees and provides a high rate of interest.
There's no minimum deposit required to open the account and no minimum balance that you must maintain.
You can deposit however much you can afford to and let your savings grow thanks to the great interest rate offered by the account. You can also manage the account any time, from anywhere, using American Express' app or website.
The largest drawback of the account is that it is a true online savings account. You won't get checks or an ATM card with this account. The only way to get money into the account is by electronic transfer or check deposit.
The only way to get money out is to transfer it to another bank before withdrawing it.
Conclusion
Many banks offer checking accounts specifically for students but don't have student savings accounts.
If you're a student who needs a savings account, consider opening one at an online bank.