Synchrony Bank High Yield Savings Account 2023 Review
Find out whether the interest rates, fees, and benefits of Synchrony Bank's high-yield savings account is worth your consideration in this detailed review.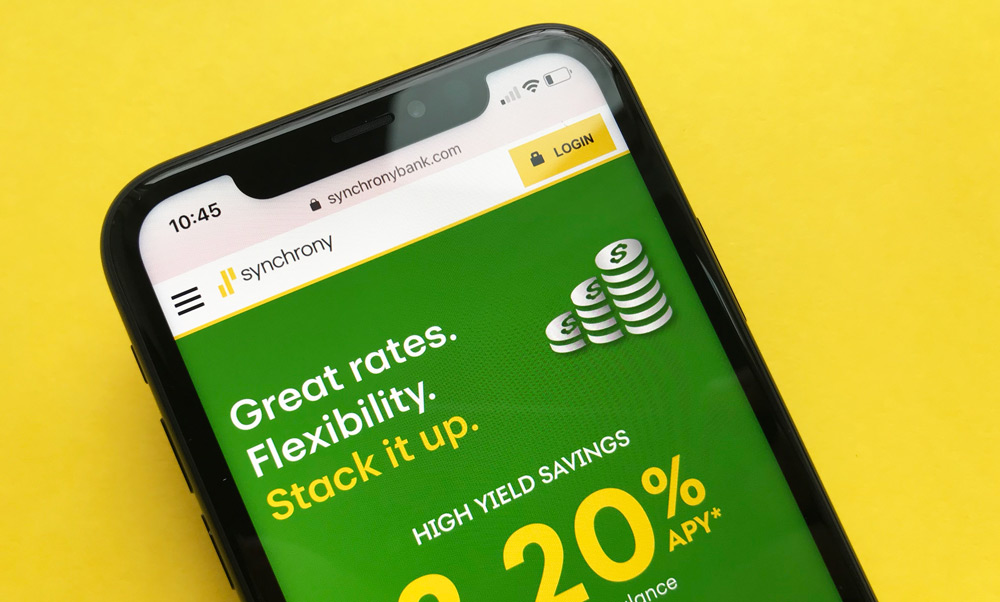 Synchrony Bank Savings Account
The Synchrony Bank High-Yield Savings Account is great for storing your cash.
Synchrony Bank is an online bank known for offering great interest rates. You can enjoy low fees, easy access to your cash, and a generous interest rate on the money in the account.
In this Synchrony Bank Savings Account review, we'll compare rates, fees, and services to other national and online banks.
Synchrony Bank Savings Account Pros & Cons
Savings Interest Rates Review
One of the most important aspects of a savings account is its interest rate. A good interest rate can be the difference between losing money to inflation and growing your savings.
Online banks like Synchrony Bank often differentiate themselves from other banks through their interest rates. That's why Synchrony Bank offers an industry-leading APY on its savings accounts.
To make things better, the account's interest rate applies to your total balance, no matter what your balance is.
It isn't a promotion rate that only applies to a small amount, and it isn't a bonus for having thousands of dollars saved. Any balance, from $1 to $100,000, will earn the same rate.
Compare Savings Options
Be sure to check out more savings accounts worth considering:
How Compounding Leads to Bigger Savings
This example will illustrate the power that interest can have on growing your savings.
You place $1,000 in a savings account and plan to put another $100 into the account each month. After six months, you've saved $1,600.
A $7 gain doesn't seem like much, but interest compounds, meaning that you earn interest on your interest.
After another six months, you've saved a total of $2,200, but your balance is $2,216. Continue on for another four years, and you'll have put away $7,000, but have an account balance of $7,209.
Compare that to a savings account that offers 0.01% APY, which is common at many traditional banks.
Even after letting your interest compound for five years, your ending balance will be only $7,024.35. The higher interest rate that Synchrony Bank offers would have earned you more than $175 more.
No Monthly Fees
Savings accounts are supposed to be a safe place to store your money. The last thing that you want is for the bank to take your savings from you with fees.
Synchrony Bank Savings Account Fees
| Type | Fee |
| --- | --- |
| Monthly Maintenance Fee | $0 |
| Stop Payment Fee | $ 25 |
| Outgoing Wire Transfer | $25 |
| Overnight Check Fee | $25 |
Unfortunately, many banks have apply fees to even their most basic accounts in an effort to increase their revenue. Even a minor $1 or $5 per month fee can completely erase any interest you earn.
The good news is that Synchrony Bank has no monthly fee for its high-yield savings account.
You don't even have to meet a minimum balance to avoid the fee. You'll never be charged a fee just for keeping the account open.
Few Fees Apply
Though Synchrony Bank's high-yield savings account does not have a monthly fee, there are other fees to be aware of.
Savings accounts are intended to be used as a place to store money, so federal law limits how many withdrawals you can make per statement.
If you make more than six withdrawals or transfers in a single statement, you'll be charged a fee. You may also be charged a fee by ATM operators if you make a withdrawal at an ATM.
Synchrony Bank account  also charges other fees that are common at all banks, such as payment fees, overnight check fees, or wire transfer fees. Most people don't use these services often and won't encounter any fees with their high-yield savings account.
Access to Your Account
One of the biggest concerns that people have with online banks is how they can get to their money.
Synchrony Bank makes it easy by giving you an ATM card that you can use to make withdrawals.
Synchrony has a huge ATM network, so you'll never be far from an ATM that you can use. You can even use ATMs overseas to make withdrawals.
You'll also be refunded up to $5 per statement for ATM fees if you ever need to make a withdrawal from an ATM that does charge you.
You can withdraw up to $1,000 per day from an ATM, making it easy to get access to large sums of cash when you need it.
It's also easy to deposit money to your account or to transfer it from one account to another.
Synchrony Bank accepts direct deposits, electronic fund transfers, check by mail, and mobile check deposit.
You can also make transfers, view your statements, and deposit up to $5,000 per day.
Outstanding Customer Service
Synchrony Bank has won awards for the quality of its customer service.
If you ever need assistance with your account, you can contact Synchrony Bank 24 hours a day, 7 days a week, 365 days a year.
Customer service is available by phone, e-mail, physical mail, or in person at the bank's physical branch in New Jersey.
For phone support, you can work with Synchrony Bank's automated system anytime. Representatives are available six days a week: 8AM to 10PM on weekdays, and 8AM to 5PM on Saturdays.
Loyalty Program is a Nice Surprise
Synchrony Bank understands the value of loyalty and rewards customers who stick with them for the long haul.
The loyalty rewards at Synchrony Bank require both a minimum balance and a minimum amount of time since account opening but can save you a lot of money.
Synchrony Bank Rewards Tiers
| Reward Tier | Balance Level | Tenure | Benefits |
| --- | --- | --- | --- |
| Silver | $10,000-$49,999.99 | 1+ year | Discounts at partnered hotels |
| Gold | $50,000-$99,999.99 | 2+ years | Increased discounts at partnered hotels and car rental agencies |
| Platinum | $100,000-$249,999.99 | 3-4+ years | Plus discounts and offers on theme parks, spas, golf, and restaurants |
| Diamond | $250,000+ | 5+ years | Plus the best discounts and offers on the above categories and black car service. Get refunded up to 3 wire transfers per statement cycle. |
(Rewards tier status can be achieved with either the balance level or tenure -- both are not required.)
Sticking with Synchrony Bank can pay off if you're looking for a long-term banking relationship.
One of the Best Savings Options
All in all, Synchrony Bank's high-yield savings account is a good choice for many consumers, but it falls short of being perfect.
Because Synchrony Bank is an online bank, it can offer a higher interest rate APY compared to the national average.
The downside is that it is more difficult for you to deposit or withdraw cash when you need it.
Therefore, Synchrony Bank's high-yield savings account is ideal for true savers. If all you want is a safe place to store your excess cash and to earn some interest, Synchrony Bank is a great choice.
If you expect that you may need to make regular withdrawals, you may be served at a better bank.
It also isn't the best choice for storing your emergency fund due to its $1,000 daily cash withdrawal limit.
If you need more cash than that fast, you'll be in a tough spot. If you're comfortable using credit cards in the short term for emergencies, then you can get around this issue.
Another strategy would be to have another account at a local bank, so you can easily transfer funds between the two. That would make it much easier to withdraw and deposit cash.
However, Synchrony Bank also doesn't offer many other banking services such as checking accounts, mortgages, or car loans.
Additionally, the lack of a mobile app can be a slight inconvenience -- we hope that it is on the way.