Wells Fargo Bank Way2Save Savings Account 2023 Review
Our review of the Wells Fargo Way2Save Savings Account looks at the interest rates, fees, and features that you should consider for your financial setup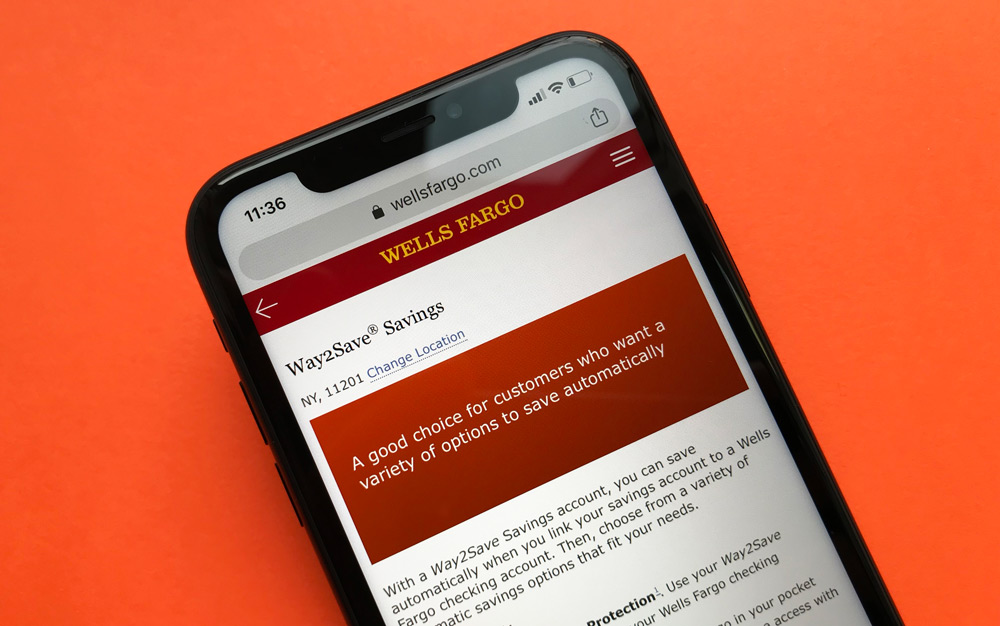 Wells Fargo Savings Account
Choosing the right savings account matters for growing your money. The best savings accounts offer a solid combination of great rates, low fees and convenience.
On your search, you might consider a basic savings account from a local bank, such as Wells Fargo. The Wells Fargo Way2Save Savings Account could end up among your choices.
It features a low minimum opening deposit and neat savings tools. You can open an account online in minutes, even if you don't have a Wells Fargo checking account.
Our full review of the Wells Fargo Way2Save Savings Account looks at the interest rates, fees, and the features that can help you build savings.
Wells Fargo Way2Save Savings Account Pros & Cons
Compare Savings Options
Be sure to check out more savings accounts worth considering:
Interest Rates
Savings account rates can determine how much room your money has to grow. A higher rate and annual percentage yield (APY) can translate to more interest earned.
The Wells Fargo Way2Save account offers an interest rate and APY that's typical of what you'll find at traditional banks. That is to say, it's on the lower side.
Brick-and-mortar banks usually aren't known for offering competitive rates to savers. So the rate you can get with Wells Fargo reflects that.
Rates are not tiered. You'll earn the same rate and APY whether your balance is $5 or $500,000.
That means you can keep things simple. But if you're specifically interested in getting a great rate on savings, the Way2Save account might fall short of your expectations.
If you're interested in a higher rate, you might consider opening a high-yield savings account at an online bank instead.
Online banks tend to have lower overhead costs than traditional banks. They pass the savings on to their customers by charging fewer fees and paying higher rates on deposits.
You won't get branch access with an online savings account. But you might not mind so much if you're able to earn a much higher APY.
Ways to Save Easier
The Way2Save account is unique, in that it's designed to help you boost your savings with minimal effort.
There are two ways to save automatically: Save As You Go transfers and automatic transfers.
Save As You Go transfers
The Save As You Go feature transfers $1 from your linked Wells Fargo checking account to your Way2Save savings account every time you:
Make a purchase with your debit card
Complete a bill pay transaction through online banking
If you're using the Save As You Go feature you can build savings just for using your account like you normally would.
Automatic transfers
With automatic transfers, you can link your Wells Fargo checking account and save monthly or daily. If you're saving monthly, the minimum transfer amount is $25. It's $1 for daily transfers.
You don't need a Wells Fargo checking account to open a Way2Save account. But you will need one to use these automatic savings options.
Account Fees
Traditional banks often charge monthly maintenance fees for savings accounts. Wells Fargo is no different and the Way2Save account has a $5 monthly maintenance fee.
That doesn't seem all that high but considering the low rate, you could easily pay more in fees than you earn in interest.
Wells Fargo does, however, give you some ways to avoid the fee.
It's possible to avoid the fee if you have one of the following each fee period:
$300 minimum daily balance
One automatic transfer of $25 or more from a linked Wells Fargo checking account
One automatic transfer each business day of $1 or more from a linked Wells Fargo checking account
One or more Save as You transfers from a linked Wells Fargo checking account
You only need one of these each fee period to qualify for a fee waiver. The monthly maintenance fee is also waived if the primary account owner is 24 years old or younger.
Wells Fargo Way2Save Savings Account Fees
| Type | Fee |
| --- | --- |
| Monthly service fee | $5 |
| Excess activity fee for savings accounts | $12 |
| Stop payment | $31 |
| Incoming Wire Transfer | $15 |
| Outgoing Wire Transfer | $30 |
ATM fees
The Wells Fargo Way2Save account does include a free ATM card. That's something you don't always get with a traditional savings account.
You can use your ATM card to check balances or withdraw cash fee-free at more than 12,000 Wells Fargo ATMs.
Fees apply if you use your card at a non-Wells Fargo ATM. Here's how the fees break down:
Balance inquiry: $2.50 each
Funds transfer: $2.50 each
Cash withdrawals (U.S./U.S. territories): $2.50 each
Cash withdrawals (International): $5.00 each
Excess withdrawal fees
While you can use your ATM card to withdraw cash, those withdrawals are not unlimited.
Wells Fargo allows six withdrawals per month with no fee. After the sixth withdrawal, you'll pay a $15 excess withdrawal fee.
That fee is capped at three excess transactions. But that's an extra $45 per month you could pay in fees if you're not keeping track of how often you tap into your savings.
If you're interested in an account that doesn't have withdrawal limits, you might want to consider a checking account instead.
Overdraft Protection
If you have a Wells Fargo checking account, you can link it to a Way2Save account as overdraft protection.
When you link your accounts, the bank uses your savings account to cover transactions that would put you at risk of overdraft fees. Those fees can quickly add up.
Wells Fargo doesn't charge a fee for overdraft protection transfers. It's completely optional and you don't have to link accounts but it could help you avoid high fees.
Accessing Your Savings Account
Wells Fargo gives you multiple ways to access and manage your Way2Save account, including:
Online banking
Mobile banking
At a Wells Fargo ATM
At out-of-network ATMs (out-of-network fee applies; separate ATM operator surcharge may apply)
You can use online and mobile banking to check your balance, add or update automatic deposits and view statements. And you can skip the branch and get cash at an ATM for added convenience.
What to Look for When Choosing a Savings Account
Savings accounts aren't all the same. So it's essential to do some research beforehand to find the right one for you.
Here are some of the most important things to consider when comparing savings accounts:
Interest rates and APY
Minimum deposit requirements
Monthly maintenance fees
Minimum balance requirements, if any
Online and mobile banking access
ATM access and ATM network
Additional fees, such as excess withdrawal fees or wire transfer fees
Account opening process (i.e., can you open an account online or will you need to go to a branch?)
When comparing savings account rates at different banks, consider whether they're tiered or not.
Some banks, like Wells Fargo, pay the same rates across all balances. Others tier them and reward you with a higher rate for keeping more money in your account.
With rates, it's important to weigh convenience against how much interest you could earn.
A traditional bank can offer easy access to your savings if you can pop into a branch or visit an ATM. You typically don't get that with online banks.
But you could get a better rate and avoid a monthly fee by saving at an online bank instead. So think about what matters most: access or rates.
Finally, check to see if the bank offers any special features, such as overdraft protection or automatic transfers. Those can help to add value to a savings account.
Final Verdict: Should You Open a Wells Fargo Way2Save Savings Account?
The Wells Fargo Way2Save savings account could be a good fit if you want a simple way to save.
You might choose this savings account if you:
Already have a Wells Fargo checking account
Want to be able to withdraw cash at a branch or Wells Fargo ATM, if needed
Are able to avoid the monthly maintenance fee
On the other hand, you're probably better off with a different savings account if you'd like to get a great rate.
Wells Fargo isn't in the same league as savings accounts offered at some of the top online banks. So it's important to think about what your priorities are and what you value most in a savings account.