Wells Fargo Bank Savings Account Review
Learn what are the benefits and disadvantages of the Wells Fargo savings account with automatic account transfers from checking. Compare account fees, rates and services to other banks.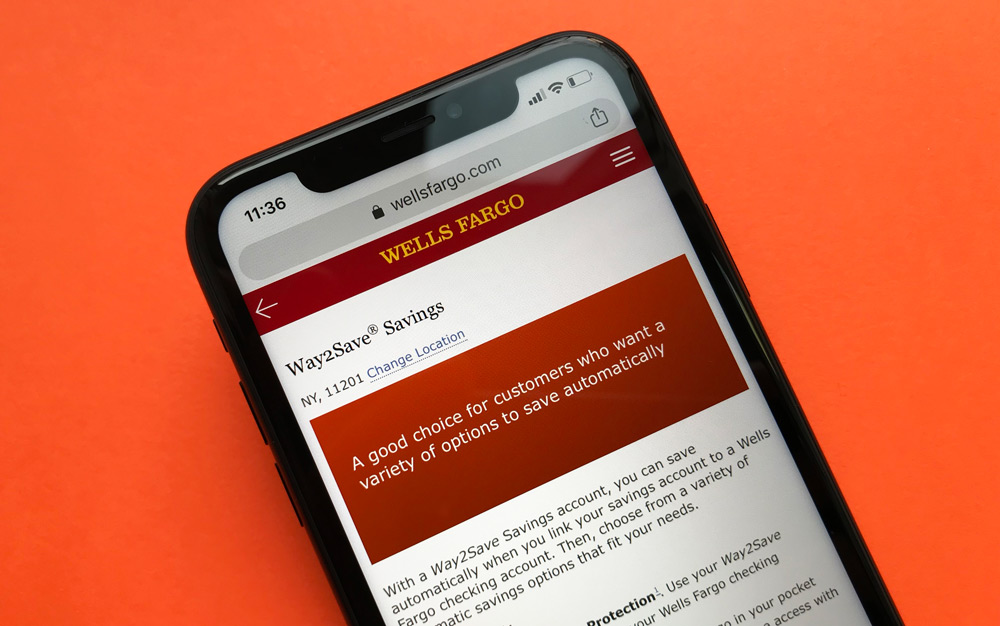 Wells Fargo Savings Account
The Wells Fargo Way2Save savings account is one of the savings accounts at Wells Fargo designed to help people who struggle with building savings.
With an option to save automatically for you, you don't have to motivate yourself to save regularly.
If you have trouble saving on your own, the Way2Save account can certainly be beneficial for anyone who prefers an automated saving process.
In this Wells Fargo savings account review, we will compare accounts rates, fees and services.
Several of the key account features of the Wells Fargo Way2Save Savings Account include:
$5 monthly fee, waived with a monthly auto-transfer from a Wells Fargo checking account or by maintaining a $300 minimum balance
$25 minimum opening deposit
Optional overdraft protection
Limited monthly automatic transfers
You will also receive convenient access to Wells Fargo retail banking stores and ATMs, an ATM card that links to your existing ATM or debit card, and secure online access and mobile banking with Wells Fargo Online Banking.
Keep in mind that while you do not need a Wells Fargo checking account to open a Way2Save account, it is required for one of the automatic transfer options.
Wells Fargo Way2Save Savings Account Pros & Cons
Pros
Cons

Free ATM card
Can be used for overdraft protection
Access to physical branches
Mobile apps available

Monthly fee
Interest rate is much lower compared to online savings accounts
Way2Save Offers Automatic Account Transfers
The Way2Save account is brilliant in that it automatically moves your money for you -- no thinking required. Plus, you can benefit from a $1 automatic transfer from your checking account to your savings account each time that you:
Use online bill pay
Use your debit card
Make an automatic bill payment
The ability to transfer as little as $1 each day makes it less daunting for consumers who struggle to save.
These transfers can be set to happen once per day on Monday through Friday (excluding holidays) or once per month.
However, keep in mind that the daily transfers must be at least $1 and the monthly withdrawals must be at least $25. With the
Way2Save account, if you set up your plan to move $3 per day, you would put away in savings about $780 in one year.
Continue that activity for 30 years and invest it at 8% per year, then suddenly you have $65,000 in savings. Not bad for a small amount of money to begin with!
How the Interest Rates Compare
The Wells Fargo Way2Save account doesn't have the highest annual percentage yield around, so many people may use this account to park their money until they can transfer it to a higher yielding savings account.
Some examples of higher yielding savings accounts are:
Capital One 360: At Capital One 360, there is no minimum balance required to open or keep the account, no monthly fees, and you can benefit from a high interest rate. You will also receive a free debit card, mobile check deposits, and access to Capital One ATMs and fee-free Allpoint ATMs.
Ally Bank: Another highly-rated online savings account is Ally. Similar to Capital One 360, Ally online savings accounts come with no monthly maintenance fees, free deposits, and an above-average interest rate. Customers benefit from online bill pay, remote check deposit, and a user-friendly mobile app.
If you feel dubious about an online-only bank, keep in mind that not having to handle the cost of running physical branches enables online banks like Capital One 360 and Ally to pass on that savings to the customer.
You'll most often see this in the form of no ATM fees, no or low overdraft fees, and high interest rates on savings accounts.
Online Savings Accounts Compared:
How to Bypass the Monthly Fees
The Wells Fargo Way2Save account does have a minimum direct deposit requirement of $5, but that can be waived if you fit into one of the criteria below:
Under the age of 18 (19 in AL) and the main account holder;
Set up and maintain one or more recurring automatic savings options; or
Maintain a $300 minimum daily balance
In addition, this account offers free overdraft protection for your checking account. Simply link your accounts and Wells Fargo will automatically cover any overages from your checking account by using the funds from your Way2Save account.
There Are Other Fees to Consider with this Account
Wells Fargo Way2Save Savings Account Fees
| Type | Fee |
| --- | --- |
| Monthly service fee | $5 |
| Excess activity fee for savings accounts | $12 |
| Stop payment | $31 |
| Incoming Wire Transfer | $15 |
| Outgoing Wire Transfer | $30 |
Keep in mind that there are strings attached to the Wells Fargo savings account.
There is typically a $100 minimum balance requirement for the account unless you opt into an automatic savings plan, in which you can open an account with only $25.
There is also a monthly $5 service fee on the account.
However, if you make frequent debit purchases through your Wells Fargo checking account and/or frequent transfers to your savings account, then the fee may be worth the convenience of the automatic savings the account enables.
Final Verdict
While the savings rate on this Wells Fargo Savings account is not as high as other online savings accounts, it can be a great option for anyone who finds it difficult to save money.
The account is a suitable backup to your Wells Fargo checking account because it provides a combination of automatic monthly transfers and free overdraft protection.
If you are searching for a better savings account to grow your money, look elsewhere.
Despite the hassle-free savings approach of the Wells Fargo Way2Save savings account, other online savings accounts give a better return on your money.
Compare Best Accounts Now