Chase Savings Account 2023 Review: Fees and Features Breakdown
We analyze the fees and features of the basic Chase Savings Account to find out whether it is a good choice to help you reach your savings goals.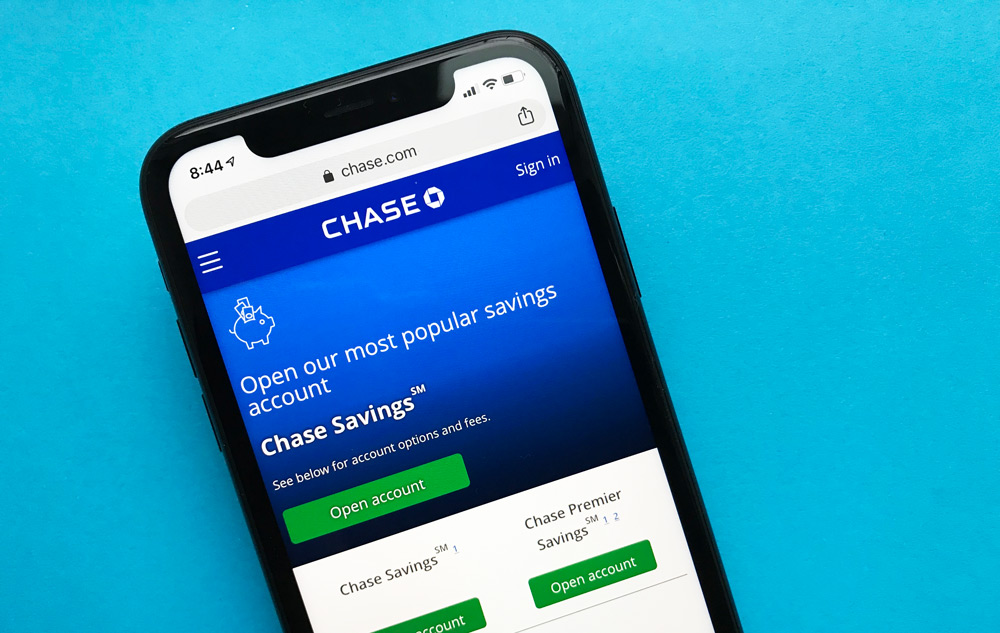 Chase Savings Account
When you're on the search for a new savings account, Chase is an easy choice given that you might have a branch nearby.
The Chase Savings account is worth your consideration if you prefer Chase's major branch and ATM presence in the U.S. -- you're getting convenience.
However, there are many other savings accounts available on the market. We'll review the Chase Savings account rates, fees, and other benefits -- and compare it to other savings account options.
Chase Savings Account Pros & Cons
Pros
Cons

Occasional account sign-up bonuses
Can be used for overdraft protection
Access to physical branches
Mobile apps available

Monthly fee may apply
Interest rate is much lower compared to online savings accounts
Compare Savings Accounts
Interest Rates
A checking account is a great place to keep funds you need for bills, but in all likelihood, your checking account isn't making you money.
On the other hand, interest is guaranteed with a savings account, and Chase Bank gives its customers two ways to maximize their deposits and grow their personal net worth.
Whether it's your first account or you're opening an additional account, you can choose between a Chase Savings and a Chase Plus Savings.
The minimum deposit to open a Chase Savings and a Chase Plus Savings is $25 and $100, respectively. The bank doesn't offer a flat interest rate.
Rather, rates depend on the type of account and your account balance. With a regular Chase savings account, all balances earn very low APY. This may not be anything to get excited about.
Relationship perks
The good news, however, is that Chase offers an additional way to grow your money. If you're looking for a higher return, a Chase Plus Savings account is a better fit.
If you don't link your Chase Plus Savings to an eligible Chase checking account, you'll earn tiered interest rates based on your balance.
However, link your Chase Plus Savings to a Chase Premier Plus Checking account or a Chase Premier Platinum Checking account, and you'll qualify for relationship rates that can increase earning potential.
Chase Plus Savings accounts tiered relationship rates are as followed:
Chase Plus Savings Accounts Tiered Relationship Rates
| Balance | Interest Rate | Annual Percentage Rate |
| --- | --- | --- |
| $0 - $49,999 | 0.03% | 0.03% |
| $50,000 - $99,999 | 0.05% | 0.05% |
| $100,000 - $249,999 | 0.06% | 0.06% |
| $250,000 -$4,999,999 | 0.08% | 0.08% |
When shopping for any type of bank account, you owe it to yourself to compare interest rates and options.
Chase savings account rates may be higher than some financial institutions, but its rates may not be as favorable as those offered by some online banks.
Some people prefer a brick-and-mortar bank, and they like the idea of being able to speak with a banker face-to-face if a problem arises.
If you don't care about face-to-face interaction, an online high-yield savings account can offer a higher return.
Related: View Chase Savings Accounts Cash Bonus Deals & Coupons
Monthly Fees
Earning interest is an effortless way to grow a savings account. But unfortunately, many banks charge a monthly service fee. Chase Bank is no exception.
Chase Savings Account Fees
| Type | Fee |
| --- | --- |
| Monthly Maintenance Fee | $5 |
| Stop Payment | $30 |
| Online or Automated Phone Stop Payment | $25 |
| Deposited Item Returned or Cashed Check Returned | $12 |
| Domestic and International Incoming | $15 |
| Domestic Wire | $35 |
| Consumer Online USD/FX International Wire Transfer Fee | $40 |
| Statement Copy | $6 |
If you don't want monthly maintenance or service fees eating away at your balance, Chase offers several options to help its customers avoid monthly fees.
There's a $5 monthly service fee for a Chase Savings account, but the bank will waive this fee if at least one of the following conditions applies to you each statement cycle:
you're under the age of 18
you maintain at least a $300 minimum daily balance
you set up at least one repeat automatic transfer of $25 from a Chase checking account
you link your savings to a Chase Premier Plus Checking, Chase Premier Platinum Checking, or Chase Private Client Checking account
There's a $20 monthly service fee with a Chase Plus Saving, which the bank waives if you maintain at least a $15,000 minimum daily balance in your account, or if you link the account to a Chase Premier Plus Checking, Chase Premier Platinum Checking, or Chase Private Client Checking account.
Similar to interest rates, monthly service fees also vary by financial institution.
Ally Bank doesn't charge a monthly service fee, nor does the bank charge for ACH transfers to a non-Ally Bank account.
As far as competitors, American Express National Bank doesn't charge a monthly service fee for its high-yield savings account, and you can avoid the $30 monthly service fee with Synchrony Bank by maintaining a minimum balance of $30.
Another Savings Account Fee to Watch For
Federal law limits the number of transactions you can make from a savings account per monthly statement cycle (six withdrawals and transfers).
This limit does not apply to transfers and withdrawals conducted at an ATM branch or in-person.
If you exceed six withdrawals or transfers, Chase Bank charges $5 per transaction over the limit (often known as an excess withdrawal fee). But if the balance in your Chase Plus Savings account is greater than $15,000, the bank may waive this fee.
What You Can Expect From a Chase Savings Account
Features of every Chase savings account include:
1. Automatic savings program
Even if you know the importance of saving money, paying yourself first takes discipline.
Fortunately, every Chase savings account features an automatic savings program.
If you have a Chase checking account, you can opt-in this program and set up recurring automatic transfers from your checking into your savings account. You determine the schedule and the amount of each transfer.
2. Overdraft protection
Because of a miscalculation or a forgotten transaction, you might overdraw your account.
Chase Bank's overdraft protection lets you link a Chase savings account to a Chase checking account. If a transaction results in an overdraft, funds are automatically transferred from your savings account to cover the transaction, which helps you avoid overdraft fees.
There's no fee to enroll in overdraft protection. Currently, Chase has a $10 overdraft protection fee for each transfer (fee waived for Chase Premier Platinum accounts).
3. Online/mobile banking
Online banking is convenient and simplifies the banking experience. As long as you have a computer and Internet, you can manage your Chase savings account 24 hours a day, seven days a week from anywhere.
Transfer funds, set up alerts, and monitor your account activity. You can even download the bank's app to your mobile device and monitor your account when you're away from a computer.
4. Chase savings account coupon code
Chase Bank periodically offers sign-up bonuses for opening a checking or savings account.
You may be able to visit the bank's website to get a Chase savings account coupon and bring it to a branch.
Final Verdict: Is This the Right Account For You?
With more than 15,500 ATMs and 5,300 branches, a Chase Bank savings account is a good fit if you want to access your money nationwide.
Funds are FDIC-insured up to $250,000 per account, so you can deposit your money with confidence.
This simple account offers several ways to avoid a monthly service fee, and overdraft protection keeps your account in good standing.
But although your interest rate can increase as your savings account balance increases, Chase Bank doesn't offer the most favorable savings rates.
If you typically maintain a high balance in your savings account, you'll do better with an online high-yield savings account which offers a better return on your money.
Compare Best Accounts Now