American Express® High Yield Savings Account 2023 Review
Learn about the American Express® High Yield Savings Account rates, fees, and rates. Compare it to other top online bank savings accounts.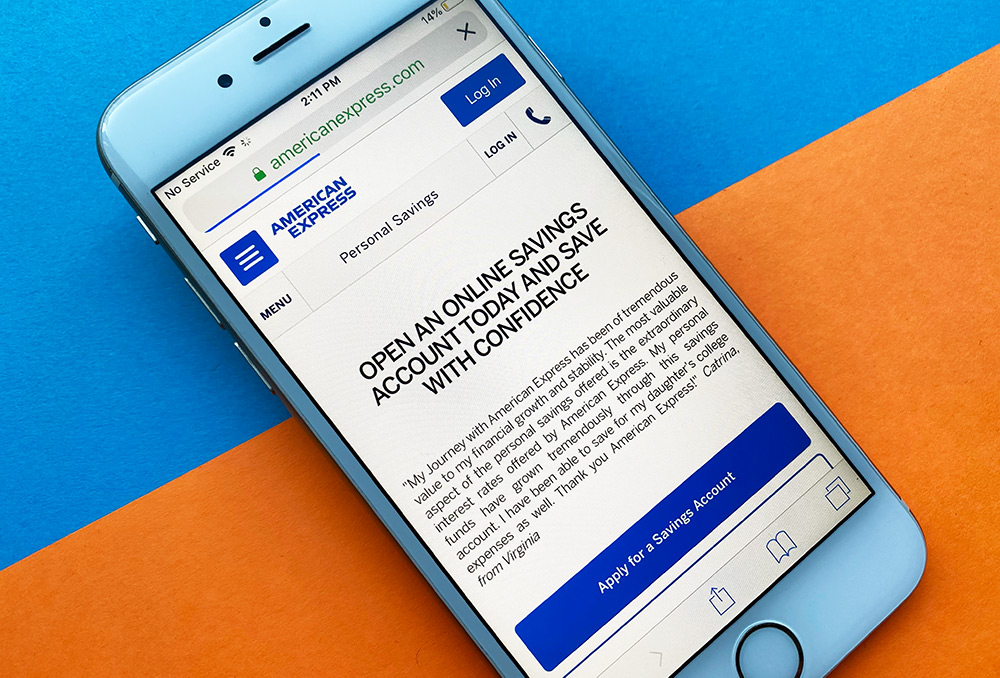 In terms of finding the best savings account, it is hard to go wrong with an established institution such as the American Express National Bank.
This bank is one of the most recognizable brands in the world and has existed for more than 160 years.
Although they are best known for their prepaid debit cards and credit cards, their savings options are rapidly becoming a popular choice for consumers seeking to make the most out of their money.
If you are looking to invest money but you are struggling with the idea of committing to a long-term investment vehicle such as a Roth IRA or 401(k) plan, a high-yield savings account could meet your needs.
In this American Express® High Yield Savings Account Review we will compare rates, fees and services.
This savings account offers a conservative investment that will not tie up your money for an extended period of time.
Whether you currently have an existing American Express National Bank account or you are seeking a savings account that does not require a minimum deposit, this may be the account for you.
Here are several key features to consider:
No monthly fees
No minimums
Easy electronic transfers between accounts
High yield APY
24/7 account access
Unlike other financial products offered by big-name institutions, you do not need an American Express credit card in order to qualify for the High Yield Savings Account.
The application process takes just a few moments, provided you have your personal information available, and you can have your statements sent electronically or via standard post mail.
American Express® High Yield Savings Account Pros & Cons
Pros
Cons

No monthly fee
No minimum balance requirement
Consistently competitive rates
Market-Leading Savings Account Interest Rates
Look:
When you're looking for a new savings account, the most important factor -- and the biggest selling point -- is likely to be the interest rate.
That is, you want the highest APY so that your savings will earn the most interest.
The APY (annual percentage yield) tells you how much interest you'll earn -- as a percentage of your account balance -- in a year after compounding is considered.
The American Express® High Yield Savings Accounts offers an APY that is leading the market, even when compared to other online banks and their savings accounts.
Online savings accounts offer higher savings rates
The savings rate is far higher than what you'd typically find at a traditional brick-and-mortar bank with physical branches.
Why?
American Express National Bank is an online-only financial institution with no branch or ATM network to manage.
Meanwhile, other banks face the operating expenses of leasing or owning branch locations, employee salaries, utilities, insurance, and more.
Without these operating costs, online banks are able to pay much more interest to their customers.
As always, be sure to compare the savings account options available currently:
Fees to Consider
Aside from the initial $1 minimum opening deposit, this savings account offers no monthly fees or minimum balance requirements. There are no other fees to worry about.
Why?
Such a consumer-friendly fee policy is primarily due to the lack of possible transactions that may be performed from the account.
The account is strictly focused on growing an account balance.
You can schedule a direct deposit to your savings account or set up an automatic transfer from your external checking account at no cost to you, and your savings account is supported by most personal finance software.
Account Management
With an American Express® High Yield Savings Account, you can access your account anywhere or anytime by phone or online.
You are also able to transfer money out and into your savings account at any time.
Keep in mind:
You can initiate a transfer 24/7 via phone or the website, but any transfers you request after 7:00 PM EST or on non-business days will start to process on the following business days.
Easily Links to Your Current Bank Accounts
When you are approved for a savings account, you will be required to link your account to your external checking or savings account in order to electronically transfer funds.
The external account you link must be in your name and have the same ownership as your American Express® High Yield Savings Account.
Once you enter your routing and account number, you will receive test deposits in order to verify your external account.
Alternatively, you can link your external bank account by mail.
Quick Transfer Times
If you are looking to transfer your funds and have them available as soon as possible, the best way to do this is to request the transfer on your external account or where you are currently holding your money.
This method takes approximately one to three business days, excluding the time necessary to link accounts.
Conversely, if you wish to move your money out of your savings account and into an external checking account, you can use the American Express website to initiate the transfer.
Other Factors to Note
Although thos savings account can be beneficial if you are still on the fence regarding long-term investment vehicles, there are several factors to consider before applying for this account, including:
Extended hold times for funds
You can expect your electronic deposits to take as long as six business days from the time you request the deposit until the time it posts, and it may take as long as 11 business days for a check deposit to clear.
No checks, debit cards, or ATM cards
It's important to note that there are limited ways to access your account.
The account doesn't offer check-writing, debit cards, or ATM cards.
Depending on how you look at it, this could also be a benefit, especially if you are often tempted to spend money when you would ideally like to save it instead.
However, since these savings accounts are not intended to be used for everyday spending, you will not receive any physical ways to access your account, which may be a disadvantage if you are seeking access to emergency funds.
No mobile banking app
There is no way to access and manage your American Express® High Yield Savings Account with a dedicated mobile banking app.
The account cannot be connected to the American Express app, which mainly provides access to American Express credit card accounts.
Final Verdict
If you have limited funds but you still want to start saving for the future, the American Express® High Yield Savings Account
may be right for you.
The no minimum deposit and no-fee features are great for all savers.
Since this account requires no monthly fee, no transfer fees and comes with FDIC insurance and a competitive interest rate, storing your money in an American Express® High-Yield Savings Account is a solid option.
Frequently Asked Questions
Is the account FDIC-insured?
Yes, American Express National Bank is an FDIC-insured financial institution.
Depositors are covered up to $250,000 per account ownership type.
In the event that the bank fails or is shut down, the FDIC guarantees the return of customer deposits up to the coverage limit. (The amount in excess of the limit may still be returned in time, but there is no guarantee of it.)
What is the monthly withdrawal/debit limit?
There is no daily or monthly withdrawal limit for your account.
But, a high frequency of withdrawals may indicate that this savings account isn't right for you at the moment, American Express National Bank reserves the right to close your account and send you a check for the account balance.
Can you deposit checks?
To deposit checks into your American Express® High Yield Savings Account, you have to mail it in for deposit.
Be sure to:
Make the check payable to American Express National Bank
Write your account number in the memo line
Mail the check to:
American Express National Bank
P.O. Box 30384
Salt Lake City, Utah 84130
What the limit on the account balance?
The American Express® High Yield Savings account has a maximum account balance of $5 million.
Interest earnings may result in the account exceeding this limit, which is fine.
However, you will not be able to deposit any more money, unless the balance falls below $5 million. Additionally, if you are going to make a withdrawal, it has to be for an amount that will not result in a balance of more than $5 million.
Can the American Express® High Yield Savings Account be under a trust?
Yes, the account can be under a revocable living trust.
The account must be opened initially as a joint or individual account. Then, the primary account owner can re-title the account as a revocable living trust account.
You will need to provide American Express National Bank with copies of the proper trust documents.