Ally Bank Online Savings Account 2023 Review
Our review of the Ally Bank Online Savings Account looks at the interest rates (APY), account fees, and convenient features for setting and tracking goals.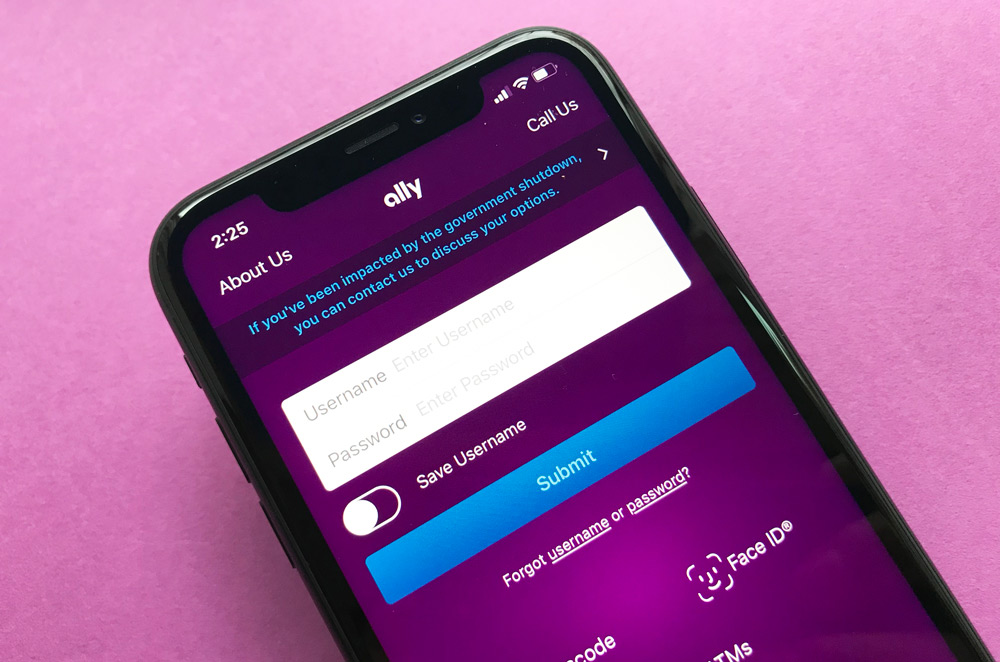 Ally Bank Savings Account
Whether you are just starting to look for a bank to build your nest egg or you have an account and would like to consider better features, now is a good time to consider an online savings account.
Although you might be unsure of banking online versus the traditional method of brick and mortar banks, there are actually a number of reasons you could be better off with an online bank.
Further, you get the convenience of online and mobile banking, and the ability to speak with someone 24/7 if you need assistance. Plus, you can rest assured knowing your deposits are in good hands and FDIC insured.
Ally Bank is one of the biggest online banks in the U.S. and there's a good reason for that: it offers accounts with low fees and high interest rates.
The Ally Online Savings Account is one of them. See if it can help you reach your savings goals faster.
In this Ally Bank Savings Account review, we'll compare rates, fees and services to other national and online banks.
Ally Bank Online Savings Account Pros & Cons
Compare Savings Options
Be sure to check out more savings accounts worth considering:
Ally Interest Rates
One of the drawbacks of leaving your money in a big-bank savings account is that most aren't paying enough interest to be worth it.
Fortunately, an Ally Bank savings account pays out one of the highest interest rates you will find with both online and major financial institutions.
Interest is also compounded daily, to allow you to earn interest on top of the interest that is added to your balance.
When compared to other leading banks, there really isn't any competition.
For example, leading and well-known banks like PNC Bank, Bank of America, Wells Fargo, and Chase currently only offer interest rates of 0.01% on their basic savings accounts.
That means you can earn 100 times more interest with an Ally Bank savings account. It's very clear that Ally Bank's savings account will allow your money to grow significantly faster.
Buckets Feature
Ally Bank allows customers to assign nicknames to each account -- in case you wanted to designate each account for a specific goal.
To make things even easier:
Ally offers the "Buckets" feature that allows you to label the funds in one account for multiple purposes, such as "emergencies" or "bill payments."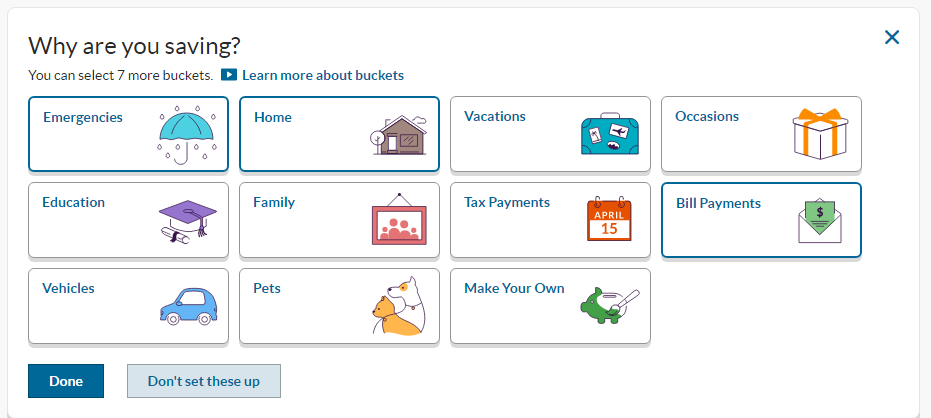 It can help those who want additional organizational tools within their savings accounts.
Surprise Savings
Another nifty savings tool offer by Ally is the "Surprise Savings" program.
Basically, Ally will look at your checking accounts (whether the account is held with Ally or another bank) to identify room for additional savings.
If the program finds extra money that you can save, it will automatically transfer it to your Ally savings account.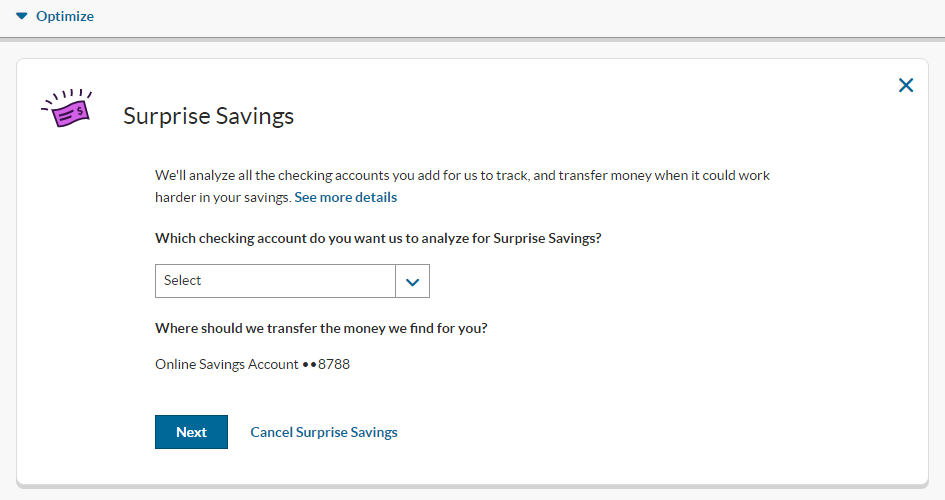 Now:
Ally will request login information in order to analyze the checking account activity. Be sure that you're comfortable with that.
Will You Need to Pay Fees?
You might find with online bank accounts that there are also fewer fees.
With the Ally Bank savings account, you don't have to worry about paying a monthly maintenance fee or other hidden fees that you aren't expecting.
This is one of the drawbacks that consumers face when searching for a new bank.
With major banks currently offering the lowest interest rates, it just doesn't make sense to pay a monthly fee that can be as much as $10 or more every month. In fact, you risk the account costing you more than you earn in interest.
Other Fees to Consider
Although there aren't any hidden fees or monthly maintenance fees to be aware of, there are other fees you might come across that aren't as common. Other fees include:
Ally Savings Account Fees
| Type of fee | Fee amount |
| --- | --- |
| Monthly Maintenance Fee | $0 |
| Excess withdrawal (after 6 withdrawals in a month) | $10 each |
| Returned deposit item | $7.50 |
| Overdraft item paid | $25 (limit once per day) |
| Expedited delivery fee | $15 |
| Outgoing wire transfer (domestic) | $20 |
| Research fee | $25/hour |
Again, these are all fees that are rare and usually aren't incurred on a regular basis.
The more standard fees like the monthly maintenance fee, ACH transfers, statement copies, and cashier's checks are all $0.
This means, for the most part, you can build your savings account, without it costing you. And, you don't have to worry about your earnings decreasing because of account maintenance expenses.
Transfer to Other Banks
It's understandable that although you might choose to build your savings with Ally Bank, you might also have accounts with other financial institutions.
Fortunately, another feature of an Ally Bank savings account is the ability to transfer funds to another institution quickly and easily.
You can not only transfer funds between Ally bank accounts, but you can also transfer money between Ally Bank and other financial institutions, and you can even schedule transfers up to a year in advance.
Customer Service and Account Access
Many consumers today find that it's difficult to live without the convenience of online and mobile banking.
Most online savings accounts provide both of these features so that you can access your bank account at any time, right from the convenience of your mobile device, tablet, or laptop.
You not only have access to your banking information 24/7 but with an Ally Bank savings account, you can also speak with someone 24/7.
This means you can contact customer service immediately by phone, chat, or email.
Plus, you can check the website for call waiting times to help you determine the best time to contact customer service. Most of the time, your wait time won't be longer than one minute.
How Secure is Ally's Savings Account?
If you are new to online bank accounts, you might wonder how safe your money actually is when you leave it with a bank that is only online.
Fortunately, banks like Ally are sometimes even more secure than others, and your deposits are FDIC-insured up to the maximum allowed by law.
Further, because it is an online bank, Ally has gone the distance to ensure that they can guarantee online and mobile safety.
You won't be liable for any unauthorized transactions that are made online or through mobile banking, as long as you report the transaction within 60 days of when your statement is available to you.
If you still aren't convinced, as a bonus, Ally Bank also offers free security software to protect up to three devices with Webroot SecureAnywhere software.
Plus, Ally uses features such as 2-step authentication and other security strategies, as well as fraud and identity theft tools and personal tips to help protect you from malware and other potential security concerns.
Compare to Other Online Savings Accounts
Ally Bank is a popular destination for people looking for great savings rates, but there are others that may come up during your search for an online savings account.
Capital One 360 Performance Savings
The online savings account from Capital One 360, Capital One's online banking division, is very similar Ally's savings account. It does offer a lower savings rate.
However, the 360 Savings account doesn't charge excess withdrawal fees -- the bank will just close your account if you do it too often. It also lets you create multiple accounts with nickname just like Ally.
Synchrony Bank High-Yield Savings Account
Synchrony Bank offers an online savings account with an impressive savings rate. Its biggest drawback is the lack of a dedicated mobile banking app -- not a major hurdle if you don't really need it.
Final Verdict: Great for All Savers
As you could probably guess, online savings accounts provide all the convenience and security you would expect from any bank.
Some of the best features, however, include one of the highest interest rates available from any bank, and no hidden fees.
With an Ally Bank savings account, you can save your money for college, an event, a vacation, or an emergency fund, and earn the most interest without paying ridiculous fees just to have the account.
Although there are many other traditional banking options as well as online banks like Ally, there isn't any that can really compare when it comes to interest rates, fees, and features.
You already know you need a savings account, now you just need to find the right one for you and your family.
When you look at the Ally Bank savings account against nearly any other traditional bank or online bank, the others don't quite stack up.