Ways to Avoid the Chase Checking Account Fees
Learn how to avoid the monthly fee on Chase checking accounts through direct deposits, minimum balance requirements, and other possible fee waivers.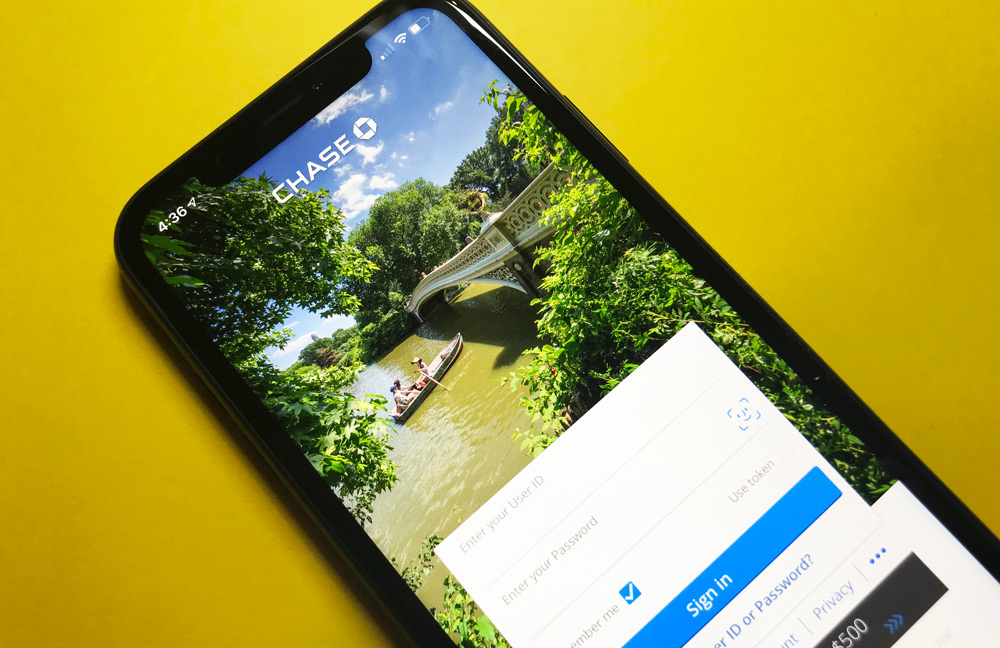 Chase Bank iPhone App
Chase Bank is the largest U.S. bank based on assets, but you may have also noticed that the bank also seems ubiquitous due to the sheer number of branches, ATMs and even advertising presence.
Chase offers various checking accounts and many consumers would want to know how to avoid these monthly fees before they become customers.
Some of Chase's checking accounts have hefty monthly maintenance fees that can take a sizeable chunk of money from you each year.
If you can waive these fees, you'll be able to
Here's a quick guide that can help:
How to Avoid Chase Checking Account Monthly Fees
Chase Total Checking
For the Chase Total Checking account, you can avoid the $12 monthly fee by meeting one or more of the following criteria for each monthly statement period:
$500 or more in electronics deposits
Have a balance at the beginning of each day of $1,500
Have an average beginning day balance of $5,000 or more in any combination of this account and linked qualifying deposits
See our review of the Chase Total Checking Account.
Chase Premier Plus Checking
For the Chase Premier Plus Checking account, you can avoid the $25 monthly fee by meeting one or more of the following criteria for each monthly statement period:
An average beginning day balance of $15,000 or more in any combination of this account and linked qualifying deposits
Have a linked qualifying Chase first mortgage enrolled in automatic payments from your Chase account
$0 monthly service fee for current or prior military members with qualifying military ID
Chase Secure Checking
At this time, there is no way to waive the fees for this account.
However, it is worth noting that this account has the lowest fees of the three accounts mentioned and doesn't charge any overdraft fees.
If you cannot consistently meet the criteria for the abovementioned accounts, this account would be ideal because of the lower monthly maintenance fee.
Key Terms for Chase Checking Fee Waivers
If you want to meet the fee-waiver requirements for your Chase account, you should understand the meaning of key terms that determine your fee-waiver eligibility.
Qualifying deposits
Not every deposit into your account will be considered towards your electronic deposit requirement.
According to Chase, the following activities meet the bank's electronic deposit criteria:
Payments from payroll providers
Payments from government benefit providers
Payments must use either the ACH network, the Real Time
Payment network, or third-party services that facilitate payments to your debit card using the Visa or Mastercard network
Surprisingly, many Chase Total Checking customers reported that other types of incoming transfers were recognized as direct deposits.
This means:
You may be able to have incoming transfers from another one of your non-Chase bank accounts, which would help you meet the fee waiver requirement for electronic deposits.
Deposits that wouldn't qualify you include ATM or cash deposits through a teller into your account.
Tip: Set up an account alert for direct deposits of at least $0.01 and you'll be notified when an incoming transfer is considered a direct deposit.
Daily and combined balances
Chase Total Checking and Chase Premier Plus accounts also allow you to waive your monthly fee by meeting an "average beginning day balance" requirement. This means that if your balance drops below the minimum required at any time during your statement cycle, your fee waiver will not be honored for that month.
For the monthly fee waiver, you can meet the minimum balance requirement for the Chase Total Checking and Chase Premier Plus accounts, or meet the minimum balance across multiple accounts.
For example, if you don't meet the $1,500 average daily balance threshold for your Chase Total Checking account, maintaining a balance of at least $5,000 in other linked accounts, like an investment or savings account, still qualifies you for the fee waiver.
Don't End Up Paying Monthly Fees
Paying monthly maintenance through your checking account can add up.
Paying just $5 a month can be a whopping $60 of cash out of your pocket. If you don't meet the fee waiver requirements, Chase's highest checking account fee, at $25 a month, will cost you $300 a year!
If you're regularly paying monthly fees for your checking account, it is time to look for a free alternative for your banking needs.
Why Does Chase Charge a Monthly Fee
Chase, like most banks, is a business and needs to earn profits to satisfy shareholders. More importantly, it also has to cover the costs of running its operations in order to provide banking services to customers.
As a major national bank with a large branch and ATM network, Chase does have to pay for the expenses to run these physical locations, including real estate, utilities, and employee salaries.
This plays a role in how Chase prices its products -- meaning monthly fees and other service fees.
Common Perks of Online Banks
Online banks that don't have physical locations operate with reduced overhead, so they can pass the savings onto their customers.
Typically, these accounts have no monthly fees or minimum balance requirements.
Also, these online banks usually offer higher interest rates for your deposits and perks like refunds on ATM fees.
Choosing the best deposit account
If you open a Chase account, the best strategy is to meet the requirements for the fee waivers.
However, if there's even a small chance that you can't meet these requirements, the monthly maintenance fees can start adding up.
To avoid these monthly fees, it's a good idea to consider an online checking account with low-to-no fees. This way, you can save money without the added pressure of meeting fee waiver requirements.
These days, it can be worth keeping as much of your hard-earned money in your pocket as possible. Using an online bank is one way to do just that.