Can You Get a Savings Account With an ATM Card?
Find out whether or not you can get a savings account that comes with an ATM card, which could allow you to withdraw cash in the cash of an emergency.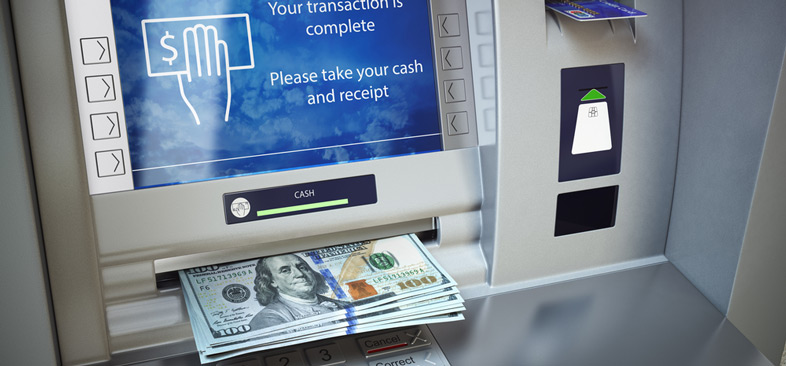 Many savings accounts do not come with an ATM card, which would be useful if you ever needed to access cash in an emergency.
Instead, to withdraw cash, you could transfer the funds to a checking account and use your debit card at the ATM.
This method is inconvenient because it could take a few days for the transfer to complete. Another way would be to go to a branch teller, but that won't work if the branch is closed.
Quick answer: Yes, some savings accounts do offer an ATM card.
Fortunately, some of the top online savings accounts have ATM cards:
Synchrony Bank High-Yield Savings
If you have a savings account with a brick and mortar bank, you'll be lucky to get 0.01% APY. Synchrony Bank offers a much higher yield on all balances.
This is nearly eight times the national average. So regardless of your financial goals, opening an account can help you attain these sooner.
There's no minimum balance requirement, and with no monthly service fee, you don't have to worry about bank charges eating into your interest earnings.
The bank also offers an ATM card for convenient withdrawals.
Ally Bank Money Market Account
A money market account with Ally Bank is another alternative and provides an opportunity to earn a high APY on all balances.
There's no monthly maintenance fee and opening an account that lets you take advantage of many services, such as online and mobile banking.
Plus you get a debit card for easy access to your funds.
Use the card at Allpoint ATMs anywhere in the US for free. If you use an out-of-network ATM, the bank will reimburse your fees up to $10 per statement cycle.
Compare Savings Options
Be sure to check out more savings accounts worth considering:
Why An ATM Card Is Good To Have
An ATM card is issued by banks, credit unions, and other financial institutions and allows account holders to retrieve or deposit funds at an automatic teller machine (ATM).
These cards are often tied to savings accounts, but they're not always necessary.
If you're loyal to a particular bank or prefer keeping your money in one place, you might open a savings account and a checking account with the same bank.
In this case, the debit card you receive with your checking account also lets you access funds in your savings account.
There's also the option of electronically transferring funds from your savings to your checking. Both alternatives are convenient, fast, and completely eliminate the need for a savings-only ATM card.
But not everyone has a checking and savings account with the same bank. And if you fall into this category, this is a reason to have an ATM card for your savings account.
Banking without an ATM card
Without an ATM card, accessing funds in your savings account will require extra work on your part. You'll have to stop by a branch, go into the lobby, fill out a saving account withdrawal form, and get cash from a teller in-person.
This might sound simple. But let's not forget that banks are only open for eight or nine hours a day. And depending on where you bank, some branches close on Saturdays.
Since we often need cash at the most inopportune times, not having an ATM card can limit access to your savings account.
Then again, maybe you don't have a savings account with a brick and mortar bank. Instead, you opened an online savings account to receive a better interest rate and a higher return.
Online banks make the process convenient. Simply use the bank's app to deposit a check directly into your savings account, or link your savings account to an outside checking account and transfer funds into your account this way.
Money in your hands with little advance notice
The main drawback of online savings accounts is that without a location in your city or state, you can't drive to the bank for a cash withdrawal.
Rather, you have to transfer funds electronically into a checking account you have with a local bank. And unfortunately, it can take a couple of days to complete this transfer.
If you experience an emergency and need cash today, you can't wait 24 to 48 hours. This is why it's beneficial to have an ATM card for a savings account.
It doesn't matter where an online bank is located or where you live, you can use your ATM card 24/7 to get cash. It's the best of both worlds. You'll get a higher return on your deposits while keeping your cash liquid.
What You Need To Know About Savings Account Transfer Limits
The money in your savings account is yours. And yes, you have every right to do what you want with the money you earn.
But since savings accounts are intended for just that—savings, there are limits to the number of outgoing transfers you can schedule from your savings account in a calendar month.
Federal regulations (Regulation D) restrict the number of outgoing transfer on savings accounts and money market accounts transfers to six per month.
In other words, if you transfer money from your savings account to another account more than six times a month, expect your bank to charge you a fee.
This applies to overdraft protection transfers and transfers made via phone, online, and text.
Possible excess withdrawal fees and account closures
Fees vary by bank. For example, Wells Fargo charges a $15 excess withdrawal fee. I learned this the hard way.
To help boost my savings account a few years ago, I deposited my checks into my savings account and then transferred money into checking as needed to pay bills.
This method could have worked in hindsight. But it proved costly as I was hit with $30 in fees the first month. As a rule of thumb, always read the fine print.
Some banks take it a step further and close the savings accounts of account holders who exceed this limit several times in a 12-month period.
If the bank closes your account, any funds in the account are transferred to a linked checking account, or the bank converts the savings account to a checking account.
Therefore, if you anticipate tapping your savings account more than six times a month, you need an ATM or debit card.
But while this fee is annoying, the good news is that it doesn't apply to withdrawals made in person.
So if you drive to the bank and request a savings withdrawal over-the-counter, in the drive-thru, or at a walk-up ATM, you can take as much from your savings account as you like without paying a fee.
Even though an ATM card for your savings account can make sense, not all banks offer this option. You might have to search a bit, but you don't have to search alone.
ATMs Cards Are Good To Have Handy
Of course, the purpose of a savings account is to save money. So the less you tap into this account, the sooner you can hit your goals like buying a house, paying for a wedding, or creating an emergency fund.
But sometimes, unexpected expenses force you to dip into your account early. With an ATM card, you can get the money you need quick and avoid possible transfer fees.
Be aware, however, that you might be subjected to other fees. Make sure you use ATMs within your bank's network to avoid ATM fees.
Using an out-of-network ATM can result in paying a fee to your bank, as well as a fee to the bank that owns the ATM.
If you think you'll need an ATM card, get a savings account that offers one -- it may help you in a pinch.