Marcus by Goldman Sachs Online Savings Account 2023 Review
Learn how the Goldman Sach Banks USA online savings account can help you reach your financial goals through high interest rates and no monthly fees.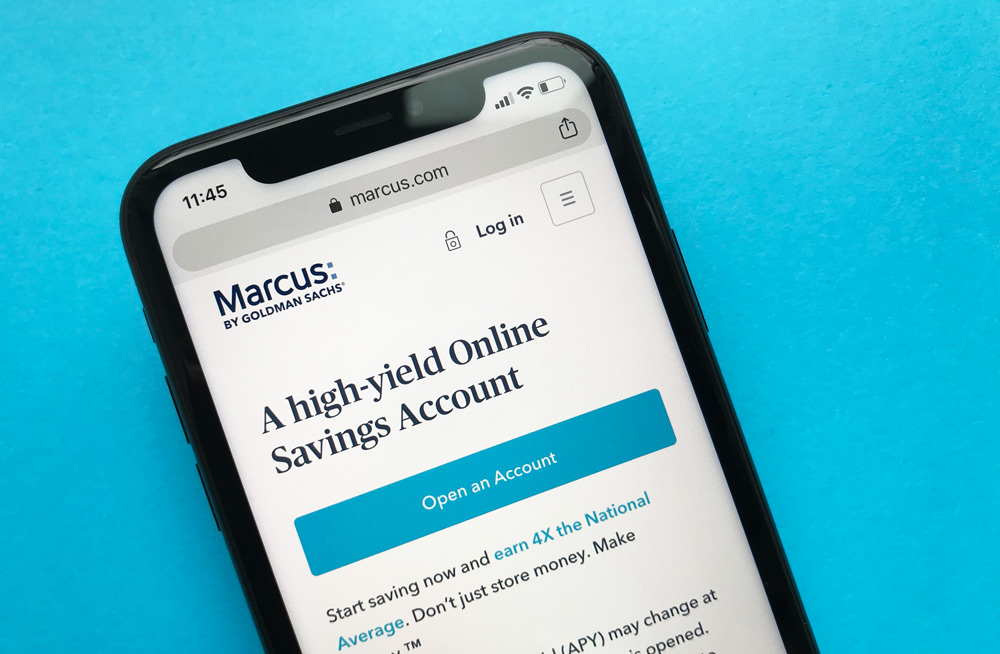 Marcus by Goldman Sachs Savings Account
Upgrade your ability to grow your savings with a proper high yield savings account.
Ditch the savings accounts that come with lots of fees and low interest rates, making the account almost pointless. In fact, depending on the bank, your savings account can end up costing you more than you earn.
With an online bank such as Goldman Sachs Bank USA, your savings actually has a chance to grow instead of costing you money.
You get a market-leading savings rate from the Marcus by Goldman Sachs Online Savings account, which will allow your money to grow 100x faster than if it was stuck at a national bank.
In this online savings account review, we'll compare rates, fees, and services to other national and online banks.
Marcus by Goldman Sachs Savings Account Pros & Cons
Compare Savings Options
Be sure to check out more savings accounts worth considering:
Earn a Top-Notch Savings Rate
One of the most important features to consider when you choose a savings account is the interest rate and how much your money can grow while it's in the bank.
Unfortunately, you'll get some of the lowest rates at most major banks. On the other hand, online banks typically offer rates that are much better.
To give you an idea of the huge difference in rates — Marcus by Goldman Sachs Online Savings account currently pay a competitive APY, which is as much as 100x more than you will earn with many other banks.
Basic savings accounts at Bank of America, Wells Fargo, and Citibank pay only 0.01% APY.
Further, your interest is compounded daily and paid monthly, so you can watch your money grow much faster than you would with other accounts.
Fees Are Virtually Nonexistent
You will notice when you bank with many major financial institutions that you have to maintain a certain amount of money, or you are charged a monthly fee.
Sometimes, this fee is charged no matter how much money you have in your account. Monthly fees vary but are typically as much as $5 per month, which could cancel out any interest you earn on your savings.
Fortunately, Marcus by Goldman Sachs Online Savings account have no monthly fees, no matter how much money you have (or don't have) in your account.
This way, you can rest assured knowing that the interest you earn won't be eaten up by monthly fees or maintenance fees.
No excess withdrawal fees
For savings accounts and money market accounts, there is a limit of 6 withdrawals per statement cycle.
Many banks will charge an excess withdrawal fee when you go over this limit.
Marcus by Goldman Sachs Online Savings account doesn't charge such a fee but it may deny any withdrawals that break this limit or close your account.
If you think you will need to make more than 6 withdrawals from your account per month, you should probably consider a checking account rather than a savings account.
Goldman Sachs Bank USA Savings Account Fees
| Type | Fee |
| --- | --- |
| Monthly Maintenance Fee | $0 |
| Wire Transfer Fee | $0 |
Convenience of Online Banking
One of the best parts of banking online is the convenience that comes with being able to access and manage your account from your living room.
Marcus by Goldman Sachs Online Savings account include multiple ways you can add money to your account, including transferring between bank accounts, direct deposit, domestic wire transfers, and sending checks by mail to the bank.
Lack of mobile apps
Goldman Sachs Bank USA does not yet offer dedicated mobile banking apps to help you manage your accounts on the go. But, since this is a simple savings account, it shouldn't be much of an inconvenience.
Big Name Backing
One of the concerns that consumers often have with online banking is that their money is just being held by no-name strangers.
Sometimes, having a big name like Goldman Sachs Bank USA behind the bank account helps provide a certain amount of security when compared to other online banking options.
Plus, your funds are FDIC-insured up to the maximum allowed by law.
Compare to Other Savings Accounts
Marcus by Goldman Sachs Online Savings account isn't the only lucrative online savings account. For instance, some of the biggest competitors include the following:
Ally Bank Online Savings
You can also earn a competitive rate with an online savings account at Ally Bank.
You won't have to pay any monthly fees. You can even create multiple accounts with different nicknames for different savings goals. Use Ally Bank's well-designed mobile apps to manage your accounts easily.
Synchrony Bank High Yield Savings
Synchrony Bank's online savings account offers the same rate as the Goldman Sachs Bank USA online savings account.
This is one of the highest interest rates currently being offered by any financial institution. You'll also get an optional ATM card for emergency cash withdrawals.
Capital One 360 Performance Savings
Although it offers a lower rate than the other online banking options, the Capital One 360 Performance Savings account is still competitive.
This account also has no fees and no minimum deposit required.
Plus, you get the no-hassle benefits of other features such as the ability to open multiple accounts with different savings goals. You can also create an automatic savings plan to build your savings faster.
Final Verdict: Can't Go Wrong with Marcus by Goldman Sachs Savings account
When it comes to choosing a savings account, one thing everyone can agree on is that we all need one.
Choosing the right one for your needs can be a bit more complicated, especially with the growing number of online banking options available.
The features you should consider most include high interest rates, convenience when banking, secure banking, low (or no) fees, and no minimum to get started.
Based on the features you should look for when choosing a bank account, the Marcus by Goldman Sachs Online Savings account is one of the best.
Besides offering one of the highest APY rates available, there are also no fees or minimum requirements that you have to worry about.
Unless you have a current relationship with your bank that you can't let go of, there really isn't any reason to choose another bank to help you grow your savings account.