American Express® Business Checking Account 2023 Review
Our review of the American Express Business Checking Account looks at the fees and features that help business owners manage their funds better.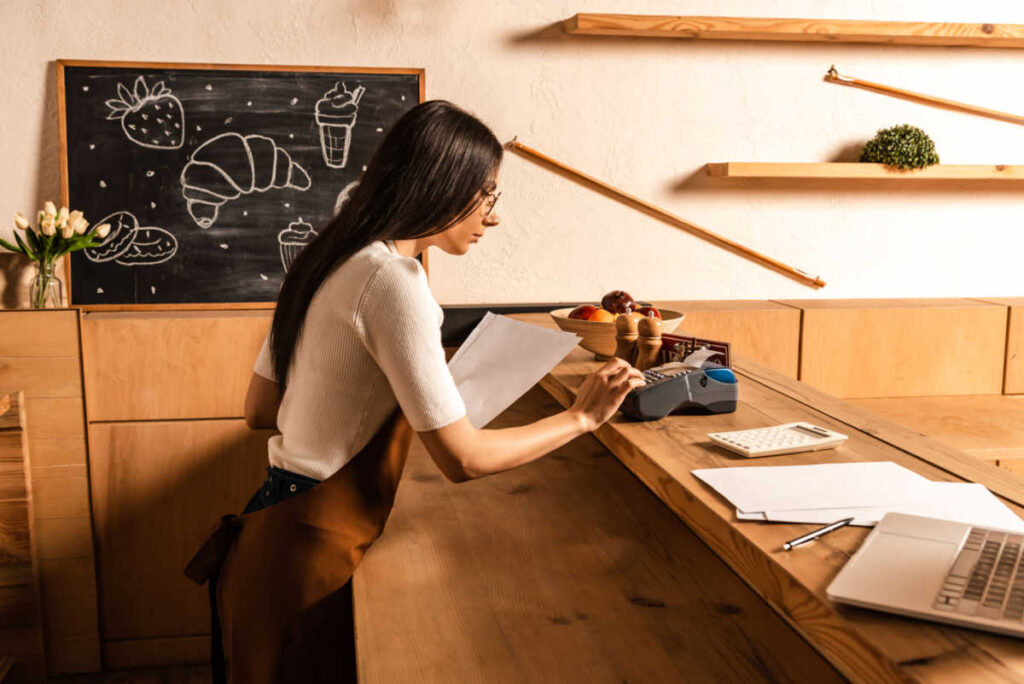 Business owners have many facets of their business to manage. Setting up a business checking account is often overlooked.
Opening a business checking account allows you to keep your personal and business finances separate. 
This helps provide accurate financial information about your business. Keeping separate finances may protect your assets if your business is structured properly.
Finding a business checking account that fits your business's needs isn't always easy. Each business operates in different ways. Banks often offer several checking account options, as well.
Here's what you should know about the American Express Business Checking Account. This can help you determine whether it might fit your business well.
American Express Business Checking Account Pros & Cons
Compare Business Checking Options
See the other great options available for your business checking needs.
No Monthly Account Maintenance Fee
The American Express Business Checking Account doesn't charge a monthly account maintenance fee. You don't even have to meet any requirements to waive a maintenance fee.
No Transaction Limits
There are no transaction limits or excess transaction fees associated with this account. This can be very useful for high-volume businesses that only deal with digital transactions.
Cannot Deposit Cash
Unfortunately, this account does not support cash deposits. If your business needs to deposit cash, this won't be a suitable primary checking account. 
It may be a good secondary business checking account for digital transactions.
Account Pays Interest
This account currently pays interest at a rate of 1.3% APY on balances up to $500,000. You don't have to meet any requirements to earn this interest rate. 
Balances of $500,000 or more do not earn interest.
Other Account Fees to Consider
Online bank accounts, such as the American Express Business Checking Account, often have fewer and lower-cost fees.
Here is a short list of fees you may come across when using this account:
Outgoing wire transfer: $20 per wire
Debit card foreign transaction fee: 2.7% of the amount of each transaction after conversion to USD
ATM fees: None by American Express (surcharges by ATM operators may apply)
Other Features of the American Express Business Checking Account
The American Express Business Checking Account offers a fairly unique feature. You can earn rewards by making purchases with your business debit card. This is rarely offered by other accounts.
You earn 1 Membership Rewards point for every $2 spent on eligible purchases. You can redeem these points for several options that may help your business grow.
As an account holder, you get 24/7 support from account specialists. You can contact these specialists digitally or by calling American Express.
American Express offers an iOS app that allows you to take care of many business banking needs digitally. You can make mobile deposits through the app. You can also pay bills online or through the app.
Unfortunately, these app features are limited to iOS. This can cause problems if you use an Android phone.
How to Open an American Express Business Checking Account
To open an American Express Business Checking Account, you must already have an American Express card. American Express says certain businesses are currently ineligible for an account. This includes the following:
Non-profits
Money service 
Cryptocurrency
Internet gambling
Cannabis distributors or dispensaries
Companion services
If you qualify to open an account, you can start the process on American Express's website. You will need to provide the following with your application:
Employer identification number or tax identification number
Articles of organization or certificate of formation
Government-issued photo ID or passport for each owner of the business
Social Security number and ID verification of all 25% or greater owners
Doing business as certificate
U.S. business address
Business industry
Business size
Purpose of your account
Tips for Choosing the Best Business Checking Account 
Opening a business checking account is the easiest part of the process. Figuring out which business checking account best fits your business is different.
To help simplify the process, you can start by determining what your business needs in a checking account. Then, you can search for a business checking account that meets those needs.
Each business will have different priorities. Even so, almost all businesses will want to pay attention to the fees they'll be charged.
Identify your business's baseline for the three key numbers below.
Amount of total monthly cash deposits
Approximate number of monthly transactions
Amount of money you plan to keep in the account at all times
Businesses likely want to prioritize some non-fee factors to ensure their chosen bank is convenient. Here's a list of ideas of potential aspects your business may want to prioritize when looking for the best business checking account.
Monthly maintenance fees
Expect to pay a monthly maintenance fee with most business checking accounts. Fees tend to start around $10 per month and can be much higher.
In rare cases, some accounts don't have monthly maintenance fees. This mainly applies to online banks or those that offer very few included services.
Balance requirements to waive fees
Banks may offer a way to waive a monthly maintenance fee if you maintain a minimum balance. Understand how the balance is calculated. Then, decide if you can meet the minimum before opening an account.
Monthly transactions are included at no cost
Your business will usually receive several monthly transactions at no cost. Each additional transaction incurs a fee. 
Some banks only include certain transaction types. It's important to know which types are and aren't included.
Monthly cash deposits are included at no cost
Depositing cash in a personal bank account is almost always free. That isn't the case with business checking accounts. 
Expect to receive a free monthly cash deposit allowance. Then, you usually must pay a fee per $100 deposited beyond that allowance.
The cost of each type of wire transfer
Wire transfers incur fees at most banks. The fee often varies by the type of wire transfer you make. Understand which types of wire transfers your business uses and the fees for those transfers.
Bank branch locations and operating hours
Consider the bank's locations and operating hours when looking for a business checking account. A bank close to your home or business with convenient hours may be worth paying slightly higher fees.
ATM network and fees
Businesses that don't use branches often may prefer to visit ATMs for their cash needs. Understanding which ATM network the bank uses and what fees are charged may be important.
Convenience features
Look for banks that offer features that make your life more convenient. These can include things like mobile check deposits and online bill pay. Consider features that reduce the number of in-person transactions you make.
Payment processing services
A bank may offer a service to accept card payments directly to your bank account within a day of the transaction date. These services incur transaction fees, which can add up quickly. 
Software integration with your account
Banks often integrate with your accounting software or other business software. Sometimes, they charge for this service. This can surprise some business owners. Still, the time savings are likely worth the cost for many businesses.
Other banking services and products
A business checking account may be a relatively small need compared to other banking products or services, such as a loan. 
In these instances, find the best bank for the other products and services. Then, decide whether opening a checking account at the same bank is worth having a less ideal account.
Advantages of an Online Bank vs. a Traditional Bank for Business Checking
Some businesses may be better off choosing an online business checking account. The American Express Business Checking Account may be a good fit in these cases. 
Online business checking accounts usually work better if your business rarely uses cash. 
If you don't need access to physical locations, you may want to take advantage of online checking account benefits. These benefits may include:
Much lower fees
A reasonable, if not above-average, interest rate
Top-notch technology 
Online banks focus on these areas to gain customers who can operate without physical bank branches.
Businesses relying on cash daily wouldn't be a good fit to use an online business checking account. 
They could have a local business checking account for their cash needs. Then, they can open a secondary online business checking account for everything else.
Final Verdict
The American Express Business Checking Account might be a good fit for your business if you don't use cash often. It doesn't charge many of the common fees business checking accounts charge. The account even pays interest.
American Express allows you to earn Membership Rewards points with eligible debit card purchases. This is a huge bonus over most business checking accounts. Unfortunately, only American Express card customers currently qualify for an account.