Best Checking Accounts for Military Personnel
Find out which free checking accounts are best for people in the military. Compare the different options from banks and credit unions to see the various benefits offered to active-duty servicemembers. Learn what factors you should look for when choosing a checking account that best matches your military lifestyle.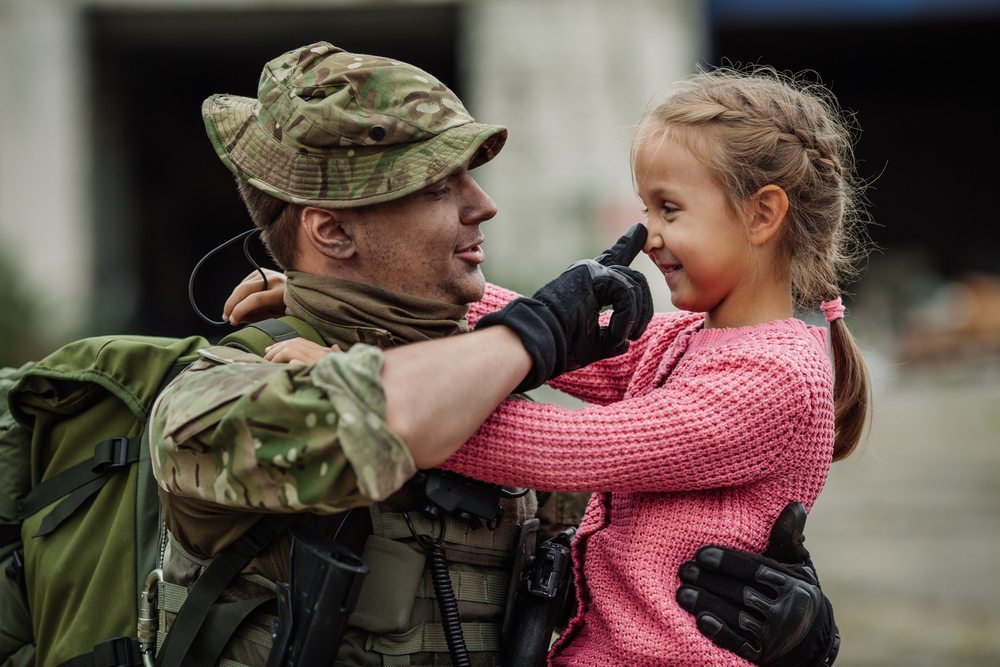 Being in the military can make managing your money a little more challenging.
Military members and their families sometimes face unique situations that require a different kind of banking experience.
Fortunately, there are several banks that offer checking accounts for active-duty military personnel. These accounts give military members the convenience and features they need the most from a checking account.
But which checking account option is the best when you're in the military? We analyzed checking accounts from the 10 largest U.S. financial institutions that offer added benefits for active military personnel.
We chose the checking accounts that represent the best of the best for military members based on their monthly fees, ATM fee policies, and special perks for military servicemembers.
Best Overall: USAA Classic Checking
Best Credit Union Military Checking: Navy Federal CU Free Active Duty Checking
Best Big-Bank Military Checking: Chase Premier Plus Checking
---
Best Overall for Active Duty Military: USAA Classic Checking
USAA has a long history of serving the banking needs of military members and their families.
The USAA Classic Checking account rated the best in our military checking roundup. This account has features including:
No monthly service fee
No minimum balance requirement
Up to 10 free ATM withdrawals at non-USAA Bank-owned ATMs per month
Up to $15 in foreign ATM surcharge rebates each month
Low opening deposit
Interest earned on daily balances of $1,000 or more
Payday a Day Early, which lets you receive your direct deposit paycheck a day earlier
USAA Classic Checking comes with online and mobile banking access. You can deposit checks through mobile deposit, or deposit checks and cash at USAA ATMs.
The Classic Checking account comes with other great benefits. You can get great rates on auto and mortgage loans.
There are also special APR discounts on USAA credit cards during deployments. Discounts on renters' and car insurance, shopping and travel are also available.
Active military, former military, eligible family members and cadets or midshipmen can join USAA. If you're opening a Classic Checking account as a new recruit, there's no opening deposit required.
Best from a Credit Union: Navy Federal Credit Union Free Active Duty Checking
Navy Federal Credit Union serves veterans and active-duty members of the Army, Marine Corps, Navy, Air Force and Coast Guard.
Free Active Duty Checking is a low-cost, low-stress checking option for active duty members.
This account offers:
Early access to your paycheck with direct deposit
Up to $10 in ATM fee rebates per statement cycle
No minimum deposit to open an account
No monthly service fee
Free ATM access at Navy Federal and CO-OP Network ATMs
Interest on deposits
Free personalized traditional checks
One of the great things about banking with a credit union is that they tend to charge fewer fees. They also charge lower interest rates on loans and offer better rates on savings.
If you're planning to borrow or save, along with opening a checking account, Navy Federal Credit Union offers low APRs on mortgages, car loans and credit cards and competitive rates for CD savers.
Membership is open to active duty members of the military branches mentioned earlier. Air National Guard, DoD Officer Candidates, and DoD Reservists are also eligible.
To join, you'll need to open a Navy Federal Credit Union savings account with a $5 deposit. After that, you can open a Free Active Duty Checking account.
Best for Branch Access: Chase Premier Plus Checking
Chase stands out for being the only bank in our top three that doesn't have a military affiliation. But, Chase does offer personal banking services for military members and their families.
The Chase Premier Plus Checking account comes with Chase Military Banking benefits. Those benefits, which apply to current servicemembers and veterans, include:
No minimum balance requirement
No monthly service fee (Premier Plus Checking typically has a $25 monthly fee)
No fee for the first four non-Chase ATM inquiries, transfers or withdrawals each statement period
No annual fee for standard safe deposit boxes, plus a discount on larger sizes
No monthly service fee on two additional linked Premier Plus Checking accounts
If you're an active duty and you set up direct deposit of your paycheck, you also get some extra perks. Those include:
No fee on all non-Chase ATM transactions
No incoming or outgoing wire transfer fees
No foreign exchange fee on debit purchases or ATM withdrawals
Like USAA and Navy Federal Credit Union, Chase extends certain benefits and protections to military checking members under the Servicemembers Civil Relief Act (SCRA).
This act covers things like reduction of interest rates on loans and credit cards and protection from foreclosure when you're on active duty.
To open a Chase Premier Plus Checking account with Chase Military Banking benefits, you'll need to visit a Chase branch.
And don't forget to bring a valid military ID to verify your active duty status.
---
What to Look for in a Military Checking Account
If you're in the military on active duty, you might not have a lot of time to compare banks and find a checking account.
Who you decide to bank with matters because some checking accounts offer better benefits than others.
With that in mind, here are the features to look for as you scout out different checking options.
1. Monthly Fee
Many checking accounts these days charge a monthly fee. Even if it's just a few dollars a month, those fees can add up.
If you need to stretch your active duty pay as far as possible, fees are something you don't have time for.
When you're looking at military checking accounts, consider whether there's a monthly fee.
And if there is, look at what options you might have for avoiding it and whether they're realistic.
You don't want to get an account that requires a $5,000 minimum fee balance to avoid the fee if you typically only keep a few hundred dollars in checking.
2. ATM Access and ATM Fee Refunds
Travel is a regular part of military life and you need to be able to get cash at the ATM when you need it.
The trouble is, you could wind up paying an ATM surcharge if you're using another bank's ATM.
You may also run into foreign transaction fees if you're using an ATM outside the U.S.
As you compare different banks, check to see how broad their ATM networks are. Ideally, the more locations, the better.
Next, look at whether the bank refunds any ATM fees charged by other banks.
If you're paying $15 or $20 a month to use another bank's ATM, getting some of that money back in the form of a rebate is a huge plus.
3. Benefits for Military Family Members
If you're married or have kids, that could yield some banking advantages.
For example, you might be able to get a waiver of monthly fees for opening additional checking accounts.
That's something Chase does for military Premier Plus Checking members.
You might also be interested in things like rate discounts on car loans if you've got a teen who'll soon be driving or no-fee savings accounts for kids.
The goal is to choose an account that offers benefits and features that fit the whole family.
4. SCRA Benefits and Protections
We've mentioned SCRA benefits briefly but here's a little more on why they're important.
The SCRA covers all active duty service members, including reservists and National Guard members who are on active duty.
This Act offers certain legal protections that everyday consumers don't have.
That includes things like stopping a foreclosure without a court order, limiting interest on loans taken out before you joined the military to 6% and protecting you against negative credit report entries on loans that you delayed payment on.
Those are valuable benefits so it's important to know whether your checking account is covered.
5. Survivor Benefits
If something should happen to you while you're on active duty, you'd want your spouse to be taken care of financially. Survivor programs can help.
These programs offer debt cancellation for outstanding mortgage loans, auto loans, student loans and credit cards.
A checking account that includes survivor benefits may also cancel out any overdraft balances if you pass away.
Chase offers these kinds of benefits. Both USAA and Navy Federal Credit Union offer survivor support.
But don't assume all banks or credit unions are the same. Take time to research whether these benefits are available.
6. Relationship Benefits
Relationship benefits include rate discounts on loans, shopping and travel discounts and higher rates on savings accounts.
Your military checking account could save you money or put more money in your pocket in the form of an interest rate boost.
7. Online and Mobile Banking Access
Visiting a branch probably isn't an option when you're on active duty. Online and mobile banking access are critical.
As you compare online and mobile banking options, look at what kind of features are included.
Online bill pay, for example, is a big one. If you can't write out and mail checks, you need to be able to get your bills paid on time. Online bill payments are an absolute must in that scenario.
---
Match the Account to Your Needs
Choosing a checking account is a big decision because it impacts your financial life.
The three accounts we've showcased here are excellent no-fee options. Each one offers a slightly different take for military personnel.
Review your current checking account and activity to see which one would best match the way that you manage your finances.
Pick the one that offers the most convenient for you.