Comerica Access Checking Account 2023 Review
Learn about the Comerica Access Checking Account, including its features and fees, and compare it to other checking options.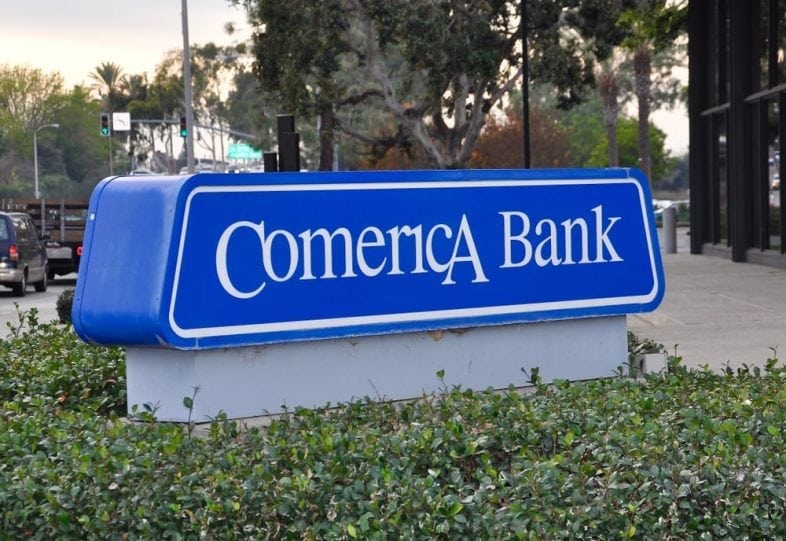 Comerica Bank
Comerica, headquartered in Dallas, Texas, is a financial services company that offers retail banking services to Americans in Texas, Michigan, Arizona, California, and Florida.
As one of the largest banks in the United States, it is a popular choice of bank for people who live in the states that it serves.
One of the many services offered by Comerica is the Comerica Access Checking Account.
The account offers basic checking account features and a number of ways to avoid the monthly fee.
If you want to open a new checking account, this review will cover everything you need to know about the Comerica Access Checking Account.
Avoid Overdraft Fees with a Linked Savings Account
Comerica Access Checking Account Pros & Cons
Your checking account serves as the hub of your financial life. Your paychecks get deposited to the account and all of your expenses are paid out of the account.
With so much activity in the account, it's easy to lose track of your account's balance.
If you do lose track, you might accidentally try to spend more money than you have available in the account.
When that happens, Comerica might decide to cover the transaction anyway, allowing your account's balance to fall into the negatives. When this happens, it is known as an overdraft.
Banks don't want people to spend more money than they actually have, so they charge hefty fees for overdrafts.
Comerica charges $26 for your first overdraft, $33 for your second, third and fourth, and $37 for every additional overdraft.
A $5 cup of coffee can quickly become a $40 cup of coffee due to overdraft fees.
With your Comerica Access Checking Account, you have a few options as to how to handle overdrafts.
Standard overdraft coverage
By default, standard overdraft coverage means you opt to hit a negative balance in order to ensure the transaction is completed.
This also means you'll only be allowed to overdraft your account for recurring payments such as bill payments.
This helps you make sure your bills get paid and makes it harder to overdraft your account from day-to-day transactions.
Enhanced Overdraft Services
Optionally, you can sign-up for Enhanced Overdraft Services.
This puts you at risk of paying more fees as it authorizes overdrafts for regular debit card purchases. Still, in an emergency, having this option can be helpful.
Automatic overdraft protection
To reduce overdraft fees, you can sign up for automatic overdraft protection.
To sign up, you'll have to link a Comerica savings account or money market account to your checking account.
Once enrolled, instead of overdrawing your account, money will automatically be moved from your savings account to your checking account.
This means your account balance will not fall into the negatives.
You'll also save money as the fee for overdraft transfers is just $12, less than half the overdraft fee.
Rate Discount on a Comerica Home Equity Flexiline
If you have a Comerica Access Checking Account, you can save on your home equity line of credit (HELOC).
Home equity lines of credit let you take some of the equity you have in your home and turn it into cash.
You can use a HELOC to cover financial emergencies, pay for home improvement, or simply give you extra cash to spend.
Like a mortgage, the debt is secured by your home, so the interest rate will be lower than the rates offered by other loans.
You can push the interest rates even lower by signing up for automatic payments from your Comerica Access Checking Account.
The size of the discount depends on your credit rating and the size of your HELOC, but any opportunity to save on interest is a good opportunity to take.
Pay Your Friends Easily Using Zelle
Many people still use cash to settle up small debts with friends and colleagues.
Usually, that means you'll be making frequent stops at banks or ATMs to withdraw more money.
Plus, if you're paying friends, you have to have exact change or hope that your friend can make change for you.
Comerica offers a way to make paying friends and colleagues much easier through a service called Zelle.
How Zelle works
Zelle is a free service that lets you send money to anyone else with a Zelle enabled bank account.
The entire process is electronic, so you can send money directly from your bank account to the recipient's account. Best of all, the recipient does not have to have set up Zelle before you send the money.
To get started, log in to your bank's website or app and open Zelle. Enter the recipient's phone number or e-mail and the amount of money that you want to send.
When you confirm the transaction, your account will be automatically debited for the amount.
The recipient will receive an e-mail notification about the transaction. If they haven't yet set up Zelle, they'll be prompted to do so.
The money should arrive in their account within three business days.
Poor Access to ATMs
Comerica focuses primarily on serving customers in just a few states. In those states, there are a good number of Comerica ATMs.
Outside those states, there are a few ATMs that you can use, but you'll have to go out of your way to find one.
If you are able to find a Comerica ATM that you can use, you won't pay any fees for transactions. If you have to use another bank's ATM, you'll have to pay fees. Comerica will charge a $2 fee for each transaction made at another bank's ATM. This fee is in addition to the fees charged by the ATM's owner.
If you're traveling, make sure to bring enough cash that you won't have to visit an ATM. This can help you save on fees.
Ways to Avoid Monthly Fee
The Comerica Access Checking Account charges a $13 monthly fee. The fee is reduced to $11 if you sign up for electronic statements.
This is a hefty fee to pay, but there are a number of ways to avoid it. The fee will be waived if you meet any of the following requirements:
Maintain a minimum balance of $1,000
Receive one direct deposit of $250 or more
Be a full-time college student under the age of 27
Have a Comerica business checking account
Be an active or retired member of the U.S. Military
Be a member of a Comerica Platinum Circle Checking Household and designated by the Account owner as the one Access Checking Account free of monthly maintenance fees
The best way to avoid the fee is to maintain the $1,000 balance or sign up for direct deposit from your employer.
Other Fees
Monthly maintenance fees are the most common type of checking account fees, but there are other fees to be aware of.
Some of the fees that may apply to the Comerica Checking Account are listed below:
Comerica Access Checking Account Fees
| Type | Fee |
| --- | --- |
| Monthly Maintenance Fee | $13 |
| Non-Comerica ATM | $2.50 |
| Overdraft Fee | $26 (increases with frequency) |
| Overdraft Protection Transfer Fee | $8 (increases with frequency) |
| Returned Item | $26 (increases with frequency) |
| Stop Payment | $34 |
| Deposited Item Returned | $13 |
| Domestic Wire Transfer (incoming) | $14 |
| International Wire Transfer (incoming) | $17 |
| Cashiers Check | $10 |
Convenience
The Comerica Access Checking Account offers a few of the convenience features you'd expect from a checking account, but it may come at a price.
You get free access to online banking services when you open the account. When you log in to your account from a computer or smartphone, you'll be able to manage your account easily.
You can view your balance and transaction history, as well as any future transactions. You'll also be able to initiate instant or future transfers from the bank's website.
If you receive direct deposits each month, you'll also get free access to bill payment service through the bank's website.
If you don't receive direct deposits, you'll have to pay a $6.95 monthly fee to use the bill payment service.
How It Compares
The checking account is the most popular type of bank account in the United States. It's so popular, that most banks offer more than one type of checking account.
That gives consumers a wide variety of checking accounts to choose from. Use that to your advantage by shopping around to get a good deal.
When you're comparing checking accounts, always start by looking at the account's fees. You want to make sure that you won't be paying a monthly fee. If you're a regular ATM user, also look into the ATM fees.
Other things to consider when comparing accounts are:
Minimum deposit requirements
Fee waiver requirements
Interest rates
ATM access
Convenience features
Other Comerica checking accounts
Comerica Bank provides three (3) other checking options:
Rich Rewards Checking
The Rich Rewards Checking Account is just like the Access Checking account with the addition of interest-earnings on deposits, free online bill pay, free Comerica checks, and bonus rates on CDs.
The account has an $18 monthly fee, which can be waived with a $5,000 ledger balance each day or a combined balance of $7,500 each day in up to three Comerica deposit accounts.
Premier Checking
The Premier Checking account is like the Rich Rewards Checking account with the addition of discounts on closing costs of residential mortgages, and waived monthly fees on savings or money market accounts.
The account has a $22 monthly fee, which can be avoided with a $7,500 daily ledger balance or a combined balance of $20,000 each day in up to three linked Comerica deposit accounts or a HELOC.
Comerica Platinum Circle Checking
This is the top-tier premium account that offers a dedicated customer service line, higher deposit rates, an additional free checking account, free Comerica checks, and more.
The account is available only to private banking clients with combined balances of $2.5 million.
The Final Verdict
The Comerica Access Checking Account is a poor choice for most people.
It is highly expensive and does not offer many features that other checking accounts do.
Look into online checking accounts as they tend to be cheaper and offer more valuable services and features.