Found Business Checking Account 2023 Review
Our review of the Found Business Checking Account looks at the account fees and features while identifying the pros and cons for business owners.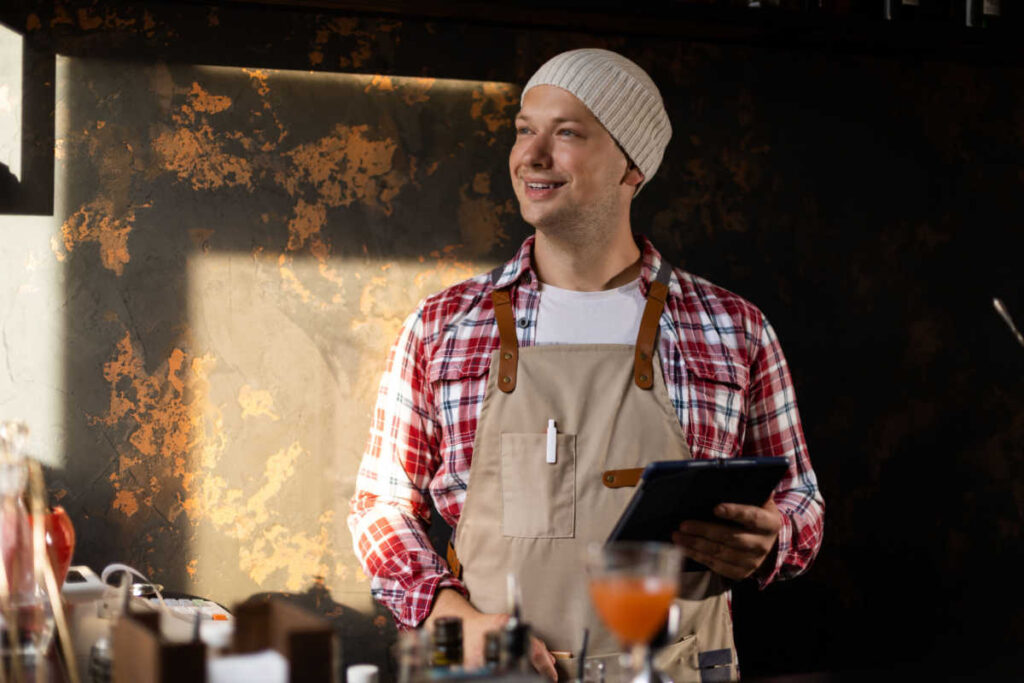 Business owners have many responsibilities to successfully run their company. Often, smaller items may fall through the cracks.
One aspect you don't want to ignore is setting up a business checking account. 
It's essential to keep your business and personal finances separate. Doing so gives you a clear picture of your business's finances and may protect your personal assets if you've properly set up your business.
Opening a business checking account is easy. Most banks offer them. However, some come with high fees or other inconveniences.
Finding a business checking account that's a good fit takes a bit more work. If you're considering opening up a Found Business Checking Account, here's what you should know.
Found Business Checking Account Pros & Cons
Compare Business Checking Options
See the other great options available for your business checking needs.
No Monthly Account Maintenance Fee
After you open a Found Business Checking Account, you won't have to pay a monthly maintenance fee. There are no minimum balance requirements to avoid a fee, either.
No Transaction Limits
The Found Business Checking Account comes with unlimited transactions. There are no fees imposed for each transaction you make.
Cannot Deposit Cash or Checks
The Found Business Checking Account does not currently support depositing cash or checks. Found does hope to support check deposits in the future. 
Unfortunately, this is a significant inconvenience for any business that regularly accepts checks as payment. Found does support other ways you can get paid, such as their invoices tool, requesting payment, or instant money transfers from payment apps.
Other Account Fees - Found Business Checking
| Type | Fee |
| --- | --- |
| Instant withdrawal fee | 1.75% of the amount transferred |
| Found Plus | $14.99 per month (or $95.88 per year) |
| ATM fee | None (ATM operator may still charge a fee) |
| International transaction fee | Charged by card network to convert transaction from foreign currency to USD |
| Invoice fee | 2.9% + $0.30 when invoice is paid with a credit or debit card |
Other Features of the Found Business Checking
The Found Business Checking Account focuses on features that make running a business easier for freelancers and the self-employed.
The account gives you access to link to your favorite apps. Examples of these apps include: 
Quickbooks
CashApp
PayPal
Square
Lyft
Uber
Venmo
eBay
Stripe
The account also comes with built-in expense tracking and tax tools. This can help save you time when it's time to file your taxes or review your expenses.
You can have the account automatically set aside part of your deposits for your eventual tax bill. If all of your income and expenses run through the account, Found can also estimate the amount of taxes you'll owe.
You can use Found to create unlimited customizable invoices with no fees. If you receive direct deposit payments, you may receive them up to two days early.
You also have the option to sign up for Found Plus. This costs $14.99 per month or $95.88 per year. You get access to more features after signing up for this service, including:
Unlimited category rules
The ability to export bookkeeping details
The ability to pay quarterly taxes through Found
Photo receipt capture
Custom bookkeeping categories
How to Open a Found Business Checking
Opening a Found Business Checking Account is straightforward and completely digital. You will not have to go through a credit check to open an account.
Opening an account requires the following information:
Legal name
Address
Social Security number
Date of birth
Remember, Found focuses on self-employed and freelance business owners. You open an account with your Social Security number, not a tax identification number. 
You can provide your EIN after the fact. However, the account is opened in your name, not your business's. This can present a problem if you want a business account for any business type other than a sole proprietorship.
Picking the Best Business Checking Account 
After you decide to open a business checking account, you have to find the best option for your business.
Choosing the right account can take time. Each bank likely has several business checking account options. 
Some banks have better checking accounts than others, too. Thankfully, you can speed up the process with a couple of simple exercises. 
First, figure out what your business needs in a business checking account. Then, compare that list to the top business checking accounts to find the best one for your business.
When exploring your business's needs, you should always know three key figures to help figure out some of the most common fees. These include:
How much cash you deposit per month
How many transactions you make per month
The amount you can keep in your account to fulfill minimum balance requirements
Non-fee factors also play a role in the business checking account you choose. Here's a list of several fee and non-fee factors you may want to look at when choosing a business checking account.
Monthly maintenance charges
The vast majority of business checking accounts charge a monthly maintenance fee. These fees are often at least $10 per month.
Some banks offer ways to waive these fees, but you must meet the requirements to earn the waiver.
Minimum balance requirements to waive fees
A bank may waive its monthly maintenance charges if you maintain a balance with the bank. Understand how the minimum balance is calculated and whether you can meet it each month.
Included monthly transactions
Business checking accounts typically limit the number of free transactions you can make each month. Once you reach the limit, you must pay an excess transaction fee for each extra transaction.
Included monthly cash deposits
Like transactions, free monthly cash deposits are often limited. Understand how much cash you can deposit for free each month and the fee for extra cash deposits.
Wire transfer costs
If your business uses wire transfers, understand the types of wire transfers a checking account offers and the fees associated with each transfer type.
Physical locations and operating hours
A bank's branch locations could be important to busy business owners. Finding a bank near your business or home with flexible hours could minimize special trips to the bank.
ATM fees and locations
Businesses that plan to use ATMs often should look into ATM locations and the fees for ATM transactions.
Convenience features
Banks may offer convenience features that make it easier to use your bank account. Many banks offer mobile apps with mobile check deposit or the ability to transfer funds without entering a branch. 
Payment processing options
If your business accepts debit or credit card payments, you likely need a card payment processor. Banks may offer this service or work with a company that does. Understand the fees for getting funds deposited into your bank account if you opt to use the bank's service.
Software integration
You likely want to work with a bank that integrates with your accounting software and other business software needs. This direct flow of information can reduce errors and save time, even if a bank charges a fee for the service.
Other bank account types and services
Business checking accounts are important, but sometimes loans or other banking services take priority. In these cases, you may want to first shop for the other service.
Then, you can open a checking account at that bank. The checking account may not be optimal, but the convenience may be worth keeping your banking all at one bank.
Advantages of an Online Bank vs. a Traditional Bank for Business Checking
Some businesses may want to consider an online bank rather than a traditional bank.
Online banks usually charge fewer fees and the fees they do charge often cost less. 
Additionally, online banks often have stellar phone or online support. These banks normally have outstanding online banking and mobile app features, as well.
Some online banks even pay interest on their business checking accounts. Expect online banks to offer other features for free or at a low cost that many brick-and-mortar banks don't offer or charge a lot for.
Online bank accounts aren't perfect for business owners, though. You won't have a branch you can visit to get help in person. 
You may also have issues depositing cash and checks if your online bank doesn't have a workaround option.
Final Verdict
The Found Business Checking Account is only suitable for sole proprietors that want to open a business checking account in their name. A business with an entity cannot open an account in the business's name.
Even so, sole proprietors may appreciate the straightforward account Found offers. It charges minimal fees and can help you keep track of your business's finances and taxes. 
The account's major downside for its ideal customers is the lack of options to deposit cash or checks. If you don't need access to these features, a Found Business Checking Account may be a good fit for your sole proprietorship business.