MemoryBank EarnMore Checking Account 2023 Review
Learn more about the rewards checking interest rate of the MemoryBank EarnMore checking account and compare it to the interest rates and fees at online banks.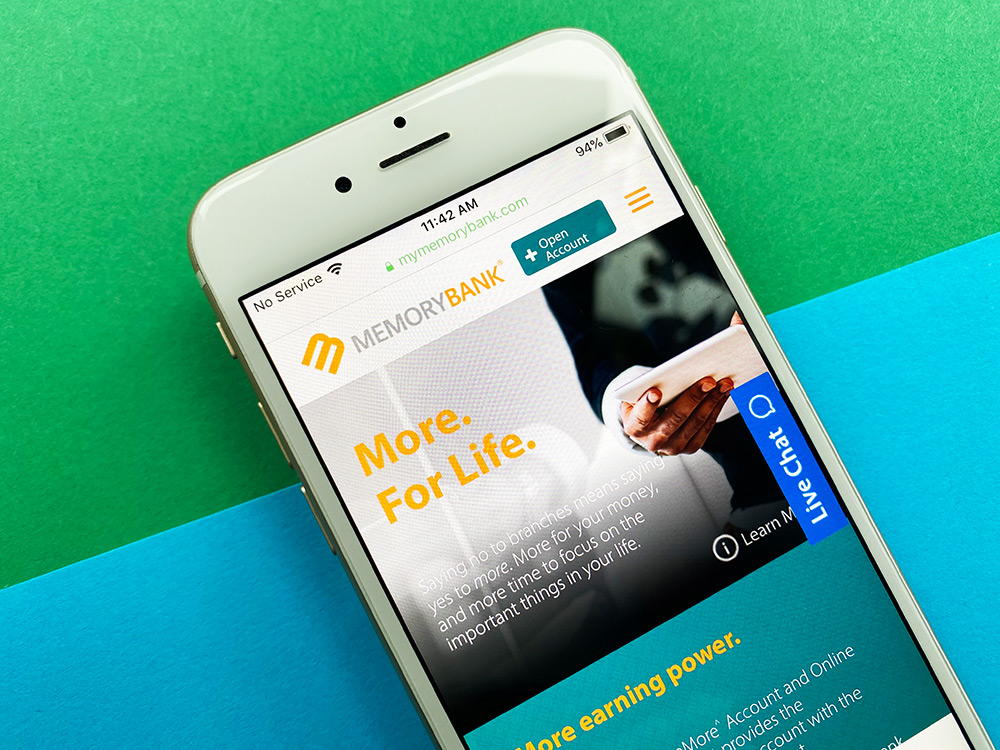 Memory Bank App
MemoryBank is an online bank that aims to offer its customers a great banking experience from the comfort of their own home.
To that end, MemoryBank offers three different checking accounts to its customers.
One of the checking accounts that it offers is the MemoryBank EarnMore Checking Account.
This account offers all the flexibility of a checking account, with the interest-earning power of a savings account.
If you're looking to open an online checking account, this review will tell you all that you need to know about the MemoryBank EarnMore Checking Account.
Get an Interest Rate Bonus the First Year
The checking account is the most common bank account in the United States and it's not hard to understand why.
They let you keep your money safe at the bank, but give you easy access to it when you need it.
Whether you want to stop by an ATM, use your debit card, or write a check, it's easy to use the cash in your checking account.
MemoryBank EarnMore Checking Account Pros & Cons
At most banks, that convenience comes with a price. Checking accounts rarely offer interest, and if they do, the rate is very low.
The MemoryBank EarnMore Checking account gives consumers a way to earn a great rate on their checking account.
To make things better, you'll get a 0.5% boost in your interest rate.
That rate boost, combined with the account's already high interest rate, makes the account pay more than even the most generous online savings account.
One of the Best Checking Rates Available (With Some Requirements)
One of the things that really sets the MemoryBank EarnMore Checking Account apart from its competition is its fantastic interest rate.
It pays a better rate than nearly any checking account available, and it beats most savings accounts offered by national banks.
For the most part, only online savings accounts can beat its interest rate.
If you want to earn interest on your balance, you'll need to meet a few requirements. Those requirements are:
Receive one direct deposit per statement
Make at least five debit card transactions per statement
Opt-in to online statements
If you meet those requirements, you'll earn the best rate.
If you don't meet all of the requirements, you'll earn a rate that is less than a tenth of the best available rate.
Make sure you're able to meet those requirements on a regular basis before opening the account if your goal is to earn interest.
Use More than 85,000 ATMs, Fee-Free
MemoryBank lets its customers use more than 85,000 fee-free ATMs across the country.
That's more ATMs than the top five U.S. banks combined. That makes it easy to get cash whenever you need it, wherever you happen to be.
You can find the nearest fee-free ATM using the MemoryBank website. Just enter your location and it will provide a list of the closest ATMs to you.
You're also free to use other ATMs, but MemoryBank will not reimburse you for any ATM fees you pay.
MemoryAlert Notifications Help You Track Your Account
Keeping track of your money is important.
You have to know whether you have enough money in the account to pay your bills and cover your daily spending.
Plus, you'll want to make sure that any deposits you're expecting arrive on time.
Instead of forcing you to log in and check your account every day, MemoryBank makes tracking your finances easy.
You can set up MemoryAlert notifications on your account that will automatically inform you if certain conditions are met.
Want to be warned if your balance drops below a certain threshold? You can create an alert for that.
Want to know when that big deposit hits your account? Set up an alert for that too.
With MemoryAlert notifications, you can spend less time worrying about your money and more time focusing on the important things in life.
Powerful Account Security Features
MemoryBank prioritizes the security of its customers' accounts. A series of security features help prevent unauthorized access to the account.
Beyond standard web protection and encryption like SSL security, you can set up biometric security to ensure that only you can log in to your account.
If you have a modern smartphone you can set up fingerprint login for your account.
You can also eye-pattern identification to log in to your account, offering an extra layer of security.
In the worst case, you can rest easy knowing that all accounts at MemoryBank are insured by the Federal Deposit Insurance Corporation.
If the bank is unable to return your deposits to you, the FDIC will reimburse you up to the limit of $250,000.
That means you won't have to worry about the bank being unable to repay you if the economy takes a turn for the worse.
Minimum Deposit and Monthly Fee
It's easy to open a MemoryBank EarnMore Checking account.
You only need to make a $50 minimum deposit to open it. Once the account is open, you don't have to worry about any monthly fees.
There are no requirements to waive the monthly fee, there's simply no fee.
Not having to worry about fees makes it easy to keep your money working for you.
Other Fees Are Cheaper Than Big Banks
One of the benefits of online banks is that they are cheaper to run than banks with physical branches.
That lets them focus more on providing a great experience for their customers and less on charging fees to cover their costs.
That is evident when you look at the fee schedule for MemoryBank's EarnMore Checking Account.
You won't have to pay any fees for leaving your account dormant, using ATMs, or requesting a cashier's check.
The fee your most likely to encounter is the overdraft fee. There is a $36 overdraft fee per overdraft that you make.
MemoryBank EarnMore Checking Account Fees
| Type | Fee amount |
| --- | --- |
| Monthly Maintenance Fee | $0 |
| Out-of-Network ATM Fee | $0 |
| Overdraft Fee | $36 |
| Returned Item | $36 |
| Stop Payment | $36 |
| Deposited Item Returned or Cashed Check Returned | $12 |
| Incoming Domestic Wire Transfer | $0 after 30 days of account-opening ($20 each otherwise) |
| Incoming International Wire Transfer | $0 after 30 days of account-opening ($20 each otherwise) |
| Cashiers Check | $0 |
Convenience Ways to Manage Your Account
One of the biggest concerns that people have about online banks is how easy it will be to get to their money.
MemoryBank prioritizes convenience and makes it easy for you to manage and access your cash.
You can manage your account through the MemoryBank website or the MemoryBank mobile banking apps.
You can use the app to deposit checks, check your balance, or set up one-time or recurring transfers.
The ability to create recurring transfers makes it easy to create and stick to a regular savings plan.
For example, you can use a recurring transfer to move $50 to a savings account after every payday.
Again, another great convenience feature is MemoryBank's network of more than 85,000 fee-free ATMs.
You'll never be far from a way to withdraw some cash from your account. You can also use your debit card to make purchases in a pinch.
You can also get quick help with your account if you ever run into issues. MemoryBank offers three ways to contact customer support:
You can start a live online chat from the bank's website to ask any questions you might have about your account.
During the business week, you can call the bank to speak to a live customer support specialist. The call center is open from 7:30 AM to 8 PM Eastern on weekdays, which gives you a large window of time to contact the bank.
For more sensitive issues, you can log in to your account to send an encrypted e-mail. A customer support specialist will contact you as soon as possible.
All of these features combine to make MemoryBank's EarnMore Checking Account very convenient to use.
How Does It Compare?
Because the checking account is the most common type of bank account in the United States there is no end to competition for your business.
That means that you have a lot of options to choose from when opening an account.
When you're shopping for a checking account, don't just go to the local branch of a national bank.
Online banks, like MemoryBank have lower operating costs and can offer much better rates and lower fees.
When looking at checking accounts the fees and accessibility of the account tend to be the most important factors to consider.
Other factors that you should look at when making a decision include:
Minimum deposit
Monthly fee
Fee waiver requirements
Interest rates
ATM access
The Final Verdict
The MemoryBank EarnMore Checking Account is a great choice for people who want a checking account that offers a great interest rate.
Just make sure that you can meet the requirements to earn the best interest rate available.
Otherwise, another account may offer a better rate. The account is also a good choice for people who use ATMs regularly, thanks to its huge network of no-fee ATMs.
Where it falls short is for consumers who want to move all of their accounts to one bank.
MemoryBank only offers checking accounts, so if you want to open an online savings or investment account, you'll need to choose another bank.