N26 Checking Account 2023 Review
Find out whether the N26 checking account is a good alternative for everyday banking needs. Compare it to other online checking accounts.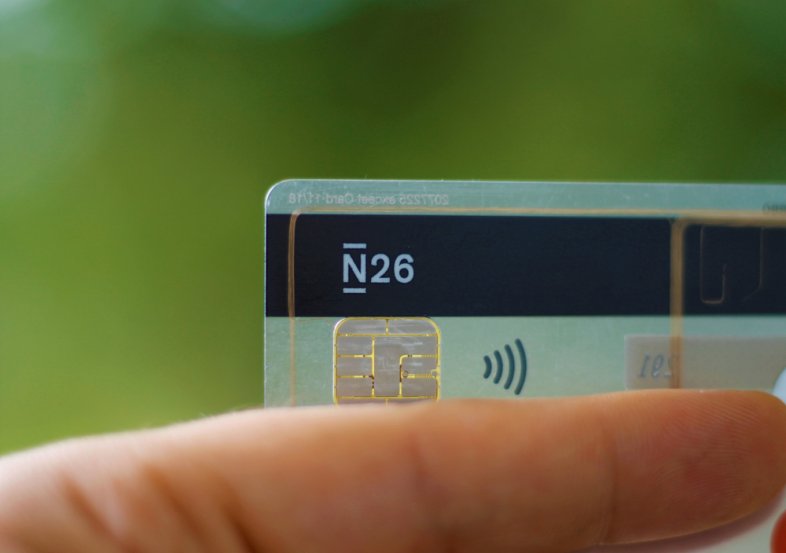 N26 is a German bank based in Berlin, that began offering accounts in the United States in 2019.
It offers just one account, a checking account, to American customers through its website.
Your checking account serves as the hub of your financial life. Your employer uses your checking account to deposit your paychecks and you pay your bills out of the account. Because you interact with the account on almost a daily basis, you want to make sure that your checking account is easy to use.
If you're thinking about opening a new checking account, this review will tell you everything you need to know about the N26 Checking Account.
N26 Bank Account Pros & Cons
Compare Checking Account Options
Make sure that you look at other checking accounts that could be better for you:
Get Your Paycheck Ahead of Schedule
Nobody likes waiting for payday.
Sometimes, you need to buy groceries, pay bills, or buy a coffee and it doesn't matter what day of the week it is, but your paycheck comes on a set schedule.
Holding off on a payment because you're waiting for your next paycheck can be painful, and there's no reason you should have access to your pay as quickly as possible.
To help people get their money a little bit quicker, N26 Bank offers its customers the opportunity to get paid before their payday.
Most employers send paychecks to banks a day or two ahead of the actual date that the money will be deposited into their employees' accounts.
This extra day or two gives the business time to deal with any unexpected issues and ensure that all of its employees are properly paid.
Rather than making you wait until your payday to get your cash, N26 gives you access to your paycheck as soon as it receives the funds from your employer.
That means that you can get paid up to two days ahead of schedule depending on when your employer transfers your paycheck to the bank.
Powerful Budgeting Tools
Once you have your money, the important thing is making sure you spend your money well and know what you're spending it on.
You don't want to get to the end of the month only to find that you don't have enough to pay your bills.
You also don't want to realize that you spent too much on food and drinks when you need to buy gas for your car.
To help you manage your money, N26 offers a variety of budgeting and tracking tools.
You can create your own transaction tags and apply them to your purchases and withdrawals.
That makes it easy for you to know what you're spending your money on and to see how much you're spending each week or month.
You can also use the N26 app to set up savings and spending goals.
If you want to build up a $2,000 balance in your account, create a goal. N26 will track your progress toward the goal.
You can even set up a sub-account, which N26 calls a Space, and use it to set money aside for a specific goal or purpose. You can transfer money into or out of a space instantly with just a few swipes.
High Tech App
On top of the powerful budgeting and goal-tracking tools, N26 offers a variety of high-tech features through its app.
You'll never need to visit a physical bank to manage your account.
Instead, you can do everything with your debit card and your phone.
If you want to add money to your account, you can use a debit card linked to an account at another bank.
If you prefer apps like Venmo or PayPal, you can use those apps to make deposits as well. If you need cash, you can use any of the more than 55,000 AllPoint ATMs in the United States, free of charge.
If you can't find an AllPoint ATM, N26 offers two out of network withdrawals each month, free of charge.
Peer-to-peer transfers happen directly through the N26 app with its MoneyBeam feature. Transfers between people who both have accounts at N26 are instantaneous and free.
If you want to send cash to someone who doesn't bank with N26, you can use any free peer-to-peer transfer app without paying additional fees.
N26 also makes it easy to keep your account secure. You can sign in to your account using or password or with fingerprint or facial identification.
You can use the app to lock down your debit card if you ever lose it, helping reduce or prevent unauthorized use of your card.
Finally, the bank offers real-time support both over the phone and through text-based chat directly in the bank's app.
ATM Access
N26 is an online bank, so the primary way its customers access cash is through ATMs.
To make it easy for customers to cash, regardless of where they live, the bank has partnered with AllPoint to give customers access to the more than 55,000 AllPoint ATMs nationwide.
If you use an AllPoint ATM, you'll pay no fees for any withdrawal that you make.
If you can't find an AllPoint ATM to use, N26 offers two fee-free withdrawals from out of network ATMs. All out of network ATM transactions after the second will incur a $2 fee.
N26 does not reimburse fees charged by the ATM owner, so you may pay even more to make a withdrawal.
No Monthly Fee
Nobody likes paying fees, especially when it's a monthly fee for a bank account.
Paying someone just to have them hold money on your behalf seems backward when banks are usually the ones paying interest to account holders.
N26 Bank does not charge any monthly maintenance fees. There are no requirements to avoid the fee and no tricks. You can open and maintain the account, fee-free.
Other Fees
Most checking accounts charge additional fees on top of any monthly fee they may charge.
N26 clearly publishes its schedule of fees and works to keep its fees as low as possible. Many common fees, such as insufficient balance fees don't exist at N26.
Convenience
The N26 Checking Account offers many of the conveniences that you'd expect from a modern checking account.
Because the bank is a purely online bank, N26 offers a powerful mobile app that you can use to manage every aspect of your account. You can do anything from making deposits and transfers to sending money to your friends through the app.
The bank also offers discounts on some services, such as Tidal and Adaptiv, which is a nice perk for people who uses those services.
Where the bank falls short is features that help you pay businesses.
The bank does not advertise a bill payment system, which means you have to rely on making payments through the billing company's website rather than directly from your bank. N26 also does not offer check-writing.
This isn't an issue very often because checks are unpopular in this age of digital payments.
Still, having the option of writing a paper check is nice, especially when dealing with landlords or businesses that don't accept electronic payment.
How It Compares
The checking account is the United States' most common type of bank account.
In fact, it's so popular that many banks offer more than one.
There are so many checking accounts out there, that you should have little trouble finding multiple options in your area, so you want to make sure that you have the best checking account for your needs.
When you're shopping around for a checking account, the first thing that you want to look for is the monthly fee that each account charges.
You should never pay a monthly fee if you don't have to, which is a mark in N26's favor because it doesn't charge a monthly fee.
Other things to consider when comparing accounts are:
Minimum deposit requirements
Fee waiver requirements
Interest rates
ATM access
Convenience features
The Final Verdict
N26's checking account is a fine choice for some people, but it doesn't do much to set itself apart from the competition.
The bank does offer a few discounts on services and the opportunity to get your paycheck ahead of schedule is nice, but that's the only thing the bank does differently. Beyond that, the account offers many of the benefits that other online bank accounts do and it is especially weakened by the fact that N26 doesn't offer any other banking services.
If you're looking for a new checking account and think that an online checking account is right for you, you'll probably be better off with an account from a competitor that offers a wider variety of banking services.