Quontic Bitcoin Rewards Checking 2023 Review
We review the Quontic Bitcoin Rewards Checking Account based on its fees, features, and the notable Bitcoin debit card rewards program.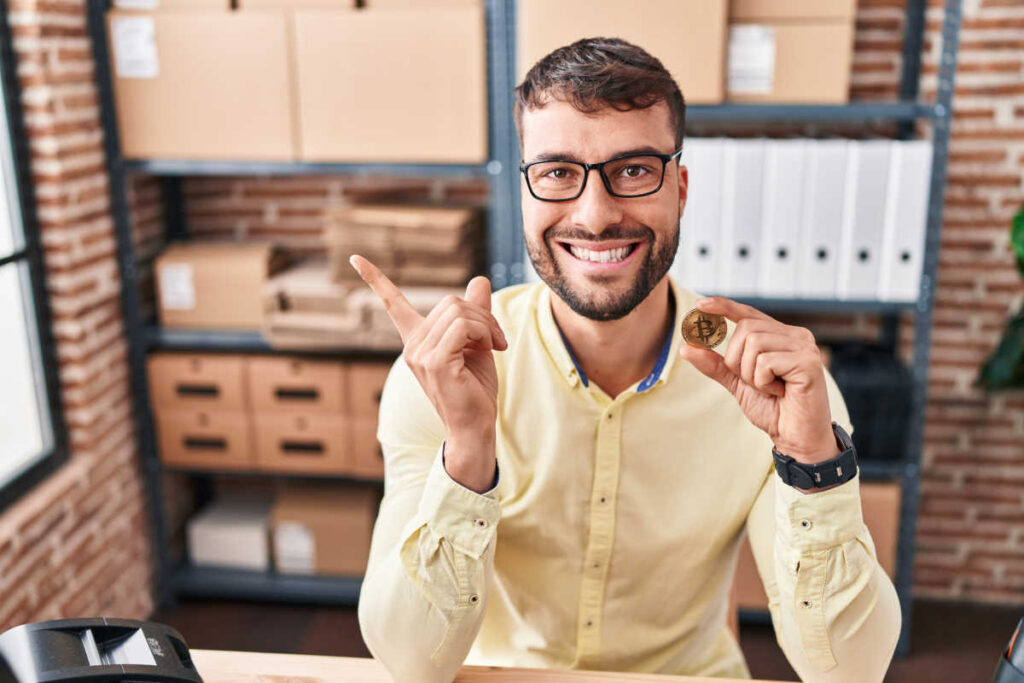 Cryptocurrency is a hot investing trend. So what if you could open a checking account that rewarded you with Bitcoin?
Now you can with Bitcoin Rewards Checking from Quontic Bank. 
This online checking account option pays you 1.5% in Bitcoin Rewards for debit card purchases. You can then redeem those rewards for U.S. dollars. 
If you're curious about cryptocurrency, this could be a good way to get started. 
This Quontic Bank review takes a closer look at how Bitcoin Rewards Checking works.
Quontic Bitcoin Rewards Checking Account Pros & Cons
Get Rewarded With Bitcoin When You Spend
The Bitcoin Rewards Checking Account is the first debit card in the U.S. that rewards you with Bitcoin for purchases. 
When you use your debit card for eligible transactions, you earn 1.5% back in Bitcoin rewards. 
The types of transactions that earn Bitcoin rewards include:
In-store purchases
Online purchases
You won't earn rewards for ATM withdrawals, transfers, bill payments, checks, ACH payments or wire transfers. 
But if you use your debit card regularly to buy things, you could easily rack up a decent amount of Bitcoin rewards.
Storing and selling your Bitcoin rewards
The Bitcoin you earn is stored in a separate NYDIG account. NYDIG is a financial services firm that's Bitcoin-focused. 
You can let your rewards balance continue to grow. Or you can redeem it for U.S. dollars. Bitcoin is redeemable once a month. NYDIG charges a 2% fee to redeem your Bitcoin for cash. Quontic doesn't charge any redemption fees. 
The upside of earning Bitcoin from a checking account is that it has the potential to grow in value. That's because the value of Bitcoin can and does change over time. So if the price of Bitcoin goes up, your rewards are worth more when you redeem them for cash. However, that also means that if Bitcoin goes down, your rewards could be worth less. 
Is Quontic Bank FDIC-Insured?
The FDIC insurance program protects depositors against financial losses if a bank fails. The standard FDIC insurance limit is $250,000 per depositor, per account ownership type, per financial institution. 
Quontic Bank is FDIC-insured. That means you're protected up to the FDIC limits if something were to happen to the bank. 
But that protection covers your deposits only. 
Any Bitcoin earned with a Bitcoin Rewards Checking Account is not covered by the FDIC. What that means is your Bitcoin rewards are not protected against losses if Quontic were to go out of business. 
Fee-Free ATM Access at 90,000+ Locations
Quontic has two branch locations only. But it does have an extensive ATM network. 
If you need to withdraw cash or make a deposit, you can do that at more than 90,000 ATM locations, including:
Participating AllPoint Network ATMs
Participating MoneyPass Network ATMs
SUM program ATMs
Citibank ATMs located in Target, Speedway, Walgreens, CVS, Kroger, Safeway, Winn Dixie and Circle K
There is a limit on how much cash you can withdraw from checking each day. 
The current daily withdrawal limit is $500. 
Can You Earn Interest With a Quontic Bitcoin Rewards Checking Account?
The Quontic Bitcoin Rewards Checking Account pays you back with Bitcoin. For that reason, it doesn't offer interest on deposits. 
But Quontic does have an interest checking account. 
The Quontic Bank High Interest Checking Account offers a highly competitive APY on deposits. 
The APY you earn is based on your account balance and making at least 10 qualifying debit card point-of-sale transactions of $10 or more per statement cycle. 
You can open this account with $100. That's less than the $500 you need to open a Bitcoin Rewards Checking Account. 
Earn Bitcoin and Grow Savings With No Monthly Fee
Online banks tend to be more fee-friendly compared to brick-and-mortar banks. 
That's because they typically have lower overhead costs. This allows them to cut customers a break when it comes to fees.
The Quontic Bitcoin Rewards Checking Account has no monthly fee. 
What Other Fees Will You Pay?
Quontic is designed to be fee-friendly. 
While there's no monthly maintenance fee, there are some other fees to know. 
Here's what you can expect to pay when banking with Quontic.
Other Service Fees - Quontic Bitcoin Rewards Checking
| Type | Fee |
| --- | --- |
| Monthly fee | $0 |
| Overdraft | $0 |
| Cashier's checks | $0 |
| Money Order | $0 |
| Dormant account | $5 |
| Stop payment | $20 |
| Incoming wire transfer | $0 |
| Outgoing wire transfer (domestic) | $25 |
| Outgoing wire transfer (international) | $35 |
| Return deposit item | $10 |
| Account research | $20/hour |
| Legal levies or garnishments | $100 |
How Convenient Is the Quontic Account?
Quontic makes it easy and convenient to manage your money. 
Remember, there are are only two branches but you can access your funds:
Online
Through the Quontic mobile banking app
At participating ATMs
The Quontic mobile app is easy to navigate. You can use the app to:
Pay bills
Deposit checks with remote deposit capture
Transfer funds between Quontic accounts
Send or receive money via Zelle
Quontic is also compatible with Google Pay, Apple Pay and Samsung Pay. 
There's no fee to use the app to pay bills or send and receive money through Zelle. 
Opening a Quontic Bitcoin Rewards Checking Account
Quontic makes it easy to open a Bitcoin Rewards Checking Account online. 
You just need to share some basic information, including:
Your name
Email address
Home address
Date of birth
Social Security number
Mother's maiden name
Occupation
You'll also need to link an external account. This is how you'll make your initial deposit. 
Quontic will make two test deposits. Once you verify them, your account is fully open and ready to use. You'll get your debit card in the mail within 7 to 10 business days. 
One thing to know is that Bitcoin accounts are only available in certain states. You can open a Bitcoin Rewards Checking Account if you live in:
Alabama
Alaska
Arizona
Arkansas
California
Colorado
Connecticut
Delware
District of Columbia
Florida
Georgia
Idaho
Illinois
Iowa
Kansas
Kentucky
Maine
Maryland
Massachusetts
Michigan
Minnesota
Mississippi
Missouri
Montana
New Mexico
New Jersey
New York
North Dakota
Ohio
Oklahoma
Oregon
Pennsylvania
Puerto Rico
Rhode Island
South Carolina
South Dakota
Tennessee
Utah
Vermont
Virginia
West Virginia
Wisconsin
Wyoming
Quontic does expect to add more states in the future.   
Other Checking Account Options
Quontic isn't the only online bank to offer checking accounts. But it is the only one (for now) to offer Bitcoin rewards for debit card purchases. 
That could give it an edge over other checking options if you're interested in Bitcoin investing. 
The beauty of the Bitcoin Rewards Checking Account is that you don't have to invest any of your own money. Quontic rewards you with Bitcoin for making purchases. 
And unlike travel miles or points, your Bitcoin rewards could go up in value over time. 
On the other hand, you might be looking for something different in a checking account. 
So as you shop around for a checking account, here are a few things to keep in mind:
Monthly maintenance fees, if any
Minimum balance requirements, if any
How much you need to open an account
Any restrictions on who can open an account
Debit and ATM card availability
ATM locations and fees
Mobile and online banking access
Other fees, such as overdraft or returned item fees
How much you'll pay for standard checks or if checks are even available
Monthly limits on check-writing
Daily or monthly limits on deposits
Daily or monthly spending limits
Overdraft protection
Whether the account earns interest
Customer service
Extra perks, like ATM fee rebates, debit card rewards or relationship discounts
Also, consider the rates you could earn on savings or money market accounts if you want to open those alongside a checking account. 
Should You Open a Quontic Bitcoin Rewards Checking Account? 
The Bitcoin Rewards Checking Account offers a unique and fresh take on traditional checking. 
This account could be a good fit for you if:
You'd like to earn Bitcoin rewards on debit card purchases
You don't want to pay a monthly fee for checking
You're comfortable with online banking and want access to one of the broadest ATM networks
The main thing to keep in mind about this checking account is how Bitcoin valuations can change.
If Bitcoin's value drops, you won't lose any money from your checking account. But any rewards you earned could be worth less when you're ready to redeem them. 
If you're comfortable with the risk, however, this is an online checking option that's worth considering.