Santander Simply Right Checking Account 2023 Review
Learn more about fees and features of the Santander Simple Right Checking Account and compare them to basic checking accounts from other banks.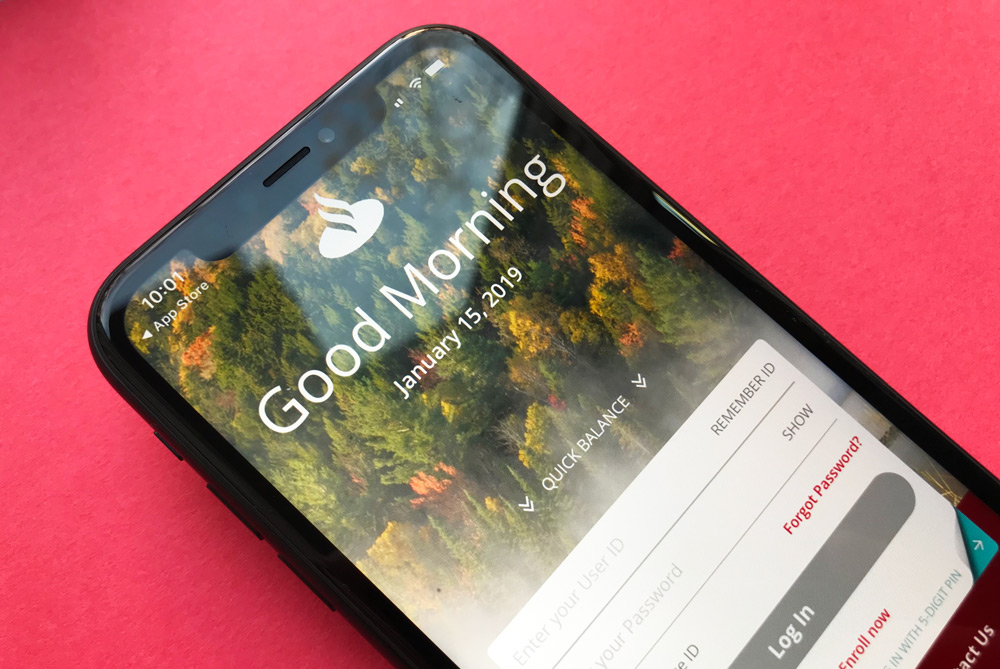 Santander Bank iPhone App
Santander Bank is the American subsidiary of the Spanish Santander Group and has been adding many locations in the northeastern US.
The Santander Simply Right Checking account aims to provide customers with a simple, easy to use checking account.
If you're looking for the right checking account for your needs, this review will tell you everything you need to know about Santander's offering.
Easy to Waive Monthly Fee
Many banks and financial services companies were hit hard during the 2008 financial crisis.
That forced them to look for new and creative ways to earn money to stay running.
Unfortunately for consumers, one of the paths that many banks took was to begin charging maintenance fees on accounts.
These fees get pulled out of your account every month, slowly reducing your cash balance over time.
Santander Simply Right Checking Account Pros & Cons
As more and more banks have opened, and online banks have become more accessible, fees have become a point of competition among banks.
Who wants to pay a fee to let someone else hold their money? Many banks reduced fees or added conditions which, when met, would cause the fees to be waived.
Santander Bank's Simply Right Checking account lives up to its name by keeping things simple.
To waive its monthly fee, you need to complete a single transaction on the account. A deposit, transfer, withdrawal, or payment will count.
Tip: A monthly direct deposit will automatically waive the monthly fee. Otherwise, you can also schedule monthly automated transfers or bill payments to meet this easy fee-waiver requirement.
You also won't have to worry about remembering when your statement month begins and ends.
Your service fee period is aligned to the calendar each month.
If you make one transaction each calendar month, you'll never have to pay a fee.
Sign-up Bonus
One very convincing incentive to open a new bank account is a lucrative sign-up bonus.
Santander Bank has been known to offer deals to new customers who open a Simply Right Checking Account, which can be worth hundreds of dollars.
Stay up to date on the latest bank account deals and promotions so that you can take advantage of a good deal when it becomes available.
Note: You will have to pay taxes on the amount that you receive for opening a new bank account.
Get a Free Savings Account When You Have a Checking Account
Santander's other accounts charge maintenance fees with more difficult to meet waiver requirements.
Both the Santander Savings account and the Santander Money Market Savings account charge a $10 fee each month.
You can waive the fee for those accounts by maintaining a high average balance ($10,000 and $100 respectively).
As a benefit for being Simply Right Checking account holder, you'll automatically get the fees for both of those accounts waived.
All you have to do to avoid any maintenance fee is make a single transaction in the checking account.
Customizable Activity and Balance Alerts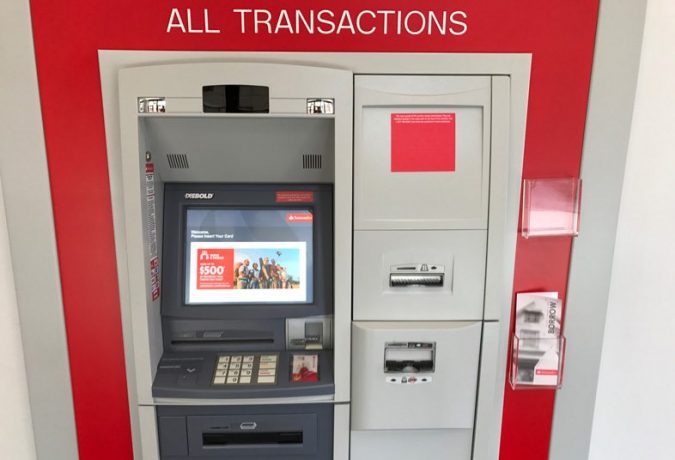 Your checking account is the central hub for your money.
The vast majority of the money you make and spend is likely to pass through the account at one point or another.
Because your checking account is such an important part of your financial life, it's important to keep a close eye on it.
Santander makes it easy to track your checking account by letting you set customizable alerts.
You can create an activity alert that will notify you anytime a transaction exceeding a certain dollar amount occurs.
Want to be alerted every time you get a large deposit? Santander will let you know.
Want to be notified every time your account gets debited for your monthly rent?
You can get a text e-mail informing you when the money is removed from your account.
You can also set balance alerts that will tell you when your account is running low.
If you want to make sure you always keep a certain amount of money in your account, these alerts can help you notice when your balance is getting low.
ATM Access
Santander offers 650 branches and more than 2,000 Santander owned ATMs that you can use to manage your account.
Many ATMs are located in CVS Pharmacies, making it easy to find one in a pinch.
Outside the northeast, branches and ATMs are rare, so you might want to consider a local bank if you're outside Santander's service area.
You won't be charged a fee for using a Santander ATM, but other ATMs might charge you.
There's no fee reimbursement plan, so you'll be on the hook for any fees you incur.
Rates
Interest rates are one of the biggest points of competition among banks.
If the other features are relatively similar, why wouldn't a customer choose the account that will pay them more?
One significant downside of the Simply Right Checking account is that it does not offer any interest at all.
Most checking accounts offer a very low rate, but most offer some interest.
If you want to earn interest on balances at Santander Bank, you'll need to open a different type of account.
Minimums and Monthly Fees
Many banks require that you have a certain amount of money to deposit before you're allowed to open an account.
The Simply Right Checking account requires a minimum of just $25, making it relatively easy for most people to open.
Once you've opened the account, there is no minimum balance requirement.
You can allow the balance fall below the initial $25 minimum without worrying that the account will be closed.
As mentioned previously, the account does charge a $10 monthly fee, but it is easy to waive.
Simply make one transaction of any kind each month and the fee will be waived.
The fee is also waived for the first two months you have the account. That gives you time to get used to using the account regularly with no penalty if you don't make any transactions.
Other Fees
Besides the monthly fee, there are some other fees to be aware of.
The first is the paper statement fee, which is $3 per statement that is mailed to you. You can avoid this fee by signing up for electronic statements.
If you overdraft the account, you'll be hit with a $35 fee, so make sure that you don't try to spend money that isn't the account.
Finally, if you use your debit card at a non-Santander ATM, you'll be charged a $3 fee. That fee is on top of any fee charged by the ATM's owner.
Santander Simply Right Checking Account Fees
| Type | Essential Checking |
| --- | --- |
| Monthly Maintenance Fee | $10 |
| Out-of-Network ATM Fee | $3 |
| Overdraft Fee | $35 |
| Overdraft Protection Transfer Fee | $12 |
| Returned Item | $35 |
| Stop Payment | $30 |
| Deposited Item Returned or Cashed Check Returned | $15 |
| Incoming Domestic Wire Transfer | $13 |
| Incoming International Wire Transfer | $25 |
| Money Order | $5 |
| Cashiers Check | $10 |
Convenience Features
The Simply Right Checking account offers a few convenience features.
You can deposit checks on the go using the Santander Bank app.
New customers, meaning those who've had an account for fewer than 90 days are limited to depositing $1,000 a day and $3,000 per month.
Existing customers have higher limits of $2,000 per day and $15,000 per month.
Santander also offers standard conveniences like online bill pay and mobile banking services.
How Does It Compare?
There is a huge number of banks out there that offer checking accounts. If Santander's Simply Right Checking account doesn't sound like the right fit for you, consider these alternatives.
Chase Total Checking
The Chase Total Checking account is Chase's most popular type of checking account. It offers basic checking services with few frills.
You get access to 16,000 ATMs and 5,100 Chase branches where you can manage your account.
You can also manage your account online using the Chase app or by text message.
There is a monthly fee of $12 to have the account open, but there are three ways to waive the fee.
If you already use Chase for other banking services, that makes it easy to get the monthly fee waived. That gives you free access to Chase's huge ATM network.
TD Convenience Checking
The TD Convenience Checking account is designed to be an easy to use checking account that offers a few perks.
The first perk you'll encounter after opening the account is the sign-up bonus.
If you receive at least $500 in direct deposits in the first 60 days after opening account, you'll get a $150 bonus automatically deposit to the account.
After you've made money by opening the account, you can use your status as an account holder to save money.
TD home loan customers receive an automatic 0.25% reduction on their mortgage or HELOC interest rate.
You can also save money by avoiding the monthly fee. The usual monthly fee is $15, but if you maintain a balance of $100, the fee is waived completely.
This checking account is great for people who want to save some money on their home loan from TD, or want an easy to waive fee.
Wells Fargo Everyday Checking
The Wells Fargo Everyday Checking account offers access to a network of more than 13,000 ATMs and an easy to waive monthly fee.
The minimum deposit to open the account is $25. Once the account is open, you'll incur a $10 monthly service fee, that can be waived.
If you're looking for a huge ATM network, this account is a great choice.
Compare to Best Online Checking Accounts:
The Final Verdict
In the end, the Santander Simply Right Checking account is an adequate checking account, but there are better options.
Many online banks offer better rates and no fees at all, while still giving you the flexibility to access your cash when you need it.
If you need a bank that has physical branches, the Simply Right Checking account is a good choice.
If you don't mind working with an online bank, consider that as an alternative.