Varo Money Online Checking Account 2023 Review
Learn all about the features of the Varo Money online checking account, including its fees, mobile app, and early direct deposit payment.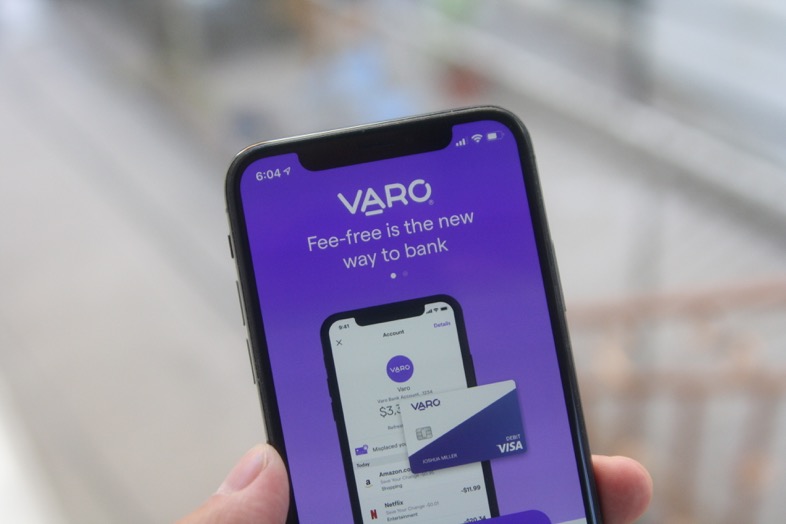 Checking accounts are excellent for day-to-day money management. Here, you can deposit cash you'll need for rent/mortgage, utilities, groceries, and other everyday expenses. 
When searching for a new checking account, some people go with a physical bank branch. But while an obvious choice, it certainly isn't the only option available. 
Checking account fees continue to rob people of their hard-earned money. If you're looking for something different and new, a Varo no-fee bank account is perfect for managing your cash minus bank fees.
Never Pay an Overdraft Fee Again
One standout feature of the Varo online checking account is that it doesn't charge its customers an overdraft fee.
Basically, this feature allows you to overdraw your Varo bank account by up to $50 without getting hit with fees or paying interest. 
This feature is available on purchases or transactions. It's not, however, available when withdrawing cash from an ATM. 
If you don't have enough funds in your bank account and you're within the $50 limit, the bank will approve your transaction. If not, it'll decline the transaction.
Keep in mind:
You must meet certain requirements to enjoy this benefit.
To take advantage of no-fee overdraft, you must complete at least five purchases with your Varo Visa debit card each month. Additionally, you must receive a payroll or government direct deposit of at least $1,000 each month. 
You also need to download the Varo Bank app and opt into no-fee overdraft.
To repay an overdraft, simply make a deposit into your Varo bank account. This deposit will automatically eat away at any negative balance. Be aware that you must repay an overdraft within 30 calendar days.
Get Cash at More Than 55,000 Allpoint ATM Locations
The ability to access money in your account is also important. The Visa card you receive when opening the account acts as a ATM card and your debit card. 
Therefore, you can use it anywhere Visa is accepted. In addition, this card allows you to withdraw cash from more than 55,000 Allpoint ATM's. This is a major plus considering how Varo doesn't have any physical branches. 
Without this perk, you would pay a fee every time you needed to use an ATM. These fees could cut into your balance significantly.
Varo also makes it easy to find a fee-free ATM. Simply open the app and select the "Find an ATM" option to locate an Allpoint ATM closest to your home or work.
Travel With Peace of Mind
Not only can you withdraw cash without paying ATM fees, you can also use your Varo Visa debit card in other countries. This is without worrying about foreign transaction fees. 
These fees are typically charged when using certain credit cards and debit cards in a different country. They range up to 3 percent per transaction.
It's also worth noting that in the event you lose or damage your Varo Visa debit card, you can request a replacement card at no charge.
Keep More of Your Cash With No Monthly Fee
Shop around and compare checking accounts and you'll find that many banks still charge customers a monthly maintenance fee. 
These fees are annoying. But they've become so commonplace that many people except them without thinking twice. Yet the reality is, monthly fees add up over time. 
This is something you don't have to worry about with the Varo bank Visa debit card. 
There's no monthly service fee, meaning you get to keep more of your cash. In addition, there's no minimum balance requirement for having this account.
So whether you keep a little money or a lot of money in your account, you don't have to worry about the bank shutting down your checking account.
Get Your Cash Early With Early Direct Deposit
Who doesn't like the convenience of direct deposit? 
If your employer offers this option, you can get paid without standing in bank lines every payday. But what's even better than direct deposit is being able to get your money early. This is also how a no-fee Varo bank account stands out over the competition. 
When you open an account and set up direct deposit with your employer, you can get your money two days earlier. How is this possible, you might ask? 
Simply put, Varo bank account will post the deposit to your account on the day it's received. So rather than wait one to two days to access your money, it's available to you sooner.
Jump-Start Your Saving With a High-Yield Account
Yes, a checking account is great for managing day-to-day expenses. But a savings account comes in handy for storing up funds for long-term goals or an emergency. 
Varo Bank also offers a high-yield savings account. This has an interest rate far greater than what you'll receive at many financial institutions. 
Are you also on the hunt for a new savings account? If so, you'll be happy to know that opening a Varo no-fee bank account makes you eligible for a Varo high-yield savings account.
Many experts recommend saving at least three to six month's of income for emergencies. Or, maybe you're saving a down payment for a house or a great vacation. 
No matter your plans, a high-yield savings account can help you hit your savings goals sooner. And because this bank doesn't charge any fees, you also get a Varo savings account with no monthly fees.
Convenient Features You'll Love With Varo Bank
No bank fees is a reason in itself to choose a Varo bank account. But it's also important to recognize the bank's convenient features. These will only enhance your banking experience.
Nowadays, many people look for convenient ways to pay for items and send money to others. 
When you receive your Varo Visa debit card, you'll be able to link this card with Apple Pay, Google Pay, PayPal, the Cash App, and Venmo. You'll also enjoy Visa's zero liability guarantee. So if your card is lost or stolen, you're not held responsible for any unauthorized or fraudulent charges.
Also, you can easily manage your account digitally. Download the Varo online bank app and use it anytime to check your balance, transfer money, or deposit checks. 
Keep in mind, though, that check deposit is currently only available on iOS devices. It will be available on Android devices in the future.
If you're unable to deposit checks from the app, you can always transfer money to your Varo bank account from an external bank. You can also deposit cash into your account when you checkout at any Green Dot network location across the country. 
These locations include Walgreens, 7-Eleven, Walmart, Kroger, and more. And the best part, Varo doesn't charge a fee to add cash to your account. Although the retailer might charge a small fee.
Be mindful that a Varo online checking account doesn't offer check writing.
How Does a Varo Bank Account Compare to Other Products?
Compared to traditional checking accounts, a Varo bank account far exceeds the competition. It doesn't charge its customers any fees, yet offers many sought-after features including FDIC insurance for your protection. 
When shopping for a checking account, it's important to compare features and make sure you're getting services convenient to your needs. This includes comparing monthly fees, minimum balance requirements, online and mobile access, ATM access, as well as interest earnings.
The Varo no-fee online checking account isn't an interest-bearing account. So you won't earn money off of your deposits. The upside is that opening a high-yield savings account with the bank does provide an opportunity to earn a higher return on your money.
Final Verdict: Is Varo Right for You?
For those who prefer managing their money digitally and don't need a physical branch, a Varo no-fee online checking account might be the right fit. 
You can monitor your account using the bank's app, and if eligible, take advantage of mobile check deposit. If not, there's always the option of transferring cash from an external bank or adding cash at a Green Dot location.
This account is also a top pick if you have direct deposit, since you're able to access your money sooner compared to other financial institutions. 
On the other hand, if you like the convenience of writing checks, the fact that this is a check-less account might not sit well with you. You would have to get a money order or use another option whenever you need to write a check, which could be an inconvenience. 
Also, it isn't an interest-bearing account, which some online and offline checking accounts offer. So if you keep a large balance in your checking account, there isn't an opportunity to earn a return. 
But while the Varo bank account doesn't offer checks or a return on your money, paying no bank fees is a winner in itself. In the end, you'll save a lot of money in the long run.