Zions Bank Anytime Checking Account 2023 Review
Learn more about the Zions Bank Anytime Checking Account, a free checking option for residents on the West coast. Compare it to other checking accounts.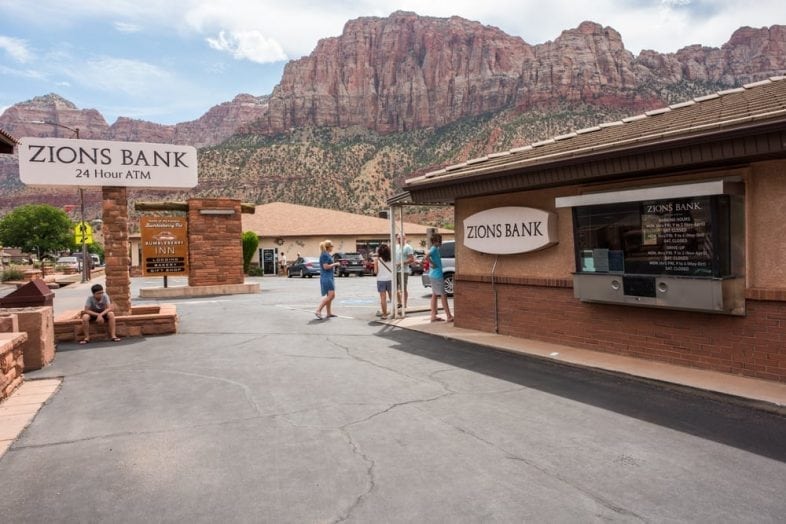 Zions Bank
Serving a good part of the Southwest, Zions Bank could be a common sight for you.
And, you might consider it for your next checking account. 
The best part:
It's a basic checking account, called Anytime Checking, is free -- not common with banks that a large physical presence.
Before you open this account, in this review learn about its fees and features first and compare it to other checking options, including those from online banks.
No Monthly Fees with Electronic Statements
Zions Bank Anytime Checking Account Pros & Cons
Zions Bank does not charge a monthly maintenance fee to keep the account open, but it does charge a $3 paper statement fee.
For each month in which you receive a paper statement, you'll have to pay a $3 fee.
Obviously...
You can avoid it by signing up for electronic statements and you won't have to pay any monthly fees to keep the account open.
U.S.-Based Customer Service with Extended Hours
Look:
If you ever have a question with your bank account, or something goes wrong, you need a way to get help quickly.
Zions Bank prides itself on its customer service and aims to make help easily available.
All of its customer service representatives are based in the United States and the bank's support centers are open for thirteen hours each day.
You can call anytime between 7 AM and 8 PM Mountain Time, Monday through Saturday, and someone will be able to assist you.
If you'd rather not speak with a representative on the phone, you can send a secure message to the bank.
Log in to your account on the bank's website and you'll see an option to send a secure e-mail. One of the bank's representatives will respond as soon as possible.
You can also get help by sending a letter through the regular mail. Though this might not be the fastest way to get help, it makes it easy to send complicated documentation along with your request for help.
Of course, you can visit any branch in-person to get help when you need it.
Pay Your Friends Electronically Using Zelle
Zions Bank offers free access to Zelle, a service that lets you pay other people without using cash.
You can send money electronically to anyone else with an account at a bank that offers Zelle.
To get started, log in to your bank's website or app and open Zelle. Enter the recipient's phone number or e-mail and the amount of money that you want to send.
When you confirm the transaction, your account will be automatically debited for the amount.
The recipient will receive an e-mail notification about the transaction. If they haven't yet set up Zelle, they'll be prompted to do so.
The money should arrive in their account within three (3) business days.
Save On Fees with Overdraft Protection Transfers
Your checking account is the hub of your financial life.
There will be a constant stream of transactions in the account with money moving in and out of the account constantly.
With so much activity in the account, it can be easy to lose track of how much money you have available.
If you do lose track and try to spend more than your balance, Zions Bank may cover the difference for you.
This will cause your account's balance to fall into the negative. When this happens, you have overdrawn your checking account.
Banks don't like it when their customer spend more money than they have in their account. Even though they cover overdrafts, just in cash their customer needs the money for an emergency, they won't do it for free.
Overdrafts are costly
Banks charge hefty fees for each overdraft that occurs.
Unfortunately, Zions Bank is no different.
It charges $32 per overdraft, with a maximum of five fees being charged each day.
If you leave your account balance negative for more than four days, you'll pay a $5 daily fee until you bring your account's balance back into the black.
You can reduce these fees by signing up for overdraft protection. You can link either a Zions Bank savings account or Zions Bank overdraft line of credit to your checking account.
If you do, money will be moved from that account to cover the difference any time you overdraft your checking account. The fee for an overdraft protection transfer is just $5, saving you $27 per overdraft.
While you should try to avoid overdrafts as much as possible, having a backup plan that will reduce the cost of mistakes can help you save a lot of money.
Many Locations in the Southwest
Zions Bank primarily serves the southwestern United States. It does not operate ATMs in the Midwest or eastern portions of the country.
If you're in the bank's service area, there are plenty of ATMs that you will be able to visit, but if you travel, you might have a hard time finding an ATM that you can use.
There are no fees for transactions made at Zions Bank ATMs. If you find yourself unable to locate a Zions Bank ATM, you'll have to use another bank's ATM.
If you make a withdrawal at another bank's ATM, Zions Bank will charge a $2 fee.
This fee is in addition to the fees charged by the ATM's owner, so make sure you don't have to visit other banks' ATMs often.
Other Fees
Monthly maintenance fees might be the most common checking account fees, but they aren't the only ones.
You should keep the other fees that you may be charged in mind.
Some of the fees that may apply to your Zions Bank Anytime Checking account are listed below.
Zions Bank Anytime Checking Account Fees
| Type | Fee |
| --- | --- |
| Monthly Maintenance Fee | $0 |
| Non-Zions ATM | $2 |
| Overdraft Fee | $32 |
| Overdraft Protection Transfer Fee | $5 |
| Returned Item | $32 |
| Stop Payment | $25 |
| Deposited Item Returned | $10 |
| Domestic Wire Transfer (incoming) | $15 |
| International Wire Transfer (incoming) | $18 |
| Cashiers Check | $6 |
Convenience
The Zions Bank Anytime Checking Account offers the important convenience features you expect from a checking account.
You can easily manage your account using the bank's free website and app. You can manage your account from any internet-connected device.
Once you've logged in to your account, you'll be able to view your account dashboard which includes your balance information.
You'll also be able to see your transaction history and any upcoming transactions. You can use the website or app to make immediate transfers or to schedule future transfers.
Zions Bank also offers free bill pay service. You won't have to spend time every month writing and mailing checks.
Simply log in to your account, enter the information for the companies you have to pay, and enter the amount you have to pay them. Zions Bank will send the payment for you.
How It Compares
The checking account is the most popular type of bank account in the United States.
Everyone needs one, so most banks offer multiple types of checking accounts for their customer to choose from.
This huge variety of choices can be used to your advantage. Shop around for the best checking account and you can get a good deal.
When you're comparing checking accounts, always start by looking at the account's fees.
You want to make sure that you won't be paying a monthly fee. If you're a regular ATM user, also look into the ATM fees.
Other things to consider when comparing accounts are:
Minimum deposit requirements
Fee waiver requirements
Interest rates
ATM access
The Final Verdict
The Zions Bank Anytime Checking Account is a good choice for people who live in the bank's service area.
The fact that you can easily avoid fees and the low cost of overdraft protection make it a good fit for people who regularly have a low balance in their account.
If you're looking for an alternative, consider an online checking account.
Online banks typically don't charge monthly fees and can offer valuable services like ATM fee reimbursement, in addition to interest earnings on the account balance.