American Express Offers Free FICO Credit Scores to Customers
Among its numerous benefits, American Express is providing free FICO credit scores to all card customers.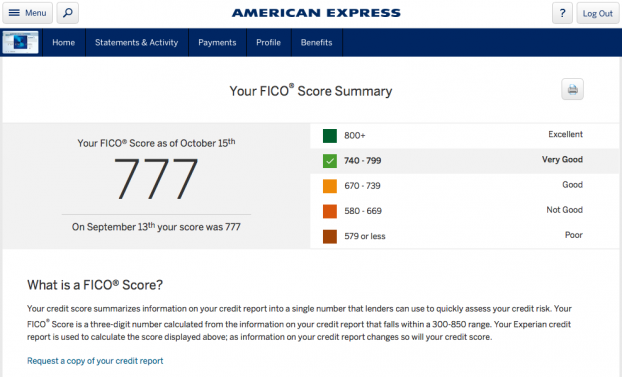 Imagine getting free FICO credit scores from your credit card. It's a major money-saver because there's usually a cost to check your FICO scores. American Express is extends this key credit metric to some its credit card customers.
As I was taking a look at the new American Express online experience through my own card account, my eye caught a link that said, "See FICO Credit Score." I clicked it without hesitation and hoped that American Express was handing out free FICO scores -- as many other credit card companies have done.
A couple of clicks later, I was staring at my FICO credit score provided through my credit report data with Experian, one of the three major credit bureaus.
However, not every American Express card customer were able to check their FICO score through their online accounts prior to 2015. Many American Express customers didn't see the same link that I saw.
Now Available for All Customers
It turns out that only certain American Express customers were getting their FICO score as part of a pilot program prior to 2015. 
Initially, some card customers were chosen at random to participate in the pilot. The test group includes customers with American Express credit cards (e.g., Blue Cash Preferred Credit Card from American Express) and charge cards (e.g., American Express Gold Card).
Since 2015 American Express fell in line with issuers such as Chase and Citi who were already offering FICO scores to their customers and have since offered Free FICO scores to personal and consumer charge holders.
How to Find Your Free FICO Score
For the American Express card customers it's rather easy to find your free FICO credit score.
First, make sure that you are using the American Express website under the new design. If you are still using the old design, you should be seeing notices to try out the online account experience through the new design.
After logging in, you'll find the link for "See FICO Credit Score" under the "Useful Links" box on the right-hand side of your home summary page. (I couldn't seem to access this benefit through any other page of the online account interface.)
Again, if you don't see the link there, you were probably not selected for the pilot program at this point. American Express is not adding customers to the pilot program at this time.
You can try calling the number on the back of your card or even ask through social media to show interest in the program. Even if you're not part of the pilot, you're providing feedback to American Express that there is a demand for free FICO scores.
What Comes With Your Score
Although American Express is providing a free FICO credit score, you won't get much else. As you can see in the screenshot below, you'll get your scores for the current month and the last month for comparison reasons.
Then, there are a couple of highlighted factors that have an effect on your FICO score and how you can improve it.
Additionally, the page links to AnnualCreditReport.com, the official site that offers a free annual credit report from each of the three major credit bureaus -- Equifax, Experian and TransUnion. This site can be accessed without going through American Express and it is available to everyone in the country, not just American Express customers.
Through a credit report, you'll see much more information regarding all your entire credit accounts. You'll get a better view of your entire finances and be better informed with what aspects of your credit can be improved.
Tip: When you retrieve your free credit reports, I suggest that you pull them once every four months. This way, you can monitor your credit throughout the year for free.
More Card Issuers Give Out Free Credit Scores
It's a great sign that more card issuers are implementing such programs because consumers often want to keep a close eye on their credit. But, FICO scores typically cost $19.95 each through myFICO.com. Even compared to the single-score annual subscription for $149.95 through myFICO, you cannot beat the free FICO score programs from credit card issuers.
If you're an American Express customer who was selected for the pilot program, we'd love to hear what the free FICO score means to you and whether or not it convinces you to maintain good credit behavior. Please share in the comments below!