Drop that Call: The Best Ways to Contact Your Bank Without a Phone
Forget calling your bank. See which banks assist customers with live chat and social media.
In a perfect world, we would never have a need for customer service because everything works as it should. Sadly, that's not the case. And, if you're like me, you dread the time-consuming task of calling customer service. I'm talking about the long hold times.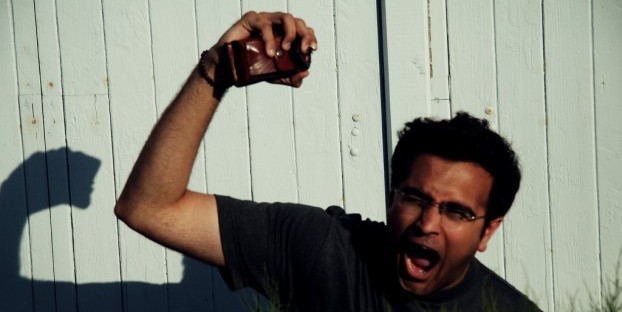 Want to skip the long wait? Jump online and chat with your bank instead -- whether through online live chat or social media.
Below, you'll see a chart of the top 10 U.S. banks (plus a few other major financial institutions) and which ones provide customer service through online live chat and the two biggest social media platforms Twitter and Facebook:
Live Chat and Social Media for Top 10 Banks
| Bank | Live chat? | Twitter* | Facebook |
| --- | --- | --- | --- |
| Bank of America | Yes | @BofA_Help | https://www.facebook.com/BankofAmerica |
| Chase | No | @ChaseSupport | https://www.facebook.com/chase |
| Wells Fargo | No | @Ask_WellsFargo | https://www.facebook.com/wellsfargo |
| Citibank | Yes | @AskCiti | https://www.facebook.com/citibank |
| U.S. Bank | Yes | @askUSbank | https://www.facebook.com/usbank |
| Capital One | No | @AskCapitalOne | https://www.facebook.com/capitalone |
| PNC Bank | Yes | @PNCBank_Help | https://www.facebook.com/pncbank |
| TD Bank | No | @TDBank_US | https://www.facebook.com/TDBank |
| BB&T | No | @askBBT | https://www.facebook.com/BBTBank |
| SunTrust | Yes | @AskSunTrust | https://www.facebook.com/suntrust |
| American Express | Yes | @AskAmex | https://www.facebook.com/AmericanExpress |
| Discover | Yes | @Discover | https://www.facebook.com/discover |
| Ally Bank | Yes | @AllyBank | https://www.facebook.com/AllyBank |
*Note: Many banks operate separate Twitter accounts for different purposes. Typically, there is a main Twitter handle (e.g., @bankofamerica) that shares the bank's news. The above bank Twitter handles are accounts that are used to deal with customer service.
Why live chat?
Every bank lets you reach customer service with a phone call. You know how it normally goes: you navigate the automated phone menu before a long wait on hold to speak with someone. On many occasions, the call doesn't resolve the problem. That's time wasted.
Some banks let you send secure online messages to customer service. These messages are simple emails that can only be accessed through online banking. It's great, if you don't need assistance immediately.
Live chat is the middle option between a phone call and an email. It's similar to how you'd send instant messages or text messages. The conversation is clearer and the responses are quicker. Plus, you're probably surfing the web for another task anyway -- you can do that while in live chat with a bank representative. In fact, you probably already used live chat for your online shopping and other websites. From Amazon to AT&T, many of merchants have also turned to live chat to help customers.

Today, my first instinct is to search for a bank's live chat option if I ever had a question, not pick up the phone. I can enter a chat and continue doing what I have to do (work, for instance).
We customers are not the only lucky beneficiaries of online live chat.
According to previous Keynote Banker Scorecard reports that rated the nation's banks based on their usability, good live chat agents are capable of managing several conversations at one time, which is more cost efficient for the bank to provide customer service.
As you can see, more than half of the biggest banks currently offer live chat. The ones that don't offer live chat may not find a need for live chat when other channels are doing the job. Chase, for instance, doesn't have immediate plans for live chat and continues to invest in customer service channels such as Twitter, according to a Chase spokesperson.
Speaking of Twitter, let's turn to how social media can be your new, favorite method of contacting bank customer service.
Tweet (not call) for help
Previously, I admittedly whined on Twitter about how my Chase Freedom credit card was a regular Visa Platinum, not the Visa Signature version. (For those who don't know, Visa Signature offers more card benefits like personal concierge and travel protections.) Chase responded and offered to upgrade my card. A couple tweets later, Chase had processed my request for the upgrade. I don't have to tell you why this experience was multitudes better than a phone call.
The conversation, not surprisingly, felt just like a live chat.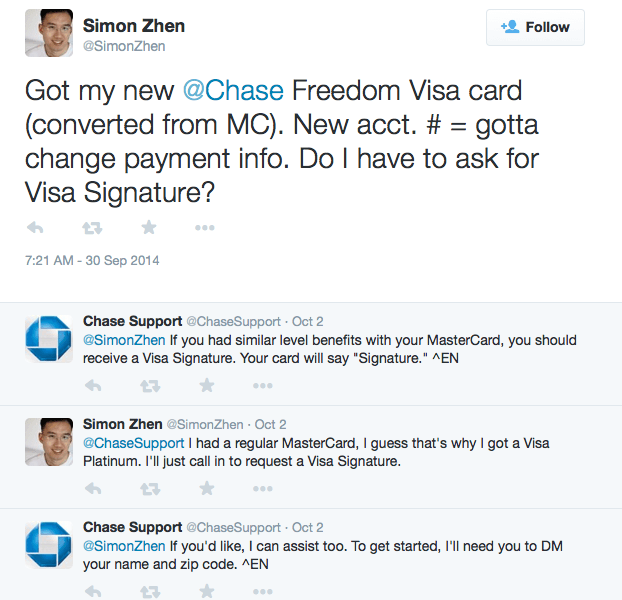 That is just one of the many times that I've reached out to banks via Twitter. I cannot recall a time when I had a negative experience.
In an another experience, I provided Citi with my contact number and available times to call me. The situation may not have been resolved through Twitter, but at the very least I didn't have to wait on hold for the agent -- he called me, not the other way around.
And, that is often the case when reaching out to bank customer service through social media. If it is a general question, the agents will reply rather quickly with an answer. If the question is account-specific, then you are asked to call a certain customer service line or be asked for your phone number.
I know I've mentioned mostly Twitter when it comes to using social media for customer service, but you'd get a similar experience through Facebook.
Here are a few quick tips that I suggest when using social media to communicate with a bank's customer service department:
Spell the bank's name correctly in your tweets (banks scan for these tweets)
Use a bank's handle when possible
Express anger, but leave out the profanity
Do not share account information!
All of the nation's largest banks have a customer service team that is dedicated to addressing customer problems through Twitter and Facebook. More likely than not, you are a customer of a financial institution is on a social network or two. Try it out -- you'll find out what you've been missing.
Should it affect your choice of bank?
Customer service is such a crucial aspect of the banking experience that it can sway decisions when picking a bank. After all, we're talking about our money here -- I surely would want any problems to be resolved smoothly and quickly.
Personally, I wouldn't switch banks just to seek out customer service from live chat and social media. However, if I was stumped in deciding between two banks, the one that provides more customer support channels -- such as live chat and social media -- will definitely win.
Live chat and social media are such great customer service options for us because there is a much greater sense of accountability. With live chat, you can review (and copy the text) the entire conversation for clarity and reference. With social media, you put your thoughts in the public eye and banks will take the opportunity to show you -- and everyone else -- that they are capable of delivery exceptional customer service.
In the future, you can expect an even more trendy way to chat with customer service. Many banks have launched mobile live chat for personal and business banking customers. We now can have live chat on our smartphones as well. What's next? Honestly, I have no idea. But, seeing how popular mobile banking has become, mobile live chat is going to become the next best way to chat with a customer service rep, without having to speak a word.