Are Banks Open Christmas Eve and Christmas Day?
Beware the unexpected bank closings during the Christmas holidays. Some banks close early on Christmas Eve. Others never open.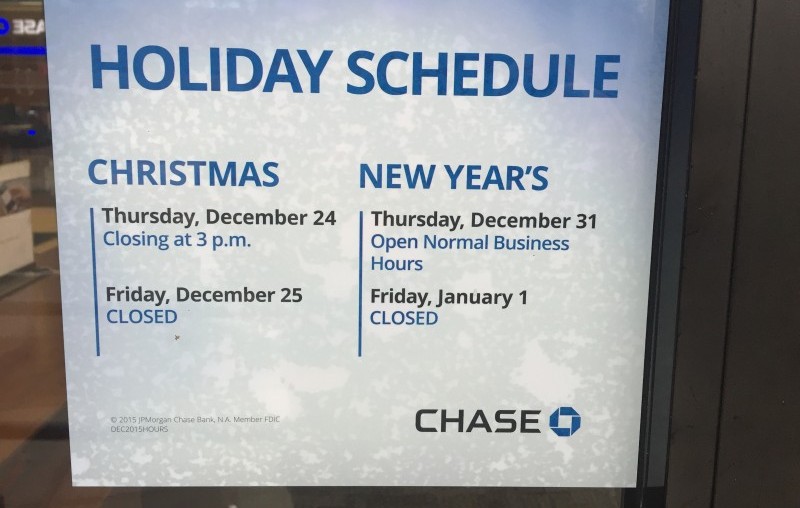 Christmas is just around the corner and you're probably running around trying to fulfill your remaining duties as Santa. If your chores require a visit to the bank, you might be inconvenienced by your local branch's Christmas holiday schedule.
This year, Christmas arrives on a Saturday -- which is a non-business day for many companies, organizations, and agencies. As you might have expected, all banks will be closed on Christmas Day (bank employees have to spend time with their families too). What you may not have known is that many banks are actually closing early on Christmas Eve or even the day before Christmas Eve because Christmas Day may be observed on December 24th in 2021.
Bank of America, Chase and other banks close early X-mas Eve
We contacted the largest banks in the U.S. to find their Christmas Eve and Christmas Day holiday schedules (holiday schedules can vary by branch location -- check with your branch before your visit):
Christmas Eve & Christmas Day Holiday Bank Hours
On Friday, Christmas Eve, many banks are closing in the early afternoon compared to their typical closing time of 5 p.m. or 6 p.m.
If there's a time-sensitive matter that needs to be addressed at a bank branch, you'll have to figure out how to get it done before the closes for the Christmas holiday.
Other major closings:
The stock market will close early at 2 p.m. ET on the day before Christmas Eve.
The stock market is closed on Friday, Christmas Eve in observation of Christmas Day, which lands on Saturday.
Many local post offices will close at noon on Christmas Eve. Nationwide, post offices are closed on Christmas Day.
Banking when banks are closed
Thanks to technology, most banking transactions can be conducted without having to make a visit to an actual bank branch. So you can still review account information and pay bills online. Many mobile banking applications offer the ability to deposit checks using your smartphone camera.
As for cash, there's always the trusty ATM, which will still be accessible regardless of the bank's hours.
Watch out for delayed transactions
Because bank holidays are not considered a normal business day, you should anticipate a delay in the time that it takes for certain transactions (such as check deposits) to be processed.
For instance, if you initiated a funds transfer between your accounts on Christmas Day, the transaction may not start processing until the next regular business day, which would be Monday, December 28. Since a typical bank transfer takes 2-3 days to complete, plan for some of your bank transactions to finish later next week.
To minimize this delay, try to get your financial jobs done by Christmas Eve. Then, you can enjoy Christmas with fewer worries.
The MyBankTracker team wishes you a merry Christmas!