Blue Sky from American Express Credit Card 2023 Review
Learn about the travel, shopping, and entertainment benefits that you can earn with the American Express Blue Sky® Card.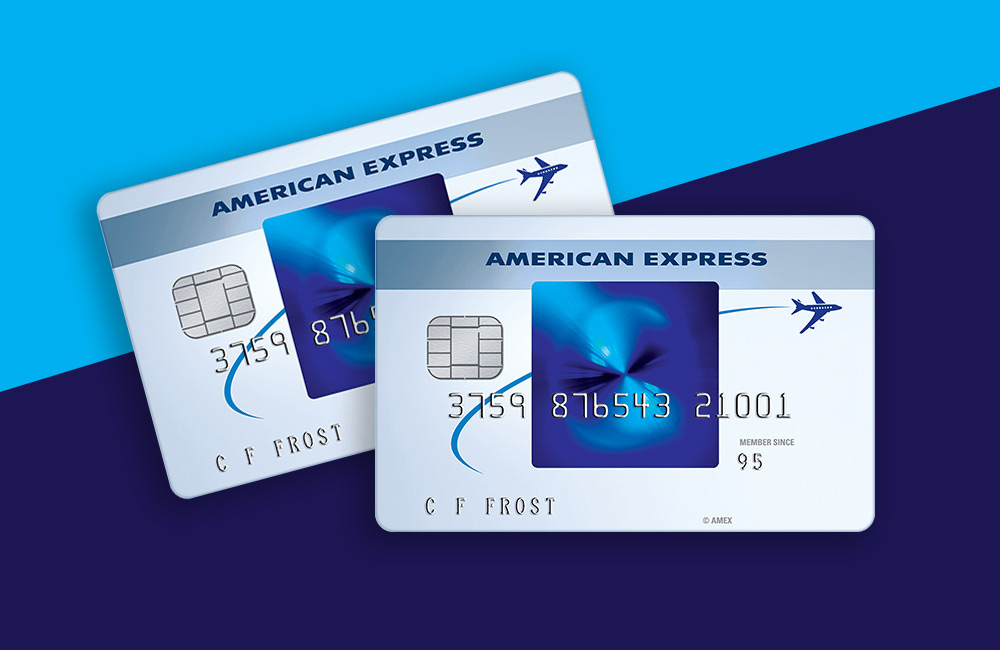 You want to use travel rewards cards to earn free flights or hotel stays, but they're not all the same. With some cards, you have to maneuver a complicated rewards structure in order to earn points or miles towards travel.
The Blue Sky Card from American Express Card relieves some of the pressure of earning travel rewards.
While many American Express cards are charge cards, this one gives you the flexibility to carry a balance from month to month. There's no annual fee and the card's appeal is enhanced by exclusive travel, shopping, and entertainment benefits.
See if this travel rewards credit card with its simple rewards program is good for you.
AMEX Blue Sky Card Pros & Cons
Easy to Earn, Easy to Redeem Rewards
With some travel credit cards, rewards are tiered so you earn more rewards on some purchases than others. This card, by comparison, offers a flat rewards rate that's not a hassle to understand.
Every eligible dollar you spend with the card earns 1 reward point
That means you can use the card for more than just travel to add to your points total.
For example, if you spend $500 a month on groceries and $500 a month on gas, that's 1,000 points you'd earn on top of whatever you charge for travel expenses.
With no cap on the number of points earned, you can scoop up as many travel rewards as you like, based on how often you spend.
Is there a one-time introductory points bonus?
The nice thing about signing up for a new travel rewards card is that many of them come with a one-time points bonus for opening an account.
Generally, you have to meet a minimum spending requirement to qualify for the bonus.
This card, unfortunately, doesn't offer an introductory bonus. If you're hoping to score several thousand points right off the bat, you'll need to consider a different travel rewards card for that.
How do you redeem points earned with the card?
Earning points with this card is straightforward and so is redeeming them.
This card does not participate in the Membership Rewards program.
When you earn 7,500 points, you can receive a $100 statement credit that you can apply to travel purchases.
Your points work out to be worth roughly 1.33 cents apiece. That's a pretty decent rewards rate for travel.
Aside from travel rewards, you've got a few other options for putting your points to good use. For example, you can redeem them for:
Gift cards to popular stores and restaurants
Merchandise from the Blue Sky Rewards Catalog
Cash back as a statement credit
Your points value varies based on what you're redeeming them for.
If you're redeeming for cash back rewards, for instance, 3,500 points will get you a $25 statement credit. That makes them worth roughly 0.72 cents each.
To get a $50 cash back statement credit, on the other hand, you'd need 6,500 points. In that scenario, your points value increases to 0.77 cents apiece.
Crunching the numbers can help you determine which redemption option gives you more bang for your buck.
Without a doubt, the best way to redeem your points is travel statement credit. The benefit is that you can shop for the cheapest travel deals on your own. Then, use the points to wipe out that purchase.
Blue Sky Travel, Shopping and Dining Benefits
Some travel cards come tricked out with lots of bells and whistles like free checked bags or annual airline fee credits.
You won't get those extras with the Blue Sky Card from American Express Card but there are some added features and protections you may like.
Travel perks
When your travel plans go awry, the card has you covered. As a member, you'll enjoy:
Car rental loss and damage insurance
Access to the Global Assist hotline
Roadside Assistance
Travel accident insurance
All of these are included at no charge, although third-party provider fees may apply.
If you call the Roadside Assistance hotline, for example, because you need a tow to a garage, you'd have to pay the towing company's fee.
Shopping perks
Your card offers a convenient way to pay when you shop and it can give you some added peace of mind. If credit card security is a concern, you can breathe a little easier.
The Blue Sky Preferred Card from American Express Card is a chip-and-signature card (not a chip and pin card) which means you have an added layer of security protection at the checkout.
Besides that, you also get:
Extended warranty protection
Return protection
Purchase protection
Free 2-day shipping at selected merchants through ShopRunner
Entertainment perks
If you want to enjoy a night out on the town, be sure to take your card along.
You can get exclusive access to ticket presales and special events, including Broadway shows, concerts, and sporting events. With Amex Offers, you can score discounts on entertainment, dining, and shopping.
Does this card offer free credit score access?
Your credit score is an important part of your financial picture. A good credit score can make getting approved for new credit easier.
It also works in your favor if you're angling for a lower interest rate on what you borrow.
As an American Express card member, you'll have access to your Experian FICO score each for free.
Credit Score Ranges and Quality
| Credit Score Ranges | Credit Quality | Effect on Ability to Obtain Loans |
| --- | --- | --- |
| 300-580 | Very Bad | Extremely difficult to obtain traditional loans and line of credit. Advised to use secured credit cards and loans to help rebuild credit. |
| 580-669 | Bad | May be able to qualify for some loans and lines of credit, but the interest rates are likely to be high. |
| 670-739 | Average/Fair | Eligible for many traditional loans, but the interest rates and terms may not be the best. |
| 740-799 | Good | Valuable benefits come in the form of loans and lines of credit with comprehensive perks and low interest rates. |
| 800-850 | Excellent | Qualify easily for most loans and lines of credit with low interest rates and favorable terms. |
What's the Cost?
Credit card fees can quickly eat up the rewards you're earning so it pays to know what they are.
As mentioned already, the card has no annual fee. The fee for balance transfers and cash advances is the same: $5 or 3% of the transaction amount, whichever is greater.
There is a foreign transaction fee of 2.7% so just keep that in mind if you're planning a trip outside the United States.
There's no introductory 0% APR for purchases or balance transfers. The regular variable APR range is competitive and your individual rate is based on your creditworthiness.
Tip: Learn how your credit score is calculated to get a better idea of what kind of APR you're likely to qualify for.
Is This the Best American Express Travel Rewards Card?
American Express offers a lengthy list of travel rewards cards and one may be a better fit than another, based on your spending style.
Check out what these three alternatives to the Blue Sky Card from American Express Card bring to the table.
American Express® Gold Card
The steps up the rewards rate.
With this card, you can early a large amount of points on travel and dining.
There's no foreign transaction fee.
The card has a $250 annual fee (see Rates & Fees; terms apply).
The fee is a bit high but it may not be difficult to earn back in points for frequent travelers. 
Read the full American Express Gold Card editor's review.
The Platinum Card® from American Express
could be a good fit for someone who spends a lot of time jet-setting and likes to travel in style.
Members earn five points per dollar on flights booked directly through the airline or through American Express Travel. That rewards rate is hard to beat.
Additionally, the card offers premium benefits like complimentary lounge access, a $200 annual airline fee credit, a Global Entry or TSA Pre✓ fee credit, Hilton Honors Gold Status Enrollment, and more.
All of that's complimentary for being a member but there is a $695 annual fee (see Rates & Fees; terms apply) that you have to factor in.
Read The Platinum Card from American Express editor's review.
Credit Card: American Express Travel Cards
| Credit Card | Travel |
| --- | --- |
| American Express Blue Sky | Earn rewards points for travel statement credit |
| American Express® Premier Rewards Gold Card | Earn bonus rewards points on airlines, dining, gas, and groceries. Get a $100 airline credit. |
| American Express Platinum Card | Get access to premium travel perks including unlimited access to 900+ airport lounges, elite status with hotel loyalty programs, and more. |
Designed for Simple Travelers
If you prefer a no-muss, no-fuss way to earn travel rewards, the Blue Sky Card from American Express Card delivers.
Travelers who are seeking a large introductory bonus or lots of travel extras may be disappointed, however.
The bottom line, we'd suggest this card if you want a good all-around rewards card for both travel and everyday purchases. However, your main rewards redemption choice should be travel statement credit.
See the rates & fees for the mentioned American Express cards: The Platinum Card from American Express (Rates & Fees. Terms apply.) and American Express Gold Card (Rates & Fees. Terms apply.)