Capital One Spark Cash Business Credit Card 2023 Review: Simple Cash Back Rewards
Our review of the Capital One Spark Cash Business Credit Card analyzes the cash back rewards program and other card benefits that could help a small business.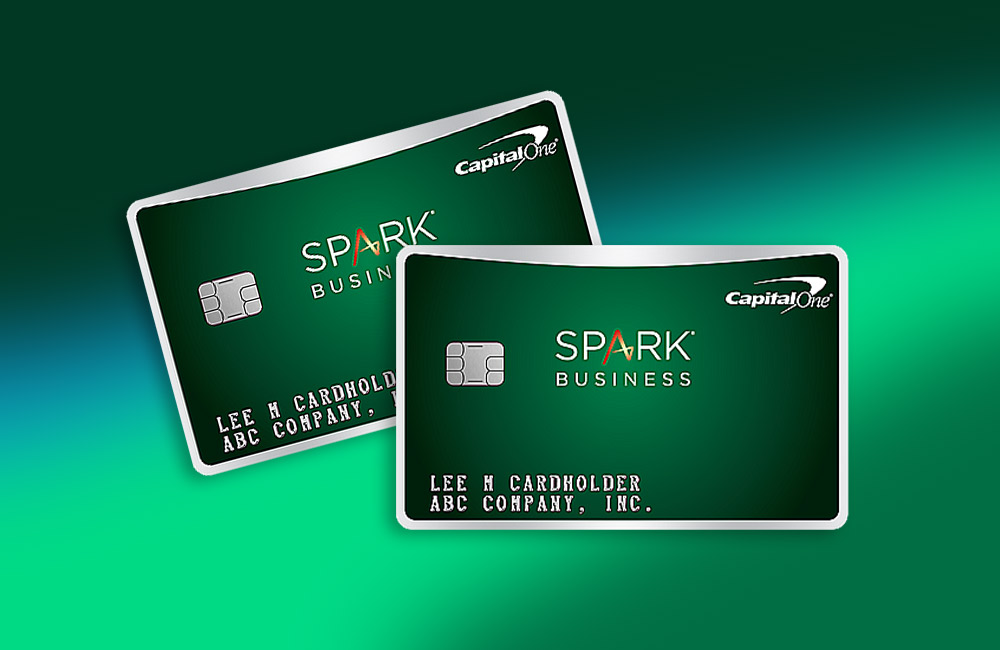 Capital One Spark Cash Business Credit Card


If you're looking for a money-saving tool for your business, a cash back rewards credit card could be the answer. 
The pays you cash back on every purchase, which could equal hundreds or thousands of dollars you can use to grow your business. 
This card makes earning cash back simple and straightforward. Purchases earn unlimited 2% cash back, with no caps or bonus categories to worry about.
There are also opportunities to earn bonus cash rewards. Cash back can be redeemed at any time, in any amount. 
This card offers a $0 introductory annual fee for the first year, then $95 annually after.
If you're interested in reaping cash rewards for your business, learn what the Capital One Spark Cash Business Credit Card has to offer. 
Capital One Spark Cash Business Credit Card Pros & Cons
Cash Back Rewards With No Limits
Some business credit cards add a wrinkle when earning cash back rewards. 
Rewards may be tiered, meaning some purchases earn more cash back than others. Or you may have to specify which categories you want to earn the most cash back in.
The Capital One Spark Cash Business Credit Card takes the hassle out of earning cash back. Every purchase earns unlimited 2% back in rewards.
That means:
You could use this card to pay for virtually any business expense, from advertising to travel -- without worrying about complex rewards rates.
Here's an example of how much cash back you could earn annually:
$5,000 in advertising purchases = $100 cash back
$4,000 in gas = $80 cash back
$6,000 on business travel = $120 cash back
$3,000 on dining = $60 cash back
$7,000 on office supplies = $140 cash back
$5,000 on cell phone, internet and utilities = $100 cash back
Total cash back earned = $600
Employee cards are free, which is great if you want to give your staff members purchasing privileges. This can also be an easy way to increase your cash back earnings if employees make business purchases regularly. 
In addition to cash back on purchases, this card routinely offers introductory sign-up bonuses for new cardmembers. 
Depending on which bonus is available when you apply, you may be able to earn several hundred to several thousand dollars in cash back.
Just keep in mind that a minimum spending requirement usually applies to snag a bonus.
Redeeming Cash Back Rewards
Earning cash back rewards with your card is a breeze and so is redeeming them. 
Capital One lets you redeem cash back earned with this card at any time, in any amount. Cash back can be redeemed as a statement credit or a check. 
Both of those options could save your business money.
Look:
Applying rewards as a statement credit means less you have to pay back when you spend. You could redeem for a check to cover other business expenses. 
Capital One also lets you redeem cash back rewards for gift cards.
Typically, though, you'll get the lowest value for your cash rewards when choosing that option.
What Else Do You Get With the Card?
The cash back rewards program is the best feature of this card but there are a few other things to like as well. 
Card extras include:
Year-end transaction summaries to help with tax planning
Easy download of purchase records to Quicken, Quickbooks and Excel
Emergency card replacement
Auto rental damage waiver
Purchase protection for the first 90 days
Extended warranty protection
Since this is a Visa Signature card, you also get these benefits:
Access to the Visa Signature Luxury Hotel collection
Roadside dispatch service
Movie ticket discounts at Fandango.com
Access to special sporting and entertainment events
Visa Signature concierge service
Shopping discounts at partner retailers
Price protection
Travel and emergency assistance services
Lost luggage reimbursement
Travel accident insurance
Those benefits could make this card suitable for booking travel if you don't have a travel rewards card to earn miles or points.
Since there's no foreign transaction fee, it could work well for U.S. or international travel.
Capital One Spark Cash Business vs. Other Business Credit Cards
Capital One offers several other business credit card options. Here's a quick look at how they compare to the Spark Cash Business card.
Capital One Spark Cash Select
The is designed for business owners that want to earn unlimited cash back with no annual fee. 
This card offers unlimited 1.5% cash back on every purchase. There's no annual fee and no foreign transaction fees. 
Another nice perk of this card is that it offers an introductory APR period for purchases, something you don't get with the Spark Cash Business card.
Employee cards are also free and eligible members can earn an introductory cash back bonus.
Capital One Spark Miles
The  might be your choice if you're looking for business travel rewards.
With this card, you earn unlimited 2 miles per dollar on purchases. You can then redeem those miles as a statement credit for travel, with no blackout dates or restrictions. 
Compared to other business travel cards, this card has one of the best introductory bonus offers around. Like the Capital One Spark Cash Business card, you pay a $0 annual fee the first year and $95 after. 
Capital One Spark Classic
The might be worth a look if you don't have the excellent credit rating required to qualify for the Spark Cash Business card.
This card is designed for business owners with average credit. Purchases earn unlimited 1% cash back, with no annual fee. 
Applying for a Business Credit Card
If you've never had a business credit card, there are a few things to know before you apply.
First, business and personal credit cards aren't the same. The biggest differences lie in:
What expenses you can use them for
Rewards structure
Credit score impact
Business credit cards are designed for business use. It follows that they're most rewarding when you spend on business purchases, such as travel, office supplies or advertising. 
Personal credit cards might reward you for everyday spending or personal travel, on the other hand. 
When it comes to credit scoring, your personal credit score is typically used to approve you for a business credit card. (Business credit scores can matter as well.)
Once your account is open, however, your account history shows up on your business credit reports, not your personal ones. 
A business credit card could still affect your personal credit history if you default. That's because most business credit cards require you to have a personal guarantee, which means you're personally responsible for the debt. 
To apply for a business credit card, you'll need to give the credit card company personal and business information, including:
Your name
The business name
Your personal and business addresses
Social security number and/or tax identification number
Number of employees and type of business
Annual revenues
Number of years in business
You don't need to have been in business for years to get a business credit card. In fact, you could technically qualify even if you haven't launched your business yet.
Just remember that you'll need good credit and financial history to get approved.
The Capital One Spark Cash Business Credit Card, for example, is designed for excellent credit profiles.
Final Verdict
The is suited to business owners who want to earn a flat rate of cash back rewards and don't mind paying an annual fee.
This card could work well for you if you primarily charge everyday business expenses versus travel. 
You'd likely want to explore other card options if you'd prefer to earn points or miles.
Likewise, other business cash back rewards cards can offer higher rewards rates, though they may impose a cap on the amount of cash back you can earn. 
All in all, this card is a solid choice for earning cash back on business spending with no fuss.
Just remember that it's best to pay off purchases in full to avoid interest charges.