How to Check Your Business Credit Score
Learn how to check your business credit score to determine if you'd be able to qualify for business loans and credit cards with the best terms.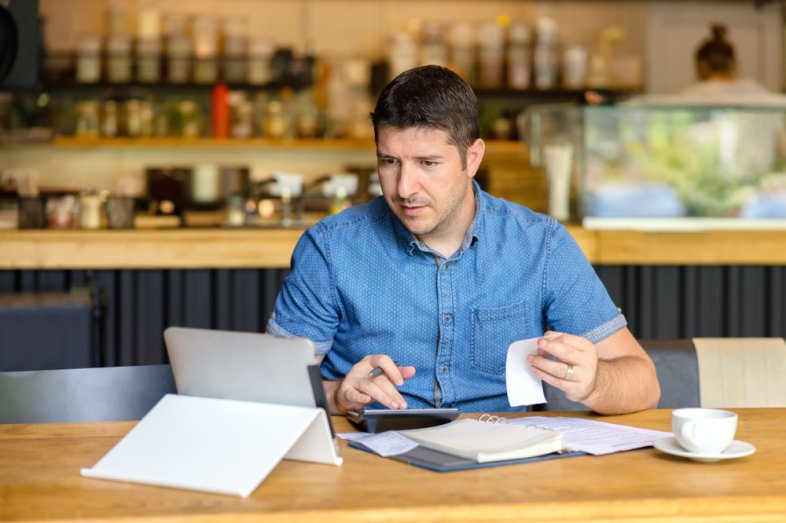 When you apply for a loan as an individual, the lender checks your personal credit scores.
But what happens when you run a business needs to borrow money? Does the system use the same credit scoring models? 
The business credit scoring industry isn't as straightforward. It's less talked about than the personal credit scoring industry. Even so, business lenders may want to check your business's credit. 
Look:
Credit is still tracked, reported and scored for businesses. The rules are completely different, though. 
Having knowledge about business credit before you take out a business loan could help you make smarter decisions.
Here's what you need to know as a small business owner. 
Who Keeps Track of Your Business Credit?
Currently, there are three major business credit reporting agencies. They are:
Dunn & Bradstreet
Experian
Equifax
Other companies also track business credit information and offer credit scores. However, these three are the major players in the space at this time.
Each company collects data about your business separately. They don't work together, so the information at each agency may be different.
They use the data they collect to provide unique business credit scores. 
What Is a Business Credit Score?
A business credit score is a measure of your business's creditworthiness. Business credit scores represent your credit risk to potential lenders.
Each business credit scoring company uses different models and methodologies to come up with your credit scores.
Within each company, there may be several credit scoring models. Each model represents varying types of credit risk. 
For example, one model may predict the likelihood of your business failing. Another model may predict when you pay your bills compared to their due dates.
This means:
A good business credit score will vary depending on the score used. A good score may mean different things, too.
A certain number may represent an amazing business credit score on one scoring model. That same number may be an awful credit score when using a different model. 
Lenders use these business credit scores as one factor in determining whether to lend you money. It can influence how much lenders charge you to borrow the money, too.
How Business Credit Scores Work
Each business credit reporting agency has its own credit scoring formulas.
The specifics of the scoring formulas and how they work are important. Focusing on good credit health for your business should help your scores in most cases. 
Knowing what is factored into these business credit scoring formulas can help you work to build and improve your score.
Some focus mostly on payment history. Others include other factors.
In general, the factors that predict creditworthiness fall into these types of categories:
Payment history
Credit currently available to your business
How much of your credit your business is using
Length of credit history
Size of your company
Negative financial information such as delinquent payments on invoices or charge offs
Legal filings
Public records
If you focus on maintaining positive credit behaviors for these categories, your scores may grow.
Find out what type of business credit scores your lenders use.
Then, investigate how that score is calculated to see how you can improve it.
How to Check Your Business Credit Reports and Scores
Checking your business credit reports and credit scores is vital for your business. Better scores usually result in more favorable outcomes. That means you need to make sure nothing is sabotaging your score.
Just like with your personal credit, the credit reporting agencies can make errors on your business credit reports. 
If these errors are negative, it could result in a lower business credit score. This can turn into declined loan applications. Other consequences could include higher interest rates or higher insurance rates.
Most consumers are used to checking your personal credit score for free.
Now:
Unfortunately, checking your business credit reports and scores isn't usually free. This can be shocking. 
Instead, you'll usually have to visit each of the business credit reporting agencies' websites and order your credit report.
They aren't inexpensive for small businesses struggling to get by, either.
Dun & Bradstreet
Dun & Bradstreet offers a free option to monitor changes on your business's credit file. This product is called CreditSignal. 
CreditSignal also alerts you when someone requests your credit file.
Unfortunately, it doesn't give you access to your complete credit file to check for errors.
Instead, you can order a basic business credit report. This includes information about your business and your D&B PAYDEX Score.
The product is called Credit Evaluator Plus and costs $61.99. 
Equifax
Equifax allows you to purchase a single business credit report for $99.95.
It includes Equifax's Business Credit Risk Score, Business Failure Score and a credit summary.
Experian
Experian offers several options to check your business credit score and credit information.
Their cheapest product, CreditScore Report, is $39.95. It is less detailed than the more expensive ProfilePlus Report which costs $49.95. 
Experian also offers annual or monthly subscription options, as well.
Why a Business Credit Score Is Important
Essentially, business credit scores are important because a better credit score can help your business. 
Qualify for better credit terms
In particular, it can help you get easier access to borrow the money you need.
It can also help you secure lower interest rates on what you do borrow.
Additionally, you may be in a better position to qualify for the best business credit cards. With big spending on business expenses, there's plenty of opportunities to earn rewards.
Here are some notable example:
Chase Ink Business Preferred
Designed for business spending that includes travel, shipping costs, telecom, and digital advertising,  aims to turn rewards into free travel.
Read the Chase Ink Business Preferred Editor's Review.
Capital One Spark Cash for Business
offers a simple 2% cash back on all spending to keep things simple.
Such exceptional business credit cards often require great credit.
Businesses with no score or a poor score may have trouble borrowing funds to grow their business. 
Without access to this money, the business may not survive. In other cases, your business may not be able to grow as fast as it could with access to additional funds.
Insurance
Your business credit scores may also impact non-lending decisions.
Some insurance companies use these scores when setting your rates.
Having a good business credit score may be able to help you get lower cost insurance.  
Tips to Build Your Business Credit Score
Building your business credit score requires a couple of actions. 
Establish credit
Your creditors must report credit information to the business credit reporting agencies.
If the credit activity isn't reported to the agencies, you don't have any activity to build or grow your score.
After you have credit lines reporting to the agencies, you need to practice good credit health habits. This is the key to establishing a good business credit score.
You can ask your lenders if they report your credit information to the agencies. If they don't, you need to find accounts that report this information. This way, the credit reporting agencies can start building a credit file on your business.
One way to get started is by getting one of the many business credit cards available.
It's essential to apply using your business credentials. 
If you use your personal credentials, the card may be reported on your personal credit report.
By using your business credentials, the card may be reported on your business's credit file. 
Pay bills on time
Once you have established credit that is being reported to the agencies, focus on making sound credit decisions. 
For instance, always make sure to pay your bills as early as possible to show responsible use.
The PAYDEX scoring model by Dun & Bradstreet focuses on when you pay your bills. You get a higher score for paying your bills early. Similarly, you get a lower score for paying your bills late. 
Keep a low balance
One way to help is to avoid using large portions of the amount of credit you're offered. 
Businesses with maxed out lines of credit usually aren't in the best financial shape.
By keeping your use lower, you can help show you're in good financial shape and not struggling to get by.
How Long Does It Take to Build Business Credit?
Building business credit is a process for business owners. Each business credit reporting agency works in different ways.
For example, Dun & Bradstreet has a couple of key requirements to get a PAYDEX score.
They include:
Registering with Dun & Bradstreet to get a D-U-N-S number
Having enough reported payment history with many vendors (generally at least four)
Other agencies may have different criteria for getting a business credit score. 
The key is making sure vendors report your credit to the agencies. Once they have enough data, you should eventually get a score for your business.
Get Started Today
The ability to borrow money can be essential for small businesses.
Without a business credit score, getting access to that money may be more difficult or expensive.
Based on what you now know, you can check your business credit to see where you stand today.
Then, you can work toward either getting or improving your business credit scores. 
You may have better luck getting financing with a great business credit score.