Wells Fargo Business Elite Signature Card Review
Our review of the Wells Fargo Business Elite Signature Card analyzes the card's annual fee, customizable rewards program, and travel protections.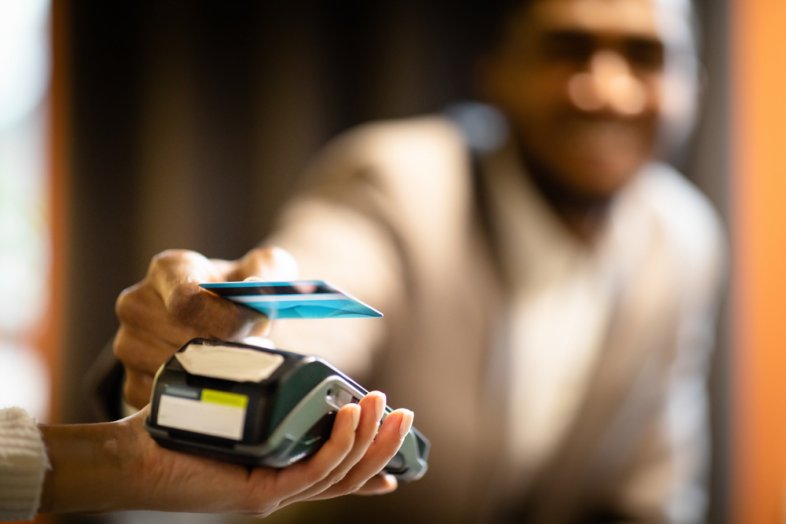 When you're interested in earning rewards for your business, you may be wondering whether cash back or points are better.
The Wells Fargo Business Elite Signature Card puts you in control of deciding which one to earn. 
This card takes a simplified approach to cash back.
Cardmembers earn 1.5% cash back on every dollar spent. Or, you can earn 1 point per dollar and receive 5,000 bonus points when you spend $10,000 or more in any monthly billing period. 
It's easy to redeem points or cash back earned and there's no annual fee the first year of card membership. 
The Wells Fargo Business Elite Signature Card could be worth a look if you're interested in a card with flexible rewards.
But there's a catch:
This card is just for businesses that generate $1 million in sales or more annually. 
If you meet that requirement, here's more on what this card has to offer.
Wells Fargo Business Elite Signature Card Pros & Cons
Choose Points or Cash Back
The Wells Fargo Business Elite Signature Card offers a choice between earning points or cash back on business spending. 
Points route
Here's how the rewards program works if you choose points:
Earn 1 point for every $1 in net purchases.
Receive 5,000 bonus points when your spending hits $10,000 in any monthly billing period. 
So if you charge $10,000 per month for the entire year, you'd earn 120,000 base points on those purchases. You'd also earn 60,000 monthly bonus points for meeting the $10,000 spending threshold, for a total of 180,000 points. 
With a redemption value of 1 cent each, your points would be worth $1,800 when you're ready to use them.
Cash back route
If you opt for cash back instead, you earn 1.5% back on every dollar spent, with no caps or limits.
If you spent the same amount, i.e. $120,000 annually, you'd earn $1,800 in cash back rewards. 
Redemptions
Where you get a slight edge with choosing points is redeeming them. Cash back is applied as a statement credit or as a deposit to an eligible bank account once per quarter. 
Points can be redeemed for gift cards, merchandise and airline tickets, among other things.
The best part:
When you redeem points online you get a 10% point credit.
You also have a chance to earn more points on purchases made with your card when you shop the Earn More Mall. 
Get Reimbursed for Travel Fees
Though this isn't marketed as a travel card, it's possible you may choose to use it for travel. 
When you do, you can get up to $100 per calendar year in travel incidental fee reimbursement.
So for example, you could apply that toward in-flight entertainment, meals or checked bags. 
The Wells Fargo Business Elite Signature Card also comes with Visa Signature benefits. Those include: 
Visa Signature Luxury Hotel Collection access
Exclusive business and travel discounts
Exclusive hotel benefits
24/7 Visa Concierge Services
You also get standard travel card benefits, such as:
Travel accident insurance
Trip cancellation/trip interruption insurance
Trip delay reimbursement
Lost luggage coverage
Travel and emergency assistance
Auto rental insurance 
Those features can help you feel a little more secure if you're booking business travel. 
Other Card Features and Benefits
The Wells Fargo Business Elite Signature Card comes with a few other worthwhile perks, including:
Purchase protection
Extended warranty protection
Employee spending controls
Online business reporting
You can add up to 200 employee cards to your account, which is good if you have a larger company.
The more spending activity you have, the more cash back or points you could earn.
Just remember that interest charges apply when you carry a balance month to month.
Fees
The biggest cost with the card is the annual fee of $125, which is waived for the first year.
It's important to keep this annual cost in mind to ensure that the rewards earned will make up for that cost.
Otherwise, this card doesn't have an overwhelming number of fees but the late payment fee and returned payment fee are higher compared to what most business cards charge.
Compared to Other Business Credit Cards
Here's a quick look at three other cards you might consider in place of the Wells Fargo Business Elite Signature Card. 
Chase Ink Business Unlimited
The  offers unlimited 1.5% cash back on every purchase. But unlike the Wells Fargo Business Elite Signature Card, it isn't reserved for businesses with $1 million or more in annual sales. 
There's no annual fee and you also enjoy an introductory APR on purchases.
Read the Chase Ink Business Unlimited card editor's review.
American Express Blue Business Cash Card
The  has a simple rewards program. All purchases earn 2% cash back, up to the first $50,000 spent annually. After that, you earn unlimited 1% back. 
You also have access to Expanded Buying Power if you need to temporarily go over your card limit. 
Read the American Express Blue Business Cash Card editor's review.
Capital One Spark Cash for Business
The  is a flat-rate cash back card. Purchases earn 2% back, with no caps. 
There's a decent introductory cash back offer for this card and a $0 annual fee the first year. After that, the fee increases to $95. 
Cash back can be redeemed at any time, in any amount. Employee cards are free and there are no foreign transaction fees. 
Read the Capital One Spark Cash for Business card editor's review.
Business vs. Personal Cards
Business credit cards and personal cards can both be used to make purchases and earn rewards. But they aren't exactly alike. 
With a business card, you're earning rewards based on how a business would typically spend. And the card might include perks that would be valuable to a business, such as business lounge access at the airport or annual credits toward computer equipment. 
A personal card is more likely to reward you for things you spend money on everyday. Think groceries, shopping, gas -- in other words, personal expenses. 
Card protections are different as well. Personal cards are covered by the 2009 CARD Act while business cards are not. While some card issuers extend similar protections to business cards, not all of them do. 
There can be differences in the APR and fees you pay for business and personal cards. And business cards can evaluate business revenue vs. personal income for approval.  
Applying for a business credit card
If you're interested in getting a new business credit card you'll need to complete an application. The information the credit card company looks for includes:
Your name and business name
Business and personal addresses
Email and phone number
Social security number or employer identification number (EIN)
Business name and structure 
Industry and number of employees
Revenue and number of years in business
Keep in mind that you don't need to have a business that's up and running to apply for a business credit card. That's what makes business credit cards a good funding option for startups. 
But the credit card company will check your personal credit and income. So you'll need good personal credit to get approved and get a favorable APR. 
What's the Verdict? 
The Wells Fargo Business Elite Signature Card is a card to consider if you're looking for flexible rewards and you meet the $1 million annual sales minimum.
The annual fee isn't overwhelming and the introductory bonus could net you a sizable amount of rewards right away. 
On the other hand, this card wouldn't be a good fit if you have a smaller business. And you may also want to seek out other cash back options if you're looking for a higher rewards rate.
Overall, this card could be a good choice if you want to be able to earn cash back or points on business purchases.