Which Credit Cards Offer an Extended Warranty on Your Smartphone?
Learn everything you need to know about using the extended warranty on your credit cards as it applies to your smartphone purchase, including iPhones and Android devices. Find out what you need to do to make a claim under the extended warranty, such as claim limits and required documents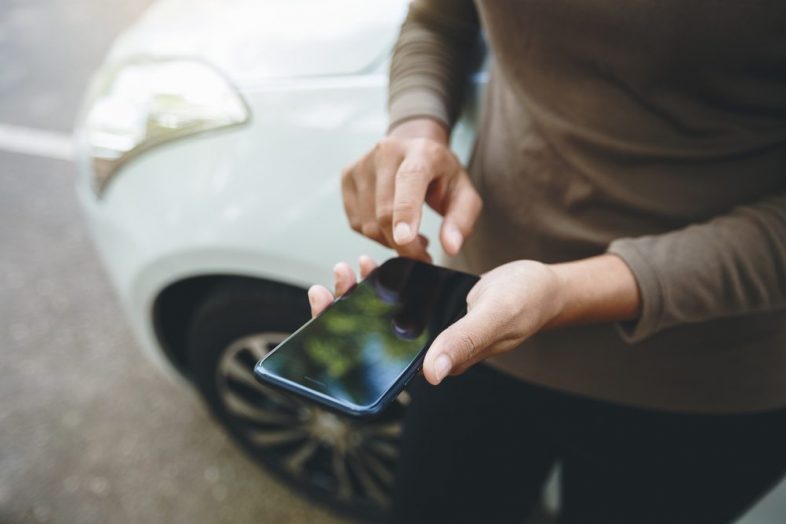 Smartphones are expensive -- costing hundreds or even thousands of dollars. It's understandable that you'd want some assurance that your purchase will be protected.
Because of how expensive and important phones are, many companies offer smartphone warranties. Apple offers AppleCare warranties for its iPhones. Similarly, various electronics stores, mobile carriers, and third-party companies provide similar warranties for Android phones.
What many people don't know is that they might already have an extended warranty on their phone -- free of charge. Many credit cards offer extended warranty protection for purchases made using the card.
Find out which cards offer these convenient perks and how they work.
Credit Cards with Extended Warranties on Smartphones
Visa
MasterCard
American Express
Discover
All Cards
Offer Warranty?
No - Standard Visa
Card does not
Yes - details vary
based on issuing
bank

Yes -
all types

Yes -
all types

Warranty
Protection
Doubles
manufacturer's
warranty

Doubles
manufacturer's
warranty

Doubles
manufacturer's
warranty

Doubles
manufacturer's
warranty

Warranty Coverage
per Year
Provides
$10,000 max.
per claim up to
$50,000/year

Provides
$10,000 max.
per claim with
no limit /year

Provides
$10,000 max.
per claim up to
$50,000/year

Provides
$10,000 max.
per claim up to
$50,000/year

Time Period to File Claim
Within 60 days of loss
Within 60 days of loss
Within 30 days of loss
Within 45 days of loss
Number to File
Claim
800-882-8057
855-569-7366
800-225-3750
800-DISCOVER
What Can an Extended Warranty Be Used For?
Extended warranties do exactly what they claim to do, they add time to the warranty offered by a product's manufacturer. For example, if you buy a new appliance that has a three-year warranty, your card's extended warranty benefit could add a fourth year to the warranty.
This applies to nearly anything that comes with a manufacturer's warranty, including smartphones.
If you purchase something and it breaks during the manufacturer's warranty period, you'll contact the manufacturer to get it repaired. If it breaks after the manufacturer's warranty expires, the card issuer will reimburse you.
This can mean a huge savings for consumers who know about their cards' warranty deals.
Use AppleCare as an example. If you want to purchase 2 years of additional protection from Apple, it will cost between $129 and $199. If you opt to forgo AppleCare because of your card's extended warranty, you'll save that much, but still, be protected.
Every card network has its own rules regarding extended warranty protection. Note that the important thing is the card network, rather than the card issuer. A Mastercard offers the same benefits whether it comes from Bank of America, Citi, or some other issuer. The same is true of Visa cards. However, a few card issuers may offer small additional benefits.
Visa
Visa offers extended warranty coverage on purchases using Visa Signature and Infinite cards. If you have a standard Visa card, you are not eligible for extended warranty.
Visa's extended warranty protection will double a manufacturer's warranty, adding a maximum of 1 year to the warranty. It will only extend warranties of 3 or fewer years. So, if the phone has a 2-year manufacturer's warranty, Visa will add a 3rd year. If it has a 6-month warranty, Visa will add 6 months.
Visa's warranties provide a maximum of $10,000 in coverage per claim, which is more than enough for any smartphone. You can get reimbursed up to $50,000 for warranty claims.
If you need to submit a claim, you'll have to call Visa's extended warranty line within 60 days of the loss. You can contact Visa at 800-882-8057. You'll need to provide paperwork such as the purchase receipt and warranty information.
A customer service representative will contact you within 5 days of your claim. You'll get a check for the value of the phone seven to ten days after your request is approved.
Mastercard
Mastercard offers extended warranty protection on all of its cards, but the details vary based on the issuing bank.
Like Visa's warranty, Mastercard's doubles the warranty period of a product, adding a maximum of one year to the warranty. Standard Mastercards will extend warranties that last up to 12 months. World Mastercards extend warranties on phones with warranties as long as 5 years.
Also like Visa, Mastercard extended warranties will reimburse up to $10,000 per claim. There is no limit to how much you can be reimbursed for in a single year.
To file a claim, contact Mastercard at 855-569-7366 within 60 days of the loss. You'll need to provide the original receipt and warranty information.
Mastercard is not quite as quick about making decisions. Depending on the size of your claim, you could get a check in as little as a week or as long as a few months.
American Express
American Express also offers extended warranties on all of the cards it issues. Due to the terms of its extended warranty and great customer service, it's probably the best card issuer to use when buying a smartphone.
American Express will double the length of the manufacturer's warranty adding as much as a year to the warranty. Where Amex differs from the competition is that it will extend warranties of up to 5 years, rather than the usual 3. That means your purchase could be under warranty for as long as 6 years.
You can get $10,000 per claim, with a limit of $50,000 in warranty reimbursements per year.
The one downside with American Express is that you'll need to be quick to file a claim. You must call the company at 800-225-3750 within 30 days of the problem with the phone. The claim will be examined and your account will be credited within 14 business days of your submission.
Note that you receive a statement credit rather than a check from American Express.
Discover
Like Mastercard and American Express, every Discover card comes with extended warranty protection.
It offers the standard extended warranty, adding as much as a year to the manufacturer's warranty. Only warranties of three or fewer years can be extended. That means your phone could be under warranty for as long as four years, which is usually long enough that you'll be looking to upgrade anyway.
Discover will reimburse up to $10,000 per claim and a maximum of $50,000 per year. That's more than enough to handle a mishap with your phone.
To submit a claim, call 800-DISCOVER within 45 days of your phone's issue. Discover will give you a statement credit within 60 days of your claim being filed. Like American Express, Discover will not mail you a check.
How to Submit a Claim
Submitting a claim to your credit card's extended warranty requires some documentation, including:
Original purchase receipt
Account statement with the purchase transaction
Manufacturer's warranty (a copy is fine)
Because of the claims process, it is crucial that you always keep the receipts of your phone purchase from the very beginning. Save the original receipt, but take the time to make a copy or scan of it as a backup. You should also request and save a copy of the warranty terms from the manufacturer. If you get any additional warranty on top of the manufacturer's warranty, save that information too. These two documents combined will show when the product was purchased, the card that was used, and the terms of the original warranty. That's enough information for a card issuer to be able to process your warranty claim.
We recommend that you keep track of this information digitally. Set up a folder on your computer or digitally in the cloud to store images of receipts and copies of warranty information. Every time you make a purchase worth protecting with an extended warranty put the information in that folder.
Should the worst happen and your phone breaks, you'll need to file a warranty claim as soon as possible.
If the issue occurs during the manufacturer's warranty period, you don't need to contact your card issuer at all. Simply submit a claim to the manufacturer. If the manufacturer's warranty has expired, that's when you'll need to contact your credit card company.
Make sure to file your claim quickly, since every issuer has a time limit for filing claims. Even if you cannot provide all the necessary paperwork right away, file the claim before the time limit runs out. You can always send additional documentation as you get it.
Every issuer allows you to file a claim by phone and many let you file online. Choose the option that is easiest for you. No matter which option you choose, reach out to the issuer to start the process. They'll tell you what documentation you need to provide and how you'll need to provide that information. In some cases, you might be asked for information like repair quotes if you're filing a large claim, which a claim for a smartphone might be.
Once you've submitted all the necessary paperwork, try to relax. You'll get a decision from the issuer, and if you claim is approved, be reimbursed soon after.
Myths Debunked
To get a better idea of how extended warranty worked, we went through the process by calling a Visa representative to speak about the claims process under the extended warranty benefit. Here are some of our findings that may go against what you may believe about the procedure:
Myth 1: You must have your receipt and warranty.
The rep told us: If you don't have the receipt we can give you ideas on how to reconstruct the receipt -- sometimes the claims department will take your credit card statement instead of the receipt, but they prefer the receipt. Now, you can almost always find the warranty online through the manufacturers website.
Myth 2: You will not be eligible for a replacement or repair if you fall outside the 60-day time frame.
The rep told us: If this is the case, you're considered outside of the time frame and we're not able to file a claim for you. You could if there were extenuating circumstances such as you moving or an illness or something like that. You can actually ask for us to file a claim regardless and then have the claims department review that.
Myth 3: The claims process is lengthy.
The rep told us: Provided that you do have the benefit available on your card and did purchase it on your card, we file a claim, send you a claim form, once you receive that claim form you would sign and date it and return it to us within 90 days from the date of the product failure, of which you do have 60 days to report it to us.
Once we receive that claim form along with a copy of your itemized sales receipt and a copy of the manufacturer warranty, an examiner  would review your claim and contact you within five business days to walk you through the rest of the claim process and advise you to have the item either repaired or replaced. Then we would be able to see about reimbursing you up to the original purchase price that you purchased the item for.
Myth 4: The registration process is lengthy.
The rep told us: The registration process is very similar to the claims process. Basically, you give us a call, we ask you when you purchased it, we put in that purchase date, go over the benefit with you real quickly, ask for the manufacturer purchase price before tax. If you have a serial number and the model number we can put those on there, we'd send your registration form either by mail or email whatever you prefer, you send us back your receipt and your warranty.
Now this takes 5 or 10 minutes, but depending on whether we already have your address on file, it would take even less time than that.
Myth 5: You have to send your warranty and receipt via snail mail.
The rep told us: No actually -- you can send it through the mail if you can't get it scanned, and we're fine with either way on registration especially because there's no time limit, but we always ask you to keep your original receipts and warranty.  You you send it by email we ask you to scan it or take a photo, as long as the information is visible.
Myth 6: If you want this benefit, and are a Visa cardholder, you have to sign up for the service.
The rep told us: It's not exactly something you have to sign up for, it's determined by the bank or financial institution. Some cards do have this benefit and some don't, it depends on the bank or financial institution.
Myth 7: The extended warranty 'stacks on top' of additional warranties or protections you may have purchased.
The rep told us: Unfortunately, no it would not stack on top, it would only go after the original manufacturer's warranty. So say for instance you purchased a two-year extended warranty that added an additional two years to the end of the manufacturer warranty, ours would only go in during the second year and run parallel to that extended protection that you purchased.
Conclusion
Extended warranty protection is one of the most valuable and most overlooked benefits of credit cards. Whenever you're buying a smartphone, take extended warranty protections into account.