Received a Job Offer? 6 Questions to Ask Before Accepting
Learn about the financial issues to consider after you've received a job offer, including benefits and perks such as 401(k) matches, corporate discounts, etc.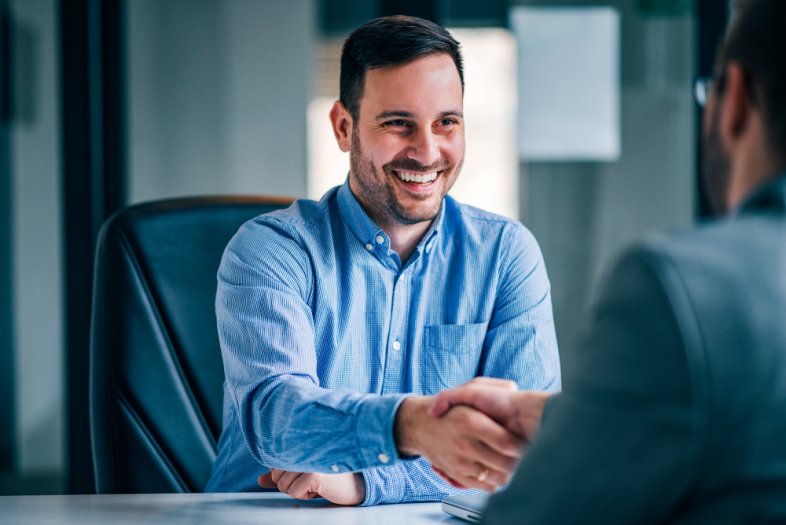 Getting a job offer can be a major confidence booster, especially when you beat out the tough competition.
But although the salary might be attractive, a particular job might not be a good fit for you.
The truth is:
You might be happier somewhere else.
Even if another job pays slightly less, it might offer a better quality of life that makes it worth your while.
So before you say yes, spend some time evaluating a job offer. Consider not only the salary but also the benefits and other financial factors that matter.
1. Does the Salary Match the Job Duties?
Undoubtedly:
You want to get paid your worth.
This can lead to increased job satisfaction and make you a more productive employee.
For this reason, make sure you understand the job and what's expected of you during the interview process.
Sometimes, an employer's job description doesn't paint a complete picture, so ask questions.  
If you'll have more responsibilities than your previous role, do you feel the pay justifies the extra workload?
And if you're offered multiple jobs, how do the duties and pay compare with each other?
Similar jobs may involve the same level of responsibility, yet one might have a base salary that's considerably less.
2. Does the Job Come With Benefits and Perks?
Most jobs come with some perks and benefits. This is how employers entice job applicants.
But you'll find that some jobs have more benefits than others.
That's why:
It's important to weigh these benefits and consider what's important to you. Sometimes, a lower paying job proves more beneficial in the long run.
For example, the lower paying job might include incentives like 100% employer-paid health insurance, a higher 401(k) match, profit sharing, daycare reimbursement, and tuition reimbursement.
A job that pays more, however, may only pay a percentage of your health insurance premium, come with a lower 401(k) match, and offer zero reimbursement for daycare.
Even though this job pays more, you end up with less cash once you take into account what you're not getting.
Other job perks and benefits to consider when receiving an offer include:
Profit sharing
As an employee, will you receive a direct share of company profits or stock options?
Bonuses
Does the company offer bonuses?
Perhaps a sign-on bonus once you're hired to compensate for any benefits you're losing by joining the company.
Does the company offer performance bonuses, maybe cash or company trips?
Transportation discounts
If you'll use your own vehicle for work, does the company offer gas reimbursement or a company gas card?
3. How Many Hours Will You Work Per Week?
A job description that says full-time doesn't always mean a max of 40 hours per week.
You could end up working more hours -- maybe 50 hours or 60 hours a week -- based on the scope of the job.
As a salaried worker, are you okay working additional hours for the same pay? Depending on the salary, it might justify working up to 50 hours a week or more.
Or:
You might find that pay per hour is significantly less than the same positions at other companies.
Before you accept the job offer, speak with the hiring manager or potential employer. Ask for a realistic estimation of the number of hours you'll work each week.
This includes hours you may work at home in the evenings or on the weekends. From here, decide whether the salary is worth giving up your personal time.
Also, consider whether you're required to travel for the job. Traveling means you'll spend more time away from your family. And if you're traveling for work, you might have to meet with clients in the evenings or on the weekends.
4. How Flexible Is the Job?
Sometimes, it's not always about the salary, but also about the lifestyle.
Even when you enjoy your work, a work-life balance might be important to you.
So you might look specifically for jobs that allow:
flexible scheduling
telecommuting
a generous number of vacation days or sick leave
The problem:
These jobs might not pay as much as jobs that don't offer telecommuting or multiple weeks of vacation each year.
Even so, you might be willing to accept a job that pays less as long as you're able to enjoy more time freedom.
With regard to vacation days and sick days, ask whether these days roll over from year to year. Depending on the job, you might lose vacation days that you don't use.
5. What's the Company Culture?
Despite an excellent benefits package and generous vacation time, a company's culture might not be a right fit for you.
A desirable work environment contributes greatly to job satisfaction.
What's the noise level in the office?
The demeanor of employees?
Is the dress code casual or business?
Will you work alone or collaboration with other coworkers?
Be honest and consider how well you'll fit in with the company.
If it's not a good fit, you could find yourself back on the job market in a few months or a couple of years.
6. What's the Cost of Relocating?
Some jobs require relocation to a new city or state. Even if the job duties are within your ability, now might not be the right time to relocate, financially speaking.
What type of compensation package does the employer offer for relocation? Some companies will pay your moving expense to make it easier on your pocket.
If a company doesn't, can you really afford to move to another part of the country?
Also, consider the housing market where you live.
If it's a slow market, it might take months or longer to sell your home. Therefore, you could end up with two house payments until your current home sells.
Can you afford this?
It's also important to consider the cost of living in the area you're moving to. The new job might pay more than what you're currently earning.
Yet, the cost of living in your new city or state could also be much higher.
In which case, accepting the new job might not result in extra disposable cash.
Tips for When You Receive a Job Offer
Negotiate
Keep in mind that a job offer is just that — an offer. You're free to accept or decline, and sometimes, there's even room for negotiation.
If you're interested in a position, but feel the salary needs a bump, make a counteroffer.
Determine your worth
Of course, your counteroffer must be realistic if you want to be taken seriously.
Do a little research to determine your worth and average salaries for this position in your area. Websites like Glassdoor, Payscale.com, and Salary.com can help determine your worth.
Be honest about other offers
If you have better offers on the table, be honest with a potential employer.
They might increase their offer or enhance their compensation package to compete and gain you as an employee.
Make sure you understand everything
Don't just focus on the salary, make sure you understand all benefits and perks that come with the job.
If a hiring manager doesn't mention benefits during the interview, don't be afraid to ask. Also, don't forget to ask about retirement packages.
Keep your goals in mind
It's also important to keep your career goals in mind.
A particular job might offer a nice salary and benefits, but consider whether this position will help advance your career.
Don't take a job that may negatively impact the trajectory of your career or stifle your growth.
Final Words
Getting a job offer can be overwhelming.
There are many factors to consider, and when you have multiple offers, determining the right one can be difficult.
In these situations, consider the entire financial picture.
What will you gain or lose? Only you can decide the right course, so trust your gut.