6 Mobile Apps to Sell Things Locally and Quickly
Compare the best mobile apps that you can use to sell your things locally to earn some extra cash quickly, including the seller features and fees.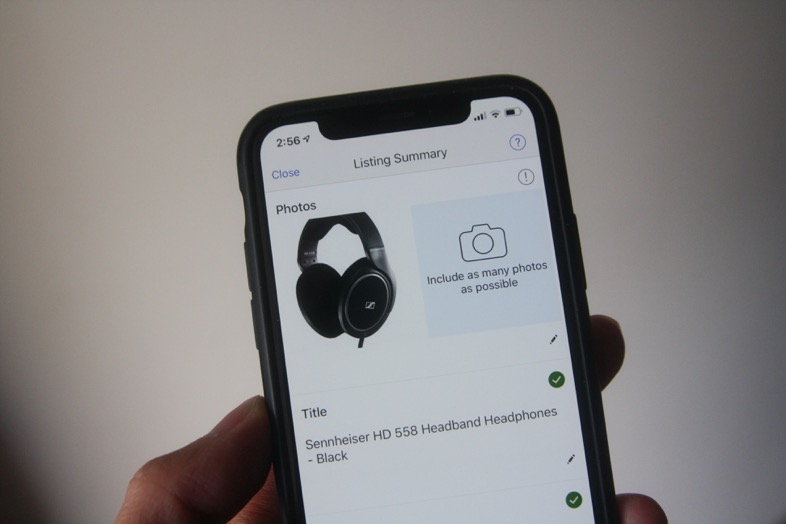 Whether you're doing some spring cleaning or just looking to make some quick money, selling old and unused items is a common activity.
While old-fashioned yard sales are still a good way to make sales, they can be annoying to organize and eat up a whole day.
To help make it easy to sell your old stuff a number of companies offer smartphone apps that let you organize quick, local sales.
Give them a try if you want to sell your old stuff without having to ship it to buyers across the country or run a yard sale.
eBay
While eBay might be best known for its online auctions, the company also offers a local listing service that you can use to set up a transaction with someone who lives near you.
Create an eBay account and you'll see a link to create a listing.
You'll have to enter basic information about the product that you want to sell. Depending on the product, eBay may ask additional questions.
For example, if you're selling an old phone, you'll have to provide information as to the storage capacity and carrier that the phone is tied to. You'll also want to add photos and other details so that potential buyers can see what they're buying.
When you are about to finish creating the listing, you'll see the delivery options.
Note:
You can uncheck the shipping option and check the local pick-up option.
This will ensure that buyers will come to you to pick the item up and that you won't have to deal with packaging the item and sending it across the country.
Listing an item on eBay isn't free.
The company has a fee structure that is based on the type of the listing, the length of the listing and the type of product that you're selling.
You'll also pay a fee based on the final sale price. eBay will tell you the percentage upfront but says it almost never exceeds 10%.
The eBay app is available on both iOS and Android mobile platforms.
OfferUp
OfferUp is an app available for both iPhone and Android that makes it easy to buy and sell a wide variety of items from your phone.
Listing an item for sale on OfferUp is easy.
Just take a picture
Upload it
Enter some basic details about what you're selling
If you want, you can add additional pictures to make your listing stand out. (Recommended)
Buyers can browse OfferUp based on product categories or location.
If they want to buy the item that you're selling, they can message you through the app and you're free to respond to organize the sale. Buyers can also view your profile to see other items that you're selling and to view feedback that other buyers have left.
The best part:
The app is completely free to use. If you're only offering local pick up, you won't pay any fees.
Now:
You do have the option to pay for services such as Bump and Promote. These services make your listing more noticeable, which might help you make a sale.
Bumping or promoting an item costs just a few dollars. If you find yourself promoting your listings on a regular basis, you can sign up for Promote Plus.
This service gives you a set allotment of promotions to use. You can promote your listings, and when one sells, move another listing into a promotion slot. This ensures that some of your listings are always near the top of OfferUp's listings page.
OfferUp also offers the option to ship your items to buyers outside your local area.
If you use this option, you'll pay a percentage of the sale price as a fee.
LetGo
LetGo has iOS and Android apps that released in 2015.
Like OfferUp:
Take a picture of the thing you're selling
Upload it
Name a price
Potential buyers can message you to ask about the item, negotiate, and set up a meeting to buy the item.
Your LetsGo profile will have your star rating, as well as a list of everything you're currently selling and a list of items that you've sold in the past.
This can be useful because buyers may look at your profile and realize that they want to buy multiple things that you're selling.
And:
LetsGo charges no fees for listing products but occasionally offers fee-based services, like promoting your listings.
CPlus
Craigslist might be the original website for setting up local meetups to sell your stuff.
The CPlus app, available for Android and iPhone makes it easy to use Craigslist while you're on the go.
Once you've downloaded the CPlus app, you'll need to set up a Craigslist account before you can list anything. The app makes listing into an easy, three-step process.
First, take or upload a picture and create a title for your posting. This will be the first thing that people see when they're looking at Craigslist, so make sure the title is clear and explanatory.
Next, choose the category of the post that you're making and fill in any information that you're asked for. You'll have to enter a price and contact information at a minimum.
Finally, confirm the location that you're selling from, and set the post live. Wait for someone to contact you, and you can organize an in-person transaction.
Keep in mind:
Craigslist doesn't handle payments, shipping, or the like, so once the post is live, the rest is up to you.
Craigslist is free to use, there are no fees to make a posting outside of a few very specific categories.
Facebook
Facebook might be best known as a social network, but that makes it a great way to sell your stuff to the people near you.
Any major city and the vast majority of smaller towns and even rural areas will have a number of thriving Facebook communities and groups for different interests.
Most will have a local buying and selling group that you can use to find someone who wants to buy whatever you're selling. If there isn't, you can always make your own.
Add your local friends and have them add theirs. Soon enough, the group will be full and active.
With most of these groups, all you have to do is make a post with a photo or two, some information about what you're selling, a price, and a way to contact you.
Facebook doesn't charge any fees for postings.
Wallapop
Wallapop is a Spanish company that offers iPhone and Android apps that help people sell their old stuff.
Like other apps on this list, you get started by downloading the app and creating an account.
To start selling:
Make a listing with photos
Describe the item
Share a way for interested buyers to contact you
What sets Wallapop apart from its competitors is that it focuses on hyper-local selling, with listings that focus on neighborhoods rather than cities or regions.
Selling Things Safely
Whenever you're buying or selling products online, you should take a moment to think about safety.
Picking a meetup location
When you're advertising online but meeting up with buyers in person, safety becomes even more important.
The last thing you want:
Someone to pose as a buyer, only to steal the things you're trying to sell when you meet up.
One of the most basic safety rules when selling something with an online listing is to perform the transaction in public in a populated area.
Banks and police stations are particularly good choices as they are typically heavily monitored.
Many police stations are used to having people conduct online sales on the premises and may even have designated areas for them.
Avoid having buyers come directly to your home or delivering the items to them. This can put you in unnecessary danger.
Anyone who is unwilling to conduct the transaction in public isn't worth trying to sell to.
Avoid payment scams
The other safety tip to remember is that cash is king.
Always try to take cash.
There's risk involved with receiving electronic payments like Venmo or with a personal check.
It's very easy for a scammer to cancel an online payment, leaving you without the money and without the item you sold.
Personal checks can bounce, even days or weeks after you deposit them.
Cashier's checks are not 100% safe as they can be fake as well unless you immediately cash it at the issuing bank before completing the transaction.
For small purchases, requiring cash should not be a problem, especially if you do the transaction at a bank.
Conclusion
Selling your stuff online is a great way to declutter your home while filling your wallet.
Find a local selling app that you like and list the stuff that you don't need.
So long as you do everything safely, you'll be able to enjoy a bit of extra cash and enjoy the freedom of having a decluttered home.