Your credit score is the monumental representation of your financial credibility. With financial institutions and lenders placing significant emphasis on credit scores when evaluating a loan applicant, the health of your credit score can play a major role in your ability to obtain financing for sizable purchases such as a car or a house.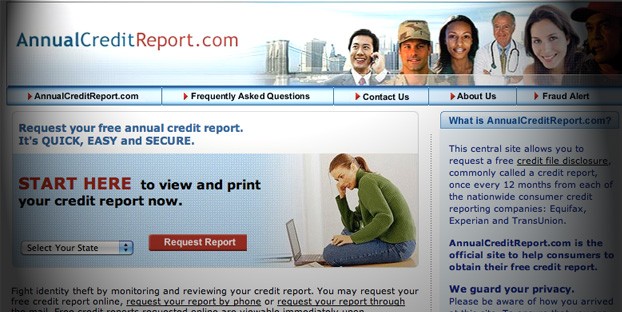 Credit scores are calculated from credit reports, which reveal much more detailed information regarding the specifics of a person's debt obligations and mishaps with credit. According to the Identity Fraud Survey Report (PDF) by Javelin Strategy & Research, 11.1 million U.S. adults became victims of identity fraud in 2009. Your credit report is often the telltale sign that you've become a victim of identity fraud.
Federal law allows you to obtain one free copy of your credit report every 12 months from each of the three nationwide credit bureaus. By visiting AnnualCreditReport.com, you can order your free credit reports from either Equifax, Experian or TransUnion. You will have to pay for extra credit reports.
Free credit reports: What's the catch?
The three credit bureaus do not necessarily report the same information for any single person because your credit accounts and inquiries could be reported differently between financial institutions and the credit bureaus. You could opt to receive all three credit reports at once or spread them out over the course of the year.
If you choose to order all three credit reports at the same time, you will receive the most comprehensive overview of your credit history. The catch here is that you won't be able to check your credit reports for a whole year unless you want to pay for them. Many things can happen in a year and you don't want to be left in the dark when it comes to your credit.
If you choose to order each of your credit reports in four month intervals, you will be able to monitor your credit history on a regular basis. On the other hand, you must be aware that there could be information on another credit report (from another credit bureau) that is missing on the credit report that you ordered.
How often is too often to check your credit?
For the average consumer, experts recommend spreading out your credit report requests. The discrepancies between the credit reports are often minimal. The primary concerns are major changes to your credit history such as new accounts, irregular balances and suspicious activity. Should the unfortunate situation of identity fraud arise, you would be able to fix it sooner to reduce further damage to your credit rating.
For the consumer who is looking to apply for a major loan such as a mortgage, it is best to review all three credit reports together. Your chances of a better interest rate increases with a higher credit score. Having an extensive look at your credit reports means you can identify the reparable areas of your credit before you apply for a loan.
If you have adapted to your routine of spreading out your credit report requests, you always have the option to pay for extra credit reports.