How to Pay Medical Bills That Are Too Expensive
Find out more about these tactics for how to pay medical bills before they are sent to a collection agency.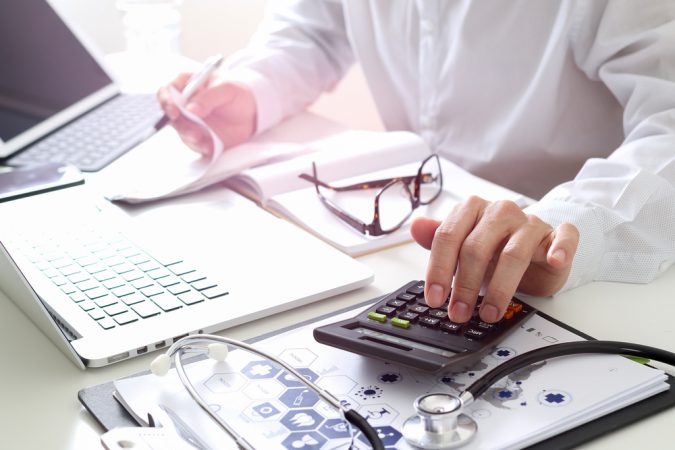 Paying your medical bills can seem frightening, given the high cost. Don't let unpaid medical bills ruin your credit. You may not realize it, but you have a variety of options to help pay back your medical bills. Use one or more of the following out-of-the-box methods:
1. Crowdfunding
Crowdfunding websites designed to help people pay for medical expenses are growing in popularity. Just as someone would raise money for a cause or action, people can also ask others to pitch in and help them pay medical bills. Crowdfunding websites like YouCaring.com can help you raise money to pay for a portion of your medical bills.
2. Peer-to-peer lending
When a personal loan fails, look into a peer-to-peer lender to help give you money directly. This type of loan comes from someone looking to earn extra cash by fronting you money. Websites such as Prosper, LendingClub or Upstart are good places to start on your search for a peer-to-peer lender. Most lenders will only offer you more money if your credit score is 640 or above. The interest rate you pay on the loan is determined by the lender. Expect to pay a high interest rate if you have a poor credit history -- in that case you should only borrow from a personal lender as a last resort.
3. Check for charity programs from your hospital
Take the time to look into charity programs at hospitals. Most hospitals across the nation have charity programs that allow people to receive financial assistance in paying back their medical bills. Check your hospital's official website or inquire with the staff to learn more about whether or not this type of program exists at your hospital. If not, a member of staff may at least be able to point you in the right direction.
4. Haggle with the medical office
If you have exhausted most of your options, haggle with the hospital or medical office. Let them know how much you can afford to pay back each month and that you'd like to reform your current monthly bill. When they see you making a serious effort to eliminate a payment problem before it occurs, they may be more lenient on you.
5. Haggle with your insurance company
If you have paid all of your insurance bills on time, give them a call to ask for a lower bill. Ask to review all documents to ensure that they covered as much as possible. Another look at all of the documents concerning your medical bills may reveal that you can receive more coverage than originally estimated. The only way to find out is to ask.
6. Refinance your mortgage
This should be given some serious thought, but if your medical bills are really weighing you down financially, it may be best to reduce the pressure of your monthly bill by refinancing your mortgage. Check to see how much equity you have in your home to figure out if it is worth refinancing before you commit to this decision.
The advantage of refinancing your mortgage to pay off medical bills is that your overall monthly bills should significantly reduce; the disadvantage is that it is going to take longer to pay off your home. Weigh these two facts to determine whether or not refinancing is a smart option for you.
7. Tap into your retirement plan
If your medical bills are too expensive for you to manage, and you have no other options, consider tapping into your retirement plan. Depending on your retirement plan, you may be subject to pay taxes or fines if you make an early withdrawal. Refer to your tax advisor to learn more about your options, and how much it will cost you. Remember, once your medical bills are behind you it's wise to formulate a new plan for contributing to your retirement to avoid setbacks before your golden years.
8. Find new work
Consider looking for a higher paying job, or find a second one to help you pay your bills. A temporary part-time position, in addition to your current job may be exactly the additional source of income you need to help you pay your medical bills on time. Although it may not be easy to find a second job, examine what you are good at (babysitting, tutoring, cooking, organizing) and start from there. Also, if your job pays overtime, it may benefit you to speak to your boss about picking up extra hours.
9. Cut out non-essentials
In order to pay off your medical bills, you may have to cut out your cable bill, the Internet or anything else that is not essential to your life. Review your monthly billing statements to determine what you can afford to live without. It may take a bit of hard work, but you should consider making some serious cuts for your monthly spending to pay your medical bill down properly.
10. No-interest credit card
While opening a new line of credit may be difficult for someone without a good credit rating, but a new credit card may be an option for someone with a good credit score. A credit card that has no interest for 12 to 24 months can help you pay back your medical bills, however, you should pay back as much as you can while you have a limited introductory offer. After it ends, have a second plan to pay back your debt