How to Get a Personal Loan to Buy an RV
Find out how you can purchase an RV (recreational vehicle) with a personal loan by comparing interest rates, fees, and borrowing terms.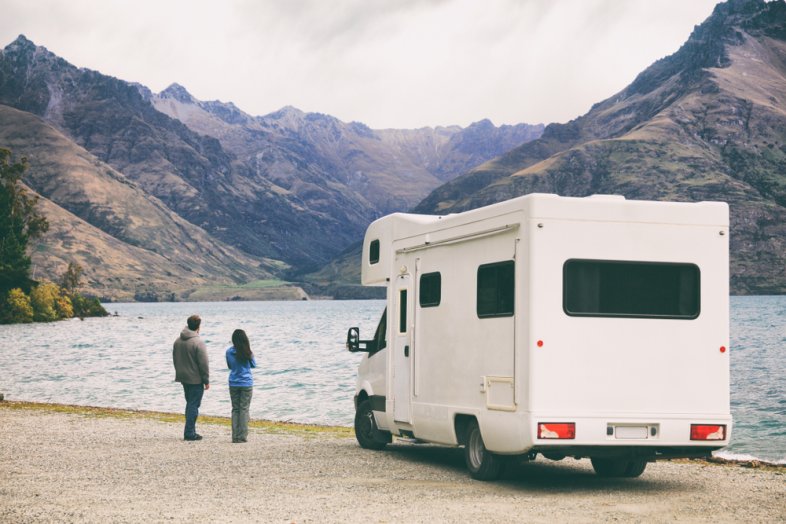 A recreational vehicle can be your mobile home away from home or allow you to experience camping and travel with some added luxury.
Of course:
RVs aren't cheap, so you probably don't have enough cash on hand to buy one outright.
Instead, you'll probably consider buying an RV on credit.
While you can use traditional financing methods to buy an RV, an alternative that few people consider is applying for a personal loan.
Personal loans are flexible loans that can be used for nearly any purpose.
Now:
People commonly use them to consolidate existing debt or fund a home improvement project, but there's no reason you can't use a personal loan to buy an RV.
Learn everything that you need to know if you're thinking about buying an RV with a personal loan.
This includes using a personal loan to buy:
motorhomes
campervans
fifth-wheel trailers
sports utility trailers
pop-up campers
truck campers
folding and tent trailers
Know the Loan Terms
The first thing to do when you're thinking about applying for a loan to buy an RV, or for any reason, is to determine the terms of the loan that you want.
How much do you need to borrow?
The first step in that process is figuring out how much money you have to borrow to buy the RV.
Different personal lenders will have different minimums and maximums.
Make sure to choose a lender that will let you borrow enough to cover the purchase, without forcing you to borrow more than you need.
What is your intended repayment term?
After you've decided on the amount that you need to borrow, you have to think about how long it will take to pay the loan back.
Of course, this will be determined by the size of the loan and your income, but lenders will often let you choose the exact term of the loan.
Loans with longer terms are easier to handle on a month-to-month basis because they have lower monthly payments.
The downside:
This leaves more time for interest to accrue, increasing the total cost of the loan.
While you shouldn't be stretching your budget to the maximum to buy an RV, having the extra flexibility in your monthly budget is important to many people.
Conversely, short-term loans cost more each month because you have to pay the loan back in fewer payments. The upside of short-term loans is that they are cheaper in the long run as there is less time for interest to accrue.
When you choose the term of your loan, you should try to strike a balance.
Aim for the shortest term loan that you can handle in your monthly budget while still feeling comfortable. This will balance affordability with a low total cost.
How soon do you need the funds?
Finally, think about when you need to close on your purchase of the RV and how long lenders take to disburse money after your loan is approved.
If you've found an RV but have to close on a deal tomorrow, a lender who takes weeks to make a lending decision simply isn't an option.
Give Your Credit Score a Boost
When you're applying for a personal loan to buy an RV or any other loan, you should take a minute to consider your credit score.
Your credit score is one of the most important factors in determining whether your loan application will be approved or denied.
On top of that, your credit score helps determine how much you'll pay for the loan.
People with higher credit scores are rewarded with lower interest rates. That means lower monthly payments and lower total loan costs.
Before you apply for any kind of loan, it's important to know how credit score work.
It's also important to know what you can do to give your score a boost.
Calculating your credit score
Your credit score is used by banks as a quick, numerical indicator of your trustworthiness.
Credit scores can range from a high of 850 to a low of 300.
Ideally, you want to keep your score at or above 700, which is considered a good credit score.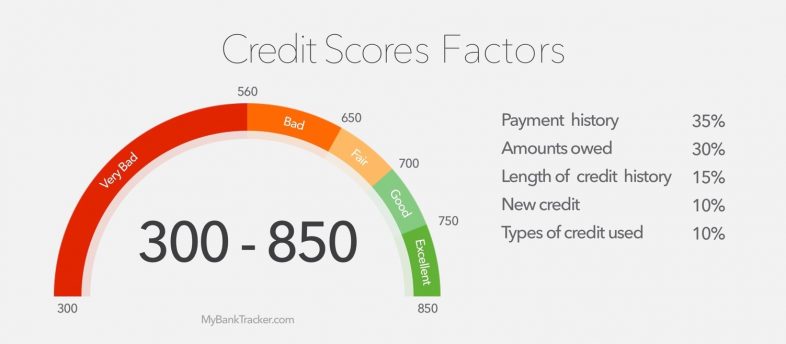 The factor with the greatest impact on your score is your payment history. Every time you make a payment before the due date, it improves your credit score.
Unfortunately, this is also the easiest factor to damage. Even one missed payment can wipe out months or a year of timely payments.
Always do your best to pay your bills on time.
How much money you owe is the second largest factor in determining your credit score.
If you owe a lot of money, your score will drop. The less you owe, the better.
Check your credit report
If you want to check your credit report to get an idea of where you stand, it's easy to do.
The best way to check your score is to request a copy of your report at AnnualCreditReport.com.
You can easily request a copy of your report from each of the three major bureaus. You can get a free copy from each bureau once per year.
Once you have your credit report, you can figure out your chances of getting approved for a loan. You can also work on improving your credit score.
Improving Your Credit Score
Before applying for a personal loan to buy an RV, you should take steps to improve your credit and your chances of qualifying for a loan.
Here are some of the best ways to do that.
Dispute errors 
One of the most important things you can do is check your credit report for errors.
You would be surprised at how common it is for something to show up on your credit report when it shouldn't.
Whether it's a missed payment that never happened or someone else's loan balance being shown on your report, these errors can have a huge effect on your score.
Once you've requested a copy of your report, check it carefully. Note anything that you think is incorrect.
Once you've checked the report, contact the credit bureau to report any errors that you notice. Each bureau publishes its process and requirements for disputing errors.
Generally, when you report an error on your credit report, you should try to provide some proof that there is an error.
For example, if your report shows a missed payment and you can show a canceled check or statement that shows you made the payment, that can help convince the credit bureau to remove the error.
If you noticed an error on one bureau's report, consider requesting a report from the other bureaus.
There's a good chance that they all have the same mistake, and you'll have to report the error to each of them.
Pay down balances
How much you owe on your existing debts is the second largest factor in your credit score. The good news is that it's one of the easiest for you to affect in the short term.
If you are able to, set some extra money aside to make additional payments on your debts in the months before you apply for your RV loan.
The less you owe when you apply, the better your chances of getting approved are.
Check Your Rates
Once you've found a lender you like but before you go through the full process of applying for a loan, shop around and get rate quotes from multiple lenders.
Most lenders offer a quick rate estimate based on your credit score and other factors.
You should aim to pay the lowest rate possible, so knowing which lender is offering the best rate is important.
Best of all:
Usually, checking your rates from multiple lenders shouldn't hurt your credit.
Compare Dealer Financing with Other Offers
After you've checked the rates that personal lenders are offering, you should see if the RV dealer offers financing.
If you're buying from an individual, a personal loan is a good option, but if you're buying from a dealer, there are often perks for opting for dealer financing.
If you can get a good deal from the RV dealer, you might not need to apply for a personal loan at all.
Secured vs. Unsecured Loans
If you do opt for a personal loan to buy your RV, you'll have to decide whether you want an unsecured or secured loan.
Unsecured loans don't require any collateral but can be harder to get if you have less than great credit. Unsecured loans also charge a higher rate of interest.
Secured loans require that you provide collateral when you apply for the loan.
The good news:
You can use the RV that you're planning to buy as the collateral.
You'll have to provide information, such as the price, make, year, and condition of the RV, but many lenders will be willing to accept it as collateral. Some lenders may require that you make a down payment if you're using the RV as collateral, so be prepared for that.
This is especially true if you're buying the RV used, as the book value and sale price could be very different.
It might be worth having an independent person appraise the RV so you can show the bank the true value of the RV.
Conclusion
Buying an RV is a great way to prepare for years of road trip vacations, but the initial investment can be high. Personal loans are a great way to finance an RV, and it can be easy to find a good deal given how many lenders offer personal loans.