How Much to Save for the Perfect Honeymoon Without Going Into Debt
Learn how you can save for the perfect honeymoon vacation to celebrate your marriage without taking on a large amount of debt -- including tips to cut costs.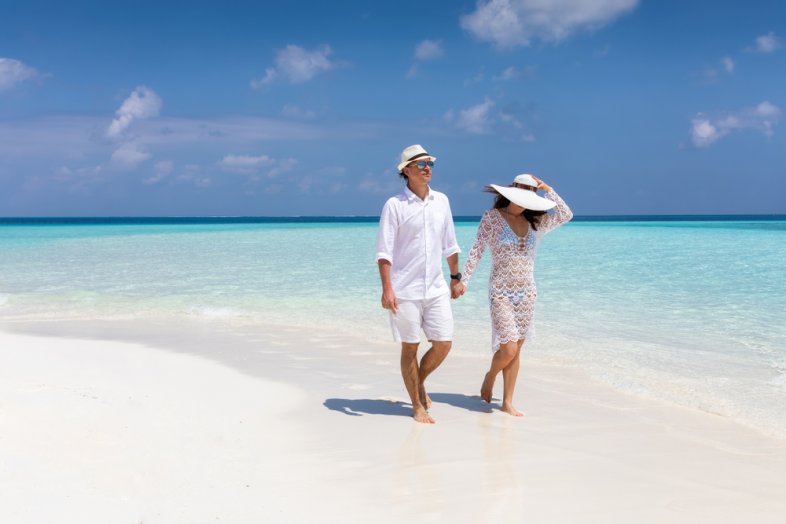 Getting married is more expensive than ever.
In fact:
According to the Wedding Wire's 2020 Newlywed Report, the national average cost of a wedding in 2020 was around $30,000.
This includes the ceremony only—not the honeymoon.
Typically, the bride and groom pay for their own honeymoon.
Some couples leave for their honeymoon immediately after the wedding. Others, however, plan a honeymoon for months after the wedding.
If you're fortunate enough to have your parents pay for all or most of the wedding, then you're probably able to splurge on an amazing experience.
Now:
Regardless of whether you're planning a budget or luxurious honeymoon, saving early can ensure you have enough cash when you're ready to book.
How Much to Save for a Honeymoon?
With regard to how much to save on a honeymoon, there's no right or wrong answer.
It all depends on your destination and what you want to do while on your honeymoon.
The truth is:
You don't have to spend a ton of money to have an enjoyable time. Some couples prefer to keep their honeymoon cheap. This way, they can use their money for other purposes.
Maybe you're planning to buy a house after getting married. If so, it makes sense to retain some of your cash for a down payment.
Or, maybe you and your new spouse paid for your own wedding. In this case, a low-cost honeymoon can help minimize your overall wedding expense.
The amount you save for a honeymoon has a lot to do with affordability, too. So your income will likely dictate how much you can realistically stash away for a trip after your nuptials.
A couple with a comfortable salary and established careers may be able to spend more than a couple in their early 20s just starting their career.
According to the Travel Industry Association of America, many newlyweds spend an average of $4,466 on their honeymoon.
Couples who want a once-in-a-lifetime trip and splurge on a luxury honeymoon can easily spend $10,000 or more, depending on the honeymoon destination.
One week in the small South Pacific island of Bora Bora might cost $10,000. A 10-day European vacation could easily run between $10,000 and $15,000.
Then again, if you're thinking about a 10-day African safari, you might pay between $16,000 and $20,000.
But don't think you have to save this much (or travel far) to have a memorable, fun honeymoon.
Chances are, there are several interesting destinations within a short drive of your hometown. If so, explore a new location on the cheap—together.
Here are examples of honeymoon places that you may consider based on different price ranges:
Lake Tahoe: $2,000
For a domestic honeymoon trip, Lake Tahoe offers beautiful mountainous views among crystal-clear waters that is ideal for the scenic getaway.
There a plenty of excursions that include various hiking trails, hot air balloon adventures, and skiing.
Hawaii: $5,000
As the most popular destination for honeymoons, Hawaii will always have a spot on the list of destinations to consider.
You already have a pretty good idea of what volcanic islands have to offer. Hawaii plays a major role in setting the average amount that couples spend on their honeymoons.
Bora Bora: $10,000
Famous for its blue waters and gorgeous views, Bora Bora is the perfect example of an island getaway that will define the meaning of "paradise." 
Flights to this South Pacific island are expensive -- and so are the lodging options, especially if you want top-tier accommodations to celebrate the wedding.
7 Tips on Saving for a Honeymoon
Don't let the cost of travel get you down. Here are a few simple tricks to help you save on a honeymoon.
1. Come up with a honeymoon budget
Plan early and estimate how much you'll need for your honeymoon. Narrow down the destination, and then research the cost of airfare to this destination.
Keep in mind:
Flight prices vary depending on the season.
So if you're planning a spring or summer wedding, or a wedding that coincides with a holiday, flights to certain destinations might be more expensive.
Also, research hotel and resort nightly rates, as well as excursions that interest you.
Don't forget to estimate the cost of food and drinks, a rental car, or public transportation in your destination city.
2. Set up automatic transfers
Once you know how much you need for the honeymoon, determine how much to set aside from each paycheck.
It also helps to open a honeymoon account, preferably with an online savings account.
The key trick:
Set up automatic transfers from your checking account to your honeymoon fund weekly or monthly.
The good thing about an online savings account is that you'll earn a higher interest rate compared to a regular savings account.
This can grow your honeymoon fund faster. And with the money in an online account, it's not as accessible. So there's a lower risk of frivolous withdrawals.
If you've already save the money for a honeymoon, consider putting the cash in a certificate of deposit (CD).
These are time deposits, so you agree to keep your money in the bank for a certain amount of time. In turn, the bank pays you a higher interest rate. This also helps grow your money.
Only use a CD if you don't have immediate plans to book a honeymoon. There's a penalty if you withdraw the cash before the end of your CD term.
To be safe, choose a short-term CD. Perhaps one with a six-month or 12-month term.
3. Use a honeymoon registry
Having a registry with Target, Bed Bath and Beyond, Amazon, or another retailer is an excellent way to get items you need for the house.
But, did you know?
A honeymoon registry website can help lower the cost of your honeymoon significantly.
These include sites like HoneyFund and the Newlywed Fund.
Each site may work slightly different, so familiarize yourself with the registries and then determine which one is right for you.
Basically, you can use these sites to register for cash gifts to fund your honeymoon.
Those who visit your registry can make contributions using PayPal, check, or direct deposit.
4. Book the honeymoon with a travel rewards credit card
If you have a travel rewards credit card, you might have enough points to redeem for airfare, hotels, or a cruise.
Using the points or miles you've accumulated can greatly reduce how much you spend out-of-pocket for transportation and lodging.
5. Use a relative or friend's timeshare
Know someone with a timeshare or vacation club?
Ask if you can use their getaway for your honeymoon.
Typically, timeshare owners can vacation one week at their home resort every year. In addition, they can exchange their weeks and travel to affiliate resorts all around the world.
They can even take advantage of extra resort-style vacations at anytime throughout the year, with some of these vacations only costing $199 to $300 for an entire week.
Do note:
If you use someone's timeshare or vacation club, you may be responsible for paying their exchange fees, about a couple hundred dollars.
This, however, is considerably less than paying out-of-pocket to stay at a resort.
Depending on your relationship with the timeshare or vacation club owner, they might pay the exchange fees on your behalf as a wedding gift.
6. Work with a travel agent
The benefit of using a travel agent is that they can usually book airline tickets and accommodations at a cheaper rate.
Some travel agencies also have specials or sales on all-inclusive resorts, with some packages including airfare.
If so, you can possibly book the entire honeymoon for less than booking on your own.
Just make sure you check a travel agency's online reviews before booking to make sure you're working with an honest, reputable company.
7. Make it known that you're on your honeymoon
When booking at a hotel or resort, or arranging your car rental, don't be shy about letting representatives know that you're on your honeymoon.
Not every hotel or car rental company will give special perks just because you're recently married—but some will.
You might score extra discounts or freebies.
This also applies when checking into your honeymoon flight. Let the representative at the counter know that you're on your honeymoon. If there are available seats in first class, you might get a free upgrade.
Conclusion
Honeymoons might not be as expensive as the actual wedding ceremony, but the cost can soar depending on your plans.
Knowing how much to save, and coming up with a savings plan early is key to having what you need for the best experience.