Choosing and Opening a Baby Savings Account
Opening a baby savings account comes with many advantages. Here we provide everything you need to know about choosing and opening your baby's first savings account.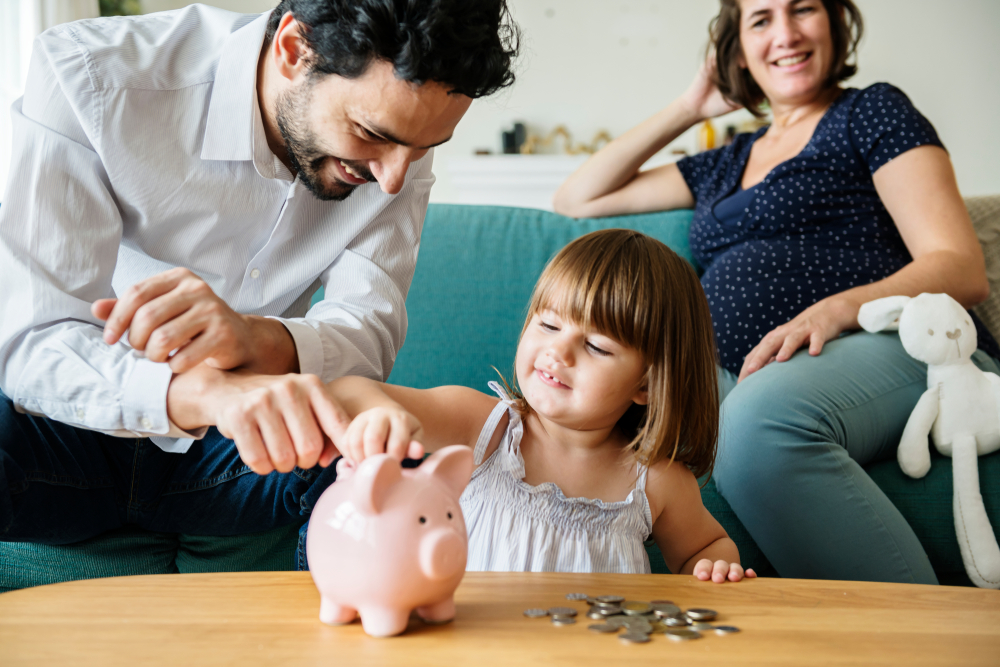 Opening a savings account for your children lays the foundation for money lessons.
But there's no rule that says you have to put off opening a savings account until the tween or teen years.
The good news is that you can open a baby bank account at any age. So even if your children are knee-high or crawling in diapers, there's no better time to start exploring your savings options.
Rules for Opening a Bank Account for a Baby
There are specific rules and requirements for opening a baby savings account.
If you think back to opening your personal bank account, you likely provided the financial institution with your Social Security number (as proof of citizenship or permanent residence in the U.S.) and a driver's license.
In the same way, banks need these documents when opening a bank account for a baby. You'll also supply your baby's Social Security number.
Additionally, some banks may ask for a copy of your baby's birth certificate. This might seem a bit odd. However, the bank uses this information to verify your relationship to the child.
Children under the age of 18 cannot sign documents to open their own bank account.
So you'll open the account on your child's behalf and add your name as a joint account holder. This lets you make decisions about the account and manage deposits or withdrawals.
Best Savings Account for Baby
If you're opening a baby bank account for your child to use through his early years and beyond, you might think it's more convenient to choose a local bank for this account. This is an option.
But an online savings account can be more appropriate since savings accounts at brick-and-mortar banks don't typically earn as much interest.
Opening an account while your child's a baby means you'll contribute funds to this account for up to 18 years.
It only makes sense to maximize your earning potential with a high-rate savings account, especially given the length of time that you'll contribute to the account.
Online savings accounts usually offer higher returns helping you reach savings goals sooner.
Here are three options if you're looking for a competitive baby savings account.
1. Ally Bank Savings
An Ally online savings account is a winner if you don't want bank fees eating into your child's balance.
This account beats out most local savings accounts because there's no monthly maintenance fee and no minimum deposit for opening an account.
Ally's online banking and mobile app gives you 24/7 access to the account whether you're checking your balance or transferring funds.
You'll also earn a very high interest rate -- much higher than savings account rates offered by big national banks such as Chase and Bank of America.
2. Capital One's Kids Savings Account
This is another excellent choice if you're looking for a baby savings account with no monthly fee, no minimums, and a higher rate.
Open the account in your name only, or put your name and your child's name on the account. Link the savings account to your personal checking account and schedule deposits or withdrawals between accounts.
In most cases, it only takes about five minutes to set up an account. With mobile banking features, take a photo of checks for effortless deposits. You can also manage your account from anywhere with a computer or electronic device.
The account earns a high APY; and with an automatic savings tools, create automatic transfers into the account.
As your children become older and more involved with their account, they can use their own sign-in credentials to check the growth of their money.
3. Alliant Kids Savings Account
A kid savings account with Alliant Credit Union helps children 12 and younger build solid saving skills from an early age.
There's no monthly fee when you sign up for e-statements, and accounts with an average daily balance of $100 earn  a high APY.
This might be the perfect place to stash a child's birthday money and other gift money.
As a bonus, when you open an account, Alliant Credit Union pays your $5 initial deposit.
Once children become teenagers, they can switch to an Alliant High-Rate Savings account or a Free Teen Checking account.
In addition to being one of our most-recommended credit unions, Alliant is one of the largest credit unions in the U.S with more than 335,000 members nationwide.
Membership is available to anyone with just a one-time $10 donation to Foster Care to Success, a nonprofit organization.
Compare Savings Options
Be sure to check out more savings accounts worth considering:
When to Switch to a Brick-and-Mortar Bank
A convenient feature of these baby savings accounts is the option to create many accounts for different goals.
So instead of socking all your baby's money in one account, spread the money over several accounts.
For example, open a college fund, a car fund, a trip-of-a-lifetime fund, or a fund to jumpstart your child's emergency savings.
You're in control of the account when your children are minors. But it's also important for them to interact with a physical bank and gain experience managing their funds.
To equip them with these financial skills, you might consider moving their savings from an online bank to a local bank at some point.
Or another option: keep the online savings account and then split their savings between an online bank and a physical bank.
Hands-on experience teaches children how to deposit checks and use an ATM. They'll also learn how to use mobile and online banking features.
Tip for Managing Savings Accounts for Babies
The growth rate of a baby savings account depends on how well you manage this account.
Remember, you're saving this money as a gift to your child— whether the money will pay for your child's education or another life experience. With that being said, here are five tips for success.
Start early
Don't have a lot of disposable income after the birth of a baby? No worries.
Open a baby savings account, deposit whatever you can, and increase contributions as your income grows. Contributions can be as little as $5 a week. Something is better than nothing.
Compare savings options
Rates and fees vary by bank. Forgetting to shop around could result in paying hundreds in fees over the life of the account.
Some people focus on the interest rate when comparing online accounts. But you should ask plenty of questions.
For example: How long does it take to transfer funds between accounts? What is the excess transaction fee? Is there a minimum account balance? Are deposits insured by the FDIC? What is the bank's cutoff age for a baby/kid savings account?
Encourage children to save money
Get children involved with their account once they learn the value of a dollar. This can work even when they're in elementary school.
Good savings habits develop early. Children who receive weekly allowances should pay themselves first by depositing 10 percent of their allowance into their savings account.
Also, they should deposit some of their free money into their account. This includes birthday money, Christmas money, graduation money and other gift money.
Don't get an ATM card
Some baby savings accounts give the option of receiving an ATM card with the account.
This allows for easier withdrawals at a local in-network ATM. This is tempting.
But since you're saving money for your kid's future, an ATM card might make funds "too" accessible.
To avoid the temptation of dipping into your child's money and draining the account, it's in your child's best interest to decline an ATM card.
Automate your savings
Your financial life can get hectic. You're also managing your personal expenses and saving for your own future.
So you could neglect regular deposits into the baby savings account. Put the account on autopilot and automatically transfer funds into this account on certain days of the month. This keeps deposits on track.
Give a Financial Head Start
Children need to develop and maintain good savings habits. Don't make the mistake of waiting until they're practically grown to teach these skills. Saving doesn't come easy for everyone.
But when it's a part of a child's life early on, it can become second nature. As a result, they're more likely to make wise decisions with their money as an adult.