The Best Savings Accounts in Montana for 2023
Find the best savings accounts available from local banks in Montana based on account fees, interest rates, and convenience features.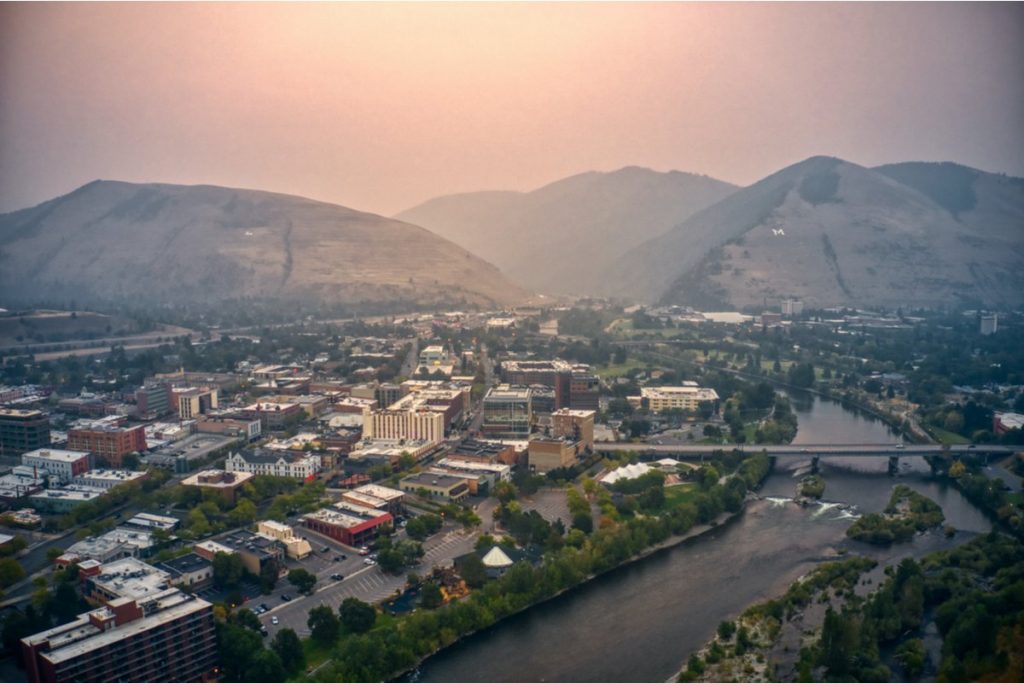 If you're saving for a goal, chances are you don't want to leave that money in a checking account. Most checking accounts don't pay interest. It's easier to accidentally spend money left in a checking account if you aren't very careful.
Savings accounts solve most of these problems. They virtually all pay interest, although some don't pay stellar rates. Having your money in a separate account makes it easier to hold on to as you have to make a conscious effort to move and spend the money.
Finding a good savings account can be a challenge, though. We researched savings accounts in Montana and found some options you may want to consider.
The Best Savings Accounts in Montana
Independence Bank - Regular Savings
Independence Bank's Regular Savings account features a low $25 minimum opening and daily balance requirement. While you are charged a $1 maintenance fee per month if your balance falls below $25, it's a relatively easy requirement to meet. If you're under 18, the maintenance fee is waived.
You only get three withdrawals per month, with extra withdrawals costing $2 per withdrawal. This can help you save rather than spend the money in your savings account. The account pays interest, but a rate is not specified online.
Three Rivers Bank of Montana - Kasasa Saver
Three Rivers Bank of Montana's Kasasa Saver account can help you start saving. You can earn a very competitive savings rate on balances up to $100,000 and the rate falls a little bit on balances over $100,000, depending on your balance. To earn these higher rates, you must meet the following qualifications in a Kasasa Cash or Kasasa Cash Back account:
Make at least 15 debit card purchases each month
Enroll in and agree to receive eStatements
If you fail to meet the requirements, all balances earn 0.01% APY. There are no minimum balance requirements or monthly maintenance fees, but you need $100 to open an account.
You get access to online banking and mobile banking features with this account. Kasasa Cash or Kasasa Cash Back account rewards are automatically transferred into your Kasasa Saver account to help you save.
Madison Valley Bank - Savings Account
Madison Valley Bank's Savings Account helps keep savings flexible for its account holders. The account has a $50 minimum initial deposit and minimum balance requirement. This should help you keep saving because you have to pay a $2 monthly cycle maintenance charge each month your account does not maintain the $50 level.
The account pays an unspecified interest rate. It's a bit more flexible with withdrawals, though. Limited withdrawals and transfers (which are not defined) are limited to six per cycle. At the same time, total withdrawals and transfers are limited to 12 per cycle. Each withdrawal over the limit of 12 is assessed a $1 fee. You get access to basic online banking with this account.
Manhattan Bank - Regular Savings
Manhattan Bank's Regular Savings account requires a minimum deposit of $50 to open. You earn interest daily, but it is credited quarterly. You get free online banking and mobile banking. eStatements are available, too.
The account limits you to six withdrawals per month unless done in person, by mail, by ATM, or by automatic transfer to a loan at the bank. Total withdrawals are limited to 9 per quarter, as well. Exceeding the nine withdrawals per quarter results in a $1 fee per excess withdrawal.
The account technically has a $50 minimum balance, but the $5 per month service charge doesn't kick in unless your account has been inactive for a year or more.
Bank of Bridger - Regular Savings
Bank of Bridger's Regular Savings account requires a $50 minimum deposit to open an account and has a $50 minimum daily balance requirement to avoid a $3 monthly fee. The account pays interest at an unspecified market rate and interest is paid quarterly.
You get three withdrawals per month before incurring a $2 per withdrawal excess withdrawal fee. The account comes with free online banking access.
How we picked these accounts
To find the best savings accounts in Montana, we first identified the top 50 banks in the state by deposit market share using the FDIC's June 2022 data--serving major cities including Billings, Missoula, Great Falls, Bozeman, and Butte.
Then, we examined each bank's savings accounts for consumer-friendly features. These included the best interest rates available, no or low minimum balance requirements or monthly maintenance fees, ways to waive fees that exist, and tools to make saving easier.
Big Banks vs. Online Banks
You likely have other bank options if you're looking for a savings account. Both big banks and online banks offer these account types and have different pros and cons than the banks listed above. Here's what you may want to consider.
Pros of Big Banks
Branch footprint
Big banks have many branches in the areas they serve. This makes it easier to bank if there are several locations in your community.
Customer service in person
Call center customer support can be frustrating. These banks offer support in person at their local branches.
Digital banking
Large banks should offer online and app-based banking for your savings account needs.
Cons of Big Banks
Fees
Larger banks tend to charge many fees, which may even extend to savings accounts. Sadly, this is counterproductive to your savings goals.
Low interest rates
While almost all banks pay interest on savings accounts, big banks tend to offer rates close to zero or unimpressive at best.
Onerous fee waiver requirements
You may have the ability to get a fee waived in your savings account, but it often requires you to put thousands of dollars in the account or meet other difficult requirements.
Benefits of Online Banks
Better interest rates
Online banks tend to offer interest rates several times the national average for their savings accounts. This can help your money try to keep pace with inflation better than with a big bank.
FDIC insured
All FDIC member banks, including online banks, offer the same FDIC insurance.
More amenable fee schedule
These banks usually don't charge fees to have a savings account. Other banking fees are often more affordable and less numerous, as well.
Potential ATM access
Online banks know you need access to your money. They often allow you to withdraw money directly from your savings account using your ATM debit card. If not, you can quickly transfer money from savings to checking on a mobile app and withdraw the money that way.
Superior technology options
Online banks know technology is the primary way people interact with them. For this reason, they work to make their online and mobile banking very user-friendly. They also work to include features, such as mobile check deposit, to make banking easier.
Drawbacks of Online Banks
Cash deposits
Depositing cash is more challenging because you can't go to a branch. Other options may exist but may be more difficult.
Internet needed to bank
Online banking isn't possible without the internet. During extended outages from natural disasters or no service areas, this can be a problem. Telephone banking is a less convenient option that may be available, though.
No branch locations
Online banks don't have branches. Online banks won't be a good fit if you need branch banking.
How to Evaluate Savings Account Options
Finding your top savings account pick depends on your specific wants and needs. Each person likely has different priorities. Here are a few ideas that could help you choose what's most important for you.
Interest rates
Safety and interest are two of the keys most people look for in a savings account. As long as you deposit your money in an FDIC insured account, your money is safe up to FDIC limits. The other key is the interest rate you earn.
Without earning interest, your balance stays the same. However, inflation slowly eats away at the value of your money. This means the money in your savings account will buy less tomorrow unless you are earning interest.
For this reason, you likely want to bank with a bank that continues to offer market-leading interest rates. This usually means selecting an online savings account with a history of keeping rates above the average rates most banks pay.
Fee schedule
Savings accounts shouldn't charge fees. The idea of taking money out of a savings account for fees directly contradicts the idea of saving money. Thankfully, plenty of banks offer savings accounts with no monthly maintenance fees.
Accessibility for banking needs
Your money in savings is there for a rainy day. You should have access to it when you need it. If you bank locally or at a big bank, you can head to a branch and withdraw the funds in cash, a cashier's check, an ACH transfer, or a wire transfer.
Online banks are a little more complicated, but you still have plenty of options. You can transfer the money from savings to checking and withdraw it from an ATM. You can also process an ACH or wire transfer from your digital banking tools. Online banks usually offer cashier's checks, but typically require time to mail them to you.
Digital tools
When considering a bank, make sure they offer the online and mobile banking tools you need. If you receive checks often and want to deposit them into your savings account, make sure mobile check deposit is an option.
The ability to set up automatic transfers to savings can help automate your savings process, too.
Other features and tools
Savings tools are a great way to help people save more. Some banks offer less standard tools that you may find extremely useful. It makes sense to look for these tools before signing up for an account.
The first tool rounds up your change from your debit card purchases from a linked checking account. Then, it deposits that change directly into your savings account. Chances are, you won't miss the change and it will help you save faster.
Another important tool is the ability to set up multiple savings accounts or sub-accounts within a savings account. This allows you to split and visualize your savings based on your different goals. It can incentivize you to save more to reach your goals faster since you can see the different buckets of money.
Open Your Next Savings Account Today
There's no point in settling for a sub-standard savings account. If your current savings account charges monthly fees or pays an abysmal interest rate, it's time to switch banks.
You can start looking for your next account using our list of the best savings accounts in Montana. Once you've narrowed that down to your top choice, compare it to big bank and online bank savings account options.
Finally, open an account with your favorite bank based on your research. Each month you delay is another month you pay an unnecessary fee or earn a substandard interest rate on your current savings accounts.